About This Center
About Mystic Tantra & Yoga Retreats
It was three years ago that we had the vision to create a different kind of retreats for small groups, with a special relaxing and uncomplicated atmosphere. Here we show you the way that we organize and experience these retreats:
A Retreat is a conscious choice to stop the doing and start simply being. It is a time to dive into ourselves and pay attention to what's there, far from usual patterns, habits and familiar attachments. It's a time that we open, that we become receptive and vulnerable, that we let ourselves to be transformed. The tools are nature, a meaningful and joyful life, acceptance of ourselves and others, inwards journey, tantra, yoga, meditation. The path is not the same for everyone, is individual because we are not all the same, it is mystic because cannot be explained, is not knowledgeable. The tools are there, it depends on you how to use them and in what combination. Tantra is the path of indulgence, of love; yoga is the path of awareness and discipline; meditation is also the path of awareness, of witnessing. It's up to you to use them. We help you take possession of the instruments, the decision for the journey is yours.
In our house we are all a family. There is acceptance, there is love, there is awareness. Already the tantric, the yogic and the meditative are here. Feel inside you how to use them, be confident to follow your intuition, and start exploring yourself, exploring the unknown, the unsaid, that what is not knowledgeable, the mystic. And it doesn't end there, this is the first step towards a new awareness that you will take back home with you.
"If you're looking for a conventional retreat with rules and a strict set timetable, this is not for you. It is an unique experience if you're ready for it. It is a reminder of who you are. It is eyed-opening. They are both highly life experienced and sensitive people (and they cook delicious meals). They have wisdom to share with you if you're open to receive it. I highly recommend the experience to anyone open to rediscover themselves."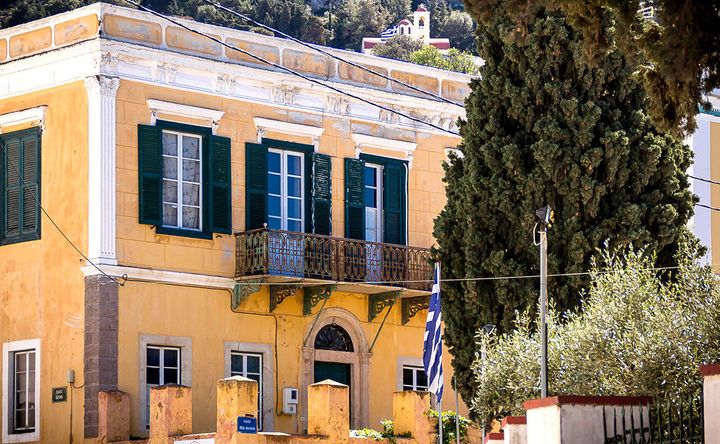 Venue Highlights
Vintage Neoclassical elegance.
You will be staying in a big and welcoming house, located in the heart of the picturesque sea-side village of Aghia Marina, Leros, in a five-minute walk to the embankment with various cafes, shops, taverns, and a 10-minute walk to the nearest beach, which is perfectly suitable for morning heats.
The main house is old, with a history and a special energy. Built in the late 19th century, it is a beautifully preserved example of neoclassical architecture - big and bright, with lots of windows and high ceilings. You certainly will love his authentic interior with bright Mediterranean colors and unusual antique furniture. There are four rooms in the main neoclassical house, that can be of single or double occupancy.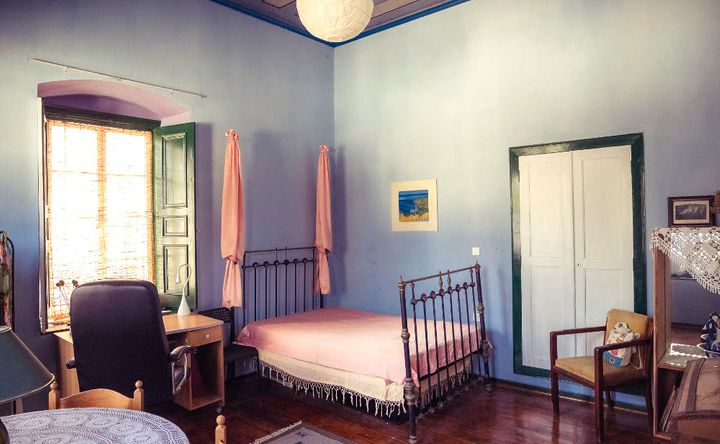 Accommodations
Ananda House is a two story building.
Located on the ground floor are living room, dining room, kitchen, and bathroom at your disposal. There is also a very green garden furnished with bamboo furniture, where you may have leisure time during the day or the evening. You can use the washing machine and dryer, iron, hairdryer, and free Wi-Fi.
Rooms are big and spacious (20 meters square), with a queen bed (good for a couple). There are four of these rooms in the Ananda House, two in the ground floor and two in the first floor. They can be of single or double occupancy. They are all air-conditioned.
There is also one studio, modern but in greek traditional style, with double bed, private bathroom and kitchenette, as well as a nice veranda overlooking with a breathtaking view the magical fishermen's port of Pandéli, the nearby islands, and the open sea.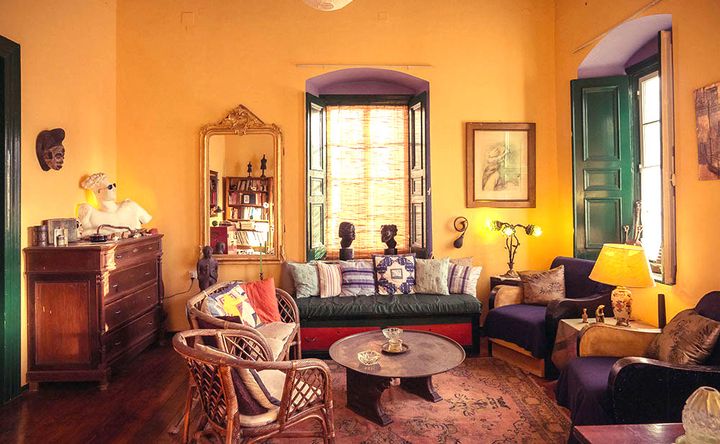 Amenities
A/C in Rooms
Free Wifi
Towels
Free Parking
Kitchen
Tour Assistance
Coffee/Tea
House Keeping
Bicycles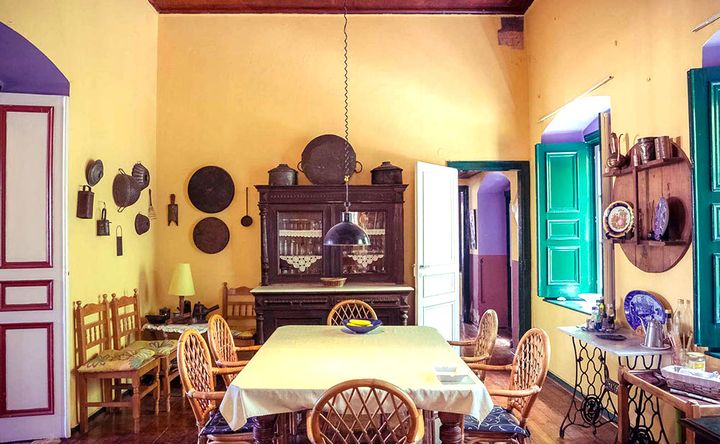 Menu Types
Vegan
Vegetarian
Pescetarian
Meat
Gluten Free
Dairy Free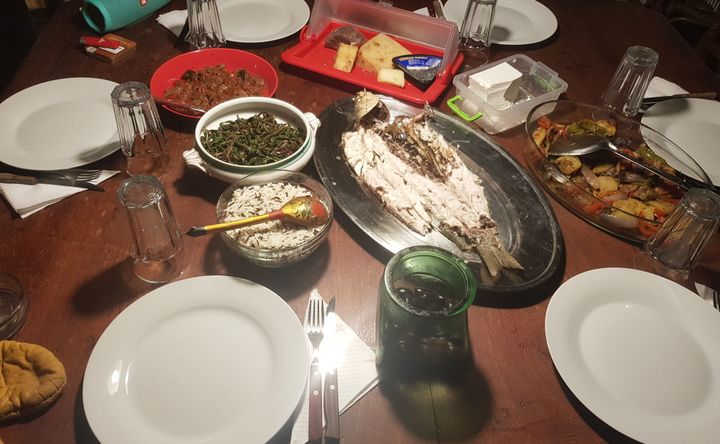 Menu/Cuisine
Genuine and fresh food, cooked with artistry
In your retreat's program are included a light early morning breakfast, a late morning breakfast (brunch), and a dinner, all prepared with local fresh ingredients. They also offer an unlimited access to stocks of edible, snacks and drinks, as well as the possibility of personal involvement in the preparation of the daily menu. A coffee machine, juicer, and other kitchen gadgets are freely at your disposal.
The daily diet consists of fresh vegetables, fruits, seafood, meat, cheeses and sweets of local production. At your arrival (or prior) you will inform them about your dietetic preferences (regular, vegetarian, vegan, gluten-free, etc.).
All food is cooked with greek and mediterranean traditional tasty recipes, with local regenerating herbs and spices.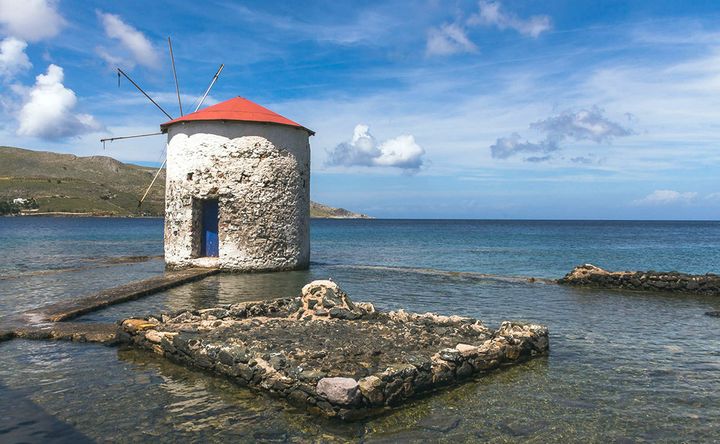 Directions
Arrival by airplane
You may arrive at Leros Municipal Airport (LRS) from the Athens International Airport (ATH). The air ticket from Athens to Leros costs around 120 EUR (return around 100 EUR). Transfer from and to the Leros Municipal Airport (LRS) will be provided by Ananda Tantra.
You may also arrive through Kos international airport (KGS), which has connections with all major European cities and from there you may take a taxi or bus for the port of Kos, and from there with a speed-boat (Catamaran), in 1:30 hours you are in Leros. The Catamaran parts from Kos port every day at 11:00 a.m. and/or 1:30 p.m., and costs 23 EUR.
Alternatively, if your flight to Kos airport doesn't arrive in the morning, you may take the line-ferry from Kos port every Tuesday, Wednesday, Thursday, and Sunday at 8 - 8:30 p.m. approximately, and arrive at Leros port in two hours, with a cost of 15 EUR approximately. The transfers from and to Leros port are provided from Ananda Tantra.
Arrival by ferry-boat
You can take a ferry from Piraeus (the port of Athens), that departs every Monday, Tuesday, Wednesday and Friday, in the evening (except Tuesday, that is early afternoon), arriving very early in the next morning (or for Tuesday, just after midnight), with prices from 40 EUR to 80 EUR.
All transfers from and to Leros airport and/or Leros port are free, provided from Ananda Tantra.
Ananda Tantra can help you with tickets and other traveling documents: you just have to ask for it in your inquiry.
Reviews
Write a review - tell others about your experience.