About This Center
The Domaine du Foulon is a beautiful place for you to host your OWN retreat. We do not organise retreats ourselves. So if you are a yoga professional looking to create a retreat in the south of France read on...
Just 45 minutes drive from Nice Cote d'Azur airport le Foulon is a haven of tranquility, set in 14 acres of river-fronted garden, with 700 square metres of building, 13 bedrooms and an ability to sleep up to 23 people with no one sharing a bed. A convenient mix of twin bedrooms and doubles to meet your guests different needs, and most rooms have a modern en suite bathroom to themselves. A sucessful retreat starts with a great nights sleep.
Guest comfort is also ensured in all the living space - the large high ceilinged lounge is a great social meeting place and our relaxed atmosphere helps bring people together. Outside of the summer months a huge roaring fire makes a large space feel cosy, and downstairs is a large double height conservatory and adjoining English language library, where people can hide themselves away and read a book or simply contemplate.
Outside is an 11m swimming pool (heated) that is great for practising yoga in the sun, with a large practical flat deck - just push the sunbeds to one end and you have lots of space. The views are quite beautiful and the serenity absolute. Or you can get back to nature and practise yoga anywehere you like in 14 acres of river-fronted garden. There's a large flat field that's an abondance of wildflowers, but we keep a tenis court sized flat area mowed al year round, and at the back you can hear the river trickling by.
We are a successful villa rental property, so we like to think we have already thought of all our guests needs, be they on holiday or on a retreat. We are owner managers and live in a separate apartment, so we are on hand if you have any questions or problems.
WHAT A WONDERFUL VENUE FOR A YOGA RETREAT. 5 STARS ***** "I came here for a yoga retreat and it was wonderful. Even though there were 20 of us, it never felt cramped and like we all had our own space. The grounds were stunning, and the food- oh the food! The owners were very kind and accommodating. It was absolutely a lovely place to stay in the mountains.." utgal24 via TripAdvisor, Student of Bad Yogi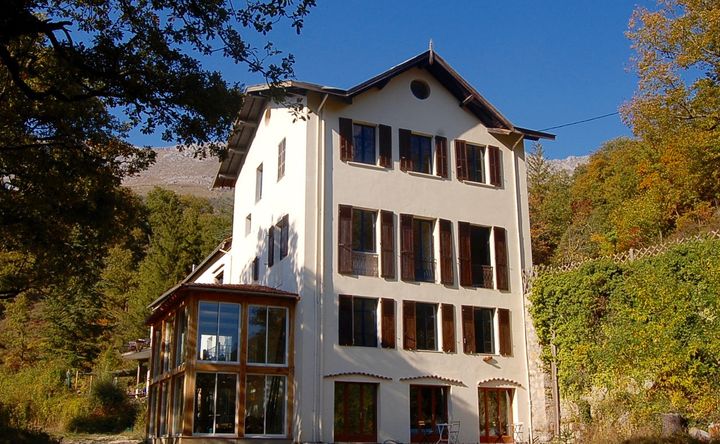 Venue Highlights
The space for practising yoga indoors is perfect for up to 18 students and one teacher (11 metres x 6 metres). It is bathed in sunshine for most of the year with south-west facing windows and overlooks nothing but coutryside, forest and a river that meanders down to the Mediterranean. We have good quality yoga mats, blocks and straps for 20 people.
Outside you can practise yoga round the large heated swimming pool - the deck is a practical space for this, or get back to nature in any part of our 14 acre river-fronted garden. The valley here has a special energy, peace and tranquility are ensured.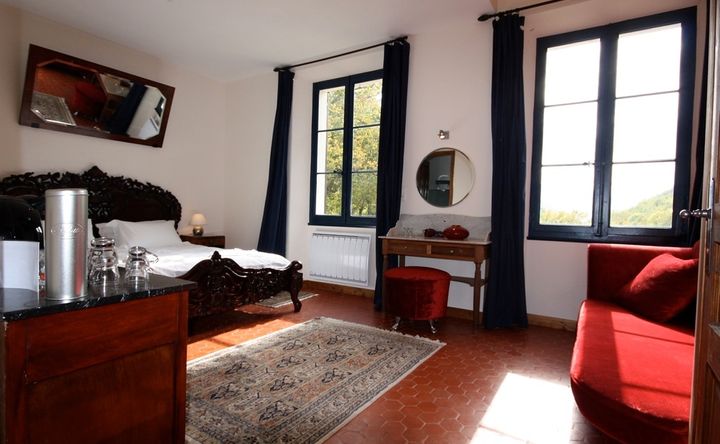 Accommodations
3 double suites with an additional sofa bed, ensuite bathrooms. 2 luxury doubles, ensuite bathrooms. 1 small double, ensuite bathroom. 4 twin rooms, ensuite bathrooms. 2 twins, shared bathroom. 1 small double, shared bathroom.
We have prices from just 8 bedrooms, starting at 2292€ for 3 nights in our low season. Please see contact us for all our prices, with 8-13 bedrooms.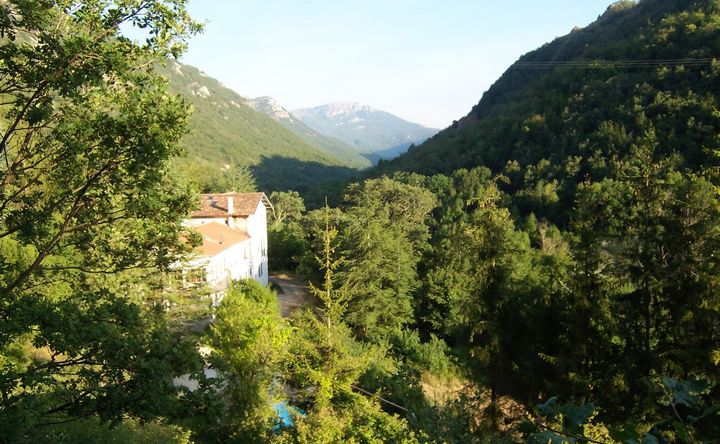 Amenities
Free Wifi
Pool
Towels
Free Parking
Kitchen
Coffee/Tea
Yoga Studio
Bicycles
Menu Types
Vegan
Vegetarian
Pescetarian
Meat
Organic
Gluten Free
Dairy Free
Nut Free
Menu/Cuisine
Our prices are based on self-catering. We have a large kitchen that's a joy to use. A walk-in fridge, ice-machine, professional coffee machine and all the facilities for group catering. Dining is set-up in the lounge with 1 long table.
If you aren't bringing your own chef then ask us for a specific catering quote. We are felxible to your needs and often provide a vegan or vegetarian meal plan for the week, with optional fish and meat courses if you wish. Here's an example from a recent retreat:
DAY 1
lunch: pumpkin soup
dinner: trofiette pesto with grilled aubergine and optional smoked bacon (brown rice penne for the GF) NB: trofiette is a a speciality pasta from just across the border in liguria • strawberries with strawberry sorbet
DAY 2
Lunch: leeks a la greque with garlic potato wedges
dinner: roasted red peppers with optional garlic anchovies • Moroccan vegetable tagine with black olive polenta • roasted pears with honey and optional chocolate sauce
DAY 3
lunch: PICNIC for a hike - cheese sandwich/cheese salad for GF/veggie sandwich for vegan. Fruit. Snack bar
dinner: aubergine caviar with crudities • pea and mint risotto with optional grilled chicken breast • lemon sorbet with optional limoncello
DAY 4
lunch out
dinner: rocket salad with grilled mushrooms and optional parmesan • grilled pork chop with ratatouille and a baked potato • lemon and herb grilled tofu for vegan/veggie • fondant chocolat. Fruit salad for the vegan/GF
DAY 5
lunch: salad nicoise with optional grilled tuna steak
dinner: tomato farcis (stuffed with caramelised onions, red rice of the camargue and a balsamic and truffle reduction) • chickpeas with cumin and spinach with honey roast sweet potato and optional tatziki • mixed sorbet and peach
DAY 6
lunch: tomato and avocado salad with spicy sweet potato cakes
dinner: aaubergine and tomato stack with optional mozzarella • salmon steak with fried zucchini and wild rice. Stuffed pepper for vegetarians/vegans • tarte tatin with ice cream. Fruit salad for the vegan/GF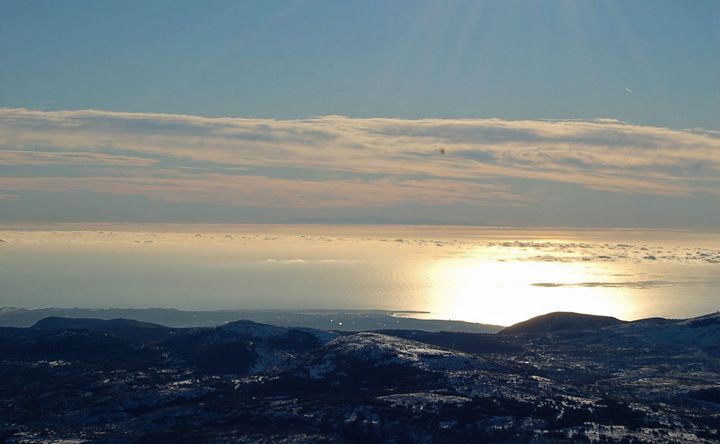 Directions
We are only 40 minutes drive from Nice Cote d'Azur International airport. Best value option is to get some 7 seat hire cars and then you have the flexibility to explore the area a little too. Taxis are around €80 form the aiport or we can out you in touch with a transfer company to bring everyone together in a mini bus. You can also organise tours through them (all in English).
We are situated in the foothills of the Alpes-Martimes. Beautiful country side, completely unspoilt, just behind the buzz of the French Riviera. Hike up to the top of the mountain and you are rewarded with a view of the whole Cote d'Azur and on a clear day you can see Corsica glinting far way in the Mediterranean.
Reviews
Write a review - tell others about your experience.