About This Center
I am Megan Jackson, a 48 year old mother, mentor, counsellor, writer, artist, meditation facilitator, charity director and tarot card reader, living in Brisbane Australia. I had a spontaneous spiritual awakening 15 years ago and have been on a committed spiritual journey every since with a specific commitment to realise truth!
In my spiritual journey I have come to realise that it is my dharma to commit to a life of service (Karma Yoga) through helping others. I am currently operating from my healing space in West End Qld. I provide a mindfulness and self awareness counselling service that helps with cognitive development alongside spiritual and creative development. By spiritual I mean letting go of the ego graplings through integrating methods of self awareness, creativity and transcendental growth.
Many events have taken place along my journey and now I have been guided to Run retreats outside of Australia. I wish you warm blessings on your spiritual journey and would love to see you join us for a union of Grace :)
Warm Blessings
Megan
I believe human beings are naturally spiritual, wise and creative. These qualities, yet not always experienced, are always within us. Are our innate Self. – Megan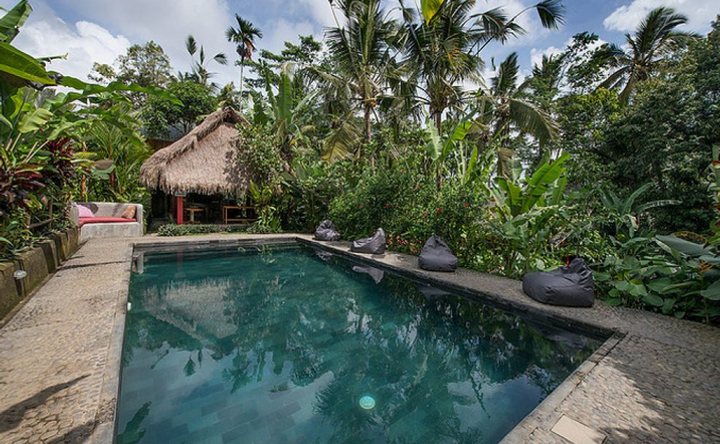 Venue Highlights
Set on The edge of the Jungle, among the Rice Fields, Rahasia Manis has been built with a conscious effort towards sustainability. Most of our buildings are built from reclaimed wood and our gardens chemical free and based on permaculture principles.
A saltwater pool is central to the property and surrounded by vegetable and herb gardens, fruit trees, tropical plantings, and koi fish ponds. Flowers, butterflies, and birds are plentiful.
There is a separate spa area for massages or other treatments such as reiki and workshops.
There is a 10 x 8 meter, open-sided yoga studio with a hardwood sprung floor. This room is also perfect for any other classroom-type requirements and has 15 international electrical sockets.
There is an out door wood fire and ceremony space with Spa.
The accommodation Is a delightful blend of traditional Balinese fittings and decor, with a relaxed and authentic feel. There are 12 traditional Balinese huts and homes with divine outdoor bathing overlooking the rice fields, near the edge of the Jungle.
What I love most about this retreat is the women are all deeply spiritual, as well as trained yoga instructors and healers from around the world. Each experienced in and passionate about women's healing and empowerment.
The philosophy is to go with the flow, relax and find your spiritual centre. And do the practice ????
Accommodations
Traditional style Balinese Huts. Book here for Couple or Single (Shared).
The Uma Room – Accommodates 2
Uma is one of the middle huts, with other huts on either side. It is very cosy. The Uma bed is a large King that can be split into singles, making it suitable for either a couple or 2 friends. Complete package.
Each hut has a small refrigerator, personal safe, private patio for outdoor lounging with a large sized couch, table and chairs for dining and computer work, a hammock, mosquito net, koi pond, private en-suite outdoor stonework bathroom with a shower and unlimited hot water, excellent free wifi, purified water dispenser and facilities for preparing hot drinks. There is full access to a large saltwater swimming pool, and a small warung (restaurant) on the property where simple Balinese meals can be ordered and delivered to your room.
Shiddi – Accommodates 1 or 2 – Private and peaceful. (option for 1 or 2 together)
Siddhi is one the smallest and latest editions to the property; its size is a big part of its charm. A solid teak lumbung beautifully carved, just big enough for a queen size bed that sits snuggly in the room and doubles as a day lounger. The bed is extra thick (very comfortable) foam and sits on the floor, so this is not the house for those who don't like living at floor level, or have trouble getting up and down. The whole house is raised up and looks out over the jungle. We replaced 2 of the walls with glass, so the vistas all around are breathtaking.
Parwati – Accomodates 2 or 3 (with a shared bed)
Parwati is a unique and authentic old teak home set in working rice fields; with a shared full sized saltwater pool. Edible gardens are planted all around. And, coconut trees and banana plants abound. This is the perfect location for those seeking old Bali.
Parwati can comfortably accommodate 4 people, There is one double bed and 2 small singles in a loft space. There is a ladder up to this loft, so it is only really suitable for those who are fairly agile.
This house is completely self contained and private with its own gate. Featuring, koi pond, a fully equipped outdoor kitchen and stone work outdoor bathroom. Also with unlimited hot water, a deep terrazzo tub plus a separate shower, and countless other charming features.
Menu Types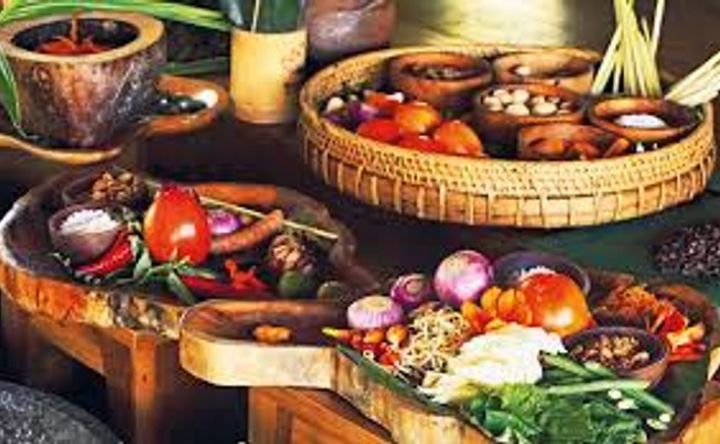 Menu/Cuisine
Our menu and Balinese food in general is easily adaptable to any and all dietary requirements; be this vegetarian, vegan, gluten-free or inclusive of humanely-sourced free-range and organic meats and line-caught fish.
3 meals buffet meals daily included in package.
All food is organic, 100% free-range, chemical free, humanely raised and slaughtered animal products, we have a wonderful local resource. They provide eggs, cheeses, bacon, chickens, other meats, vinegar, nuts and many other items.
We have our own permaculture vegetable gardens and many fruit trees. We do ask that you not pick anything without first discussing this with Wayan. We plan and plant our gardens around our own restaurant requirements and scheduled events, and freeze and store our produce accordingly. Wayan will let you know if we have any extra, and if we do we will be happy to make them available for a nominal fee.
The kitchen area is on the upper property, and is private and gated, and we ask that you not enter it, as it is exclusively for the use of our staff. If you knock on the gate someone will come and assist you.
We are in a traditional rural area of Bali, however there are some wonderful restaurants within a 10 minute drive of the property. We can arrange for transportation to off-site dining or if you wish to dine in your room or on the property we can put in an order for you and arrange pick up and delivery. Food delivery incurs an additional 10% charge on your food bill; transportation for guests to and from off-site dining incurs a charge of approximately $15. The restaurants in our area are: Kampung Cafe and Kailasha .
Besides these 2 restaurants there are several small local warungs, some that are about a 15 or 20 minute walk away, and we also have our own little on-site warung, Kafe Yamuna.
Our staff are highly skilled in cooking traditional Balinese cuisine. This goes far beyond what can ever be found in a typical restaurant. Authentic Balinese food is complex and highly time intensive to prepare, and therefore generally only a limited version of the culinary possibilities can be found on offer to the general public. For our groups we have a dedicated staff working all day to provide a wide array of authentic and delicious dishes for our guests.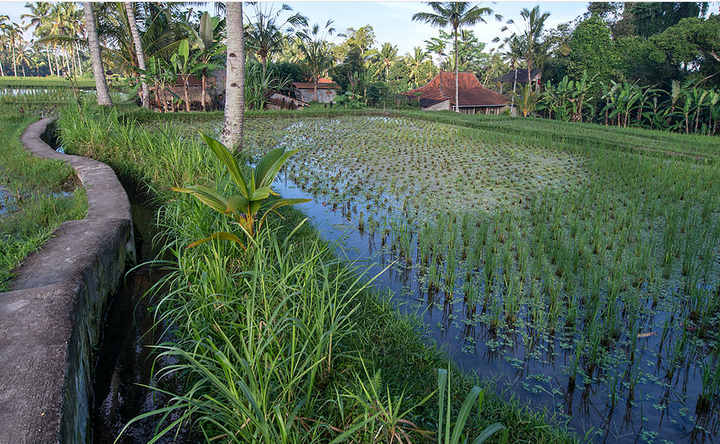 Directions
Airport pick up and drop off is included in the package. If you are already in Bali we recommend getting a driver take you to the to the retreat.
Reviews
Write a review - tell others about your experience.