About This Center
We created Alma Healing Center (Alma or la Clínica del Alma) to treat ailments at the emotional level (grief, trauma, ruptures, failures) and accomplish this through the Amazonian cosmovision and rituals using sacred plants inherited by our ancestors.
We are a diverse team of professionals with a shared vision about spiritual development as the cornerstone to healthy living.
Alma is a project directed by Taita Alejandro Ayuryü, a certified practitioner of ancestral medicine and representative of the cultural organization and Kichwa indigenous community where retreats take place.
Our primary base is located within 50 hectares (123 acres) of primary and secondary Amazon rainforest in the province of Pastaza in Ecuador. Along with the nine Kichwa indigenous families that live in this area, we believe in sharing our way of living, thinking and the sacred medicine carried down through our family lineages. To continue sharing this legacy left by our grandparents, we have opened our doors to other tribes and people.
One of my main concerns when searching for an ayahuasca retreat was safety and trust in those guiding me. I'm so grateful to have met Alejandro. During the retreat I learned how to take life, and myself, a little less seriously, and how to feel connected and revitalized through nature. The community where we stayed is lovely and I'm honored to have been welcomed to their "home in the forest". I would highly recommend this retreat for those that see something simple, affordable, safe and authentic.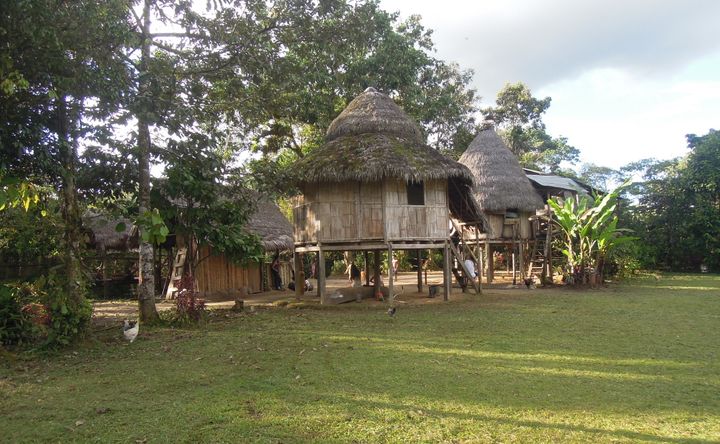 Venue Highlights
Alma Healing Center is based out of a small Kichwa indigenous community about an hour's drive from Puyo. It's an opportunity to observe and live among an authentic group of Kichwa families that continue to value, and nurture, their natural surroundings and live traditionally.
Since it isn't very far into the Amazon, access is convenient and doesn't require long journeys (trips farther into the Amazon often require a day to get there and a day to get back). Many visitors will continue on to Baños or Tena and Quito after the retreats, which helps them make the most of their time in Ecuador.
The community is located within 50 hectares (123 acres) of primary and secondary Amazon rainforest and there are many trails nearby that take you to beautiful lagoons and waterfalls (local guides/community members are required). Canoeing is also possible, given interest by participants and planning in advance.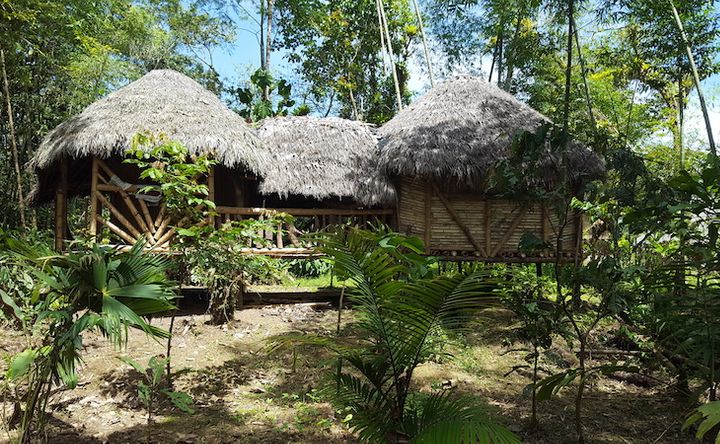 Accommodations
Guests stay in basic huts made from local materials; the same huts members of the community live in and which they have built themselves to accommodate visitors. There are a number of huts available, but since we like to keep our groups small, the available configurations include:
**All beds have mosquito nets.**
- River hut (pictured): Room 1 - double bed, Room 2 - 3 twin beds
- Cocina hut: 2 twin beds, closer to kitchen and volleyball court
- Cocina hut 2: 1 double bed between kitchen and Jesus's house
- Cancha hut: double bed facing soccer field
In terms of bathrooms, these are also basic. There are three toilets available and 1 shower. Please be warned that when it rains heavily pipes sometimes get clogged. Our team does its best to keep bathrooms clean and working and are currently raising funds to improve these facilities for the community and its guests.
Our accommodations may be simple, but it lends for a more authentic experience with the community and does not take away from your spiritual journey. If anything, it only adds to it.
Amenities
Kitchen
Tour Assistance
Coffee/Tea
Menu/Cuisine
During our retreats, we will usually be drinking ayahuasca in the evenings and because of that we only have one real meal a day, at around 11am (more like brunch).
While many retreat centers focus heavily on diet prior to and during the retreat, we take a much more relaxed stance, insisting instead that guests don't eat past 2pm if they plan to partake in the night's ayahuasca ceremony. We believe Ayahuasca takes you as you are, and drastically changing your diet two weeks prior to the retreat won't change the essence of who you are. Ayahuasca will see right through that sugar detox and the chicken wing you quickly ate during your plant-based diet :) All jokes aside, if guests choose to follow a stricter diet prior to the retreat, we are happy to offer suggestions. Fasting during the diet has a greater effect on ensuring that the medicine takes effect, in our experience.
For our 11am meal:
- We'll start with local fruit, yogurt, honey and granola with horchata or guayusa tea, and coffee for those that so desire (again, we're not strict when it comes to diet!).
- This will be followed by a wholesome meal of rice prepared with mushrooms, eggs (scrambled, fried, as you desire), a filling side of legumes or beans for protein intake and a fresh salad.
- On one day of the retreat we offer guests to the opportunity to eat maito, a local dish, made of fresh water fish steamed in leaves, with a side of yucca and salad. This is usually served with lime, but we try to avoid acidic foods in case they come back to haunt us during the ceremony.
While we have fresh fruit available, if leaving from Puyo, we often stop by a local fruit market and encourage guests to buy additional fruit if they tend to get snacky on hikes and throughout the day, always considering fasting for the evening's ritual.
Directions
From Quito, it's a 5 hour drive to Puyo. One of our team members, Sandra, tends to drive from Tumbaco (a valley right outside of Quito) and can offer spots in her car only asking that the cost of gas be shared.
- Private transport from Quito (by car) can also be organized at around $30 per person. Buses are much cheaper ($7) but less convenient as you may have to first get to one of the Quito bus terminals in the north (Carcelén) or south (Quitumbe).
From Baños, Puyo is only 1.5 hours away by bus and the cost is low at around $4.
If arriving in Guayaquil, the drive takes around 8 hours by bus and costs about $15.
Domestic flights aren't available to Puyo or Baños, unfortunately. If comfort and convenience are a factor, we suggest having a private car organized.
Reviews
Write a review - tell others about your experience.
Teacher