About This Center
Samyama was created with meditation and inner work as the inspiration. The center is designed to support deep contemplation and healing of the mind, body and spirit in a quiet, peaceful and supportive environment. We are equipped with a yoga hall, a dark room retreat space, a soundproof meditation room, a salt cave, massage rooms, steam sauna, salt water ice baths, restaurant and are situated in the picturesque Balinese countryside where the natural beauty and simplicity leads the spirit towards inner freedom.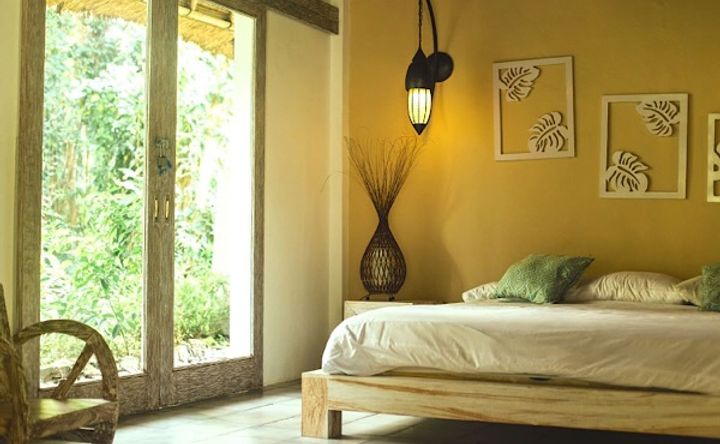 Accommodations
We have multiple accommodation options including a 4 person dormitory for budget guests, two double rooms, and a 6 person villa. Nestled along the path leading to Samyama there are also 3 small cottages available for rent.
Beijaflor - Dormitory - Our shared bunk room sleeps 4 people. The two single bunk beds include plenty of storage space, with stairs instead of a ladder leading to the top bunk for optimal comfort and safety. There is no en-suite bathroom but the shared bathroom facility is a few steps away and offers private bathrooms and hot showers. Wake up to rice paddy views and beautiful morning sun, meditate under our "life cycles" mandala and enjoy your inner journey.
Samarasa - Queen rooms - These are perfect for a couple or a single person. Kamala is themed after the goddess Lakshmi (known as Kamala or Kamalatmika in the tantric tradition) and imbued with abundance, prosperity, fertility, beauty and love. Samarasa means "even essence" and is considered one of the ultimate non-dual states, where all life has the same taste of creation. This room is perfect for the serious seeker of self-realization. Each meditation corner has a small altar aligned with the theme of the room. Feel free to add to the altar or use the desk to journal. There are no en-suite bathrooms but the shared bathroom facility is a few steps away and offers private bathrooms and hot showers.
Villa Samyama - Located next to the meditation center is Villa Samyama, a beautiful, private, semi open-air villa, complete with a pool, a river running by and the best views on the property. There are two private bedrooms with en-suite bathrooms, and one mezzanine bedroom with downstairs bathroom. This luxurious villa offers privacy while still in alignment with our vision of creating community. Depending on the retreat, the pool and garden area may be opened up to the entire retreat group during break hours as per the agreement made by the organizer and their clients.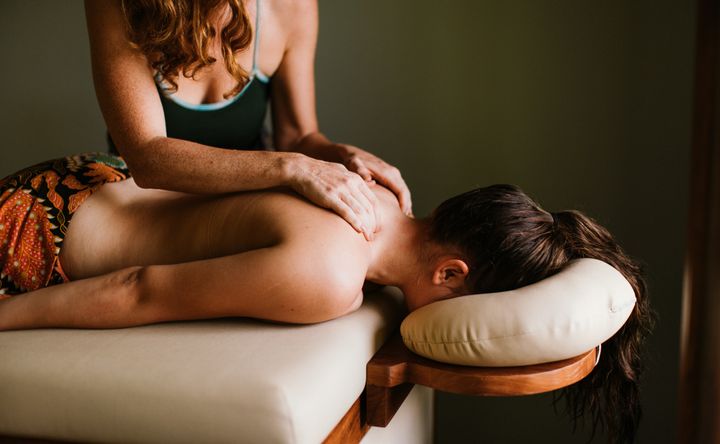 Amenities
A/C in Rooms
Free Wifi
Spa
Sauna
Pool
Towels
Free Parking
Kitchen
Tour Assistance
Cafe
Restaurant
Yoga Studio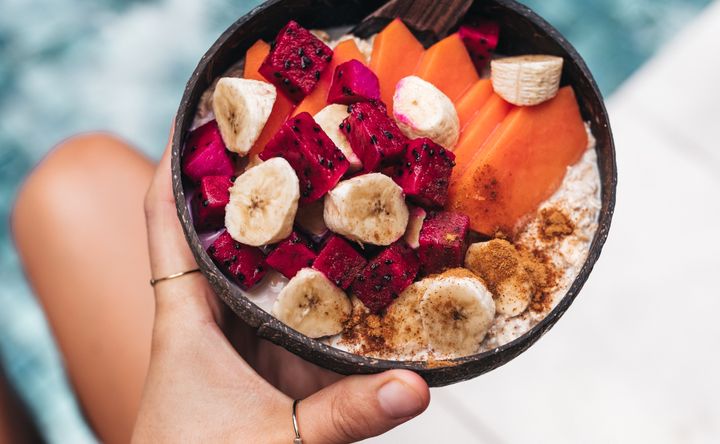 Menu/Cuisine
Our cafe offers a unique combination of communal kitchen, buffet and restaurant. For retreat participants, we offer a choice of meal plans, served in a buffet style. There is a community fridge and shared counter space for preparing your own beverages and snacks. If you are hungry for cooked food in between meals, you can place an order from our restaurant menu. Loaded with fresh, local fruits and veggies, whole foods free of preservatives, artificial flavors or additives and cooked with love our menu is designed to support your optimal health. All meals are vegetarian, occasionally including cheese or eggs.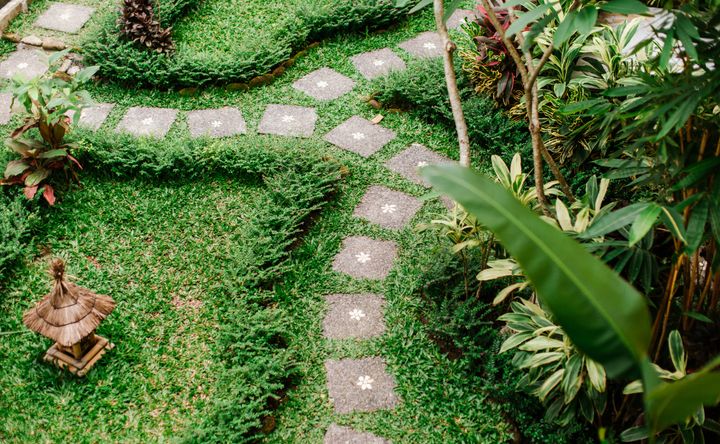 Directions
Samyama is located south of central Ubud, in the Banjar of Kumbuh, Mas. We are off of a quiet road, about a 5 minute drive to the center of town. Our neighbors include local "warungs," or cafe's, other resorts and villas, a fabulous health club, one of the best restaurants in Ubud and more all within walking distance. We are a 1.5 hour drive from Denpasar International airport.
Airport transfer is not included in the price and should be arranged with the group coordinator prior to arrival. Please send full guest name, arrival date, time, and flight number at least 24 hours prior to arrival. Transfers are provided only to and from Denpasar Ngurah Rai airport.
(contact info blocked)S9ddNE73BD2
Reviews
Write a review - tell others about your experience.
Andrea Sabatini January 30, 2020

amazing space for meditation and lovely food in a peaceful loving environment

I have been here for a month and enjoyed this place so much, people and teachers are caring and knowledgeable. The food is amazing with a variety of vegan comfort food which makes even a meat eater to dye for. The place is very peaceful and quiet and I am missing already to be there. Looking forward to get back as soon as I can and partecipate to another silent retreat