About This Center
Miles discovered meditation, organic farming, and conscious communication in the 1970's, and has made learning and teaching these skills the focus of his life. He has participated in numerous intensive meditation retreats from 10 days to 3 months in length, maintained a daily sitting practice for over 40 years, and taught students for over 20 years. He is also a professionally trained mediator with 10 years of experience in divorce mediation, 23 years teaching communication and conflict-resolution skills at the Community College of Vermont and other venues, and over 25 years coaching couples.
Miles views teaching as a creative process and improvises to see what works. He doesn't tell you what to believe, or how to think, but teaches techniques that interrupt your patterns of thought and shift your perspective. He re-directs your attention and gives you tools, so you can see for yourself where you are stuck and how to get free. As you practice these skills you become more self-aware, and are able to choose for yourself what makes you happy and peaceful.
Miles has been around the emerging personal growth movement for four decades and he knows what works. He understands your longing for inner clarity and connection with others, and offers skills that enable you to achieve these in a genuine way. He articulates a clear vision of your spiritual potential, simplified into practical and pragmatic steps. Without relying on abstract doctrine or theology, he teaches grounded and proven techniques and supports you in learning how to use them.
. When we want to wake up and be real more than anything else, it begins to happen by itself. -Miles Sherts, Beyond Perception, A Guide To Meditation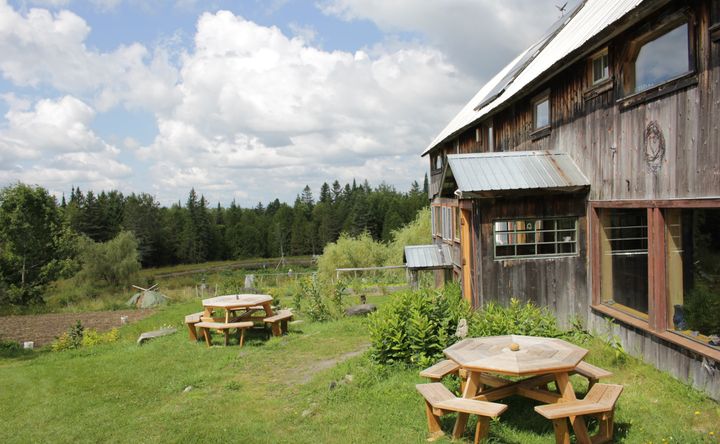 Venue Highlights
Sky Meadow Retreat Center began 30 years ago as an organic farm and homestead. It sits on an original homesteading property of 120 acres on Stannard Mountain, part of the North East Kingdom of Vermont. Sky Meadow is home to apple, plum and pear trees, berry bushes of all sorts, and large swatches of land are cultivated yearly as organic gardens. In 1998 it became a retreat center, providing space and organic, fresh grown produce for retreats of all types.
The spaces are open for leaders looking to host their own retreats, solo retreat seekers, couples retreats, and Sky Meadow also hosts multiple in house retreats each year focused on Insight Meditation and Conscious Communication s
Skills.
The main group retreat facility is a lovely renovated old post and beam barn that can comfortably accommodate 16 people, and has large open spaces with beautiful hard wood floors and giant south facing windows. Private accommodations are also available including hotel style rooms, fully equipped loft apartments, and primitive cabins and camping spots.
Sky Meadow remains a working organic farm and homestead as well, complete with a flock of sheep, a herd of alpaca, and chickens. Group retreats have the option of meals being prepared in house. These meals are farm to fork, with the vegetables and fruits harvested and prepared on the same day! Sky Meadow is an ideal location for retreat leaders and retreat attendees interested in wellness, yoga, meditation, connection, resetting and so many other things!
Sky Meadow Retreat Center is also home to an intentional community that farms and serves retreat goers. Spiritual seekers from all over North America come to do 4-12 month internships in conscious living and sustainable homesteading before moving on to make change in the world.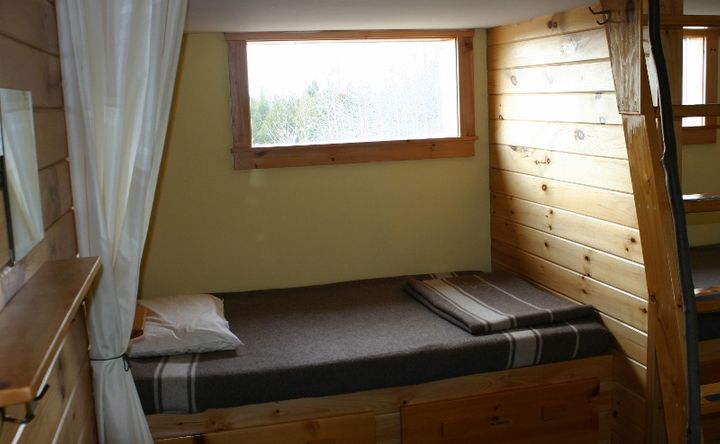 Accommodations
The rooms within the main facility are shared bedrooms. The three bedrooms on the upper floor of the barn each have four beds and share two bathrooms, each with a single shower. These rooms are set up as having bunk beds, however access is easier to the top bunk as it is more closely stairs than a ladder for climbing. There are two additional rooms within the lower area of the barn, and each of those has two beds. The lower two rooms share one bathroom with a single shower.
In addition, there are private accommodations: the Orchard House a cabin with 2 bedrooms, each with a private study area and loft single bed, and the Sunrise and Sunset Suites which are loft apartments located within the retreat barn and complete with kitchen, living area, a private half bath (dry toilet), and beautiful views overlooking the organic gardens. In addition and according to the season, there are several primitive (without heat, water, electricity) structures for guests wanting more adventure or privacy; the Mouse House, Cob House, tipi, and stone lean-to are a few examples.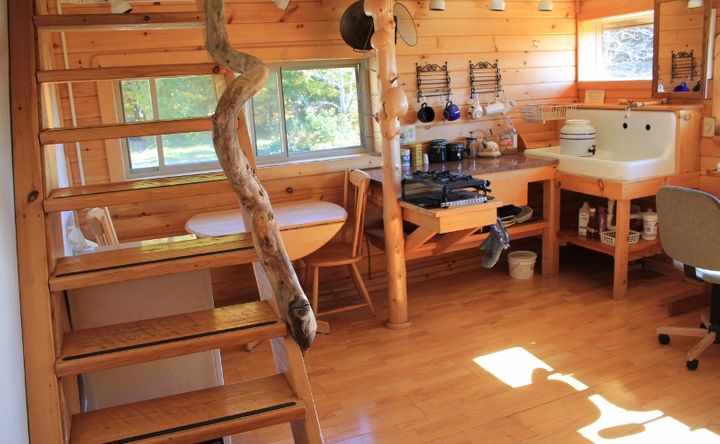 Amenities
Free Wifi
Free Parking
Kitchen
Coffee/Tea
Yoga Studio
Ceremony Space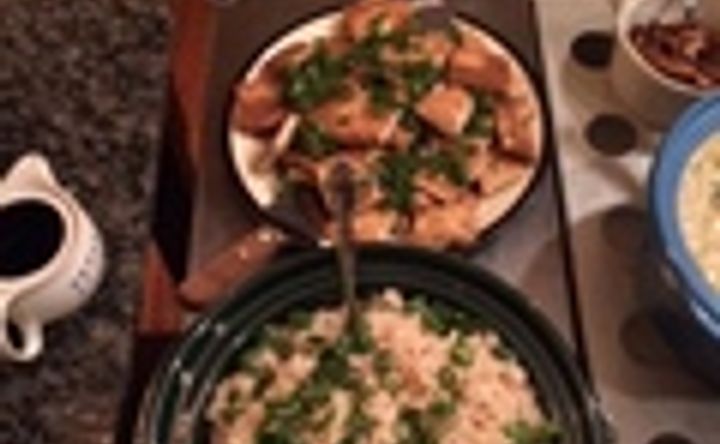 Menu Types
Vegan
Vegetarian
Organic
Gluten Free
Dairy Free
Nut Free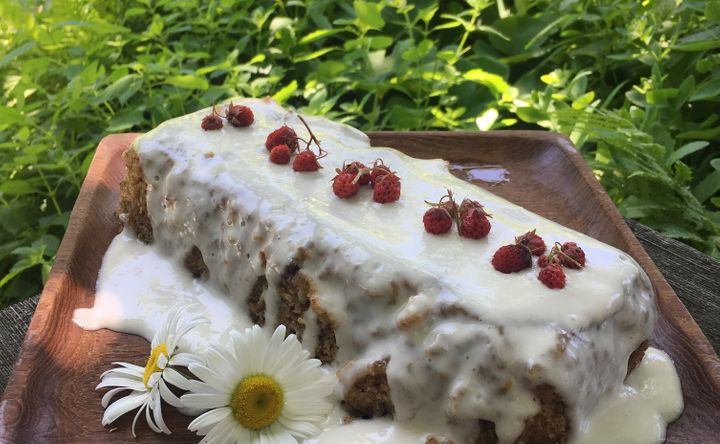 Menu/Cuisine
Sky Meadow offers vegetarian meals made from scratch and served buffet style. Our meals are filled with our seasonal, fresh, organic produce, harvested merely hours (sometimes minutes) before being served to you. We source as much of your food as we can from our land, and the rest as locally as possible from neighboring farms. We can accommodate any dietary restrictions, and ask that guests let us know of such. We serve a continental styled breakfast such as cold/hot cereals, breads, boiled eggs, yogurt, fruits and fruit preserves, granola, hot teas and cold vegan milks. Lunch and dinner are extensive 4-6 course meals, served buffet style and include homemade breads, ferments, salads, and dessert. Fruits and hot tea are available for consumption throughout the day.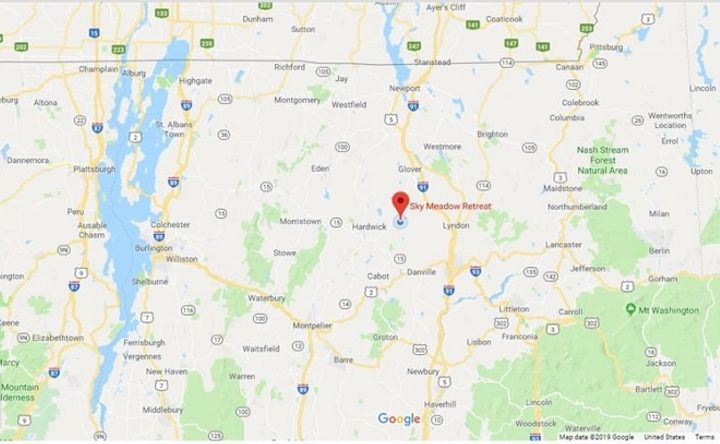 Directions
When using any mapping service search for Sky Meadow Retreat, Greensboro Bend, VT. Using our street address will misdirect in mapping and GPS services.
LOCATED: NEAR HARDWICK, VT 50 minutes north of Montpelier 40 minutes west of St. Johnsbury
1.5 hours east of Burlington 2.5 hours southeast of Montreal 2.5 hours north of Manchester NH
4 hours north of Boston 6 hours north of N.Y.C.
NEAREST AIRPORT: Burlington, Vermont. 1.5-hour drive with no public transit to us. Boston and other cities have a bus or train to Montpelier, VT, a 50-minute drive. There is no public transportation to Sky Meadow Retreat so arrangements should be made in advance.
DRIVING DIRECTIONS:
SOUTH from I-91 going south, take the Barton exit and follow RT. 16 south, pass through Glover, to Stannard sign on left just after the village of Greensboro Bend. Continue directions with * below…
NORTH from I - 91 going north take exit 21 in St. Johnsbury. Go west on RT. 2 to RT. 15 in West Danville. Take 15 west to RT.16 North. Continue directions with * below….
FROM I - 89 north or south. Take exit 8 in Montpelier. Go east on RT. 2 to Rt. 14 in East Montpelier to RT 14 north into Hardwick, catch RT. 15 east for 2 miles to RT. 16 North. Continued directions with *below
​*FROM STANNARD: Go north on RT. 16 for 4.3 miles. Turn right at STANNARD Main Street sign and turn right at the first crossroads at the red barn. Stay on unpaved Stannard Mt. Rd. for two miles. Turn left after the cemetery onto Flagg Pond Rd. Go .5 miles, make the first left onto Winchester Rd., pass the large white house is the Sky Meadow Retreat sign. Park it the first lot on the right. Pull forward and park close together to leave room for other cars.
Reviews
Write a review - tell others about your experience.
Irene Christensen May 26, 2019

The best retreat in the beautiful surroundings

I was very happy to participate in this retreat and I'm very grateful for it. Something in me was driving me toward spiritual people. I have never felt something so beautiful as being alive with my "spiritual family".. ????❤️ It felt right for me to travel far to get Sky Meadow because when I'm with people of like mind I'm really with myself. It is a wonderful retreat in beautiful surroundings for someone who is looking to awaken, going deeper into the silence. It is beyond description and heals the soul.. I was able to experience that we are all one, there is no difference. The atmosphere was lovely and everything was very well planned and comfortable. Meditating felt natural and effortless as it was combined with movements. I felt so happy and enjoyed it so much more than traditional Vipassana. Being in the presence of the Teacher has a profound and lasting effect on me. Miles is really the best teacher!! It's very important to go to a teacher who has been able to realize the only reality for himself, who has been there.. Miles' dharma evening talk was deep and helped me to catch the space between thoughts, to detect internal resistances, bypass everything, the past and the future, to go beyond, through dualistic concepts. I learned that whenever a situation in the world confronts me, it's the ego that is the cause of resistance and problems can only be solved by the source. The silence was becoming more acute and awareness was expending. I have seen many beautiful places in the world, but I know that the most beautiful one is inside - it is your soul, being. We always have access to this beauty and I was able to feel total happiness and bliss of the Self at the retreat. Thank you SO much! There are no words to really describe my deep gratitude, but I have tried my best. I will every day think about how grateful I am for that. Love and light to you all ❤️????❤️
Teacher