About This Center
Embark on an in-depth practice and understanding of Yoga, a true journey into self-realization, freedom and the ability to let go.
This Alila Signature yoga retreat encompasses an integrated approach to wellness centered on the basic principles of restorative yoga through an infusion of proven self-healing movements with a strong connection to mindfulness.
The retreat focuses on providing you the necessary tools and knowledge to achieve your desired lifestyle improvements.
During this retreat, you will be taught key Hatha practices that focus on the cultivation of power and burning through the limitations that bind us in mediocrity.
Along with connective sessions of Yoga Nidra, which is considered to be equal to the higher stage of Samadhi.
Neither thoughts or images are present, and the practitioner experience conscious deep, dreamless sleep, possessing an awareness of the surroundings – without either thinking about or interacting with them. Restorative Hatha is also offered as part of the program.
Programs are led by Ami Effendy, an internationally qualified, inspiring practitioner who was born and raised in Malang, East Java.
Certified in the Science of Intensive Yoga 'Moon, Sun, Fire', for Ami, yoga is not about flexibility, but stability; according to the tradition, stability is paramount when it comes to our practice both on and off the mat.
The retreat program includes daily yoga classes and workshops. In between is time for a daily spa treatment, three daily meals, relaxing by the pool and more. The rate is start from USD 1,360++ for single occupancy. Below the itinerary for the retreat is listed in detail.
Day 1
2:00 PM Guest Arrival
Day 2
6:30 AM Opening Ceremony7:00 AM - 8:30 AM Retreat Overview Part I Moon Practice2:30 PM Yoga Nidra5:00 PM Sun Practice
Day 3
7:00 AM Sun Practice8:30 AM Retreat Overview Part II4:00 PM Introduction to the Vayus4:30 PM Samana Vayu Practice
Day 4
7:00 AM Samana Vayu Practice2:00 PM Yoga Nidra Overview2:30 PM Yoga Nidra5:00 PM Restorative Hatha
Day 5
7:00 AM Fire Practice4:00 PM Moon Practice6:00 PM Yoga Nidra
Day 6
7:00 AM Stithi Practice12:00 PM Checkout
What is includes in the package:
3 Comprehensive yoga sessions each day, inclusive of workshops5 Nights accommodationDaily breakfast at the restaurantUnlimited wellness-oriented food & beverages from our wellness menuDaily spa treatmentsUnlimited access to Alila Crafted ExperiencesDaily yoga & wellness activities according to resort scheduleComplimentary Alila hospitalitiesReturn airport transfers
Magical Manggis! This is truly a destination resort--once you are here, you won't want to leave! Every one of the staff members demonstrates true Balinese hospitality--their only wish is to make you happy. It's also quite evident that everyone loves their job! Quiet, tranquil, magical. The lush grounds are manicured to perfection, the restaurant is divine, and the spa is outstanding! Our couples massage outside by the sea wall where the cool ocean breezes and the crashing of the waves added the perfect ambiance for a terrific therapeutic massage. Think you'll get cabin (contact info blocked). There are plenty of attractions in East Bali to see, and there are daily activities going on at the hotel. We loved that Alila Manggis was far from the touristy, busy part of Bali. Thank you Alila Manggis for making Bali a memorable trip! - Ann W. from the trip advisor review
Venue Highlights
Retreats are hosted within an oceanfront yoga shala in the secluded, yet stylish seaside resort of Manggis, East Bali. Set amidst a coconut grove, the resort nestles between the sea and the majestic Mount Agung, Bali's most sacred mountain.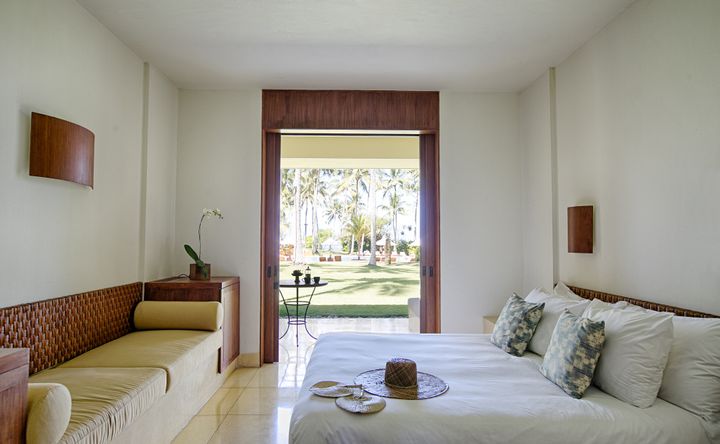 Accommodations
Located on the lower floor of each block and boasting a private terrace, the rooms are designed to maximize the views across the coconut grove, the swimming pool and the sea.
• 1 queen or 2 twin beds
• Shower
• 34 m2 / 364 (contact info blocked).
Amenities
A/C in Rooms
Free Wifi
Spa
Pool
Towels
Free Parking
Tour Assistance
Coffee/Tea
Cafe
Restaurant
Yoga Studio
House Keeping
Bicycles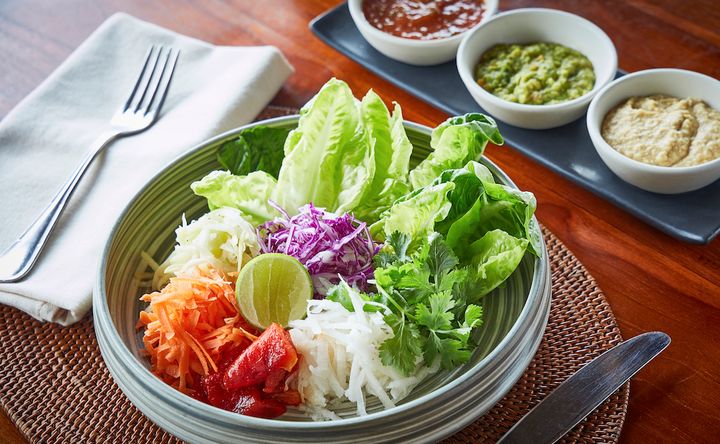 Menu Types
Vegan
Vegetarian
Pescetarian
Meat
Organic
Gluten Free
Dairy Free
Nut Free
Menu/Cuisine
We bring you flavors that are both local and international, some inspired and others traditional, some simple and a few slightly more complicated, some meals for one and others to share, some spicy and a couple that is not too spicy.
Set in a Balinese traditional pavilion on a lotus pond, we serve contemporary cuisine and traditional Indonesian and Balinese favorites with wellness-oriented food and beverages.
Directions
We are situated within the regency of Karangasem, close to the village of Candidasa. Here the local people follow a traditional lifestyle, whether cultivating rice, farming, fishing, weaving baskets, and the famous double ikat textiles, or salt making.
Its take approximately 1,5 hours drive from the airport. The rate has already includes the return airport transfer.
Reviews
Write a review - tell others about your experience.
Teacher