About This Center
What is Mukta Tantra Yoga?
Mukta Tantra Yoga is the Inner Yoga of Ancient India, the yoga of awareness and presence. The secret of absolute freedom!
Mukta Tantra Yoga is not Hatha Yoga or Neo Western Tantra or Western Kundalini Yoga. Historically, it is the only philosophy in the world that is not male chauvinistic and doesn't discriminate between any nationality, class, color, gender and religion. It has evolved very differently in a non-dualistic environment and passed orally from generation to generation. This type of yoga cannot be found through self-claimed scholars or theirs books and it is not a commodity that you can buy. It is a heart to heart connection and a direct perspective of free mind. Mukta Tantra Yoga is only for those who are not looking to convert themselves from one system of belief to another. This is not a spiritual romantic escape or an academic trap to get lost in translations, but a key to dissolve self-inflicted sorrow and to celebrate our uniqueness beyond all comparisons. A healthy doubting, skeptical and critical mind is a free mind because it doesn't want to follow or obey blindly to the rules given by societies and so called leaders. An obedient mind is a mechanical mind that can easily be exploited to serve the old establishments which only feed on fear and greed.
True Spirituality is not conforming to any pattern given by others or oneself, rather getting rid of all patterns (spiritually or worldly) is true spirituality.
Mukta Tantra Yoga is a golden secret key to the absolute freedom. It is the Essence of all Asiatic Mysticism.
Mukta Tantra Yoga is authentically using a Traditional Kundalini Tantra Yoga of Tantric Asanas, Kundalini, Chakras, Mantras, Tantric Meditations, Tantric Breath, Bandhas, Prana, Sounds, Vibrations, Light, Prana, Elements, Energies, Soma and Recognition to remain present in the moment and reflect our true nature without the interference of conditioned mind. We are using our body, mind & senses to express our true freedom (also called Pure Consciousness by Shiva) and to unlock the bliss of life, which is also called Kundalini Shakti in Tantra.
To understand and freeing these energies, we use practical philosophy inspired by Traditional Tantra also called Kashmiri Shaivism, Agama, Trika or Himalayan Tantra, the essence of The Heart Of Shiva.
Mukta Tantra Yoga supports self-awareness born out of direct observation. Awareness makes us present to face daily life as it comes and responding with the fresh intelligence of the moment.
Mukta Tantra Yoga supports others to see directly in their own light beyond all dependency on systems, cultures, traditions, organised religions, bookish knowledge and self-claimed gurus. Traditions are there to be used and not to get used or obsessed by them. They are the shadows of truth which modern scholars are trying to catch. We are the truth, just start expressing it with no excuses to seek for it. Welcome to Mukta Tantra Yoga to vitalize your senses in order to manifest your truth.
Truth is not a monopoly of any lineage rather the essence of a rebellious heart who dares to break through all the traditional lineage of the past to express truth freshly in order to use tradition rightly. Only lies are repeatable not the Truth because truth is always fresh and always need to come upon freshly. Following Tantra is not a goal, rather understanding oneself is true Tantra. Traditional Tantra reflects the experience of Asiatic Mystics who have expressed their true freedom. It can become just an inspiration to taste our own freedom.
'Mukta' means 'free' or liberated.
'Tantra' is a science to crack the code of our true nature (pure consciousness, bliss or freedom). It is eternal and always free from body, mind and feelings. There is no goal to achieve rather experiencing the true bliss of life which is already there.
There is no Road to Freedom. You are it. All roads lead us away from our true nature. Until our true nature is manifested biologically, psychologically & emotionally, it remains simply an idea but life is not an idea. It is a vibrant reality in the here and now.
Mukta Tantra Yoga embodies the essence of different yoga types such as Trika Yoga, Shiva Yoga, Shakti Yoga, Quantum Yoga, Prana Yoga, Tantric Yin Yoga, Yin Yang Yoga, Uchhara Yoga, Tattva Yoga, Soma Yoga, Consciousness Yoga.
How can it help us?
Throughout the training/retreat, we use different Tantric techniques such as Asanas, Meditations, Mantras, Breaths, Tantric Philosophy and Self-Inquiry to awaken the intelligence and ….
Activate and balance the Chakras, unblock subtle channels of pranic energies, nadis and meridians to awaken the Kundalini ShaktiUnderstand the mind and unblock it to create abundances in life on different levels (love, relationships, money, sex, work, etc.)Untap the secret Femininity (Yin energy), which is repressed for millennia, to love and share unconditionally the essence of spiritual heartPurify and vitalize the body, nervous system and senses to live a healthy and playful lifeActivate the Third Eye (pineal gland) to awaken clairvoyance, raise consciousness and activate Spirit Molecules or the Soma (natural DMT/bliss state/joy)Heal oneself through direct understanding of the root causes of past traumas and hangoversRewire and rejuvenate the brain, vitalize its neuroplasticity to shift perception beyond conditioningDistress and cure insomnia, psychosomatic diseases to flow with existence harmoniously in any circumstancesDissolve negative emotional patterns, dependencies and false egoImprove cognitive skills to manifest true intelligence and creativity in daily livingUnderstand the interdependence of life as a holistic livingTaste the secrets of living free and spontaneously in a chaotic worldBecome aware and master the different energies and elements within oneselfLearn the secrets of intimacy and tips for couples to experience a loving fulfilled life in all circumstancesVibrate with the Quantum Vibrations and energy to create reality according to an individualRedesign the matrix of your life in order to flow with the matrix of the cosmic life
Ultimately, understand and use rightly the essence of Traditional Tantra Yoga and Indian Mysticism to feel the presence and live a relaxed, harmonious life.
Quantum Physics and Neuroscience are realizing many facts which has been experienced and documented by Tantric Mystics thousands of years back. According to Indian Mysticism, we have the brain, we are not the brain, therefore we can reformat our brain according to our true nature. In MTY, we use Eastern Wisdom and Tradition to modify the quantum of our life, which is the nature and behavior of matter and energy on the atomic level, to manifest our essential nature in daily life.
Mukta Tantra Yoga is choice-less awareness in the moment. Tantra is not against the senses; it uses senses to experience life in all its colors. It doesn't teach us to control our mind, but rather makes us aware of it, so we can use it to support our true nature.
"Great school if you want to learn to apply 'spirituality' to day to day living. A course to end all courses and let the seeker rest." Jessie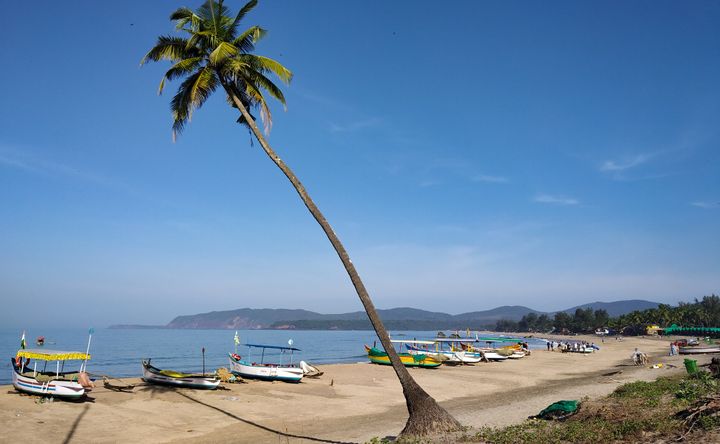 Venue Highlights
Our yogasala is located at Agonda Shanti Village Resort. It is few meters away from the beach and surrounded by nature.
South Goa is not just about exotic beaches, it is abundant in natural beauty where seekers can experience their true self and grow in peace and harmony. Mother nature helps to heal and rejuvenate faster as we are part of it.
Unlimited nature:
South Goa is one of the most convenient and safe places in Goa with its spacious beautiful golden long strip of white-sand beaches with blue water, surrounded by exotic palm groves and several small bays. It is a natural peaceful beauty with lush nature by the coasts and inland with many undeveloped areas.
Safe and vibrant social life:
It has a laid-back vibe and a dash of vibrancy with its beach cafes, bars, restaurants, bustling shopping streets. It is easy to socialize or to be alone depending on the mood and is also a safe destination for foreigners men and women to travel to.
All year round destination:
South Goa's climate is tropical, warm all year round, with a long sunny season roughly from mid-October to mid-May, and a rainy season roughly from late May to October. Rain falls mainly from June to August; the days are humid while the nights are cool and pleasant.
During the monsoon season South Goa is very picturesque and scenic, the nature blossoms and becomes wilder and lusher. The village becomes more serene and peaceful, perfect to retreat oneself and experience the traditional local vibe and Goan way of living. Most local shops remain open.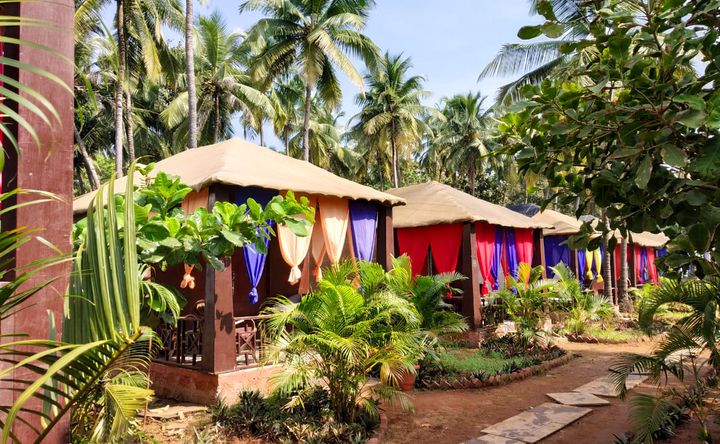 Accommodations
Accommodation will be located around Agonda Beach area with attached bathroom according to the availability at the time of booking. Check-in on the starting day and check-out on the following morning after the end of the Training.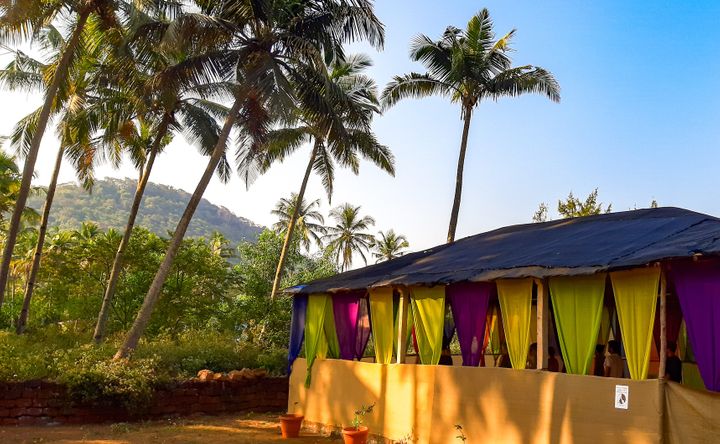 Amenities
Free Wifi
Towels
Tour Assistance
Cafe
Restaurant
Yoga Studio
House Keeping
Menu/Cuisine
For the moment we have felt not to include meals in our training so students are free to eat as they feel and there are plenty of good economical choices around and opportunities to interact with others. Also many students are not into eating Indian food every day and it's good to eat according to the need and taste of ones culture to keep the mood happy.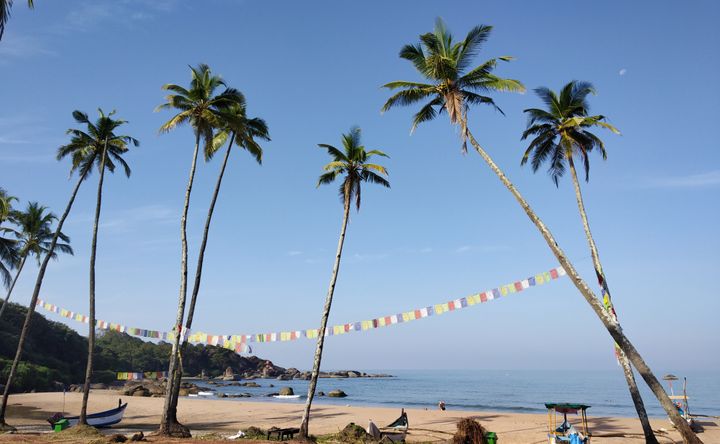 Directions
Easy Access:
Goa International Airport more commonly known as Dabolim Airport is located in the city of Dabolim in Goa, India. It is the only airport in the state. The Dabolim Airport is around 63 kilometres to Agonda Beach. It is well connected by daily flights from Chennai, Mumbai, New Delhi, Hyderabad, Cochin and Bangalore and supports nearly all the domestic airlines. You can also access via train or bus from big cities.
Reviews
Write a review - tell others about your experience.
Ana Carvalho April 08, 2020

Life Changing Experience

Mukta Tantra Yoga Teacher Training (200hrs) was a beautiful experience beyond my expectations. I practiced different styles of Yoga classes for many years but I wanted to learn to be my own teacher and Mukta Tantra Yoga ended up a discovery bigger than that. This Teacher Training was a break through to all the pre conceptions I had about Yoga. I was used to push myself very hard to get the perfect pose alignment and to be adjusted, but in Mukta Tantra Yoga I learnt to be present and to feel each pose from inside, with softness and surrender but yet strong and engaged. The journey to feel my inner self, my fire, my softness, and femininity did clearly grow day after day. Mukta is a very knowledgeable, experienced and inspiring teacher which makes his philosophy classes very powerful. He make us self-inquire every day and it really challenged me on my beliefs, patterns, fears, taboos, dreams, traumas, attachments etc. I really recommend Mukta Tantra Yoga, it is much more than just becoming a Yoga Teacher, it´s all about becoming free and enjoying that freedom. Thank you so much Mukta!
Teacher