About This Center
Chiron Retreats is an endeavor to reunite the human soul with the Sacred Mysteries of Life, the Inner Self and the Cosmic Order. It's a transformational experience based on Greek Ancient Wisdom to support awareness in everyday life.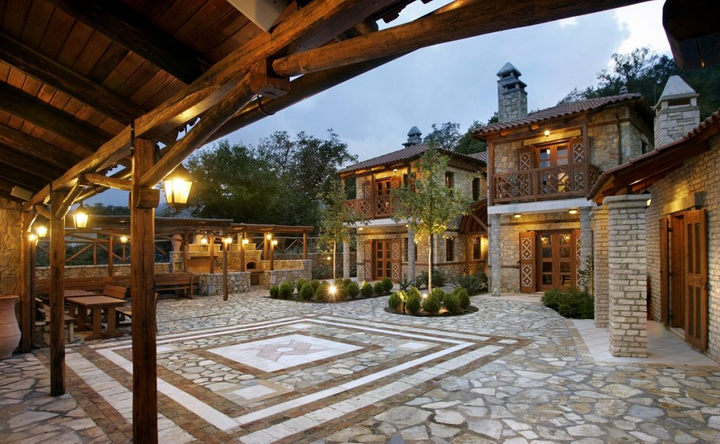 Accommodations
Welcome to Abeliona Retreat
"Restore your Balance"
Built on the mountainside with a view out to the hilly landscape of Arcadia, a few minutes' drive from the great temple of Apollo Epicurius, Abeliona Retreat rests in an area that has always been praised not only for its generous natural beauty, but also for giving off a blissful sensation of calmness, peacefulness and belongingness. The prerequisite qualities for someone to attend therapeutic workshops and sessions, in order to heal himself.
Abeliona Retreat offers a combination of ideal location, homemade food with exquisite local produce and nature activities, harmoniously supporting alternative tourism in the most quality way. The accommodation consists of 13 doubles and 9 two-room apartments. At Abeliona Retreat we place special emphasis on physical health and spiritual quest: We have created a specially equipped 80m2. yurt, for organizing yoga, meditation, etc.. At the same time, the Abeliona Retreat is surrounded by an extensive network of marked footpaths that connect it with plenty of beautiful sites and attractions, including the Temple of Epicurean Apollo. Not far from Abeliona, you can visit Ancient Olympia, the medieval town of Karytaina, the wondrous church of Aghia Theodora, the Neda's waterfalls and if you feel more adventurous go down the Loussios river on a raft or a river trekking.
"A place of bliss and inner peace"
Very often in today's world, we feel like leaving everything behind and escaping the ordinary, allowing time for our body and mind to relax, revitalize and heal. Abeliona Retreat is the ideal place to do just that.
Amenities
Free Wifi
Towels
Free Parking
Kitchen
Coffee/Tea
Restaurant
Yoga Studio
Reviews
Write a review - tell others about your experience.