About This Center
Himalayan Holistic Yoga School is a lively, vibrant and cutting-edge ashram that differentiates itself by offering not only yogic-practices but also by providing the correct understanding, traditions, context and meaning of yogic sciences, asana, meditation, and philosophy. Yoga is an ancient art which was originated in India around six thousand years ago. Earlier people were used to of practicing yoga and meditation in their daily lives to live a healthy and strong whole life. Yoga is a practice to bring body parts together to make a balance of body, mind, and soul. Earlier it was practiced by the yogis to meditate them.
Our school's mission is to promote Himalayan Holistic Yoga School through spreading the yogic message of love, kindness and the commitment to spiritual development. Yoga is a beautiful and enriching way to connect with others and ourselves. We believe that no matter which country we come from or call home, we are all one.
200 HOUR YOGA TEACHER TRAINING COURSE IN RISHIKESH, INDIA
Beautiful 28 Days 200-Hours Yoga Teacher Training in Rishikesh, India at Himalayan Holistic Yoga School registered Yoga School in Rishikesh. India providing best 200 Hour Yoga Teacher Training in Rishikesh, India Certified with Yoga Alliance, USA. Hatha, Ashtanga, Kundalini & Vinyasa yoga teacher training Course in Rishikesh India RYS: 200.
HIMALAYAN HOLISTIC YOGA RISHIKESH INDIA
(RYS 200/300/500) offers Yoga Alliance USA, registered Yoga Teacher Training Courses (YTTC) at two locations at Himalayan foothills of Rishikesh and Dharamshala (India).Dharamshala is a beautiful and peaceful town, spread at different levels and surrounded by forests of pine, It is the second winter capital of the Indian state of Himachal Pradesh.After completion and evaluation of the course and examination of YTTC.We provide a Yoga Alliance USA Certificate which is approved and appreciated all over the world.Himalayan Holistic Yoga School is dedicated, devoted and committed to spreading the ancient knowledge of Yoga, Meditation and Ayurveda in its traditional form.As a charitable yoga organization, we believe in humanitarian work for the welfare of the poor people and we are registered under the Indian Trusts Registration Act. Himalayan Holistic Yoga School Foundation (HHY) works to aid and help poor children in India and organizes yoga workshops, yoga teacher training courses and yoga retreats in India and internationally.
YOGA TEACHER TRAINING COURSES & YOGA HOLIDAY IN INDIA
HHY is a high- spirited, energetic, enthusiastic, buoyant and cheerful ashram in Rishikesh, it is surrounded by the mighty Himalayan mountain range and holy river Ganga is just 800 meters away at walking distance that differentiates HHYS from all other ashrams. HHY not only offers yogic -practices but also provide the scrupulous details and correct cognizance of traditions, context and meaning of yogic science, asanas, meditation, philosophy, and Anatomy. As they say " The mind cannot be analyzed by an external machine " so training your mind and soul amidst this prepossessing nature is the main aim of HHY. HHYS mission is to promote yoga all Round the world through love, harmony, goodwill, faithfulness, and commitment to spiritual development. Yoga is a beautiful and enriching way to connect your body mind and soul with others and ourselves, you are in constant connection with your supreme soul when your soul is in peace. We believe that no matter which country you come from, we all are one and our sole propose is to teach and promote yoga all around the globe.
Yoga is a light which once lit will never dim, the better your practice the brighter your flame. – B.K.S. Iyengar
Venue Highlights
This retreat will take place at Himalayan Holistic Yoga School in Rishikesh, India. Popular all around as the Yoga capital, Rishikesh is a perfect place to learn and study yoga. Surrounded by beautiful mountains, lush green surroundings, holy and mighty Ganges, Himalayan foothills, and tranquility, one can instantly get a natural feeling of sigh, contentment, and happiness. All set to take you on a spiritual and enjoyable journey to India, and cherish the yoga teacher training with an enhanced and uplifted spirit and feel compassion and love for everything life have given to you and for all that, which is surrounding you. Have the unique chance to experience nature & the animals around the school such as different types of monkeys, squirrels, birds, and cows. It provides an extraordinary feeling to all who are dedicated to spiritual transformation, internal development, and environmental sustainability. The staff will overwhelm you with their hospitality and desire to make your stay the best ever.
Our School is located in the Indian state Uttarakhand at Rishikesh which is also called World capital of Yoga and this place has a spiritual connection as per Hindu mythology as every year millions of pilgrims visit this land for various holy rituals across the globe. One of the greatest reasons is the Holy river Great Ganges flow through this state and among pilgrim the significance of this river is highest and also worshipped as Mother Ganges. Every year many yoga and spiritual enthusiast visit this city across the world and is the considerably safest place if you are a lone traveler or even a solo female traveler. Our Indian culture is based on the rule of ATITHI DEVO BHAW which means Guest is the form of GOD. The local people here are very welcoming and friendly and used to of multi-culture people, and full of innocence as compare to Indian metro city crowd. This mystic land is a surely nice and safe place for everyone and we look for the unforgettable moment for those enthusiasts who come looks India as a land of mythology, spirituality, and human relation and cultural value.
Accommodations
Himalayan Holistic Yoga School offers single and double room based on the student's requirements. Every room has attached bathroom with western toilet and hot shower, Beautiful mountain or garden view from the room. The rooms for the yogis are well maintained and clean. They offer bed sheets, pillows, bath towels, blanket and welcome amenities upon arrival. Good Wi-Fi is included on every floor. Water and laundry service is also available.
Amenities
Free Wifi
Spa
Towels
Free Parking
Coffee/Tea
Restaurant
Yoga Studio
House Keeping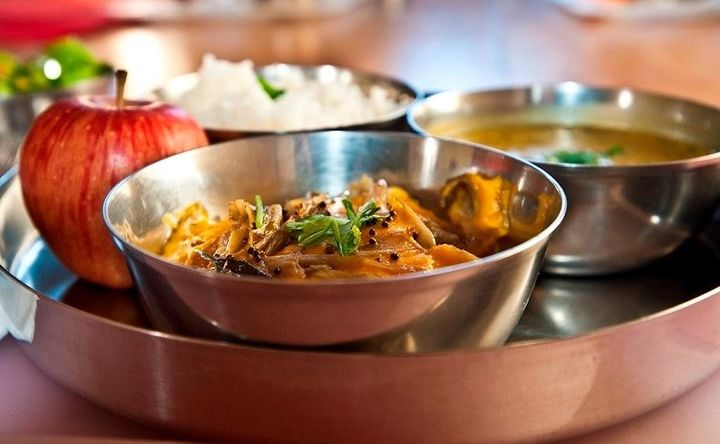 Menu/Cuisine
1)We could provide a vegetarian meal.
2)Non- veg is not allowed in our School.
3)In vegetarian meals, we provide cereals, bread, butter, fruits, vegetables, tea, sweet dishes, etc
Directions
In general, from New Delhi to Dehradun is only 45 to 60-minute fly but again it depends from flight to flight and by Cab it takes hardly time from Dehradun Airport to our school half an hour.
AIRPORT TRANSFER(ON REQUEST*)
We have tie up with local transporter, you can ask us if you need an airport transfer for our school and our team will be happily assisting you. The fastest and easiest way to reach Rishikesh is a flight from Delhi to Dehradun.
New Delhi Airport to Rishikesh School by taxi- US$ 70.
Dehradun Airport to Rishikesh School by taxi- US$ 15.
Reviews
Write a review - tell others about your experience.