About This Center
The French Retreat was developed after many combined years teaching, attending and writing about residential workshops and retreats.
Matthew and Emma Pruen wanted to create a space that would hold the deepest emotional work. They searched for property that was both sufficiently private and open. They found this Manor house that hadn't been lived in since the 1970s and set about converting the huge barn into a large group room with high spec en-suite accommodation.
The French Retreat is a very special workshop and retreat centre. The vast double height group room with its vaulted ceiling is simply stunning. Each bedroom has a very different feel, from simple French country twin rooms to the Lord of the Manor's four poster bedroom. The en-suite bathrooms are sleek and modern, with traditional features retained.
The owners run their own courses at The French Retreat and also invite teachers and facilitators to use the venue for their own courses. Matthew as been a self development facilitator for the last ten years and before that ran award winning restaurants in Bristol, although the original plan was to be an artist. You can read read more about Matthew and his work at (contact info blocked).
Emma's path has been equally eclectic working as a self-esteem counsellor, founding and running a mind, body spirit magazine and latterly training as a shamanic practitioner whilst working as a spin doctor for the Green Party. She has just completed her first novel. Read more about Emma's work as a facilitator here.
I just want to let the whole world know that my experience of running a very deep and transformational leadership retreat last week at The French Retreat was incredible, made so by the hosts Emma and Matthew who held space, cooked for us and were constantly there in the background. Nothing was too much trouble and having years of experience in this world, I have never experienced such wonderful, loving holding which I have no doubt was a major factor in the places the participants went too and the deep shifts they had. I can't recommend The French Retreat highly enough. I just hope I can get a slot in their diary in the future as there is nowhere else I can imagine working in this way again. Thank you Emma and Matthew from the bottom of my heart. Teresa Barnes, Facilitator GarfieldBarnes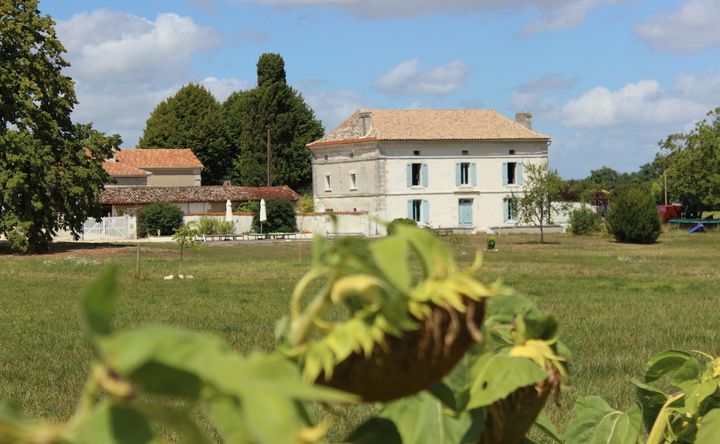 Venue Highlights
The French Retreat is the restored Manor House and buildings of a former Cognac making estate. Today it is a holistic centre for anyone looking to find stillness, reconnect with themselves or learn something new. We welcome you as we would a guest in our home, rather than a visitor to a hotel.
Located off the beaten track in rural South West France, but within an hour of Bordeaux it is the perfect place to rest, sleep, breathe, read, journal, lay down on the sun loungers, take a dip in the salt water pool, listen to inspirational podcasts, chat to the other people (or not), walk for miles in the countryside amongst the fields of smiley yellow sunflowers.
It can be very hot in the day with clear skies, the evenings can be chilly so bring another layer if you want to stay up late watching the stars, which are magnificent. It is a very rural and relaxed location, comfortable shoes are recommended. Our region is famous for its walking routes through vineyards, valleys and we are very close to the famous Camino walk which eventually finishes at Santiago de Compostelle in Northern Spain.
Your bed will be made up with cotton sheets, duvet, pillows and a throw. High quality vegan 'Faith in Nature' bath products and bath towels are provided.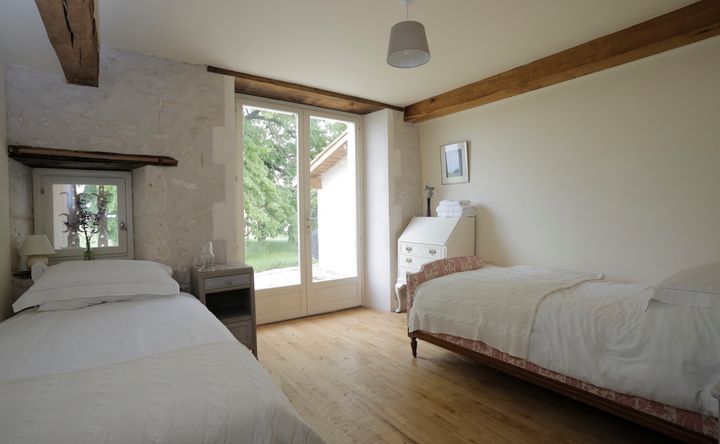 Accommodations
We have 2 buildings across a courtyard from one another: La Grange (a converted Barn) which contains the 100 m2 group room and 6 twin bedrooms all with en-suite bathrooms, and La Loge (the main house) which has 5 bedrooms: 3 double first floor bedrooms - one with an en-suite shower room and the other two sharing a large family bathroom and 2 attic twin bedrooms. The attic bedrooms share a bathroom (toilet, shower, basin). There is also a separate toilet in the attic, and one of the bedrooms has a basin too. The rooms in the house are an offer once the 12 beds in La Grange have been filled or can be a separate space for facilitators.
To see the floor plans and pictures of bedrooms follow this link: (contact info blocked)
We are flexible with the accommodation and move beds around to cater for gender split etc but for workshops we generally accommodate around 18 guests sharing and 2 facilitators in private rooms.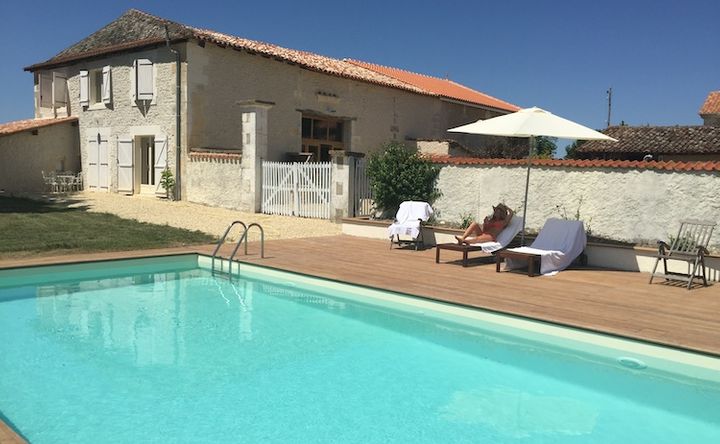 Amenities
Free Wifi
Pool
Towels
Free Parking
Kitchen
Coffee/Tea
Yoga Studio
Bicycles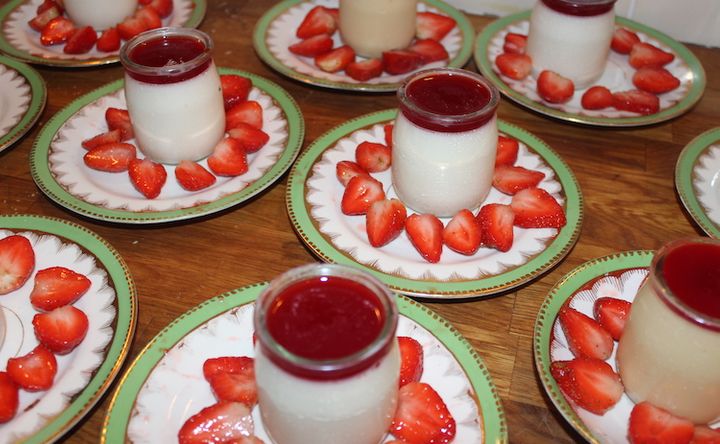 Menu Types
Vegan
Vegetarian
Pescetarian
Ayurvedic
Meat
Organic
Gluten Free
Dairy Free
Nut Free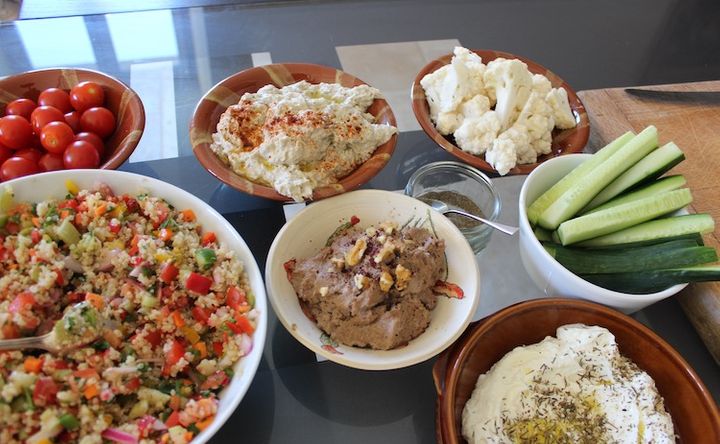 Menu/Cuisine
We love our food at The French Retreat and aim to provide you with memorable meals.
As award-winning restaurateurs our standards are high and we take pleasure in creating original menus using the most delicious local ingredients available.
We offer delicious workshops appropriate food and if requested also Vegan, Ayurvedic, Gluten-Free, Vegetarian, Organic etc.
A typical dinner might be: Middle Eastern dinner: spiced vegetable tagine, herb tabouleh, cous cous, baba ganoush, flat breads, or it could be a comforting supper of local sausages, bashed potatoes, homemade baked beans & toasted caraway cabbage
A late summer lunch of green bean, beetroot and goats cheese salad, lentil and cumin soup, herb salad & artisan bread
Desserts are served with dinner and include sorbets, cheesecake, brownies with cream, fruit crumbles, patisserie.
"What a delight to be served such fragrant, tasty and deliciously fresh food all week."
Renira Barclay, Therapist and Coach, Sussex
"The food was out of this world." Julia Reid, Award-winning chef
"The food was prepared with so much love and attention." Marion Bevington Yoga teacher
"The food was 5*" Nicky Pepper, workshop participant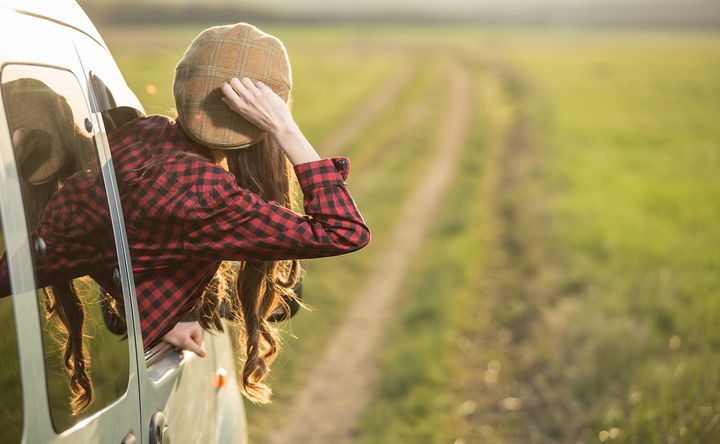 Directions
The French Retreat is accessible from Bordeaux Merignac (75mins) and Bergerac airport (85 mins).
Public transport: There is an airport shuttle bus from Bordeaux airport to Bordeaux St John station, priced €7 which takes half an hour (timetable here: (contact info blocked)) or a public bus, Line 1, which takes an hour and costs €2. Trains from Bordeaux St John station to Chalais is on a direct line, but there are only 2 or 3 a day. They cost €15.40, we collect your guests for free from Chalais station.
You can hire a car from Bordeaux Airport, or take the airport bus to Bordeaux St Jean train station and from there a train to Chalais where you can be picked up by Emma (by contacting her on UK mobile (contact info blocked) or French landline 00 33 5 45 78 04 79). There is also an English airport transfer service to which costs 120Eur each way; speak to Emma if you would like this option so she can, if possible, arrange for you to share the taxi with other participants if you are coming to attend a course.
We can book a shuttle service from Bordeaux airport. The price for an eight seater minibus is €260 /€32.50 per person for a full minibus. A English-speaking licensed minicab is €130. Airport taxis are upward of €300, Uber is much better value.
Driving
We are marked on Google Maps as The French Retreat. Head for the town of Chalais and from Chalais exit the town in the direction of Brossac on the D731 and take the 2nd left after you see the end of Chalais crossed out signs. The retreat is at the end of the track. For a location map go to (contact info blocked)#!contact_us/c3fg
Parking:
There is ample parking at the house
Reviews
Write a review - tell others about your experience.
Teacher