About This Center
2 catamarans 16 like minded people 7days sailing the Mallorca coast with Yoga & adventure all inclusive
Discover the experience
The Yoga & Sail Experience of a Lifetime
Sailing with the wind gives you the chance to focus in the present moment, read, meditate.
Ocean contemplation drives you a conscious presence that allows an inner connection like no other.
Enjoy the rejuvenating energy of the ocean breeze, breathing the salty air, wake up every morning on the desk with a cup of tea before yoga or taking an afternoon nap in the hammocks. and feel the freedom feeling of sailing
We love sharing our ocean passion on board, teaching you basic sailing skills, show you the Mediterranean underwater life, caring for our ocean, our forest, and wildlife.
Relax with a cup of tea before yoga or taking an afternoon nap in the hammocks.
SAIL & FLOW
Sail and dive the Mediterranean Mallorca coast of pristine beaches, turquoise crystal waters, blue caves, breathtaking sunsets, horsebacks riding on the white sand beach, fun yoga sessions in the paddle board, and the immersive feeling of freedom sailing
DEEP LEARNING INTEGRATION We believe the experiences that last a lifetime are the ones in which you are learning and integrating what you learn into your life. We guide and create unique opportunities for deepening and expansion of your practice.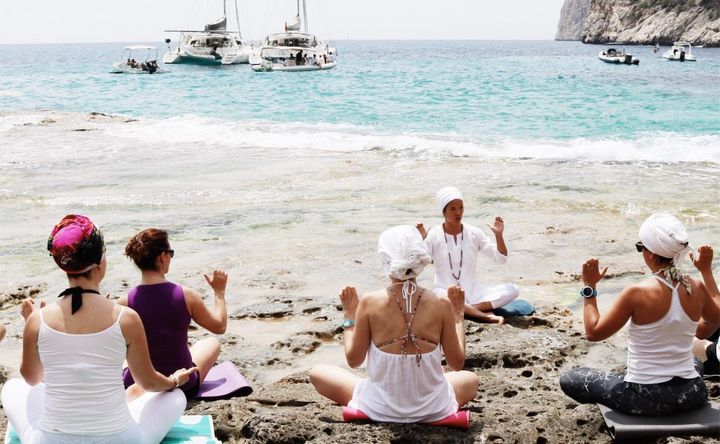 Venue Highlights
The Ocean Dream Yoga experience mission is to make it easy for you to sharpen your body, mind, and soul, reconnecting with your natural flow through the nature of the ocean, feeling you more alive and vibrant than ever,we are designed every day of this experience to offer you the possibility to expand your conscience, to be more present in your body, to listen to your inner wild voice and intuition and to fill your body with endorphins as an ocean love and beauty treatment
"Live, travel, adventure, bless and don'tt be sorry" Jack keruac
let your body flow in the sea water, swing on the catamaran deck breathing the salty air full of minerals and healthy ions, let the calm, the sound and the beauty of the ocean merge with you, return to the source of life in this experience of multisensorial sailing and yoga trip.
Meet our teachers and start the day with the oceanic pulse meditation (not too early…) and a Vinyasa yoga class that´s paced for all abilities with step by step tuition to develop your skills and confidence for home practice.
We practice yoga together twice a day, ( morning session and sunset session) re-calibrating and re-connecting mind & body whilst developing sensitivity and focus. By the end of the week, you'll be ready to practice at home, irrespective of your fitness level. We teach you to experience yoga not just as exercise/stretching, but as meditation-on-the-move. This is a method of yoga, not a 'style', the seeds of which will help you to practice any other kind of yoga.
And after morning class enjoy the deli buffet breakfast while chatting with the yoga teacher.
When you come on an Oceandream Yoga retreat, nothing is mandatory and we build in plenty of time for you to be on your own, to rest more, to explore more, or to be open to whatever shows up, rest rejuvenation…
A week of quiet nights and deep sleep, time for napping and giving yourself permission to do nothing at all.
CONNECTING WITH YOUR TRIBE
Come with no story to defend and no judgment to be had. Meet people who will change your life and/or share in all the ups and downs. Connect to old friends and family in a new way, on a retreat, or when you go back home. Our own healing is the healing of the planet and so we work with companies that have similar ethos and missions.
Daily schedule Program
Day 1: Saturday
17:00 Arrival and checking onboard
18:00 Sailing to Cala Llamp
20:00 Oceanic pulse meditation
20:30 Dinner
Day 2: Sunday
08:00 Wake-up, tea, and healthy snack
08:30 Yoga class and meditation
10:00 Delicious healthy breakfast
11:00 Sailing to Cala Egos, SUP excursion, and SUP yoga session
13:30 Healthy yummy lunch
15:00 Sailing to Es Caragol
19:00 Yoga class and meditation
20:30 Delicious dinner
Day 3: Monday
08:00 Wake up tea and healthy snack
08:30 Yoga class and meditation
10:00 Brunch in the beach
12:00 Buddha bowls cooking class
13:30 Lunch
14:30 Beach time and relax
18:30 Yoga class and meditation
19:00 Sailing to Cala Marmols
20:00 Lovely dinner
Day 4: Tuesday
08:00 Wake-up tea and healthy snack
08:30 Yoga class and meditation
10:00 Energetic breakfast
11:00 Sailing to Cala Varques
13:00 Caves excursion adventure with yummy picnic
14:00 Beach time
18:30 Yoga class and meditation
20:00 Dinner and sailing to Cala Cala Ratjada
Day 5: Wednesday
08:00 Wake-up, tea, and healthy snack
08:30 Yoga class and meditation
10:00 Glorious breakfast
11:00 Sailing to Colonia Sant Pere
13:00 SUP yoga session and beach time
14:00 Lunch
15:00 Sailing to Son Serra de Marina
16:00 Beach time
17:00 Horseback ride on the beach
19:30 Yoga class and meditation
21:00 Delicious dinner
Day 6: Thursday
08:00 Wake-up, tea, and healthy snack
08:30 Yoga class and meditation
10:00 Breakfast
11:00 Sailing to Cala Marmols with some stops and beach time
19:00 Yoga class
19:30 Crystal bowls meditation concert
21:00 Party dinner at the beach music live concert
Day 7: Friday
08:00 Wake-up, tea, and healthy snack
08:30 Yoga class and meditation
10:00 Sailing to Palma with stops for beach time
15:00 Arrive at Palma de Mallorca for a bike tour in old town ancient Palma
18:00 Time to say goodbye till next time, check out
WHAT´S INCLUDED IN THIS PACKAGE
7 days/ 6 nights sailing a dream catamaran experience
Double cabin
All delicious breakfast, meals, dinners and snacks, water and juices everyday
2 Daily yoga & meditation class (morning and sunset)
Chef on board
Skipper and fuel deposit
2 Stand up paddle yoga surf classes
1 Kayak excursion
1 Horseback ride on the beach
Professional photo report of the week
1 chillout private beach party with live music
1 bike tour old town Palma city
Transport & material and access to all adventures
Airport transfers
Welcome haul onboard kit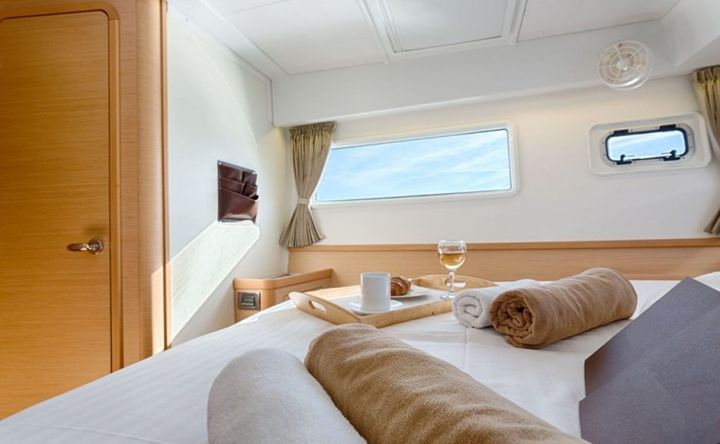 Accommodations
CABIN OPTIONS:
-Double Cabin Shared with another person same gender.
-Doble Cabin Private for 1 or 2 persons.
Each boat has four double cabins with private bathroom and shower, and 2 cabins for crew, comfortable desk, living room and kitchen, Wi-Fi, and all the material that you need to enjoy and get fun and adventures in the turquoise waters, It also has a staircase to the descents in water and easily lifts from the water. The interiors are air-conditioned, bed linen, towels, and a welcome haul present for every guest.
OceanDream Yoga is choosing one of the best options to sail and enjoy the sea, the Nautitech and Bali 4.3 Catana, both of them are 13.1 meters of length, 7.1 meters of beam, and capacity for 12 people that has 6 cabins and 4 bathrooms. The yachts are designed to get an amazing experience even suitable for those who do not have a "sea foot" inclined to prefer sweet sailing with calm seas and stability and seaworthiness without risk.
These yachts have robustness ensures safe and comfortable navigation, with large outdoor sundeck. It mainly navigates on the engine with a cruising speed approximately of 7 / 10 knots, but in the presence of bearing breezes can sail with the stern wind.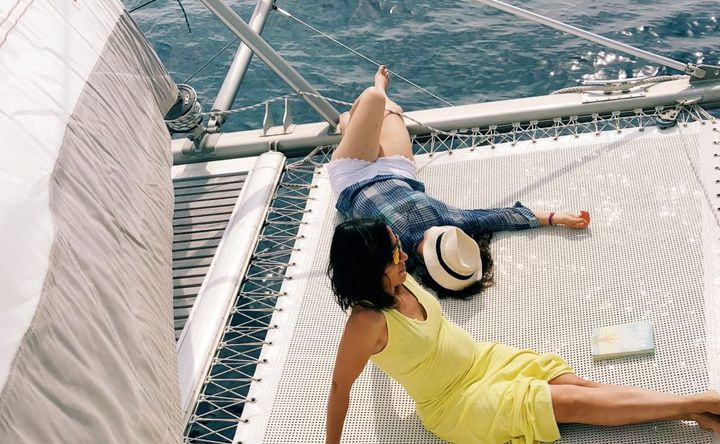 Amenities
A/C in Rooms
Free Wifi
Towels
Kitchen
Tour Assistance
Coffee/Tea
Cafe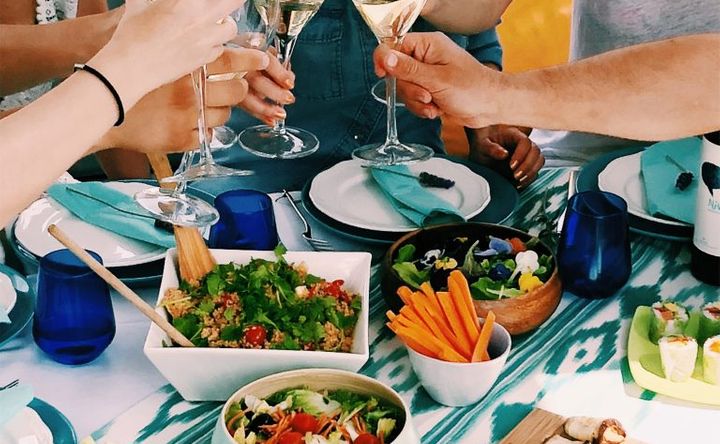 Menu Types
Vegan
Vegetarian
Pescetarian
Organic
Gluten Free
Dairy Free
Nut Free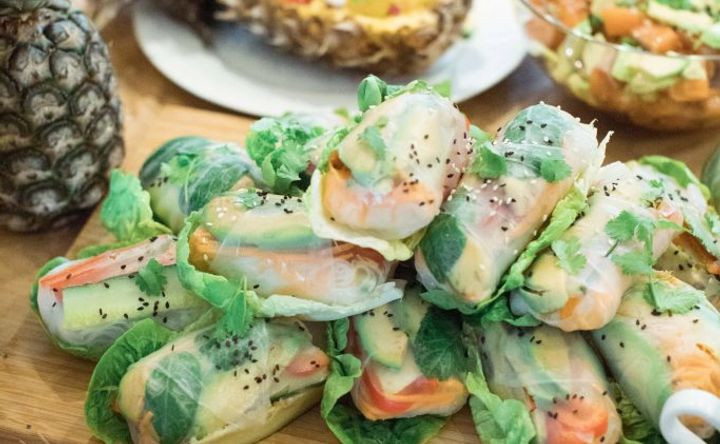 Menu/Cuisine
FUEL YOUR BODY AND SOUL
Fall in love with taking care of yourself, mind, body, spirit.
We love food, period. Delicious, healthy, beautiful, thoughtful food that nourishes the body and inspires the creative soul. Food is where we come together to replenish our bodies and where our community is built.
All meals are lovingly prepared using locally grown produce, mainly organic. We use cold-pressed virgin olive oil, locally sourced of course.
We also give you cutting-edge advice about raw food and superfoods to get lean and feel healthy, and we have some great recipes for you to try at home. If you are allergic to certain ingredients we will do our best to meet your requirements, provided that you advise us in advance.
You will be introduced to a wide variety of superfoods which are nutrient-rich to nurture your body and delight your palate: spirulina, maca, hemp, acai, chia, bee pollen & barley grass. We share with you up-to-date nutritional facts about superfoods that boost your immune system, as well as foods that regulate your mood and energy levels. A raw superfood diet can also trigger long-term weight control and helps reduce cravings. You are invited to participate and learn in the kitchen if you wish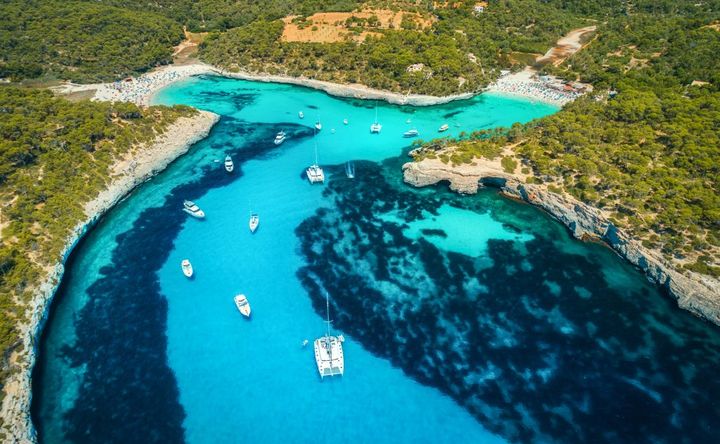 Directions
We will be your guides along with the unknown beach spots of Mallorca, out of the tourist beat, show you the wild paradise that the island keeps away from the crowd, the sailing route starts at Palma de Mallorca Port, and we will sail to south and to the northwest.
Palma de Mallorca airport is called Son Sant Joan and is just 10 minutes from the city center and Port, we can organize the transfers and pick up you from the airport to the boat.
Reviews
Write a review - tell others about your experience.
Teachers