About This Center
WARNING: Exquisite natural beauty awaits! Perfect for personal or group transformational retreats.
Be prepared to be surprised and delighted -- This magical mansion on the Big Island of Hawai'i is host to a singing orchid, fairy garden, mermaids, a large warm freshwater pool, yoga deck, art room, musical instruments, library & gift shop, 100% Kona coffee, spontaneous tea parties, a luxurious fire pit, a lush garden of tropical fruits for the picking, geckos that join us at their own breakfast table, a yoga deck, an outdoor shower, garden gazebo for healing arts, crystals, complimentary tiki bar, an intention water bar, a secret passage, and extensive seashell collections.
We offer our aloha to all faiths, genders and races.
We can accomodate up to 11 of your retreat participants for lodging. Any overflow can be accommodated within walking distance at the Hostel or 5 minutes away at the bed & breakfast.
The workshop area (living room) can seat 11, or expand into the foyer with chairs and/or 13 quality back jacks (provided) to seat up to 24. The breakfast lanai can serve 12 and the adjacent formal dining room (teak table) can serve another 12 with elegance (total of 24). The fire pit can seat 13 comfortably and also hosts the tiki bar to be filled with your favorite libations and snacks.
We set aside a certain number of weeks each year to host personal (individual) retreats for those who prefer to come alone or in small groups (less than the entire house). The only prerequisite is to have a specific intention.
"Simply heaven, I wish we'd never have to leave! We spent 6 days in paradise! . . . amazing hosts who live and breathe the Aloha spirit, beautifully decorated bedrooms, comfy beds . . and the most amazing deck you can think of." Phillip, May 2019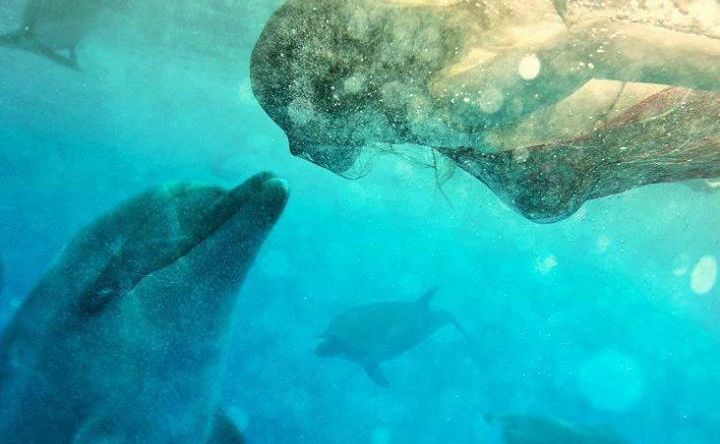 Venue Highlights
LUSH TROPICAL GARDENS: Imagine picking your own mangos, avocados, limes, papayas, pineapple, coffee, guava, bananas, macadamia nuts and flowers to make leis and arrangements (seasonally). We've recently planted chocolate, vanilla, lemons, Suriname cherries and amaranth. Herb garden coming soon! We don't use toxins or pesticides.
SUNSHINE AND STAYING COOL: Kona is the sunny side of the island with only 40 inches of rain/year (enough to keep the garden green). Our elevation is perfect for staying cool (1200 feet above sea level), but not so high to be in the "cloud forest". None of our rooms need air conditioning because they all have sufficient fans and windows.
NATURE SOUNDS. Many of our guests ask if the symphony of nature sounds is "real" or recorded. Seriously! Out of town by 15 minutes, we only hear the birds by day and frogs lull us to sleep most nights. Neighbors catch and release any unwanted roosters to far away regions.
THE OCEAN IS CLEAR & SHALLOW REEF IS STILL ALIVE: The lack of rain means visibility underwater is CLEAR (90 feet) most days. This is one of the most beautiful reefs in the world in my opinion. 10 minutes drive to the ocean lands you at Kealakekua Bay, the only Marine Wildlife Refuge on the island because of its spectacular reef. Kealakekua means "pathway to the Gods." Much of the reef has survived in the shallows because the cold spring water that flows from the mountain top to the sea each day cools down the reef enough to withstand global warming. The waves are higher in the winter months, but so are the whale sightings!
BLESSINGS OF THE LAND: 15 minutes South, you can explore one of the most extraordinary ancient cities in the world, Honaunau (the City of Refuge). This is where "everything is forgiven," and the tide pools have been used for healing for generations. Go there for meditation, blessing and inspiration. 10 minutes South is the Paleaku Peace Gardens, an amazing interfaith botanical garden with sacred trees, flowers and geometries to explore. Next to that is a Kona coffee farm with free tastings, a lady who makes awesome banana bread for $3 a loaf, and a macadamia nut farm. Have lunch with a view at the Coffee Shack for homemade bread and soup.
COMMUNION WITH NATURE: We provide education to our guests on the art of meeting the wild spinner dolphins when they approach us in the 3 bays (10-20 min below us), where they are most likely to be found from shore. This meeting can be life-changing. The cultural sensitivity of such an encounter is paramount to maintaining harmony in our community here.
Conservationists have created the only seahorse farm and octopus farm in the world just 25 minutes North. Turtles can be seen nearby as well. The cave of light (45 min. North of us) offers a glimpse into your soul lest you forget your spiritual nature. Did I mention the nearby honey farms, chocolate farm and vanilla farm? Shall we go to the waterfalls next or the top of Mauna Kea to meet its 3 Goddesses and stargazing? This location is central, so you can make day trips even to visit Madame Pele at the volcano.
WARM WATER POOL: The large 18x28 foot pool is normally about 80 degrees, but for water healing sessions it is heated to body temperature. Your hostess, Vyana is a student of Watsu, Healing Dance and Aquamystica. Indulge while you're here! The deck, heater and shade cover are in the process of installation this summer, 2019.
LUXURY: We provide robes, slippers, natural artisan shampoos, conditioners and local hand-crafted goats-milk soap. It may be hard to get out of bed -- our bamboo or 100% cotton sheets are here to embrace you. Each room has it's own private bathroom.
YOGA DECK: The yoga deck is 20x20, uncovered and unscreened. It is located in the center of the garden surrounded on one side by palm trees and a well-manicured lawn. Several yoga mats are available for use. This deck also currently hosts the 10x12 healing gazebo which could be moved upon request.
HEALING GAZEBO: Gift yourself a private massage in the garden by a local therapist: lomi lomi (Hawaiian body work), deep tissue, swedish, cranio-sacral, reiki or anointing with essential oils while you're here.
BREAKFAST LANAI: This lovely lanai (deck) off the kitchen can seat 12 comfortably around 3 round tables and faces the East (rising sun) as well as the morning garden of birds. It's a great place to start the day.
FIRE PIT: Our most popular room is outside on the main lanai (deck) facing the ocean (partial view) and sunset. Guests love the comfortable wicker couches and oversized tropical chairs and the "talk story" around the fire at night. The flame and candles succeed in keeping any mosquitos at bay. Seats 12 comfortably and up to 15 if necessary.
MUSICAL INSTRUMENTS: The living room offers a ukelele, ocean drum, monkey pod drum, tambourine, shruti box, Chinese water basin, rain stick, thunder box, 4 tibetan bowls and a fairy chimes. Enjoy until 9 pm (quiet hours), as we try to be good neighbors. It would not be appropriate for us to host a music or ecstatic dance festival.
OUR GUESTS: Most of our personal retreat guests come from Europe which creates a rich cultural experience -- an international slumber party.
YOUR HOSTS: Bud and Vyana (Heather) feel privileged to be the stewards of this land and are available when you need them for pre-retreat planning or in an emergency. They live on site. Bud used to be a fireman and now maintains the house and garden. Vyana is a mermaid, author, Muse, aspiring artist and part-time lawyer. She offers many gifts through her website at Mermaid Adventure Tours. Both honor the Hawaiian culture by participating regularly in a local hula group.
FREE WI-FI, computer and printer access in the foyer.
Complimentary SNORKEL and beach gear for overnight guests.
Apple TV, Youtube, Netflix and DVDs available in living room only. Music / mobile speaker in living room, fire pit and pool.
PARKING is free. Capacity is 6 vehicles.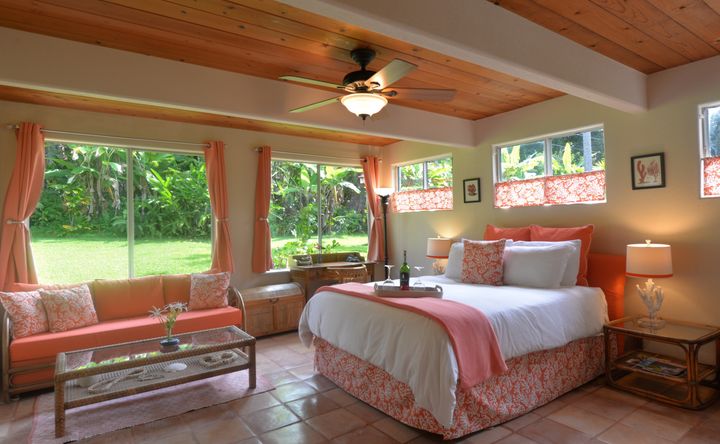 Accommodations
We can sleep 9 individual guests or up to 11 if four guests are willing to share two queen-sized beds.
All of our rooms are exquisitely appointed in a unique theme with thoughtful luxury and has its own private bathroom. Each room (except the Mermaid Room) has flexibility in its bed arrangement: You can choose between two XL twin beds or one king-sized bed in addition to any other bed that is also featured. The upstairs rooms are a little warmer (great in the winter) and the two downstairs rooms are cooler (great in the summer).
MERMAID ROOM: Enjoy a privately furnished lanai (deck) overlooking the gardens and palms. Embellished with a mermaid motif including a throne, this room has a queen size platform bed and a twin XL bed. Sleeps 2 individually or 3 if shared.
GARDEN ROOM: Our most spacious room, the Garden Room has either 2 XL twin beds or a king-sized bed, a couch, teak desk, and beautiful fire coral motif (soft orange). The sofa makes out into a very comfortable queen bed. It has a large private bathroom and is adjacent to the shared outdoor shower and pool area. 2 private entrances. Sleeps 3 individually or 4 if shared.
MOONLIGHT HIDEAWAY ROOM: Cozy tropical luxury. This rich room with vaulted ceilings is described as "cool and relaxing." It has a ceiling fan and large private bathroom overlooking the gardens and pool. 1 king-sized bed or 2 XL twins, as you choose. Sleeps 2.
SEAHORSE ROOM: If you like peacock blue, then you'll love this room. Decorated in a sea horse theme throughout, and enhanced by the natural warmth of wood and vaulted ceilings, this room offers either a king-sized bed or two XL twins. The large private bathroom with skylight is just across the indoor hallway, a few feet away. Beautiful garden view.
EMPRESS ROOM: The owners, Bud & Vyana Reynolds, reside here on the second floor.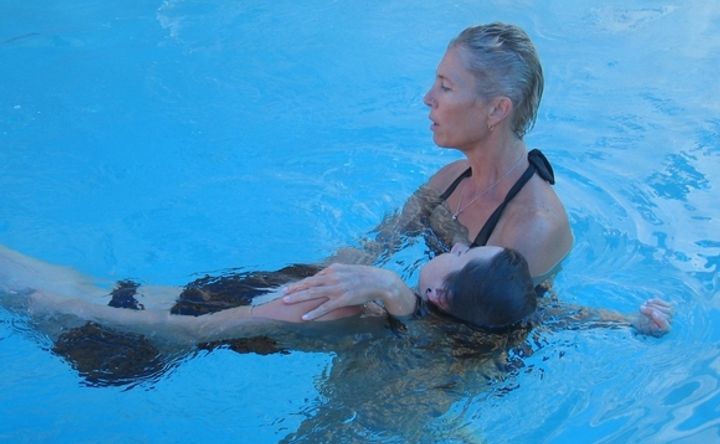 Amenities
Free Wifi
Pool
Towels
Free Parking
Tour Assistance
Coffee/Tea
House Keeping
Ceremony Space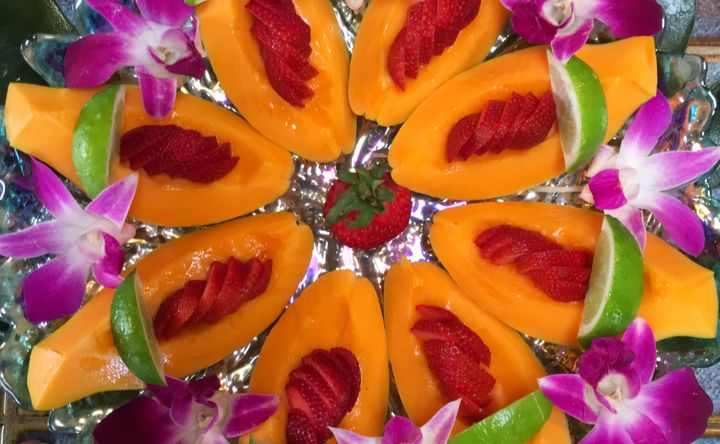 Menu Types
Vegan
Vegetarian
Pescetarian
Meat
Organic
Gluten Free
Dairy Free
Nut Free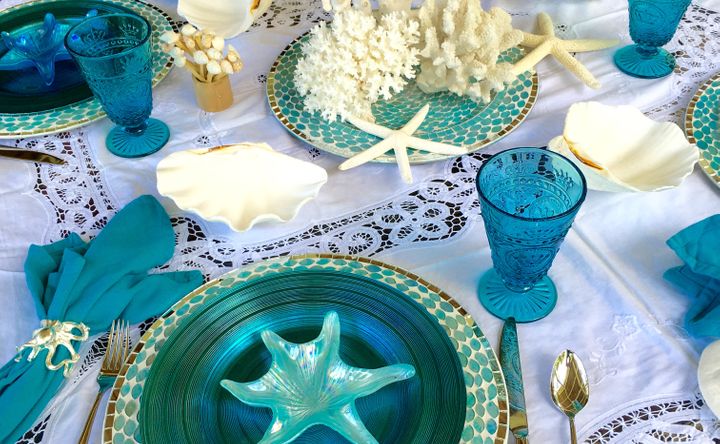 Menu/Cuisine
Feel free to pick fruits (in season) directly from the garden: mangos, avocados, limes, papayas, pineapple, coffee, guava, and bananas.
We are happy to recommend caterers and restaurants for all types of menus and budgets. We love to provide dining ware and decor to fit your theme or occasion.
Whoever is chosen to prepare meals for your group retreat will need to be trained for familiarity with our kitchen. The main kitchen is located on the second floor and is NOT permitted for general guest use.
A small kitchenette with a large refrigerator is located downstairs for guest or personal retreat use. It offers filtered water, snack storage bins and reheating in a microwave. We provide cutting boards, utensils, compostable picnic supplies, etc, to overnight guests. The upstairs "tiki bar"also offers a small refrigerator for your favorite libations. We do not permit any food in the guest rooms because we live in the tropics ( to avoid any insects).
The retreat center's dining table can seat 12 inside and/or 12 outside (breakfast lanai).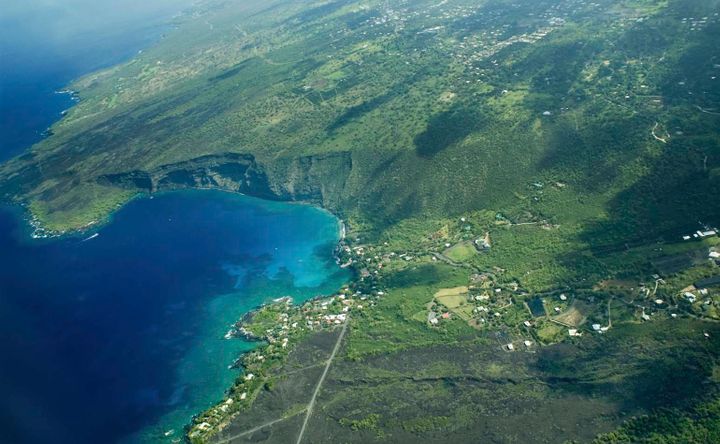 Directions
DRIVING DIRECTIONS TO MERMAID DREAMS
Our Address: 81-1031 Keopuka Mauka Rd., Kealakekua, Hawaii, 96750.
Leaving Kailua-Kona International Airport, head West on Keahole Airport Rd toward the mountain. Take a RIGHT(South) at the first traffic light - Highway 19 (Queen Ka'ahumanu Hwy) and later called Highway 11 (Mamalahoa Highway). Continue without turning for almost 19.5 miles. (about 33 minutes without traffic), and turn LEFT onto Keopuka Mauka Road.
To determine where to turn, our street is directly across from the Pineapple Park Hostel. It is 1.5 miles past the McDonald's restaurant (4 minutes). You may notice a sign for Keopuka Road on the right side just before the left turn. We are one street past St. John's Road on the left and immediately after the new green coffee shop that does not have a name yet. Our street looks like a driveway at night because it is rural.
When you turn off the highway, you are less than .2 miles from your destination (about 6 houses away).
Follow Keopuka Mauka Rd. up the hill past a few homes and veer left at the first fork in the road (take the middle prong as our sign directs you).
Continue straight ahead to the first driveway on your right.
If you get lost or need further directions please feel free to call us.
***HINT: GPS does not work well on this island and may actually get you lost unless you use Google Maps. The island is dark at night because of the need to reduce light pollution for star gazing from the observatories on the top of the mountain.
Reviews
Write a review - tell others about your experience.
If you want to be miserable, think about yourself.
If you want to be happy, think of others. Sakyong Mipham Rinpoche