About This Center
MoaAlm is a unique place situated high in the Austrian Alps. With the focus on being 'Relaxingly
Active' the holidays we offer are a healthy balance of fresh air, mountain activities and great freshly cooked plant based food. A holiday with us puts you right at the heart of our warm family atmosphere, with dedicated enthusiastic staff, in a cosy but stylish living space. Situated at 1800m, MoaAlm offers a superb base from which to explore the breathtaking mountains of East Tirol. Part of the small 'WearActive' company, we are the second property that owners Xania and Craig have stylishly converted into an active and relaxing holiday location. With a focus on a personalised holiday, MoaAlm provides a space for us to share with you our passion for the mountains, alongside a balanced and healthy lifestyle. At MoaAlm we offer a diverse range of mountain activities, daily yoga classes and also time to relax in our wood fired hot tub or on our south facing terrace.
We work with the seasons. Life at 1800m changes dramatically throughout the year, so we adapt our holidays to enable you make the most out of our stunning location.
We are proud to be living right on the edge of the national park area of the Hohe Tauern mountain region of the East Tirol. The Hohe Tauern National Park is truly unique as it is the biggest national park in Austria and the European Alps. Highlights of the national park are its numerous high peaks, its glaciers, alpine creeks, lakes and of course the untouched mountainous natural environment.
Every day we offer a one-hour energizing yoga class in the morning and a guided hiking tour after breakfast. For dinner we serve a three course plant-based meal, made with lots of love!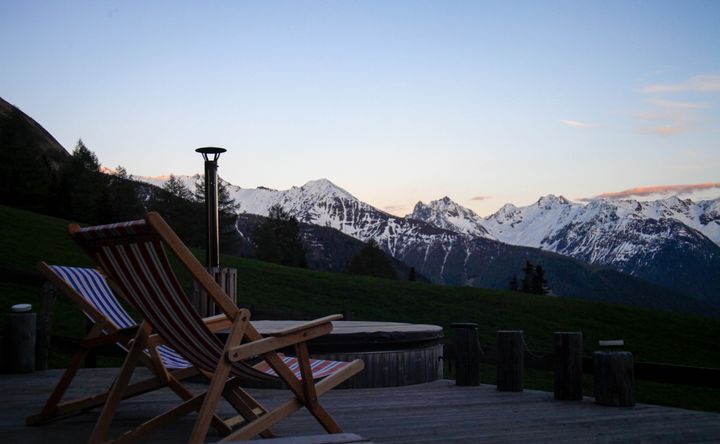 Venue Highlights
The austrian Alps
Wood-fired Hot-tub
Pine tree forest
Panoramic Yoga studio
Family dinner
Accommodations
We have six spacious bedroom with en-suite bathrooms, which can be double, twin or single rooms. They all offer a stunning view to the mountain valley and a shared balcony.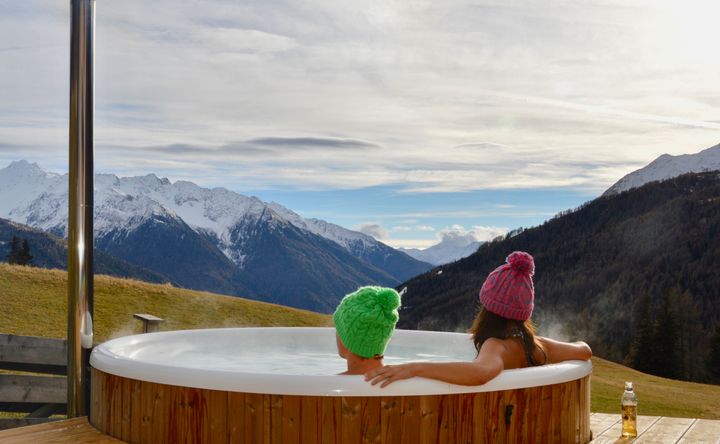 Amenities
Free Wifi
Towels
Free Parking
Hot Tub
Coffee/Tea
Cafe
Yoga Studio
House Keeping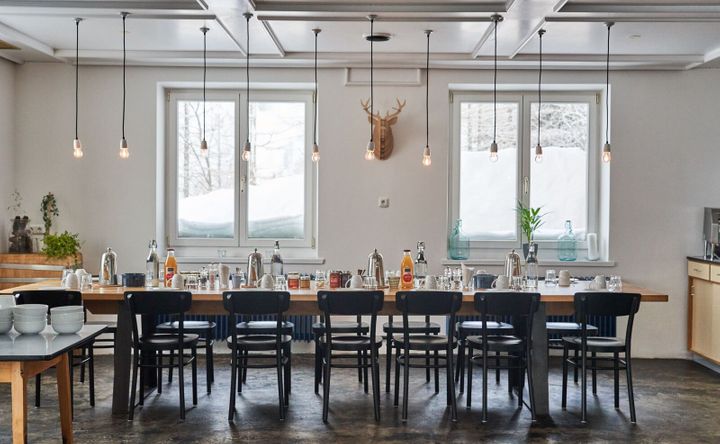 Menu Types
Vegan
Vegetarian
Organic
Gluten Free
Dairy Free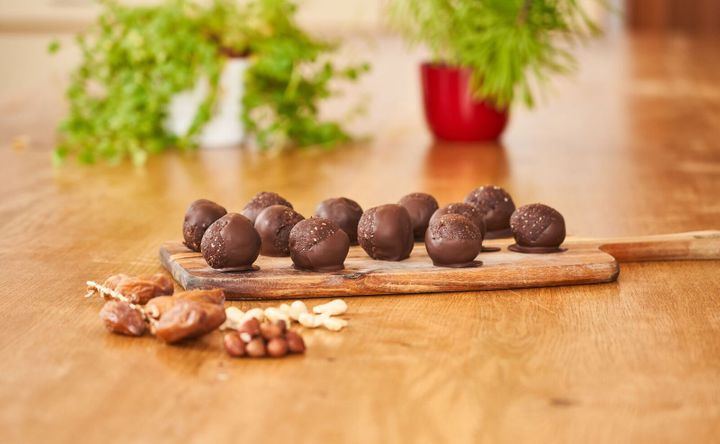 Menu/Cuisine
Our meals are plant-based, mostly organic and as local as possible. If you have dietary requirements feel free to tell us and we will do our best to make it possible.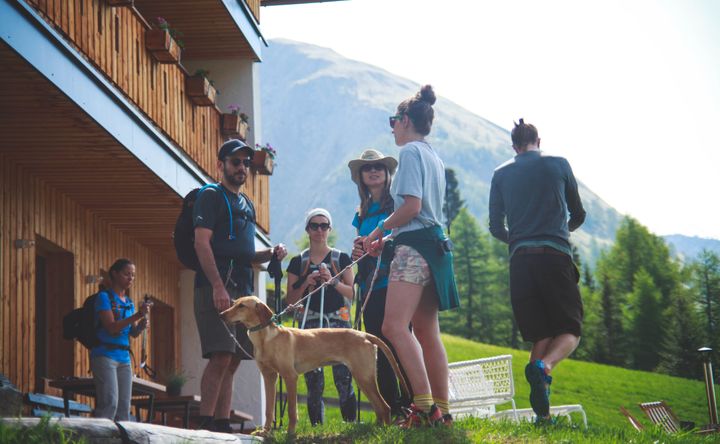 Directions
MoaAlm is not the easiest destination to get to – in our experience the best places never are, that's why they avoid the crowds. Depending on your means of transportation we will meet you in/at MoaAlm, Kals (our village, 5 minutes drive to MoaAlm), Huben in Osttirol (a nearby village with a bus stop, 20 minutes drive to MoaAlm), or Lienz (the capital of East Tirol, 30 minutes drive to MoaAlm).
Self Drive
Set your gps to Kals, East Tirol and enjoy the drive. In summer you can drive all the way up to the house. Once you have reached Kals you drive through the village past the church and the small supermarket. You basically leave the village again. At the first Y-fork keep right, following the green signs 'Moaralm'. At the second fork keep left at the beautiful wooden house with the blue/white balconies. Keep all the way right at the third and final fork, driving past a small parking area and up the mountain to MoaAlm. From the final fork it's a 10 minute drive to MoaAlm. In winter you will leave your vehicle at the small parking area just past the final fork. We will drive you the last 2 miles up the local 'Rodel Bahn' (sledging track) also known as our driveway.
Plane
Airlines are constantly changing routes and the only way to make sure you have an up to date guide is by going directly to the websites. The nearest airports are Klagenfurt, Salzburg and Innsbruck. Our guests have also flown into Munich and Ljubljana. If you fly into these latter two we advise that you rent a car for transfer to MoaAlm.There are 3 ways to get from the airport to MoaAlm:
1. Airport shuttle taxi: These taxis only operate from Salzburg, Innsbruck and Munich airports in the winter: The tourist office provides a shuttle starting from 70EUR per person one-way on Saturdays - please contact us to book this transfer.
2. Public transport: you can travel by train and/or bus from Innsbruck and Salzburg to Lienz or Huben in Osttirol by public transportation. From Innsbruck main train station there is a direct bus to Lienz four times per day (check-out www. vvt. at). We will pick you up in Lienz or Huben in Osttirol. This is often the cheapest but most time-consuming option. Public transportation in Austria is very reliable and the platforms and directions are clearly indicated. Check-out www. oebb. at for up to date timetables and prices or contact us if you need any help sorting out your options!
3. Car rental: You can also rent a car and drive yourself. This option allows you to explore on your way here. For example, you could skip the Felbertauern tunnel and take the Grossglockner Hoch Alpin Strasse into Osttirol - a stunning mountain road with amazing views. Car rental starts at 140EUR per week. Please check-out rentalcars dot com for more info.
‍
Train
If you don't like flying or driving yourself it might be a good idea to take a train all the way to Austria. The land links in Austria are very reliable and you can find out details of options and prices at oebb dot at - make sure you type 'Lienz in Osttirol' or 'Huben in Osttirol' as your destinations.
Reviews
Write a review - tell others about your experience.
Teacher