About This Center
Experience the magic of the Forest, and reconnect to the Self.
The Yoga Forest is a sacred sanctuary with ancient Mayan altars and natural springs that have been protected as a Natural Reserve in order to honor the land and the heritage of its people.
Connect to Mother Earth and create space for transformation and self healing. Enjoy daily yoga and meditation in beautiful naturally built yoga temples, as well as regular Kirtan, Song Ceremony, Ecstatic Temple Dance, Cacao Ceremony, Essential Oils + Ayurveda workshops, and Sound Healing.
Unwind and restore with our Wellness Packages, or purify and detox in the forest sauna. You can climb our unique cliffs, swim and paddle board on the lake, hike the volcanoes, or just relax in a hammock, all while finding authentic connection within an intimate community space.
Get a taste of the fruits of The Yoga Forest amidst the lush Lake Atitlán in Guatemala!
RETREATS
Simple and powerful programs that create a sacred space for all to work through personal transformation, discovery and connection. Retreats are filled with opportunities for authentic self expression and connection, insights, and tools that can be applied to your personal and professional life. Through various meditation, yoga, reiki, healing arts, Thai Massage, creative writing, Song and Sound Ceremony, and Sacred Plant medicine retreats, we invite you to uncover deeper layers of Self and practice the art of living in the present moment.
RYT200hr & RYT300hr YOGA TEACHER TRAINING, + CONTINUING EDUCATION COURSES
Within each of us lies a guru, a wise one who knows the truth behind each of our thoughts, words, and actions, an ancient soul that sees through to the essence of all things. Through our RYT200hr, RYT300hr Yoga Teacher Training and and YACEP recognized Continuing Education courses through our partner school, The Kula Collective; we will help reveal the voice of this wise one. These powerfully designed YTT's and Continuing Education courses give you the tools and language you need to share the spiritual practice of yoga, while empowering you to trust in the channel of truth you carry.
SOUND HEALING
Empower yourself, feed your soul and step into the path of your highest Self. Explore a fusion of the practice and philosophy of the mystical traditions of Nada Yoga, Mantra, Bhakti Yoga and Sound Healing. Learn how to journey into a deep meditative inquiry on the Source of all Sound and find many tools to assist in shifting frequencies, healing emotional and psychological scars and opening parts of the heart and mind that you never knew existed.
YOGA
Daily Drop in Community Yoga Classes - 7:00am, 10.30am & 4:00pm
The Yoga Forest incorporates a balance of teaching, discussion and practice of traditional and modern yoga styles and infuses a shamanic connection to the Earth and her cycles. As yoga is fundamentally an experiential, inner inquiry, students and guests are encouraged both to be aware of checkpoints, and to explore how the practice feels and manifests in their body during any given yoga experience.
All levels are welcome, always!
Conscious Business
More than just a retreat center, The Yoga Forest shares a conscious business model integrating three pillars in a balanced practice of earth care, people care and fair share. Integrating our understanding of what it is to be a conscious business, through social, ecological and economic structures, we recognize that this journey will be ever unfolding. Through our non-profit Forest Family Foundation, we strive to support and integrate conscious living practices in the local community through humanitarian and ecological projects, while sharing the principles of working within nature creating interactive landscapes of beauty and productivity.
Together, with the help of amazing foreign staff and a beautiful crew of local Mayans, many wonderful things have been created here and there is always more to be done. We love to connect with people who prioritize a way of life that harmonizes nature with spirit, if that's you, check out our Work Opportunities.
Simple, Relaxed, and Off the Grid
The Yoga Forest has been built using various natural and traditional building methods. We use solar energy for simple electricity and hot water, natural grey water filtering systems for our kitchen and outdoor showers, and outdoor composting toilets to return our offerings to the earth. We try our best to produce as little waste as possible and continue to explore new endeavors to create a more sustainable retreat lifestyle.
Our Mission, Deep Green Yoga
The Yoga Forest shares conscious living as a spiritual practice, offering a unique retreat space for self connection, connection to the Earth, and personal growth. We live, work & play harmoniously in nature, creating inclusive abundance and a safe space for personal transformation and authentic self expression. Through intercultural relationships of respect, we weave together local and global visions that inspire positive social and ecological impacts in the world.
Find your Self in the Forest.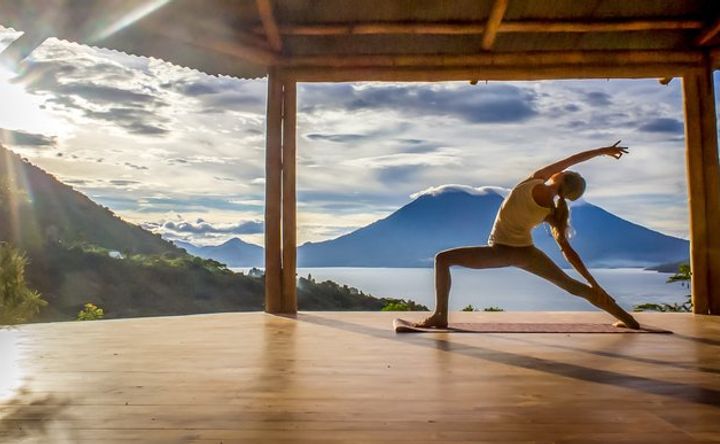 Venue Highlights
San Marcos la Laguna is a small Mayan village on Lake Atitlán in the western highlands of Guatemala. It has become a Mecca for international travelers attracted by its beauty, tranquility and diverse options for spiritual exploration and therapy. Terraced into the side of a cliff, The Yoga Forest is a twenty five minute hike up into the valley from Lake Atitlán, To escape to our lush tropical food forest please travel to us with a backpack, organic soaps, a head torch and a spirit of adventure.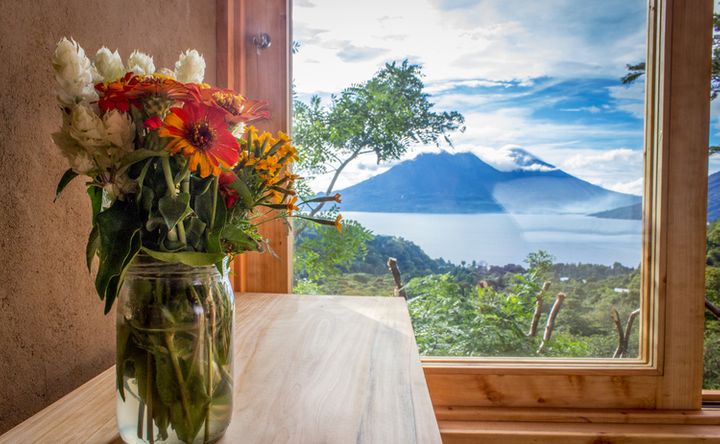 Accommodations
The Yoga Forest has multiple accommodation options to suit all explorers, from shared cabanas, private rooms, unique yogi lofts, and private forest cabins. All accommodations are beautifully appointed, built using natural building techniques and materials, featuring comfortable beds, warm feather duvets, pillows, and decorated with Peruvian Shipibo fabrics and Guatemalan cushions.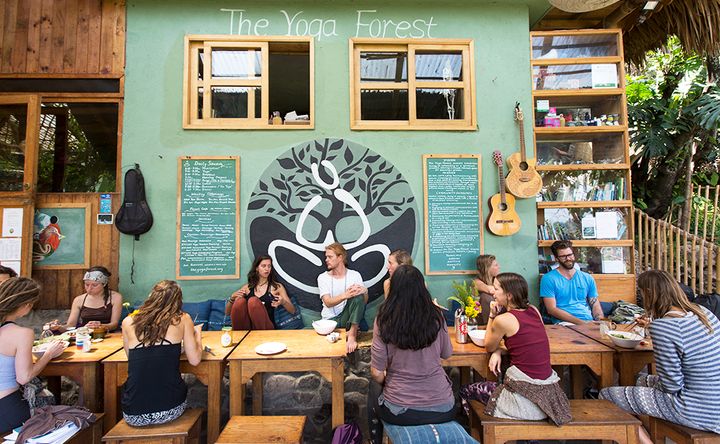 Amenities
Spa
Sauna
Kitchen
Tour Assistance
Coffee/Tea
Cafe
Yoga Studio
House Keeping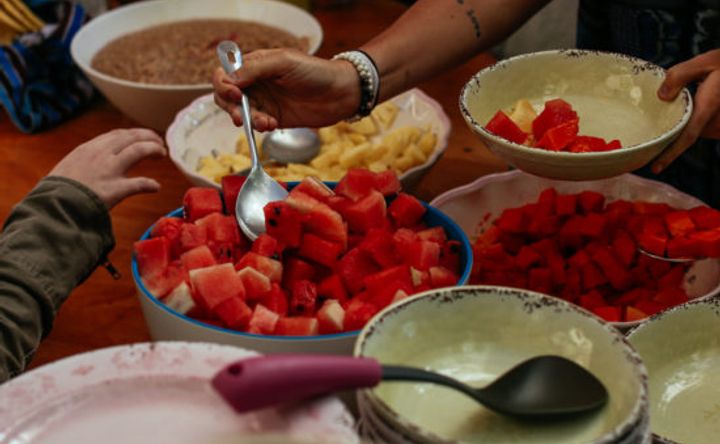 Menu Types
Vegan
Vegetarian
Ayurvedic
Gluten Free
Dairy Free
Nut Free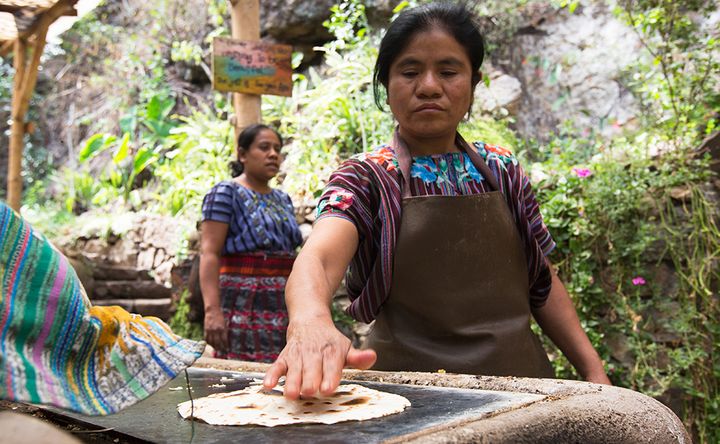 Menu/Cuisine
We serve local organic produce whenever is possible and prepare our delicious vegetarian meal with love. We can cater to certain dietary restrictions, such as vegan and gluten free. Please advise management of your needs as well as any allergies.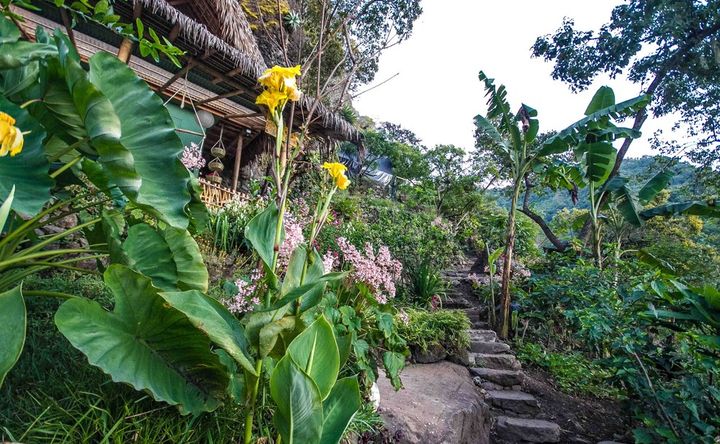 Directions
Travel Tips:
Morning Travel Recommended: Book your flight to arrive in Guatemala City, then take a direct shuttle to Antigua. Please arrange to take an 8-9am collective shuttle (Q100) from Antigua to San Marcos la Laguna in order to get you to town in the morning or very early afternoon. We offer a daily escort service from San Marcos la Laguna to The Yoga Forest promptly at 2PM. Be sure to arrive in San Marcos la Laguna with plenty of time to locate Circles Cafe before the escort service arrives.
We also can arrange a private shuttle to pick you up from Guatemala City Airport to San Marcos La Laguna. Our driver will be waiting at the airport with a sign with your name on it. The ride directly from the GUA to San Marcos is approximately 4 hours.
Please plan your travels accordingly, either spending a night in Antigua to make a morning shuttle, or stay in San Marcos la Laguna a night early. For your safety, LATE ARRIVALS ARE NOT PERMITTED.
Reviews
Write a review - tell others about your experience.