About This Center
Tony Lo Mastro & Maureen Malone are sources and expressions of Rebirthing in Philadelphia and New York City. We are grateful to be pioneers in Rebirthing Breathwork and have our home as a Center for the focus and expansion of the work.
Rebirthing is learning a relationship with your breath and the power of the breath as a function of the body. Circular or conscious connected breathing is normal for the body and this mechanism often gets suppressed with the emotions and events of the past.
Rebirthing Breathwork (which is circular breathing for approximately an hour) relieves the negative charge in cell memory. Rebirthing sessions with a practitioner aim to facilitate positive change through working with the breath and taking responsibility for thoughts, feelings and actions. The sessions will help to identify birth trauma, family patterns, inherited attitudes and specific negative thoughts. Rebirthers aim to support clients in using the breath to ground themselves safely in their body during emotional, physical releases and spiritual insights. Once the client is comfortable with conscious connected breathing, they are encouraged to use this active breathwork on their own.
Rebirthing connects us to ourselves and gives an experience of present time. We can observe and make conscious choices from a clearer perspective and feeling of well being.
Rebirthing feels good; rebirthing threatens your suffering. When people come to rebirthers, something inside of them is ready to heal and let their burden down in reference to long standing issues from the past. An added benefit of conscious connected breathing is that the increased oxygenation contributes to the release of stress and an experience of more health and vitality.
The Philadelphia and New York Rebirthing Center offer seminars, trainings, community, and available Rebirthing Breathworkers in your area. There are many rebirthers nationally and internationally. If your curiosity is piqued or your body says yes, consider giving yourself the experience of Rebirthing (conscious connected breathing).
You have no need to travel anywhere. journey within yourself, enter a mine of rubies, and bathe in the splendor of your own Light. ~Rumi
Venue Highlights
Warm and inviting center with a community feeling in a peaceful neighborhood.
A cozy meeting space and comfortable, on-site accommodations for the retreat attendees.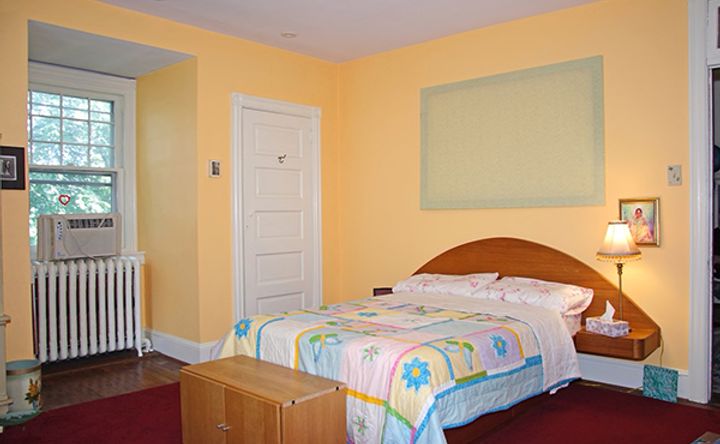 Accommodations
There are 4 bedrooms that accommodates up to 7 people plus a reading room that can sleep one. There is also a renovated open attic space that can sleep 6 people.
THIRD FLOOR -
The Queen Bedroom (one queen sized bed)
The Peach Room (one single bed & one full sized bed)
SECOND FLOOR -
The Guest Room (one queen bed & one pull-out full sized couch)
The Sun Room (single bed with couch and lounge chair)
The Reading Room (full sized pull-out couch)
FINISHED ATTIC (Fourth Floor) -
NOTE: All attic accommodations are in an open floor plan.
Queen bed (semi-private)
Full bed (semi-private)
Single bed (within open space)
Futon Full sized (within open space)
Amenities
A/C in Rooms
Free Wifi
Towels
Free Parking
Kitchen
Coffee/Tea
Ceremony Space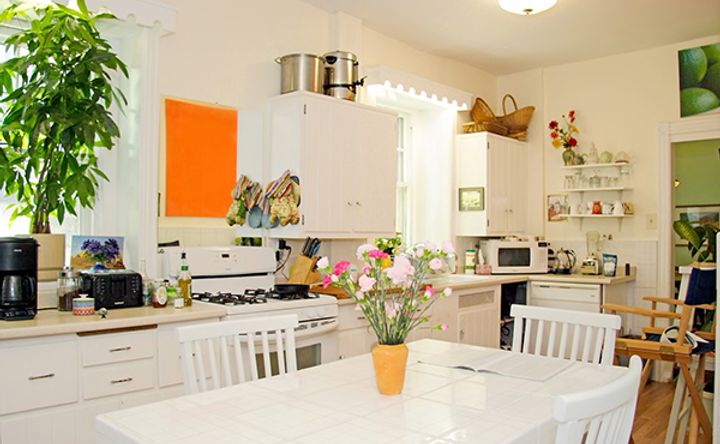 Menu/Cuisine
The Rebirthing Center does not provide meal options but does give access to a full kitchen with an oven, stove, refrigerator and freezer, also any plates and cooking utensils are provided. Attendees are encouraged to bring there own prepared food or feel free to prepare it here. Coffee, tea, butter, cereal, fruit, and cooking oils are provided to guests.
Typically during a retreat weekend, there is enough time to drive to get take-out. There are restaurants within a short driving distance.
Here is a short list:
Trader Joe's (15 minute drive)
Whole Foods (15 minute drive
H Mart (5 minute drive or 15 minute walk)
There is plenty of space to eat in the kitchen and dining room, or on the back porch when the weather is nice.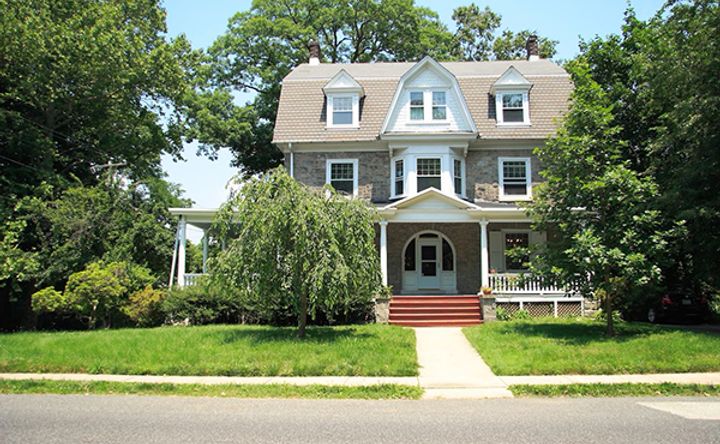 Directions
The Rebirthing Center is located in East Oak Lane / Elkins Park neighborhood of Philadelphia which is north within the city.
There is easy free street parking in front of the center as well as the surrounding side streets.
The closest train stop on Septa's Regional Rail is the Melrose Park Station. From here it is about a 10 minute walk to the center.
If you are coming from the airport, there is a direct Regional Rail train to the closest train stop (Melrose Park Station).
Reviews
Write a review - tell others about your experience.
Teachers