About This Center
Gaia Sagrada Magic Mushroom Retreats is located in beautiful Runaway Bay, Jamaica next to the ocean. Fly into Montego Bay, Jamaica. Our bus will pick you up at the airport and bring you to the retreat location.
This Magic Mushroom Retreat is facilitated by the famous Gaia Sagrada Ayahuasca and San Pedro Retreat Center of Ecuador, also listed on this site at Ayaadvisors org where you will find hundreds of rave reviews. You will find another few hundred reviews at Tripadvisor com as well!
Gaia Sagrada now brings it's safety, professionalism, and reputation for care and compassion to the world of Magic Mushroom Retreats in Jamaica! With literally 1000's of ceremonies of experience that Gaia Sagrada has, you will experience the same safety, care and compassion at this Psilocybin Retreat that you do at Gaia Sagrada's Ayahuasca Retreats and San Pedro Retreats.
MAGICAL PERSPECTIVE
This particular retreat is guided by a REAL and certified shaman, unlike other Magic Mushroom Retreats where the approach is a clinical therapy perspective or hippie perspective. Here you can approach Magic Mushrooms from a spiritual and magical perspective. The shamans bridge the ancient traditions as well as modern day spirituality like meditation and yoga.
Counseling and integration sessions are offered, but at the same time it is a spiritual level where the deepest, core healing takes place, bypassing psychology approaches. No dogma or specific spirituality is endorsed, every spiritual path is honored and valid, and every person has a spiritual nature whether they know it or not, the divine deep inside each of us. You are encouraged to tap into the master within you at a profound level so you don't have to seek answers outside yourself in the future.
JAMAICA!
What a beautiful place to be with this magical mushroom retreat experience, Jamaica! Enjoy swimming in the 2 pools, the ocean, walking along the beach, snorkeling and the gentle breeze always coming off the ocean. Enjoy modern housing and a resort atmosphere. Watch the sunsets and sunrises over the ocean from the balconies and patios, and eat vegetarian cuisine prepared by professional chefs! Vegan and gluten free options are always available.
CANNABIS CEREMONIES
You will also have to the chance to experience Cannabis Ceremony on the days between the Magic Mushroom Ceremonies. Cannabis has long been used recreationally, but it too is a powerful medicine that can instigate profound inner changes if used with intention and purpose. This is a chance to learn how to use Cannabis in a ceremonial way to get the most out of your Cannabis experience! Cannabis and Magic Mushrooms go well together, and afterall, it IS prominent in Jamaica!
DIVE DEEP
Dive deep into your inner universe and find the answers you are looking for. Meet the master within you. Release the past, embrace the present, and create the beautiful life you deserve. This opportunity is here for you now.
IN A MAGIC MUSHROOM RETREAT EXPECT THE FOLLOWING:
- peak spiritual experiences
- awakening into love and bliss
- seeing more than meets the physical eye, what's underneath reality
- communicating with loved ones who have passed away
- resolving old hurts and traumas
- visions and entry into other dimensions
- epiphanies and a-ha realizations
- intellectual precision
- ideas and inspirations for your life work
- discovering your life purpose
- awakened creativity
- visionary and mystical experiences
- oneness with all
- overcoming self doubt
- healing the past and embracing the moment and the future
- overcome chronic depression, loneliness or grief
- and much more!
7, 14 & 21 DAY OPTIONS AVAILABLE
If you would like a longer Magic Mushroom Retreat, simply book two 7 day retreats back to back, or three, and you can extend your time with the magic mushrooms. Discounts are available for booking back to back retreats.
OUR 7-DAY / 6 NIGHT PSILOCYBIN RETREAT INCLUDES:
- 3 powerful and completely legal Magic Mushroom Ceremonies
- 2 optional Cannabis Ceremonies
- 1 fire & ocean ceremony
- 10 day Magic Mushroom Retreat Preparation course sent before retreat 
- 10 day Magic Mushroom Retreat Integration course sent after the retreat
- orientation and intention session at beginning of retreat
- integration sessions & sharing throughout the retreat
- yoga & meditation
- campfire on the beach
- swimming in the pools or ocean, sunbathing & nature
- bring your flute, drum or rattle for a drum circle!
- optional outings to the local waterfalls, caves, snorkeling, zip lining, and other exciting - - places
- Chef prepared exotic vegetarian cuisine 
- vegan and gluten free options available
- snacks and beverages always available
- several compassionate, experienced helpers and facilitators (there is always someone to talk to if you are having a difficult experience)
- transportation to and from Montego Bay Airport (MBJ)
- luxury housing with air conditioning if you need it (there is always a gentle breeze from -
- the ocean to keep things cool!)
- 2 swimming pools for your enjoyment
- group activities
- Wifi Internet
- time to rest, journal, play and connect with others
WHAT'S NOT INCLUDED:
- airfare
- local day trips & outings
- massage or spa treatments
- card readings, astrology, divination, or reiki sessions (if available) offered by Gaia Sagrada staff
- transportation outside retreat airport shuttle
- extra days or nights in the local area or at the center
This is a chance to truly treat yourself to a life changing and transformational experience. If you have wanted a change in life, this is your chance. Our staff and shaman have literally hundreds of retreat facilitation experiences so you will be in good care. 
"The most powerful way to change the world is to heal yourself and make your own life joyful and beautiful! When you heal yourself, you heal the world." -- Christine Breese, PhD, Shaman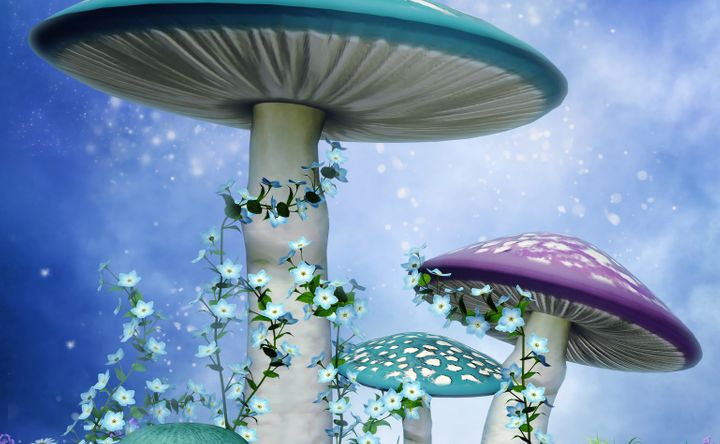 Venue Highlights
Our Magic Mushroom Retreat is different for 3 reasons. One) we won't limit your dose, even though we do make sure you take a safe dose. You will have the chance to experience magic mushrooms in whatever dose you need to give you the experience you are looking for and we let YOU feel it out through the Magic Mushroom Ceremony and have more if you feel you need more, unlike most Magic Mushroom Retreat facilities. We are quite generous and don't limit your dose.
Some Magic Mushroom Retreats limit your dose but we have found that each person is different and the dose cannot always be decided by body weight and height. There are other factors involved, like how calcified the pineal gland is, how the body reacts (or doesn't), and what your level of openness to Magic Mushrooms is. Resistance will require a higher dose. Pineal issues will require a higher dose.
This is why our Magic Mushroom Retreat is a great choice because we are flexible and won't hold you back if you need more. We won't let you overdo it, of course, but we won't hold you back if the dose is not powerful enough to create the changes you are looking for.
Two) We make our Magic Mushroom Medicine into a tasty tea! It's liquid! This way the doses are always even and it also gives you a chance to approach the medicine dose by dose until you have the experience you are looking for. It also gives you a chance to expand and lengthen your experience, rather than just one dose at the beginning and that's it. You can extend your experience for a couple more hours or so, or not, depending on how you feel about your experience and if you are getting what you are looking for. Also mixed into the medicine is honey and herbal teas to make the medicine quite tasty, instead of the not so tasty versions that are not in liquid tea form.
Three) We give you a chance to approach the Magic Mushroom medicine in a deeper way than clinical psychotherapy. This is a magical and spiritual approach in a ceremonial and spiritual format rather than a clinical or psychotherapy perspective. Most Magic Mushroom Retreat facilitators are approaching from a psychology perspective, but the deepest healing is far beyond psychology or mental techniques.
While we DO offer counseling and therapies, to help you process, heal and transform past experiences and heal from trauma if that is what you need, we encourage you to find the master within you in whatever way that unfolds for you. A deeply divine and spiritual experience is the core healing level, and far exceeds psychology approaches which are still focused in the mental realms. Spiritual healing is the deepest, most direct and far reaching healing you can have. (We do not offer spiritual dogma or teachings though. We work with YOUR spirituality, whatever form or path that is.)
Accommodations
Housing is modern, comfortable, and there is air conditioning if you need it (although the gentle breeze from the ocean always keeps it cool!). Hot showers are always available, and the space is quiet, overlooks the ocean, and we have hi speed WIFI so you can keep in touch with your friends and family.
There are two types of rooms, one for couples or 2 friends who want to share a King sized bed and have their own private space, or shared rooms for 3-4 people who have their own Twin sized bed in a room. Private baths and shared baths are the two different types of shared rooms.
Each area for the bedrooms also have living rooms and patios for hanging out, using the internet or simply relaxing! There are also 2 SWIMMING POOLS you can use as much as you like, or perhaps you would like to walk over to the private beach and swim in the ocean itself!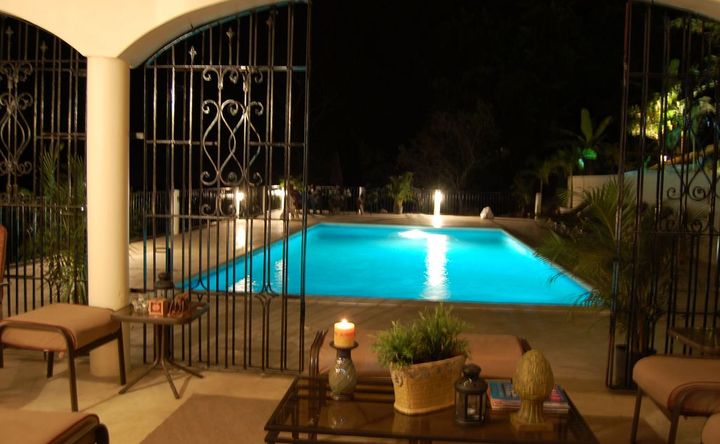 Amenities
A/C in Rooms
Free Wifi
Pool
Towels
Free Parking
Kitchen
Tour Assistance
Coffee/Tea
Yoga Studio
House Keeping
Ceremony Space
Menu Types
Vegan
Vegetarian
Organic
Gluten Free
Dairy Free
Nut Free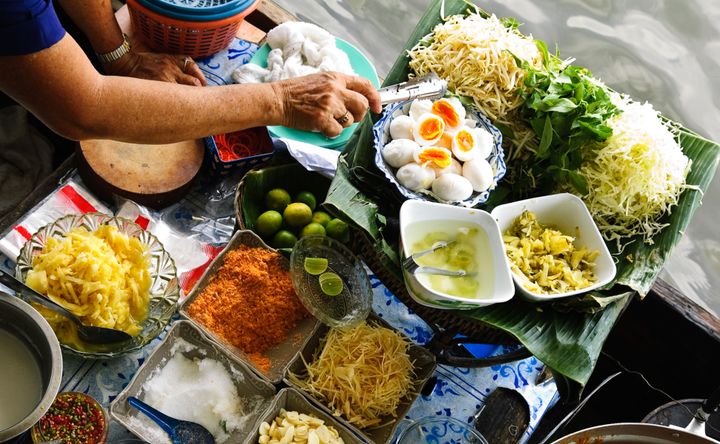 Menu/Cuisine
Our professional chefs make exotic vegetarian dishes that will delight your tastebuds! All food is vegetarian and we always have vegan and gluten free options as well. If you have food allergies (some people are allergic to nuts and other things) we can always accommodate your special needs in this way.
We also have 24/7 snacks and beverages for you to partake of any time you want. You will never go hungry and wishing the next meal will come already. If you want a midnight snack, you can have it! We always have fruit, bread, spreads, tea and other food ready for you at all times.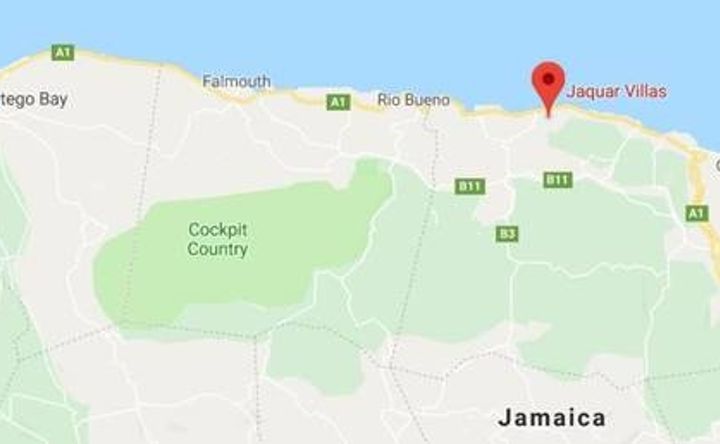 Directions
Runaway Bay, Jamaica is a safe, lush, upscale area of Jamaica where no crime happens and everything is secure. A beautiful resort town!
Montego Bay Airport (to the left in picture) is your entry point to Jamaica. A 1 hour bus ride takes you to the Gaia Sagrada Magic Mushroom Retreat in Runaway Bay.
Your retreat fee includes the round trip bus ride to the airport. Just tell us your arrival time and date and we'll pick you up!
Reviews
Write a review - tell others about your experience.