About This Center
The House of Light - Holistic Guest House
We hold space for you !!
I cant think of a better word to say but holding space for whoever crosses our way...
If you are a practitioner that is looking for a channel in Egypt to start sharing your wellness methods, the house of light will make sure to expose you to all what you need, we can find you participant or buy material for you or help you in the marketing and booking as well as organizing retreats and accommodating you in our guest house.
And if you are someone who is looking for a place to retreat and also experience some wellness activities you can share with us our daily meditation and we can also teach you many different techniques that we are practicing and teaching in the house.
As well as hosting ceremonies for you like Kambo and Shamanic Drum making and Tamazkal
Our wellness activities include teaching of Sufi dance meditations also Chi Dance meditations and sound healing through exposing you to an elemental sound bath ceremony.
The house of light have found a unique way of helping others by simply inviting them to come and experience being with us in our everyday life. As an Egyptian family we have found a way to be free and still be accepted by our society, we found yourself with some wellness tools and gifts that can be shared with other if they decided to come and stay with us and live with us our daily life and experience the way we live.
Me and my husband we have a unique way of holding space for people and thats because we love being in service and have so many ways that can help others go through hard times based on our experience. Deciding to open our house for others started as an idea to cover up some of our house renting costs and little by little we started developing these ideas of sharing some of our meditations or medicine not only outside the house but also inside.
And the idea of holistic guest house forced itself on us because it became a way of living that is sustainable and mean while enjoyable, its like having different little communities living together and changing from time to time according to what nationality and background of the group or person that comes to stay.
Our house holds space for us to live in it and express and share our gifts with those who decided to commune with us during their stay, and also holds space for others through offering them a host that cares and in service. Also coming from a long experience in Cairo and the connection to all the wellness community there and around the world, gave us a wild rang of wellness connection that became very useful for us as a network that can help us share with people different wellness activities that we have tried and trusted.
In a place like Dahab where many comes to experience freedom and wellness and healing, we are one of those experiences that sprouted a seed that we started working on 3 years ago when we first came to live in Dahab, and now our seed have grown and was gifted with a new space that can hold more activities and share more of our gifts with the community and passing by wellness seekers.
With us you will find a wild rang of exciting stuff that you could experience, from meditations to music gatherings to mountain gatherings and activities all the way to carpeting and recycling of fabrics and wood, as well as directing you to what you want to experience during your visit to Dahab and how you would like to live some freedom time during this vacation.
And through this sharing we are sustaining our services and sharing our gifted abilities along the way as we go...
We also work with many international teachers that comes and teaches at our facility or we orgonize retreats for them any where in Egypt.
We have developed a unique way of holding space to those who are seeking wellness, also for practitioners that wants to share their wellness methods in Egypt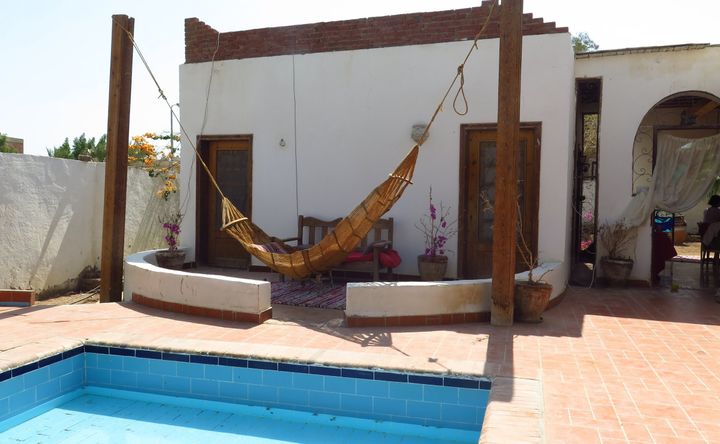 Venue Highlights
We are 5 min walking from the main Asala market where you can buy anything you need, also 10 min walking to beach and 20 min walking to touristic area of dahab.
It is unique because it in the area where all foreigners locals are staying in villas surrounded by Bedouin houses where the native people live and you could experience their daily life if you walk in the streets..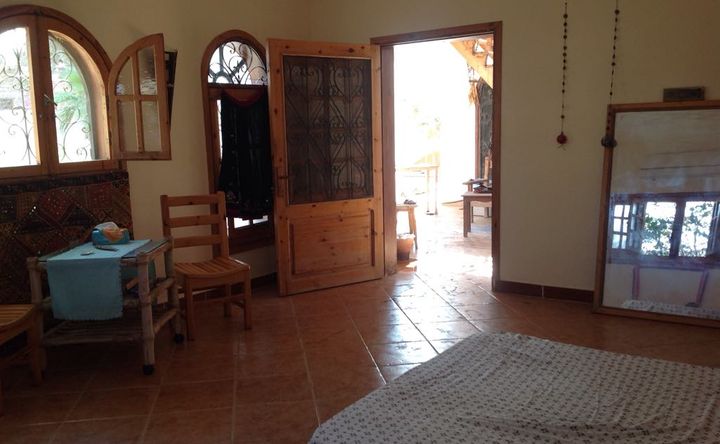 Accommodations
The space is a unique concept in Dahab, its house that we live in and share it as a guest house / holistic activities center where we use the extra 2 rooms that we have in the house to accommodate many of our holistic activities practitioners to come and share their wellness methods with the community of Dahab and for those who wants to come and retreat in Dahab as well..
It is in a very quite area in the back of Asala where many local residential are staying around the neighborhood and as artists living in the space we managed to beautify it with our arts of recycling and up-cycling fabrics and plastics and wood .. You will enjoy sitting around and seeing the small details that are unique ideas of functional recycled items.
Or you might wake up to the sound of our music practice when we practice in the house and sometimes we sit in the common areas to sing and play music as a daily practice.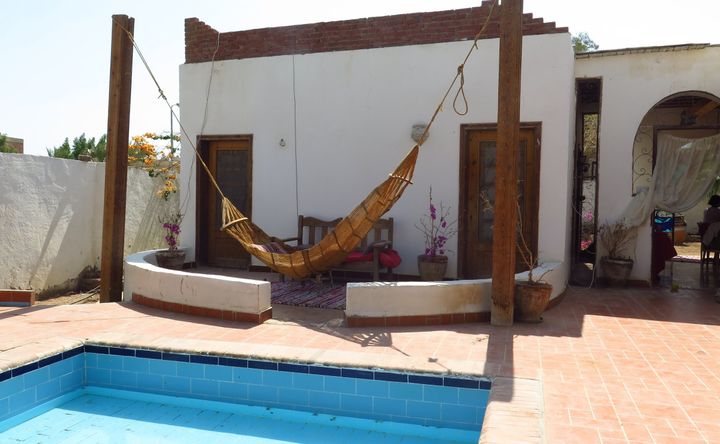 Amenities
A/C in Rooms
Free Wifi
Pool
Towels
Kitchen
Coffee/Tea
Cafe
Yoga Studio
House Keeping
Ceremony Space
Menu Types
Vegan
Vegetarian
Meat
Organic
Gluten Free
Dairy Free
Reviews
Write a review - tell others about your experience.
Teacher
Your own Self-Realization is the greatest service you can render the world. Ramana Maharshi