About This Center
Star Island is a creative, spiritual place to call home. At the Star Arts creative retreat we nurture this spirit and provide activities for professional artists and amateurs alike. All experience levels are welcome. Sometimes we expand on current talents; sometimes we take risks on new frontiers.
Arts participants are invited to spend their mornings in the workshop of their choice: music, writing, drama, photography, visual arts, or dance. Other activities include poetry readings, choirs and music jams, storytelling, art and talent shows, Qi Gong, yoga, quiet contemplation, morning chapel, afternoon skill-sharing, and other spontaneous adventures to nourish creativity, curiosity and spiritual reflection. Find your muse – or simply sit on the rocks and read. Do everything – or do nothing.
"...I found everyone welcoming and friendly. The workshops were fun and the island is uniquely beautiful. I appreciate the easygoing, playful, all-inclusive atmosphere where everyone is allowed to participate as much or little as little as they want.
Venue Highlights
Star Arts is a safe, affirming community. Amidst laughter, beauty, sea gulls, and spectacular sunsets, we nurture interpersonal connections and encourage each other in personal reflection. Always, we come away refreshed, alive, and eager to return. Please join us, and discover the many ways you can feed your spirit. This conference is meant for adults 18 and older.
Accommodations
Star Island is about 10 miles off the coast of Portsmouth, NH.
Life on Star Island is comfortable, but not modern in part due to our commitment to conservation of resources.
Living quarters in the main hotel and cottages have shared bathroom facilities for each floor. Each bed is made with sheets, an acrylic blanket, a wool blanket, a bedspread, and two pillows. Each room is also supplied with a washcloth, hand towel, bath towel, and small bar of soap for each person. Although all rooms have electricity, not all rooms are equipped with electrical outlets.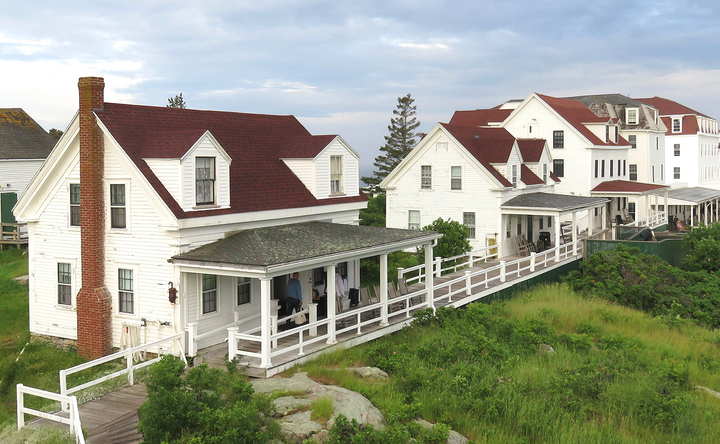 Amenities
Free Wifi
Towels
Coffee/Tea
Restaurant
House Keeping
Menu/Cuisine
At Star Island we believe that sharing a common meal with family and friends, while discussing the day's events, is an important aspect of daily life.
Meals are made from scratch and served sit down at tables. We strive to do our best in accommodating needs and provide vegetarian, vegan, and gluten-free options at every meal.
Directions
Where is Star Island and how do I get there?
Star Island is about 10 miles off the coast of Portsmouth, NH. All Star Arts attendees travel together by ferry to the island. The ferry cost is included in your room & board fee. The Isles of Shoals Steamship Company (ISSCO) provides transportation from their dock on Market Street in Portsmouth.
Reviews
Write a review - tell others about your experience.