Event
About This Center
Grand Hotel Sveti Vlas is a luxury hotel complex, built in a modern Mediterranean style and located on the beach in Urta, Sveti Vlas. Only 3km from the center of the largest resort complex in Bulgaria - Sunny Beach, 25km from Burgas Airport and 1.5km from the largest marina - Marina Dinevi. Urta is a wonderful choice for people who are interested in tranquility and a pleasant atmosphere. The unique combination of sea and forest condition the extremely favorable climate, and the air flow between the sea and the mountain create a unique natural phenomenon that purifies the air. Grand Hotel Sveti Vlas has two restaurants: main and a la carte, which offer delicious dishes prepared according to original recipes. And in the lobby bar of the hotel guests can enjoy a cup of aromatic coffee.
On the territory of the complex you will find also: reception and lobby bar, main restaurant, a la carte restaurant, protein bar, outdoor pool bar, playground, spa, fitness, Wi-Fi internet, 24 hour security, parking.
Grand your mind ,grand your dreams, Grand Hotel Sveti Vlas!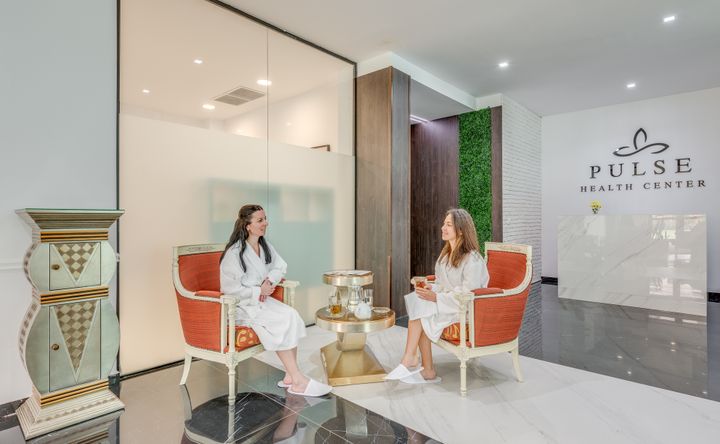 Venue Highlights
Pulse Health Center is a specialized clinical center, the result of years of research and work in the field of dietetics, detox and weight loss, in which a team of specialists takes care of the achievement of the individual goals of each client.
The Health Clinic has medical offices with specialized diagnostic and treatment equipment, a 5-star luxury beachfront hotel base, a Pulse Fitness fitness club for sports, a large spa with a variety of facilities and pools, halls for seminars with guest lecturers, specialized detox restaurants and many more extras.
Located on the very beach, in the resort of St. Vlas, the clinic provides a unique combination of pure mountain air and iodine-enriched sea breeze. The atmosphere in the complex is relaxing and predisposes to full body restoration and maximum physical and mental well-being.
PULSE HEALTH CENTER is a new-generation clinic that guarantees results to its clients, whether they need a successful and lasting weight reduction, complete detoxification of the body, or just want to relax qualitatively through anti-stress and anti-age therapies for revitalization , which each of us needs.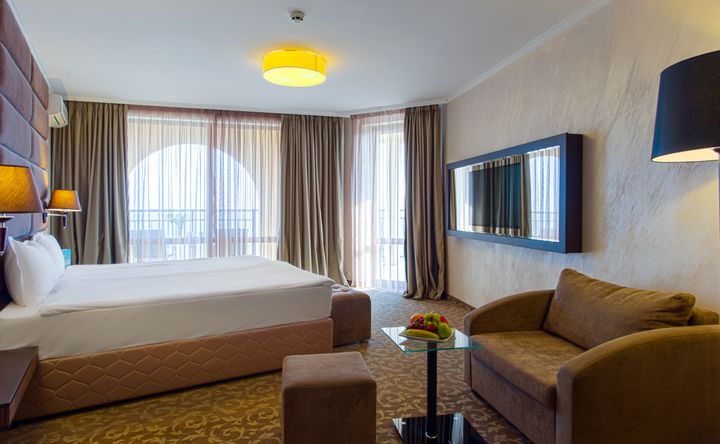 Accommodations
Double Lux Room with Sea View
The room offers one king size bed and а sofa chair. It can be booked as a standard room with park view or one with side sea view. It is offered also for single use. Suitable for maximum occupancy of two adults or two adults and one child up to 5,99 years.
Price calculation is based on "person per day".
Breakfast : yes
Lunch: yes
Dinner: yes
Size : 45 sq.m.
Persons : 2
View : sea
Type of accommodation (2 + 1; 2+0; 1+0)
Amenities
A/C in Rooms
Free Wifi
Spa
Sauna
Pool
Towels
Coffee/Tea
Cafe
Restaurant
Fitness Center
House Keeping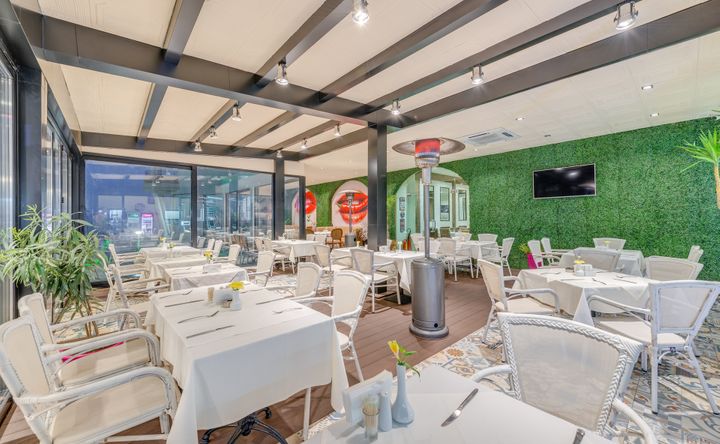 Menu Types
Vegan
Vegetarian
Meat
Organic
Menu/Cuisine
During your stay we have various options to offer you for fine dininng. At our hotel we have one main restaurant as well as one a-la-cart restaurant named Rose were you can taste one of the finest dishes from Bulgarian, Medditerranean and International cuisine. On your disposal will be our specialized DETOX Restaurant. In this venue you will have 5 meals per day depending on the program on which you will stay. All foods are specialy prepared and choosen by our proffessionals and doctors who will be at your disposal in the hotel as well.
Directions
Nearest airport is Burgas Airport which is apprx 35min with a taxi, bus or coch travel. Transfers could be arrange also by us or you can use hop services from the aiport as there are numerious agencies offering such services at the airport.
Reviews
Write a review - tell others about your experience.