About This Center
To yogis, explorers, and anyone in search of adventure, relaxation, renewal - we would like to invite you to the magical Caribbean beaches of Tulum, Mexico.
We have curated a unique experience that includes exploring the well-preserved culture of this ancient Mayan town, daily yoga classes, delicious local meals, an opportunity to look inward and a chance to connect with like-minded individuals.
Each day will include two Hatha - Vinyasa Yoga classes, local fresh cuisine, and many wonderful and exciting activities. We will go above and beyond to provide a wholesome, fun, and adventure-filled experience that is rooted in self-love and rejuvenation.
The retreat respects your desire to seek spirituality and healing, and our motto is inclusiveness for everyone, hence, same-sex couples are very welcome. Mudra Retreats want to create an experience that allows any person to feel safe and express themselves for who they are.
A Unique experience "Yoga & Music in a Sacred Mayan Cenote"
A unique practice that not everyone has the privilege of experiencing. You will plunge into the beautiful natural enclosures of Mother Earth as we explore the sacred cenotes and caverns of Tulum.
Connecting with the natural world through yoga. You will be accompanied by the exquisite sounds of primary instruments, feeling a sense of peace and unity, in the presence of the 4 elements: water, fire, earth, and air.
One of the most profound experience I have ever had, jumping in the Cenote to overcome my fears, experiencing the joy and limitless of life. Beautiful loving genuine people working together to put this retreat for Yoga in magical Tulum.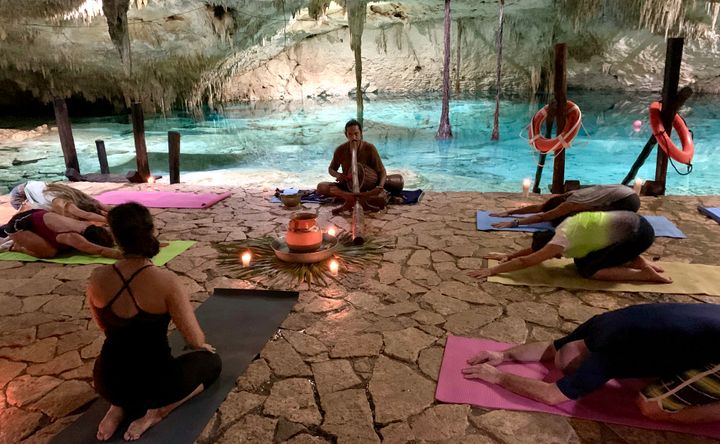 Venue Highlights
3 nights accommodation
3 handcrafted and freshly prepared meals a day
2 yoga classes a day
1 yoga class in a Sacred Mayan Cenote with live music
Transfer for a yoga class in a Sacred Mayan Cenote
1 exciting Salsa dancing class
Parking and taxes during the trip
Daily Wi-Fi usage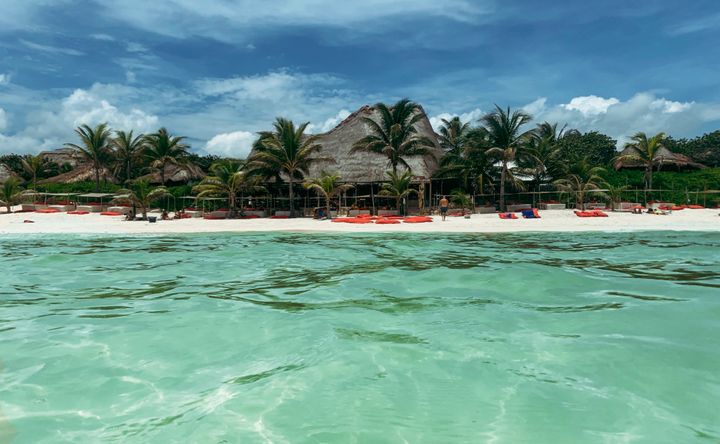 Accommodations
Located 90 miles south of Cancun on the Yucatan Peninsula, you will be staying at Poc Na Hotel Tulum Mexico, located on an enormous, gorgeous beach, half a mile away from the archaeological ruins of Tulum is your paradisiac retreat of luxurious yet rustic facilities and a unique classic Caribbean ambiance, is nature in all of its splendor.
It is an ideal hotel to use as a base to explore the surrounding areas. The Mayan ruins of Tulum are a short bike ride away and the world-famous cenotes are all short trips as well. Poc Na Hotel Tulum welcomes travelers from around the world in search of a real natural connection and all the good Tulum vibes. Live a marvelous vacation!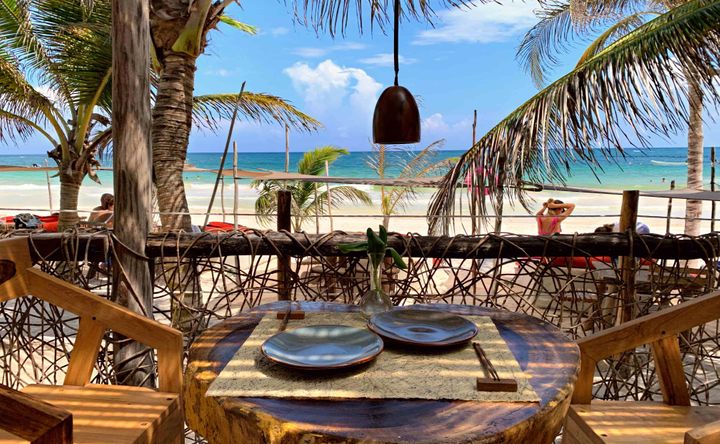 Amenities
A/C in Rooms
Free Wifi
Free Parking
Restaurant
Menu/Cuisine
Only fresh, local ingredients are used for cooking all of Mudra Retreats' specialties and snacks. Mudra Retreats menu is simple and delicious.
Directions
-Arrival by airplane
Please book your flight to arrive at Cancun Internationl Airport (CUN). Airport transfers are available at an additional cost of 100 USD.
There is a chauffeur that can meet you at the airport as you exit customs.
The trip will be safe, reliable and fast.
You will be at the hotel in about 90 minutes. You can also take a Bus ADO from Cancun Airport to Tulum
Reviews
Write a review - tell others about your experience.
Teacher
Just as the ocean depths are calm and clear, the true nature of our minds is enlightened and peaceful.