About This Center
THE HIDEOUT - KOH YAO
There is a secret waiting for you
A refuge.... an oasis... a sanctuary
Tucked away from the World that you know
Built from nature's bounty,
by those who call it Home
Where the only sounds you'll hear
are the music of the jungle and sea
And the only fear you'll have
Is missing a single moment of it
Step back in time, away from your World
to the hidden one that was made for You.
THE HIDEOUT
Away from the World.
"Simply Magical. After you reach the The Hideout - it's like you've entered another world." — skyaiee20, TripAdvisor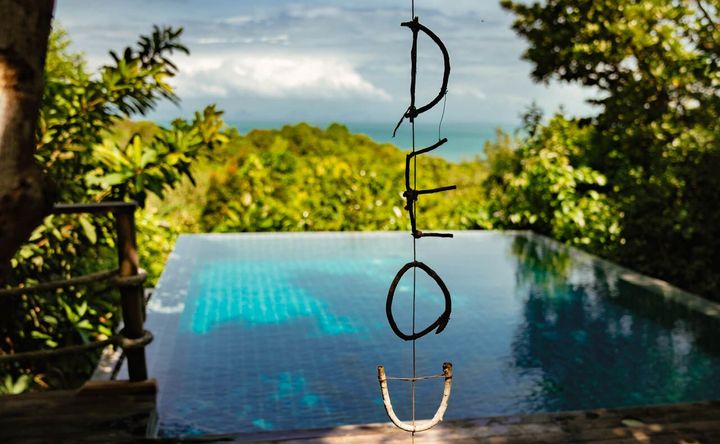 Venue Highlights
THE HIDEOUT, KOH YAO: A sustainable, plastic-free, and electricity-free luxury treehouse retreat becomes the ultimate "Nurture in Nature" getaway! The Hideout welcomes guests to revitalize and rejuvenate with authentic healing experiences far away from the chaos of modern living.
From its inception, The Hideout has been proud to feature stunning open-air treetop suites crafted from local materials by island artisans, while also offering a veritable bounty for visitors seeking to unplug and lose themselves in natural and cultural beauty. But we also strive to be active participants in our guests' journeys to wellness, and our tailored packages are designed to nourish Mind, Body and Soul from a gentle and holistic approach.
From its inception, The Hideout's creator/owner worked hands-on with an acclaimed Thai architect and his tireless crew to realize her vision and minimize the environmental impact on the area. This level of passion and care for every tree, water source, and wildlife habitat — as well as how the resort would be seen from the sea and the air — is unprecedented in the region (and rare worldwide). It allows for an incredible sense of 'immersion' with the surrounding environment, to the point where hard to see where The Hideout ends... and the jungle begins!
Far from the beaten tourist trail, this 'Away from the World' gem on the lush jungle isle of Koh Yao Noi offers an unforgettable escape.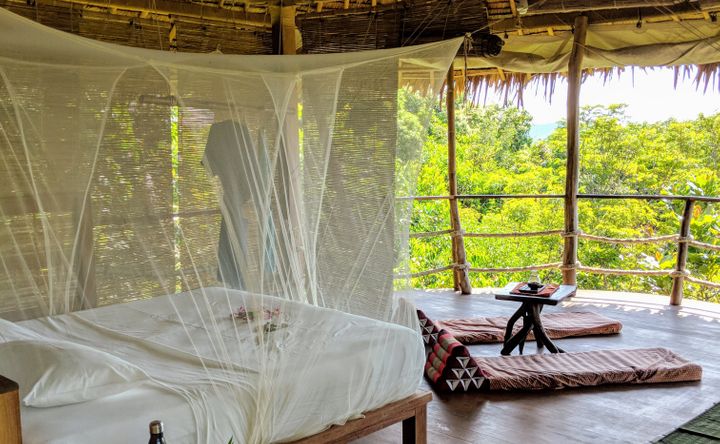 Accommodations
The Hideout features just 4 stunning open-air treehouse suites crafted from indigenous materials by local artisans on the sleepy isle of Koh Yao Noi, Thailand. From the beautiful island wood and bamboo frameworks to the intricately thatched roofs crowning each area of the resort, our goal is to offer our guests a one-of-a-kind escape — where raw nature and authentic cultural experience blend with just the right indulgent touches. This fusion of natural textures and colours, scents and sounds, and (especially) tastes combines to make for something truly magical and blissfully memorable. 
What you won't find here are TVs, radios, buzzing fans, or noisy machinery of any kind — The Hideout is proudly electricity-free, aside from the solar-filtered infinity pool at the heart of the resort.
When you open the entrance gate to your private treehouse, you'll first be greeted by a tasteful open-air bathroom level nestled in the treetops, complete with cool-water tub and rain-shower, vanity sinks and WC, and a host of complimentary organic and handmade toiletries. Then you'll climb the stairs to the main room, which holds an eco-tourist's paradise: a majestic thatched roof, rich wooden floors and furnishings, plush king-sized bed with mosquito net, and an unparalleled open-air panorama view of Koh Yao's jungle, bay, and nearby islands.
The Hideout is a true luxury escape for adventure seekers or people who want to connect with themselves or their loved ones. Candles and stars light the sky in the night and the only sounds people hear are those of the nature and the waves washing ashore.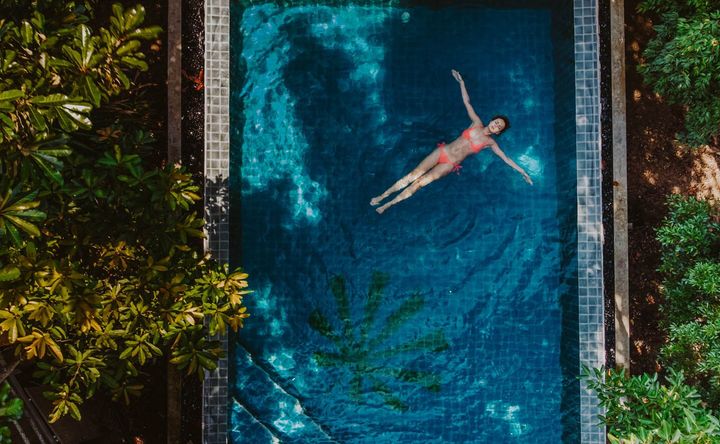 Amenities
Pool
Towels
Coffee/Tea
Restaurant
House Keeping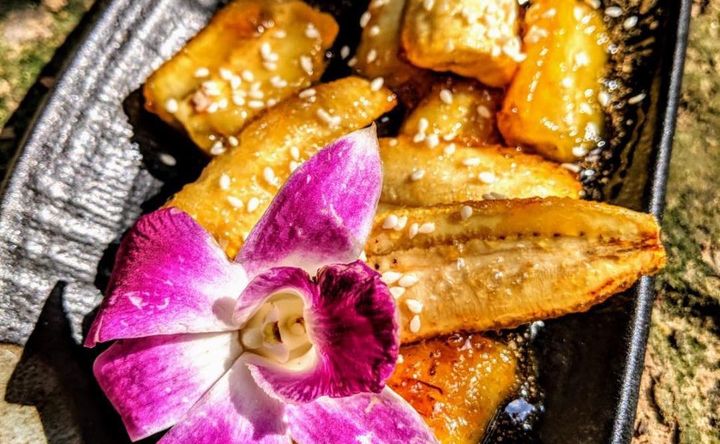 Menu Types
Vegan
Vegetarian
Pescetarian
Ayurvedic
Meat
Organic
Gluten Free
Dairy Free
Nut Free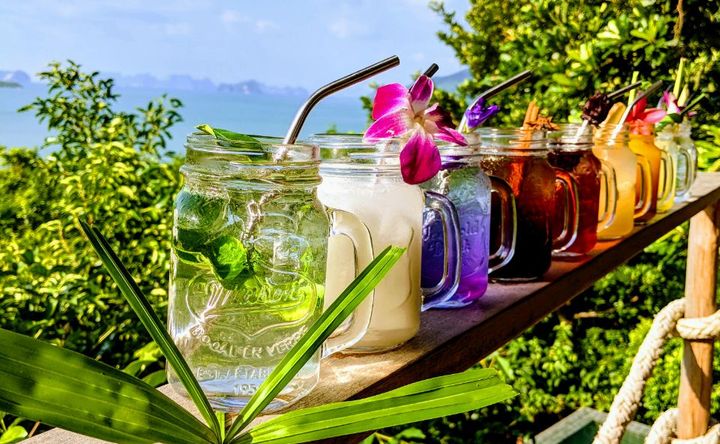 Menu/Cuisine
Farm-To-Table + Zero-Waste = Good Karma. We offer a powerful blend of healing, empowering, and enzyme-rich foods.
Authentic, organic, locally-sourced, The Hideout offers some of the most acclaimed and exciting dishes in southern Thailand, with a menu that caters to indulgent foodies, adventurous eaters, vegetarian and vegans, halal and special-needs diners.
Featuring the freshest seafood and produce from the region, traditional spices and sauces made-to-order in our open fire & gas-burner jungle kitchen, and even fresh-baked bread and German noodles made with a 'Thai touch', you'll want to feast on the entire menu.
You will also want to indulge in our hand-crafted tonics and sodas, brewed daily from all-natural and organic ingredients right here on Koh Yao. You won't find bottled sodas or drinks here ;)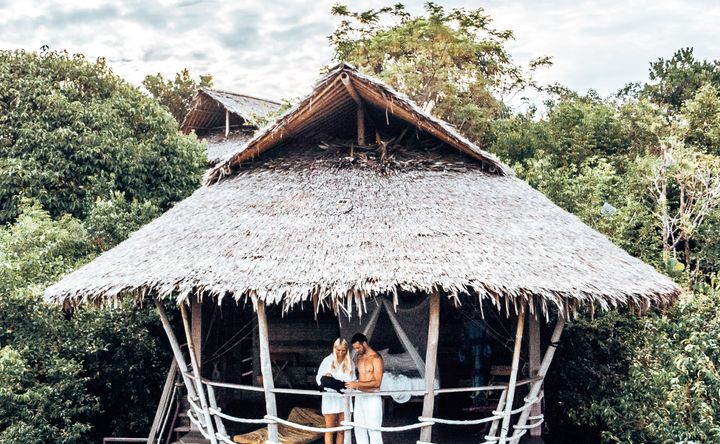 Directions
Koh Yao Noi is a beautiful paradise island situated between Krabi and Phuket.
From:
Phuket Airport (HKT)
Taxi to Bang Rong Pier - Local Ferry to Koh Yao Noi - local Tuk Tuk to The Hideout (approx. 1 hour in total)
Krabi Airport
Taxi to Tha Lane Pier - Local Ferry to Koh Yao Noi - local Tuk Tuk to The Hideout (approx. 1.5 hour in total)
Reviews
Write a review - tell others about your experience.