Events
About This Center
The Dragonfly Ranch is a modern day sanctuary, blessed to be in the middle of the "Sacred Healing Triangle" where Samoans and Tahitians of ancient times sailed for healing purposes. This country estate has a view of the ocean, overlooking grazing land that provides an idyllic buffer of privacy.
Enjoy our eco-spa on the sunny Kona Coast of Hawaii's Big Island where Aloha abounds. Ever dream of having the wild, friendly dolphins visit you while snorkeling in the pristine bays nearby, experiencing the natural beauty of old Hawai'i, diving and snorkeling in world-class pristine waters, meeting Kahunas, or using Hawaiian healing herbs like awa or noni?
Would you like to "tune up" your health, learning alternative healing methods, practicing the five Tibetan sacred rites, tai chi/yoga/chi gong, or meditating while walking our labyrinth -- all in the spirit of having FUN?
Whether you prefer privacy or the feeling of being included as family, you are cordially invited to The Dragonfly Ranch: Healing Arts Center - designed especially for Healthy Pleasures.
Blessed with an ideal location, this peaceful country estate is near the ancient Place of Refuge National Historical Park and five beautiful bays. The Kona Coast is an ocean-lover's paradise (with Spiner dolphins, tropical fish, coral, turtles and whales) -- where people are full of Aloha and time is slow and easy. The elevation is ideal (about 700 feet) and the temperature is almost always 72 degrees with lots of sunshine, very little wind, and limited rain.

Individuals, families or groups are invited to come here and relax, rejuvenate and restore creative energies.
Those of us here at the Dragonfly are having a good time exploring our creative talents, sharing common goals, music, laughter and love. We welcome you to join us. We wish for our guests to feel comfortably "at home."
We invite interested guests to learn about local culture/agriculture and Hawaiian healing arts.
"E Komo Mai"
Welcome to our home.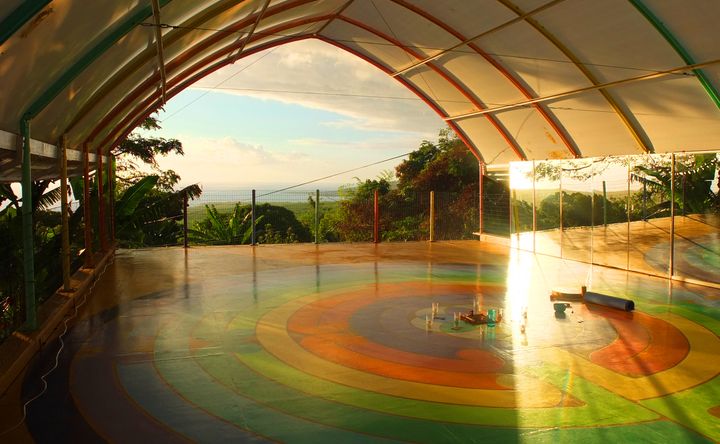 Venue Highlights
Five nearby bays (5-15 minutes away by car) afford healthy pleasures and serene play--where friendly dolphins and turtles like to interact with respectful snorkelers.
The lush jungle setting of the Dragonfly Ranch with luxuriously rustic accommodations feature comfortable beds with plush bamboo sheets, private outdoor showers, and walls of screen providing indoor/outdoor living overlooking the azure blue Pacific Ocean.
This organic hideaway in South Kona features a team of health care practitioners who provide a variety of customized health services such a Hawaiian Lomilomi massage to optimize enjoyment of island life—with vibrant health.
For anyone interested in improving their health, we can assist with acupuncture, a variety of massages, yoga classes, Mayan bath ceremony, meditation practices, ho'oponopono, organic gardening lessons, nutrition/cooking classes and other delightful healing practices.
The 30' by 50' covered studio with colorful labyrinth provides space for spiritual meditation, yoga, dance, music, art, healing experiences and sunset views of the South Kona coastline.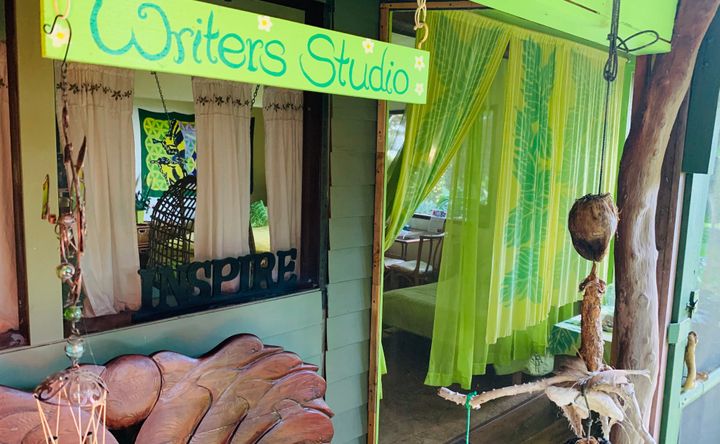 Accommodations
The Dragonfly Ranch is offering 5 guest rooms, accomodating up to 16 guests at a time.
All rooms have a private bathroom and splittable beds for a convenient retreat setting. Breakfast and dinner are available upon request.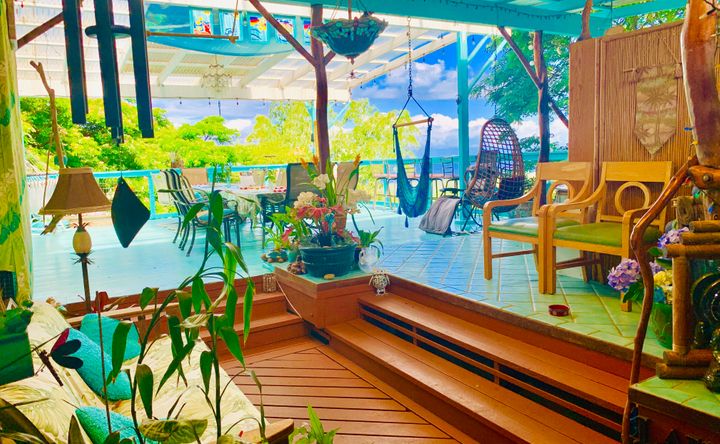 Amenities
Free Wifi
Sauna
Towels
Free Parking
Kitchen
Coffee/Tea
Yoga Studio
House Keeping
Ceremony Space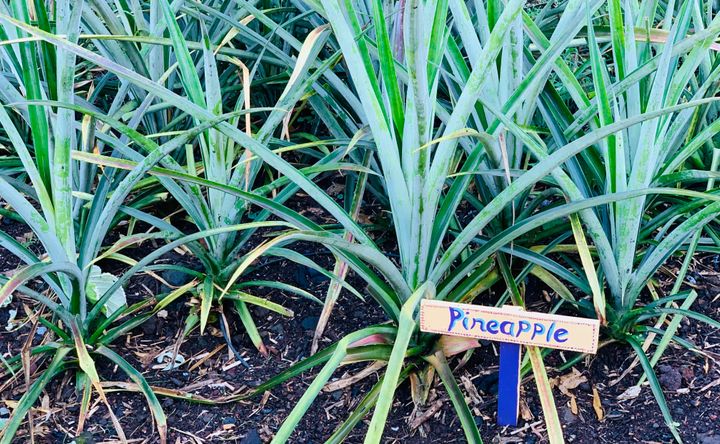 Menu Types
Vegan
Vegetarian
Pescetarian
Meat
Organic
Gluten Free
Dairy Free
Directions
From Kona Keahole International Airport:
Turn right out of the airport onto the main highway. Go past Kailua up a 10 minute hill. You will reach a plateau and pass through the little towns of Honalo, Kainaliu, Kealakekua and Captain Cook. Next you'll see a highway sign for Honaunau; watch for highway mile marker signs (small, rectangular and green)!
After you pass the 104 mile marker, look to turn right onto Route 160, which is clearly marked by a large sign: "Pu'uhonua o Honaunau". We are located exactly one and one half miles down Route 160, on the right side. Look straight down the road and you will see two arrows marking a sharp bend in the road and a large sign saying DRAGONFLY. Just beyond the second arrow on the right you'll see a large mail box on an ohia post saying "Welcome". Turn right, into our driveway (above which hangs a dragonfly goddess). A sign says: "Dragonfly Ranch."
Reviews
Write a review - tell others about your experience.
Teachers