About This Center
Rise Wellness Retreat exists to safely and legally introduce people to the practice of microdosing psilocybin in a beautiful and relaxed setting of Jamaica with trained facilitators.
We provide an all-inclusive experience that includes of workshops, classes held by certified wellness professionals and specially formulated microdoses of psilocybin. We have been working with clients for over a decade in natural health, helping to improve their quality of life and overall well-being with plant medicines. Increasingly we've seen individuals develop more awareness of how their lives have become imbalanced.
Rise Wellness provides a solution for those who are seeking safe, non-toxic treatments for mood improvement, enhanced creativity & "work flow", stress management and physical wellness.
See our review on TGIF Guide!
"The week with Rise Wellness was absolutely life changing, I honestly couldn't have imagined what a transformative experience it would be. I took so much out of the wellness program." – C.B. Canada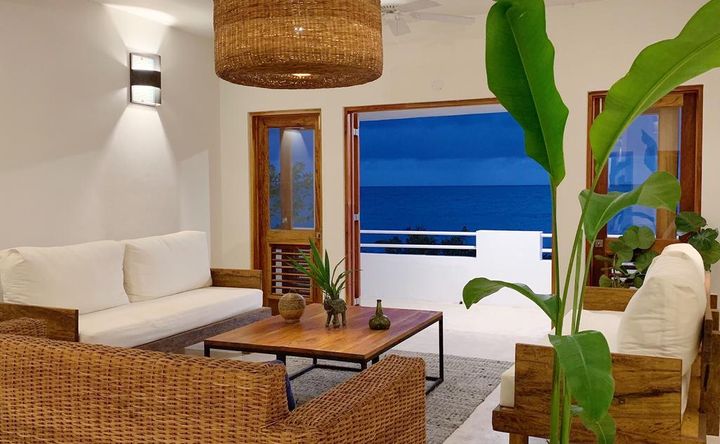 Venue Highlights
Located in beautiful Jamaica, our living, breathing spaces carry an enchanting energy that flows in and around you. Our beachfront location offers a quiet area to swim, striking sunsets, and place to connect. The villas modern-tropical design creates the ideal conditions for the area's climate and temperatures to work for you, harnessing nature's best offerings. Spaciously designed rooms outfitted with locally made décor that is hand-crafted from wood, stone and metal.
Rippled wooden-beam pergolas and trees create shade over the patio areas and keep the sun at bay, while large wood-louvered swing doors open up living and bedroom walls inviting in a cross breeze that courses through the house. Our rooms' clean neutral interiors make the outside landscape the focal point, like a painting on a canvas. While lavishing outside landscapes pour in through the windows with nature's sweet sights and sounds, enjoy an incredible lightening of spirit. It's easy to feel free and at ease when you have a beautiful setting, convenient amenities at your fingertips, as well as superb service from our attentive staff.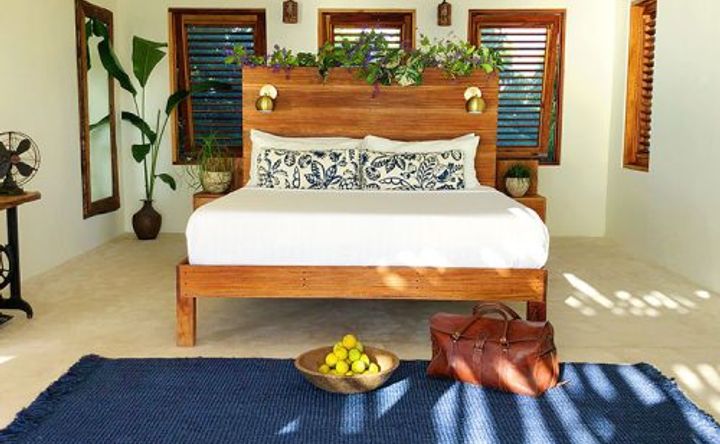 Accommodations
There are lots of cozy corners and sweet spots to chill – under a Neem tree, next to a Dessert Rose blossom, on the beach or beside the pool. Depending on the time of day, you'll decide which one suits the moment. Discover our great little hangouts and social spaces to have a chat, engage in an activity, read a book or take a nap.
There are three levels and five bedrooms to provide lots of social spaces to gather or private nooks for retreat. Each floor has its own kitchen, bedroom space and outdoor terrace.
The Ocean Suites are shared rooms on the ground floor with two twin beds adjoined by semi-private showers, a full kitchen, dining and living area, beachfront access, large ground-floor terrace and garden lounge with outdoor showers.
The Sea Suites are on the main floor, two separate Master bedrooms with King beds and AC adjoined by a spacious family-style living and dining area, ensuite bathrooms, full kitchen, fans and seaside terraces with breathtaking views.
The Sky suite offers a secluded Master bedroom with ensuite bathroom and kitchenette, wood louvred doors that open out to the sky, AC and fans, large terrace lounge, private outdoor shower, and far-reaching ocean views.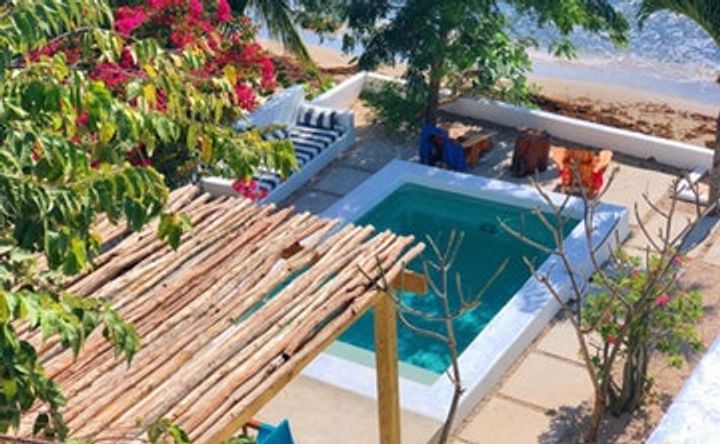 Amenities
A/C in Rooms
Free Wifi
Pool
Towels
Free Parking
Kitchen
Tour Assistance
Coffee/Tea
Yoga Studio
House Keeping
Ceremony Space
Menu Types
Vegan
Vegetarian
Pescetarian
Menu/Cuisine
Our menu prepared by staff in-house, is healthy, high-vitality and plant based. We do have pescatarian options, as well as snacks to enjoy throughout the day.
Reviews
Write a review - tell others about your experience.
Louisa T January 31, 2020

Life Changing, Transformative Experience

This microdosing retreat was like a reset button on my life. The villa in Jamaica was beautiful & serene, and the rooms were absolutely stunning. Great views, great beach, and the food was absolutely delicious. The combination of psilocybin microdoses, the space to spend evaluating a few areas in my life, as well as help from the amazing therapist on site, Robin, really gave me new tools to see things from a different perspective. I was pleasantly surprised when I found that the entire experience was calm, focused, and gave me tools that I was able to bring home and use to improve my work & my relationships with my family and friends. I would definitely recommend Rise retreats for anyone looking to learn more about microdosing psilocybin in the safest and most effective way. Thanks again to Irie and Darryl who helped and were available every step of the way!