About This Center
Le Pianore is a CCPB certified organic farmstead and we feel honoured to be the custodians of more than 30 hectares of woodlands traversed by the Zancona river and its tributaries. We manage our forests to provide the wood we need, ensuring forest regeneration and sustainable energy use. With more than 90% of our energy coming from renewable sources (solar panels and sustainably managed wood), we are proudly on our way to reaching our goal of total energy self-sufficiency. Furthermore, all water destined for agricultural use, including irrigation of the vegetable gardens, comes directly from the spring that bubbles up behind our family home.
Slow down and indulge the senses: visit world-renowned vineyards, dip into ancient Roman thermal baths, explore Etruscan tombs and stroll through Medieval villages. Or simply relax and make yourself at home in a profoundly peaceful setting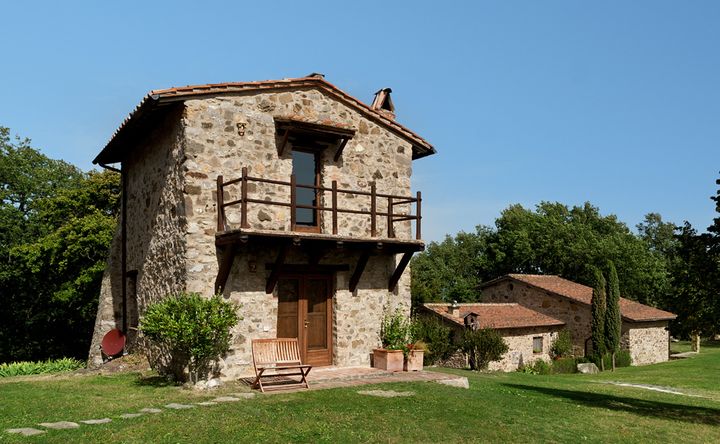 Venue Highlights
Set in the heart of the Tuscan Maremma, surrounded by woodlands, vineyards, olive groves and mountain streams, with spectacular views and untouched landscapes, Le Pianore Villa and Organic Wine Farm is an ideal venue for yoga holidays, holistic and creative retreats. Our farmstead, with its beautifully restored villas and studio spaces, is the perfect base from which to explore the surrounding countryside; from the slopes of the Monte Amiata down to the Maremma coast.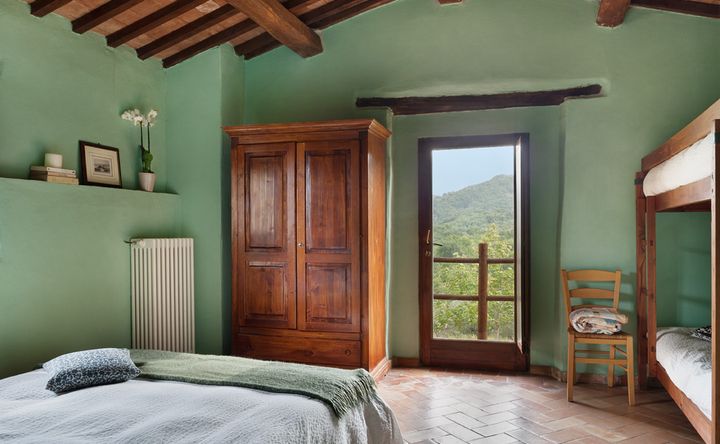 Accommodations
We have 10 bedrooms, plus a yurt in the wood, and a dormitory space.
All our rooms have an ensuite bathroom, just the two small single rooms, they share the bathroom with each other.
Main house (7 bedrooms):
-The Suite: 1 queen bed, 1 single bed, private terrace, ensuite bathroom with shower and tub.
-The Guests room: 1 queen bed, ensuite bathroom with shower
-The Piccola: a single bed, share the bathroom with the French room
-The French room: a three-quarter bed, share the bathroom with the Piccola room
-The Nonno's room: 1 queen bed, 1 single bed, ensuite bathroom with shower
-The Rock room: 2 single beds, ensuite bathroom with shower
-The Cottage: (Cosy duplex situated between the main Villa and the Seminary room) 
Large room with queen bed and supplementary single bed, en suite bathroom and balcony on the first floor. Own private living room with kitchen and daybed (possible extra bed) on the ground floor.
La Paglietella: ( Is a Straw house with 2 bedrooms with a view on the olive groves)
-The Yellow room: 2 single beds, ensuite bathroom with tub and shower
-The Red room: 2 single beds, ensuite bathroom with tub and shower
A large Yurt in the forest: 1 queen bed, 2 single beds.
Bathroom with shower outside of the Yurt.
The dormitory: Situated in the mezzanine of the seminary room, with 2 bathrooms on the ground floor of the studio.
 Up to 5 mattresses can be comfortably arranged on the mezzanine floor, which is lined wall-to-wall in tatami mats.
This budget option is only available once all rooms have been occupied.
Amenities
Free Wifi
Pool
Towels
Free Parking
Coffee/Tea
Yoga Studio
Ceremony Space
Menu Types
Vegan
Vegetarian
Pescetarian
Meat
Organic
Gluten Free
Dairy Free
Nut Free
Menu/Cuisine
-italian breakfast: coffee, tea, milk and soy milk, home made yogurts (regular and soy), butter, home made jams, our organic honey, home made granola and other cereals, fresh fruits and freshly backed cake.
-Lunch: is simple and light, is usually a grain (pasta, rice, cous cous, quinoa, etc) with a big mix salad from our garden!
-dinner: appetizers, first Cours, second cours, two sides, dessert. Everything is organic and local. most of the veg that we use, are from our organic garden (that you are always welcome to visit!)
Directions
Airports: The most convenient local airports are Florence, Pisa, Rome, and Perugia.
Rental cars are best picked up either at the airport or in the bigger cities.
Transfers: We can arrange private car transfers from airports, train stations and cities.
Thera are 2 Agriturismo Le Pianore in Tuscany, be sure to look for Monticello Amiata, in Cinigiano!
Reviews
Write a review - tell others about your experience.
The consciousness in you and the consciousness in me, apparently two, really one, seek unity and that is love. Sri Nisargadatta