About This Center
Our Wild + Sacred Feminine Retreat is a 5 night all-inclusive immersion to the rich and vibrant lands of Morocco. Morocco is a gateway to Africa and a country of dissing diversity. Between the epic mountain ranges, ancient cities and sweeping deserts, rugged coastlines, waterfalls and caves in forested hills - the land is as diverse as the feminine archetype we will be exploring. This retreat is designed to help you rediscover and reclaim your power from the inside out. Expect a deep-immersion into various practices like Self Empowerment Through Self Exploration, Sunrise Yoga Overlooking The Sahara Desert, Sandboarding, Private Camel Treks, Personalized Life Coaching, Intimate + Nightly Cacao Ceremonies and a Lifelong Community of Likeminded Souls who you will meet on this trip. This retreat is designed to help you experience a reawakening on all levels as you return to your wild and innate essence, which is powerful, worthy, wise, and eternally free.
It's Time To Find Your Oasis
Venue Highlights
There's nothing quite like seeing the sunrise and sunset in the Sahara Desert. Feeling the heat of the midday sun and seeing the stars that light up the empty sky. We have designed this trip specifically to harness our inner power in a place that exudes its own unique natural force. This is not a fufu typical yoga retreat, we are driving over the high atlas mountains, anti atlas mountains and then through the Sahara to arrive at our comfortable oasis in the desert where we will embrace the essence of nomadic life. If you're looking for a life changing experience that will push your edge a bit and then bring back to home , this is the perfect trip for you. Our intention is to go deep within the Sahara Desert, relax and uncover the magic of nature in order to let it inform our individual journey inward, through carefully thought after wellness practices and rituals.
Opening Ceremony
Self Empowerment Through Self Exploration
Sunrise Yoga Overlooking The Sahara Desert
Sandboarding Sessions
Private Camel Treks
Personalized Life Coaching
Intimate + Nightly Cacao Ceremonies
A Lifelong Community of Likeminded Souls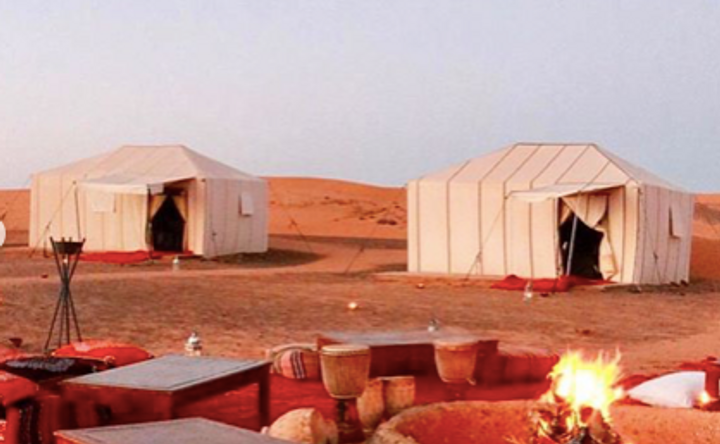 Accommodations
Guests will enjoy the luxury of a private 2 person Shared Suites in our stunning glamping tents situated in the middle of the Sahara Desert.
Amenities
Coffee/Tea
Yoga Studio
Ceremony Space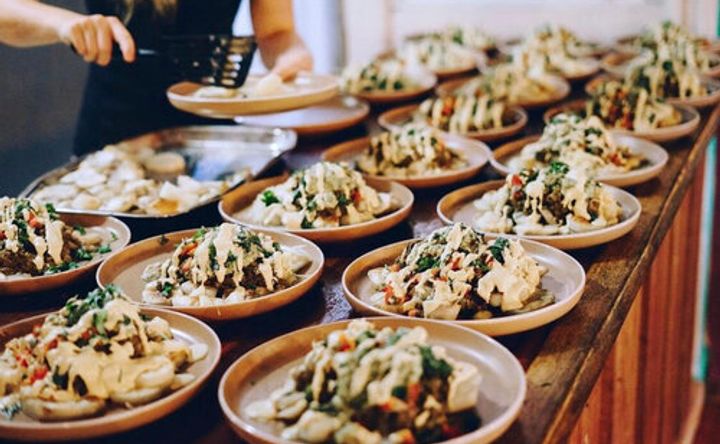 Menu Types
Vegan
Vegetarian
Ayurvedic
Meat
Organic
Gluten Free
Dairy Free
Nut Free
Menu/Cuisine
A culinary eclectic treat for any foodie out there. We will enjoy 3 delicious and local Moroccan meals daily with traditional Moroccan cuisines along with complimentary tea and cacao on deck. For breakfast, expect eggs, local cheeses, homemade jams, fresh brewed mint tea, local fruits. For lunch and dinner, Moroccan dishes are influenced by Berber, Jewish, Arab, and French cultures. Expect lamb, chicken, and veggies slow-cooked in a clay pot. Meals are often served with Khobz, the crusty round flatbread cooked in a communal wood-fired oven. The menu items listed above are just to give you an idea! As it is part of Moroccan culture to eat meat, we have asked for meals according to local culture. If you're vegetarian or have any dietary restrictions, the property will happily accommodate you.
Directions
TRAVEL INFO
ARRIVAL:
ARRIVE BY 9 A.M. MAY 2ND – WE WILL BE MEETING AT THE AIRPORT THEN TAKING A DAY DRIVE OVER TO OUR OASIS IN THE AGAFAY DESERT. WE RECOMMEND FLYING IN A DAY EARLY AND STAYING IN MARRAKESH THE NIGHT OF MAY 1.
AIRPORT:
MARRAKECH MENARA INTERNATIONAL AIRPORT.
SUGGESTED TRAVEL:
BOOK FROM JFK OR FLY THROUGH LONDON/OTHER MAJOR EUROPEAN CITIES, MADRID, LISBON, BARCELONA.
DEPART:
TRANSFERS TO MARRAKECH OR MARRAKECH AIRPORT ARE INCLUDED BETWEEN 9AM-12PM ON MAY 7TH, BUT YOU ARE WELCOME TO DEPART LATER IF YOU PREFER. WE CAN HELP ARRANGE ALTERNATIVE TRANSFERS FOR YOU (NOT INCLUDED). WE SUGGEST FLIGHTS AFTER 11AM TO HAVE A RELAXING MORNING BUT WE WILL BE TRAVELING A FEW HOURS TO OUR OASIS.
Reviews
Write a review - tell others about your experience.
Teacher
Just as the eye cannot see itself,
The mind cannot know itself.
As such, all knowing must spring from that which is vaster. Wu Hsin