About This Center
Ayaruna Temple is located by the Aucayacu river, 300 km away from Iquitos, we are surounded by a lush and vibrant primary virgin rainforest on 6000 acres of comunal reserve, endowed with stunning landscapes with a great variety of breathtaking views and enchanting sounds of vast surrounding magic.

We can reach Ayaruna by taking a fast transportation ride from Iquitos which lasts up to five hours, but we normally choose the more appealing and comfortable pace of a twelve/fourteen hour overnight journey on the Amazon and the Ucayali rivers, which is in itself a wonderful unforgettable experience.
They were very helpful with my journey and provided answers to any questions to their best ability. This place is a portal to a dimension of divine love and letting go. -Mamun Islam. USA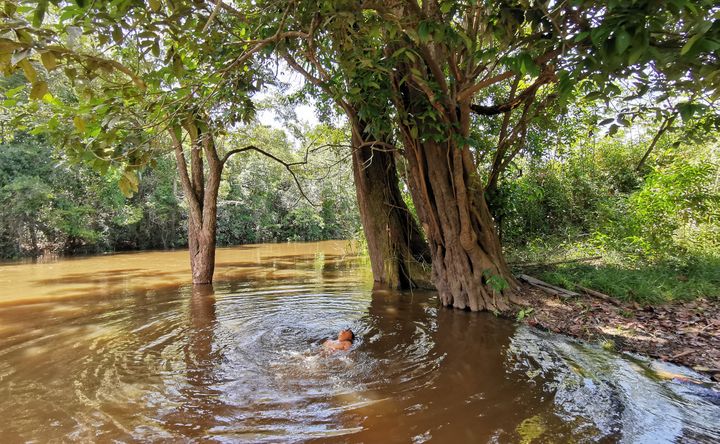 Venue Highlights
The center has an extensive network of hiking trails, a large maloca (ceremonial temple), a dinning house and double bungalows, all designed with local vernacular architecture and natural materials.
The temple is also the main shaded common area, equipped with mattresses, hammocks and yoga mats for group share circles, yoga sessions and rest.
Because we are at the shore of the Aucayacu River, we are privileged to have the chance to enjoy a swim anytime, being rain months more suitable and pleasant, for the water levels are just meters away from our facilities.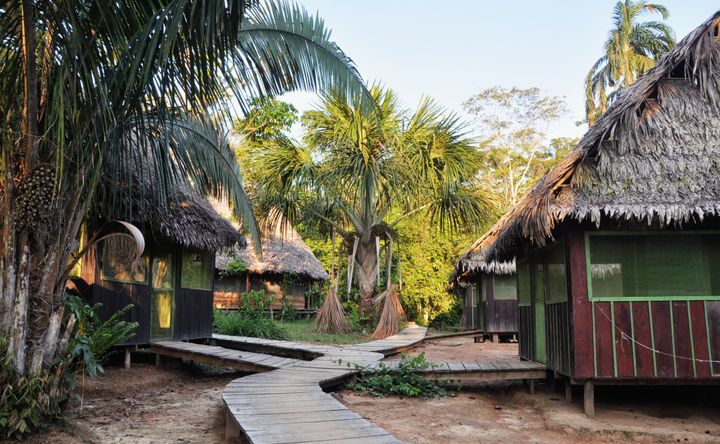 Accommodations
We count with duplex cabins for singles and couples, designed with local vernacular architecture and natural materials.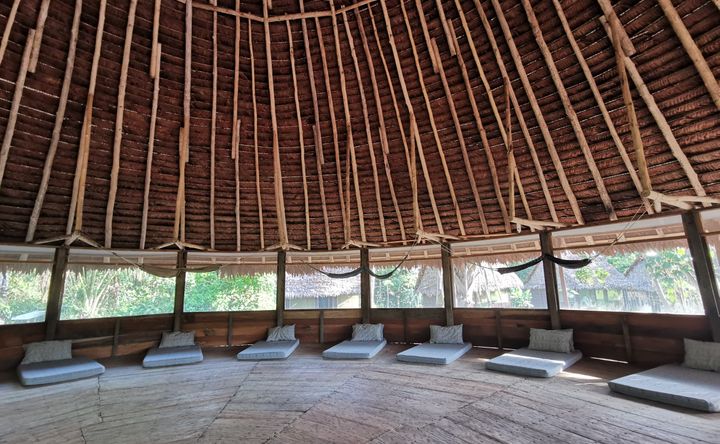 Amenities
Towels
Kitchen
Tour Assistance
Coffee/Tea
House Keeping
Ceremony Space
Menu Types
Vegan
Vegetarian
Pescetarian
Meat
Organic
Gluten Free
Dairy Free
Directions
Each one is responsible for getting transportation from Iquitos airport to your chosen accommodation. Our meeting is on Monday at 9am for breakfast and we will give you an hour for last minute purchases. After, we will have our introduction meeting at 11:00 am to give some more time for those who might be delayed to catch up.
After the introduction meeting, we will head to the port to get the boat that will depart between 12:00 to 1:00 pm. The boat journey through the Amazon lasts between 12 to 14 hours to the next destination, a town called Jenaro Herrera, where we will have accommodation and time to rest before sunrise when we will depart for a boat trip of one a half hours to Ayaruna Temple.
If due to a delay, a guest can't make it to the boat, exists the alternative of arranging a speed boat on Monday noon or Tuesday very early in the morning for an extra cost.
For any personal reason, If you happen to arrange your arrival on the very first day of the retreat, please make sure you land in Iquitos NO LATER than 7:30 am, same way, on your way back, try to leave no earlier than 12:00 pm on the following Monday.
Reviews
Write a review - tell others about your experience.
Teachers