About This Center
Santosha on the Kennebec is a gracious mindfulness retreat center located on the Maine coastline, just one hour north of Portland, ME and two hours north of Boston, MA. Santosha gently offers guests the opportunity to explore the meaning of santosha, or "settled contentment without striving," through diverse activities based in mindfulness, including yoga, pranayama, meditation, mindful cooking, writing, and spending time in nature. We include three nutritious, organic, local meals per day; twice daily yoga, pranayama, and meditation; daily Mindful Nourishment culinary classes in our two kitchens; daily playtime outdoors with Mama Nature; and access to the area's most experienced Healing Arts practitioners. Our peaceful retreat is also the home of the Sagadahoc Writers' Sangha, a collective of dedicated writers seeking to hone their craft in a loving, accepting, non-judgmental community.
"The real voyage of discovery consists not in seeking new landscapes, but in having new eyes." - Marcel Proust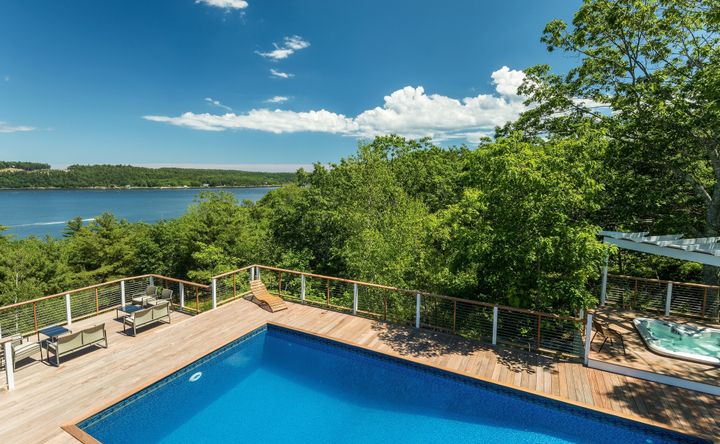 Venue Highlights
- Spacious compound on the waterfront at the mouth of the Kennebec River and the Atlantic Ocean
- Twice daily hatha and restorative yoga
- Twice daily meditation and pranayama
- Three daily organic, local meals
- Daily culinary classes in our two kitchens
- Daily playtime in Mama Nature, including forest bathing and hiking
- In-ground pool (in season) and spa (year-round)
- Expansive yoga shala with elegant Buddha shrine, ensconced in wide plank pine and vaulted post-and-beam ceilings
- Dedicated space for Healing Arts sessions in massage, reiki, ayurvedic counseling, and more
- Wood-paneled library and writing space
- Central air conditioning and heating
- Cozy wooded fire pit and screened porch
- Expansive teak decks
- Several acres of wooded area for exploration and meditation
- Several fireplaces
- High-speed internet
- Elevator
- Direct water access
- A short bicycle ride or drive from Popham Beach State Park, one of the loveliest beaches in Maine
- Two hours north of Boston; one hour north of Portland
- Dog-friendly!
Set on the Kennebec River, just southeast of Bath (Maine's City of Ships), the sleepy coastal village of Phippsburg is now home to little more than 2,000 residents. Phippsburg is the site of Popham Colony, the first known English settlement in New England and a direct competitor to Jamestown, founded between 1607 and 1608. During this pre-colonial period, the colonists built the Virginia of Sagadahoc, the first ship built on American soil. A rural fishing community, Phippsburg is also home to Popham Beach State Park, a well-kept Maine secret compared to the crowded beaches of southern Maine. Phippsburg boasts many miles of secluded hiking paths, between the salt marshes and coastal uplands of the Bates-Morse Mountain Conservation Area and the Phippsburg Land Trust. By water, Phippsburg is known best for Seguin Island and her iconic lighthouse, as well as Hermit Island Campground on our western shore. Within an hour, you will have access to Bowdoin College, Colby College, and Bates College. Santosha is also within driving distance for a day of skiing at Sunday River or Sugarloaf. For locavores, Maine boasts some of the best eating and drinking in the nation: just ask Bon Appétit magazine, which recently named Portland America's Restaurant City of the Year. North of Portland's bustling culinary scene, guests will find plenty of gems on the Midcoast, including James Beard semifinalist Cara Stadler's Tao Yuan (Brunswick); the iconic local lobster haunt, Five Islands Lobster Co. (Georgetown); Nikaline Iacono's edgy and inventive craft cocktail bar, Vessel & Vine (Brunswick); favorite Maine craft breweries, Maine Beer Company (Freeport) and Flight Deck Brewing (Brunswick); and many, many more.
Accommodations
Bunk Rooms
Reminiscent of the joys of sleep-away camp. Perfectly cozy and peaceful. Bunks are found in the Lodge (connected to the Main House) and the freestanding Bunkhouse. Climb into hardwood twin-sized bunks with plush comforters and a piping warm stove in the Bunkhouse. The twin-sized trundle beds tucked into the eaves of the Lodge overlook the yoga shala. Shared washrooms. The rustic decor evokes Maine's deep mountain woods with wide pine walls and cherry wood finishes. Central air-conditioning in the Lodge. The bunks lend themselves easily to bookings by groups of friends for relaxing getaways, too. Depending on availability, bunk rooms may be shared by persons of various sex or gender orientations.
Private Rooms
Curated decor evokes the Maine coastline's pine greens, marine blues, and marshy golds. Burnished pine walls are in one room. Gas fireplace and a balcony overlooking the river in another. Private access into the yoga shala in yet another. These rooms have a queen-sized bed or two twin-sized beds, as available. Private Rooms are spread throughout the Main House, the connected Lodge, and the freestanding Bunkhouse. Rooms in the Main House are accessible by elevator. Certain rooms feature en-suite washrooms, others feature detached washrooms, and others share washrooms. There is central air-conditioning in the Main House and the Lodge. Each room celebrates Maine's pristine natural beauty by the sea.
A self-service washer and dryer are available for guests, free of charge. An iron and steamer are available, too. Each washroom is equipped with a hairdryer.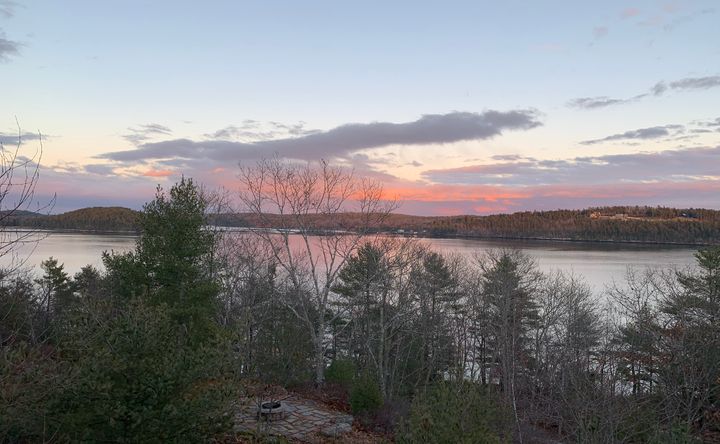 Amenities
A/C in Rooms
Free Wifi
Spa
Pool
Towels
Free Parking
Kitchen
Hot Tub
Coffee/Tea
Cafe
Yoga Studio
Ceremony Space
Ayurvedic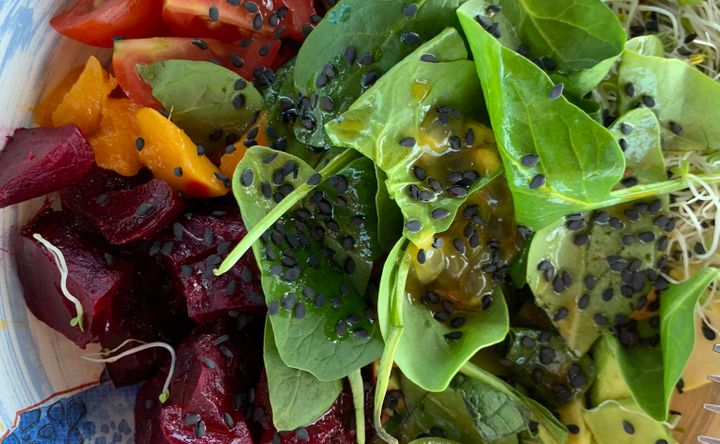 Menu Types
Vegan
Vegetarian
Pescetarian
Meat
Organic
Gluten Free
Dairy Free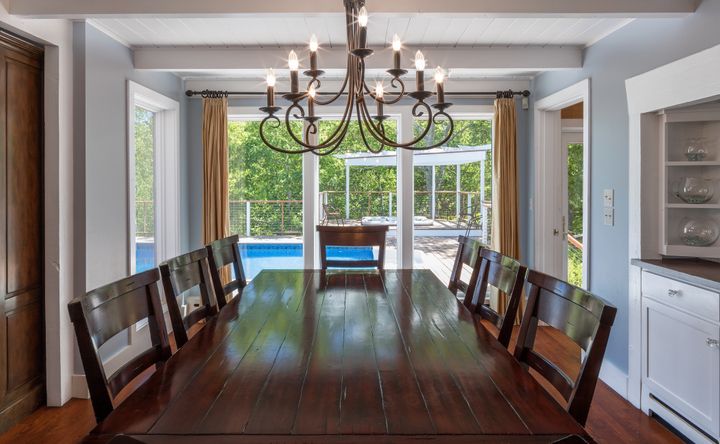 Menu/Cuisine
Food and joy are intimately connected. Santosha strives to craft a culinary experience in mindfulness for you: slow down to savor every last bite. Santosha designs its food program to emphasize seasonal, local ingredients obtained from small Maine growers. Meals are meant to be shared, served family-style, around a single, solid, hardwood table.
As an exercise in mindfulness and inspired by the practices of ashrams around the world, each morning meal is silent. Your cuisine fills you and energizes you. Santosha leans heavily toward plant-based cooking to respect its environmental stewardship obligations and remains mindful of the ethics of eating meat, fowl, and fish. That said, Santosha offers meals that both include and exclude animal products to respect your right to choose for yourself.
Santosha's menus reflect the staff's extensive travels across the globe and varied ethnic backgrounds, ranging from Swedish treats to Nepalese home cooking to Israeli comfort food. The menus change daily. Pull up a chair and join the table; Santosha is deeply, deeply glad to share a meal with you.
The daily meal plan includes delicious breakfast, lunch, and dinner. Snacks are available for separate purchase.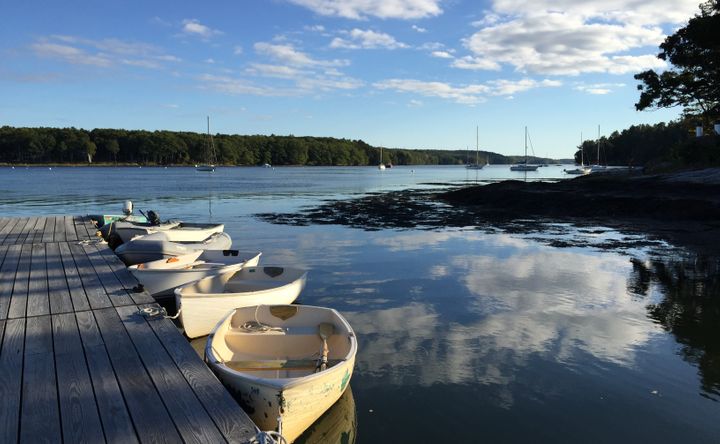 Directions
Please book your flight to arrival by air to Portland International Jetport (PWM - 1 hour away), Portsmouth International Airport at Pease (PSM - 1.5 hours away), or Logan International Airport (BOS - 2 hours away). Transfer from and to Portland International Jetport (PWM) is available upon request at an additional cost of 150 USD roundtrip.
From Portsmouth International Airport at Pease (PSM) and Logan International Airport (BOS), car rental is the most effective option, although a combination of bus (Greyhound) and train (Amtrak Downeaster) will bring you to Brunswick, Maine. For a small fee, Santosha on the Kennebec is glad to collect you from that station. The Amtrak Downeaster line makes frequent stops daily between Boston's North Station, New Hampshire, and Maine's Portland, Freeport, and Brunswick.
Parking on-site is free.
Reviews
Write a review - tell others about your experience.
Teacher