About This Center
Eco Dharma Village is an eco-wellness retreat nestled in the charming hills of Arcos de Valdevez in Northern Portugal. Having launched in the Spring of 2019, Eco Dharma is the culmination of Chantal's life-long desire to create a peaceful space in nature that would serve as a sanctuary for those in need of a calm and nurturing environment to reset physically and mentally.
The retreat takes its name and inspiration from the concept of Dharma, or what one would subscribe to as the ethos and ethics roadmaps in our lives. Fundamental to this is a deep appreciation for nature and its ability to support healing, allowing us to be more in-tune with our natural rhythm and flow. The values of Eco Dharma are very much aligned with this: we are proud advocates of sustainable and kind living.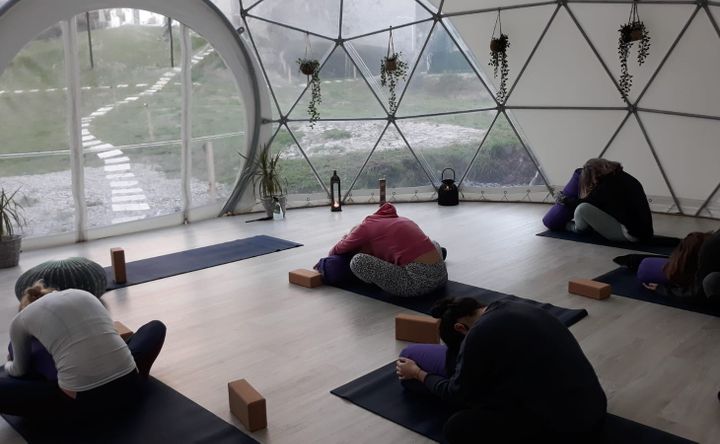 Venue Highlights
We seek to use the most environmentally friendly materials and products at Eco Dharma. The retreat itself has been designed with this goal in mind: our geodesic guest domes have been made from recycled material, and the furniture has been purchased from manufacturers who up-cycled materials such as wood, plastic and metal to create new pieces. The retreat is 100% free of single-use plastics. By the summer of 2020 we plan on installing solar panels so as to be able to harness solar energy power for our guests.
Eco Dharma is built on kindness for nature and all living beings. We operate a completely vegan site with delicious plant-based cuisine. We are strict about this and do not allow animal products to be consumed on site, however we do offer wonderful alternatives aligned with our ethos. Our edible garden is being planted to bring the healthiest and most natural foods to our table for guests and the local community. The organic and biodynamic methods of farming that we utilise can ensure that our guests are receiving the highest quality plant-based-foods, free of harmful pesticides.
For retreats at Eco Dharma we work with carefully selected teachers, healers and health ambassadors, who share in the same path. We seek to partner with wellness practitioners who care as much about sustainable and kind living as we do.
Important to us, we believe that compassion should be a shared value among all guests at Eco Dharma. Eco Dharma is also a Not for profit setup (currently registering as an Association in PT) and retreats are to fund the demands of up-keeping the farm, planting trees, creating bio-diversity and working on community and educational projects towards zero-waste and plant based living
Accommodations
Our Eco Village has been built and decorated with love and comfort in mind.
All rooms are semi open plan en-suites, with modern boho-chic features. We have two bedrooms in the main building and three geodesic "glamping" domes. Each room can host two people comfortably, and we designed the space to host a maximum of 10 people including teachers.
The main house has a beautiful open plan living and dining room with a small library, fireplace and wi-fi connection. Guests have access to refreshments in the dining area all day long!
We have a beautiful kitchen catered to prepare amazing plant-based meals for the entire stay. The kitchen is not accessible to guests, but we have staff on site to make sure you have all that you need.
Our Yoga Shala Dome will be where physical practices will mostly happen and it can accommodate 16 mats.
The grounds are very spacious, and as we develop our flower and food gardens, guests have many beautiful spots to retreat to for meditation, journaling and just soaking up the sunshine.
Our rooms are "shoes-free" zones, but we provide comfortable and fluffy indoor slippers, while you can leave your shoes safely stored right outside the door.
Amenities
Free Wifi
Towels
Free Parking
Kitchen
Coffee/Tea
Yoga Studio
House Keeping
Ceremony Space
Menu Types
Vegan
Vegetarian
Ayurvedic
Organic
Gluten Free
Dairy Free
Nut Free
Menu/Cuisine
One of the most important things when we created Eco Dharma, was growing our own food. We truly believe that growing our own food is what will create opportunities to help the community as well as offering our guests produce grown with love. Love alone is an ingredient that will make all of our plant-based dishes unique.
We aim to grow everything in our edible garden by 2020, and whatever we cannot source ourselves, will come from local farmer's markets or organic stores. We will thrive to buy local and seasonal produce.
Building the edible garden with the help of our Permaculturists, Yassine and Joana, means that everything will grow in harmony with one another. Moreover, we will never use chemicals and pesticides but adopt only biodynamic farming practices. We are very lucky to have no commercial farmers in our vicinity, which will ensure, to the best of our ability, pesticides-free products.
Reviews
Write a review - tell others about your experience.