About This Center
Need a holiday? love yoga and yearning to inject a little magic into your life? And all this while breathing in the sea air along the beautiful Mediterranean coastline? Then Jo's yoga retreat oasis in Side, Turkey is just for you. A place to enjoy a week or two (private en-suite room) of well deserved self-care, breath-centered yoga, relaxation, self-reflection, delicious food and have an authentic experience for the mind, body and soul.
Nineteen years of experience, coupled with Jo's intuitive knowledge, wisdom and passion offer's you space to be, and deepen your yoga practice, (all levels welcome). Jo's retreat recipe can bring about profound, awakening, transformation and personal growth. Yoga helped save her life and now she use's it as an alchemical, life-enhancing tool that continues to support herself and all her clients she has the pleasure of guiding on their own journeys back to-self and and into thier greatness.
A week on retreat will offer you 8 eight personalised, breath-centred practices to include yin yoga, restorative yoga & pranayama. She organically prepares each class at the beginning of each practice allowing her to serve and encourage her students to move in a way that feels great in their body to allowing space for deep inner connection that is further boosted by guided meditation and supported by Jo's individualised mentorship.
"Tune into yourself of suffer"
Venue Highlights
"Jo is emotionally available, and her teaching approach is grounding. If I had to describe the style of yoga she teaches, I would call it 'Jo-ananda', ananda meaning bliss in Sanskrit, because that's what Jo offers… Thank you Jo for a beautiful experience!" ~ Fadela Hilali, Life Coach
"What a fantastic holiday. Everything under one amazing roof of love, passion and serenity!! The breathwork… The most valuable thing I have taken away is connecting with my breath - deep, long, cleansing breaths. You helped me so much Jo, more than you will ever know. Jo's passion for yoga and love for empowering those who practice with her, helped guide me to let go and find my balance and transform my life to become the person I want to be". ~ Julie
Yoga Holidays Turkey's oasis EST in 2009 is nestled in Side, one of Turkey's oldest, historical towns that fringes on the turquoise seas of the Mediterranean and is surrounded by mountains. The old ruins, ancient amphitheatre and Temple of Apollo (which Antony was said to have given Cleopatra as a token of his love in one of history's greatest love stories) add a special backdrop to my holistic retreat space. In between yoga practice you have plenty of time to relax, enjoy the golden beaches (all within close walking distance), explore, go shopping or sample the delicious Turkish cuisine at one of the many great restaurants and cafes in the area.
An affordable retreat for women and men, for solo travellers, couples, friends or groups alike. Come and reset and rejuvenate yourself while enjoying a blissful yoga holiday and meeting other like-minded people from around the world. No matter what your level of yoga, whether you're a yoga instructor wanting to deepen your practice, just starting out or wanting to get back into a more grounded practice, my doors are open to you. Get ready to leave here with renewed energy, self-awareness, vitality and zest for life.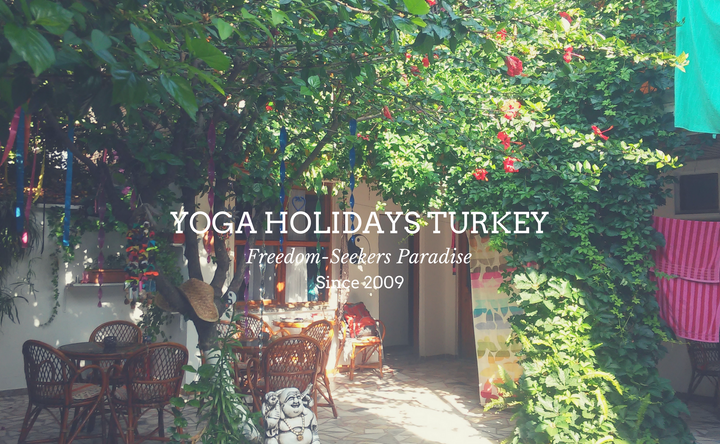 Accommodations
Welcome to Ozden Pansiyon set in Side Old town. Once a 5 bedroom bungalow that has grown with tourism over the last 40 yrs or more by adding rooms to make this wonderful welcoming Oasis. set on the Peninsula surrounded by the warm Mediterranean Ocean, beautiful golden beaches just steps away. The vibrant old historical town has history and ruins on every corner to explore, shops, cafes, bars to sit and soak up the sunshine and Rich Turkish Culture…so truly something for everyone!
Our accommodation of 9 private en-suite rooms (with no added charges or single room supplements), Our rooms are comfortable and clean and all have en-suite shower rooms, shower towels, and hand soap is provided. Our rooms are cleaned daily by our housekeeper and we offer free Wifi, internet connection. All rooms have outside seating area and some have a shared terrace.
Amenities
Free Wifi
Towels
Coffee/Tea
Yoga Studio
House Keeping
Menu/Cuisine
We offer a delicious open buffet for breakfast and 2 traditionally cooked Turkish dinners per week. A welcome dinner on Monday and a farewell dinner on Friday.
Turkish-style buffet breakfast will flow with the seasonal fruits from our garden and local markets: Tomatoes, cucumber, feta cheese, olives, boiled eggs/Menemen fresh bread/pastries & somedays pancakes/gozleme. Fresh fruits, seeds & nuts, honey, jam, molasses, natural yoghurt, olives from our garden, watermelon, honeydew melon, porridge oats and cereals.
Unlimited tea, coffee, green tea, herbal teas.
Directions
Getting here – Our holidays start on a Monday and end on a Friday and allow Sundays (Saturdays) as our arrival and departure days. Flights from the majority of UK airports and beyond fly on a Saturday & Sunday. Our nearest airport is Antalya Airport. Travel time around 3hr 50 Minutes from the UK.
You need to book your own flights. – Please note that if it is not possible to get a flight on a Saturday or Sunday, then please do contact me to check availability for you to arrive on another day. We do our very best to accommodate everyone.
Reviews
Write a review - tell others about your experience.
Teacher