Events
Sep 30 - Oct 5, 2020 (6 days)
About This Center
Healing People To Heal The Planet
Beholding, even surrendering, to the reality of truth is an experience from which to begin. A core awareness from which to extend trust and meet responsibility. Attention to this core, naturally, reaches out to relationships, homes, communities, and the planet.
Aya de La Vid combines Quechua & Spanish terms. Aya is Quechua for... spirit, and de La Vid is Spanish for... of the Vine.
Spirt of The Vine, referring to the legendary brew Ayahuasca.
Aya de La Vid's Mission Statement
Aya de La Vid is a network of Ayahuasca Retreats and an educational resource about Ayahuasca with the intention of healing people to heal the planet.
Powered by Froala Editor
Powered by Froala Editor
Venue Highlights
Xochipilli Retreat Center is a simple 15 minute outside of Cancun in the jungle. Surrounded by lush gardens, the center is located in a tranquil jungle setting outside of Cancun. Beautiful accommodations with free wifi. The grounds offer a private garden and refreshing pool available all day.
Accommodations
Xochipilli center retreat center has double occupancy bungalows. Each bungalow contains two double beds, ensuite private bathroom, workspace and outdoor space, either balcony or walk into the garden.
All bedrooms have a fan over the bed and towels are provided.
The main house has two bedrooms one with 1 king size bed, the other with 2 double beds. both rooms share a bathroom next to the maloka, the ceremonial space.
Housekeeping is provided every three days to sweep, mop and trash removal.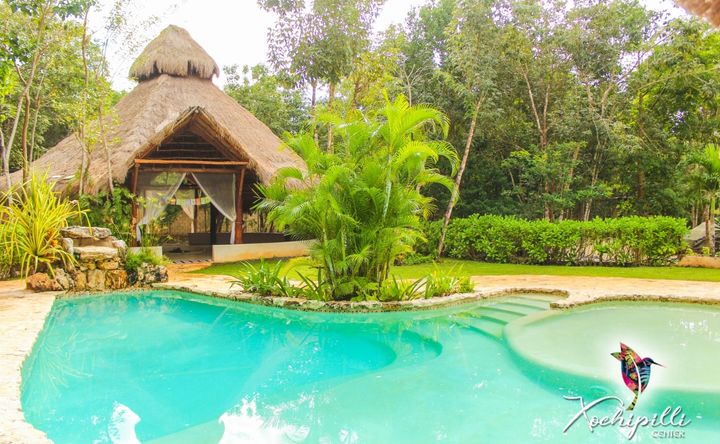 Amenities
Pool
Towels
Free Parking
Kitchen
House Keeping
Ceremony Space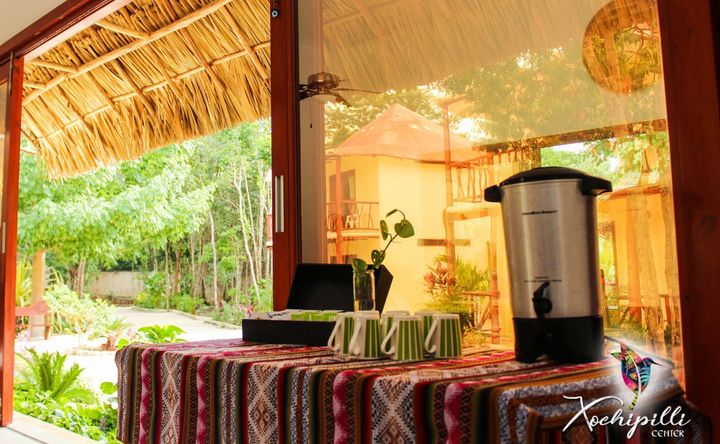 Menu Types
Vegan
Vegetarian
Pescetarian
Organic
Gluten Free
Dairy Free
Nut Free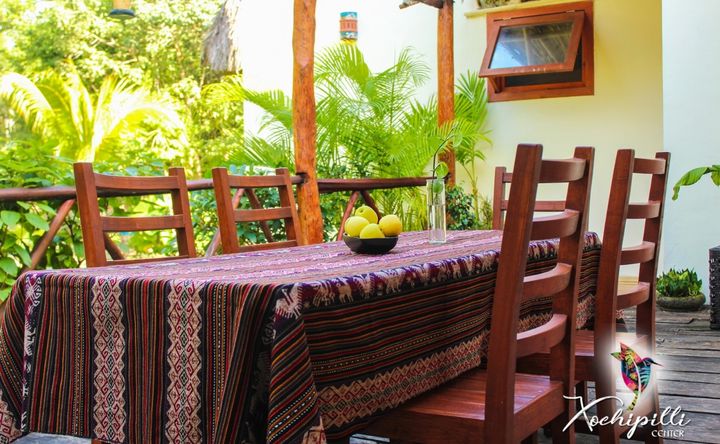 Menu/Cuisine
The ideal diet when consuming Ayahuasca is primarily vegan with an exception of light egg or fish. All of the meals are homemade in the restaurant. We support fresh and local economy and we buy products of the season and locally. If you have a dietary specification please let us know to make arrangements!
7 breakfasts
Consisting of local papaya, banana, seasons fruits, oats, cereal, tea.
6 lunches
Vegetarian food based on grain, vegetables, rice, quinoa, beans, lentils
4 dinners
Including 2 fresh and local fish dinners with grains and vegetables
Directions
Arrive at the Cancun International Airport. The drive from the airport to Xochipilli retreat center is about 40 minutes located in the community of El Ramonal. If you choose to drive to Xochipilli retreat center, Aya de La Vid will send specific directions to the center during registration or will coordinate your complimentary airport transportation if you are being picked up from the airport.
Reviews
Write a review - tell others about your experience.