The heart touches the sky - mindfulness heart retreat in Tanzania
About This Event
There is a reasonable chance you are experiencing some closedness in your heart. It is the place that protects you from a young age if you don't get enough of what you need from others. We have the tendency to harden every time again when it looks like we are short of what we need. Now you are grown up, you can recognize it is not necessary anymore to close your heart. The heart meditations and other exercises will support you in this.
After your travel to Tanzania, this safari starts directly with an adventurous walking safari in Arusha National Park. That night you will sleep at Secret Garden, an atmospheric local hotel, just outside of Moshi. After that, the Usambara Mountains will steal your heart.
It starts right away the moment you meander up the mountain track. Your eyes are catching beautiful colors, flowers, trees and lovely people dressed in colorful clothes. Sweet, that is the first word that comes to your mind. The Toscane of Tanzania but then with much more savage parts and with views of great allure. Here you will make three-day trekking of 6-7 hours every day. Apart from that you can attend a drum workshop and learn to make pottery at a local women's group. The extra reward of your wonderful trekking will come when you arrive at Mambo World Viewpoint. Apart from the spectacular view, you will have a great chance of witnessing a breathtaking sunset.
From Usambara, we continue to Tanga, one of the most lively little towns of Tanzania, located at the Indian Ocean. Together with our guide you can rest your legs, wander through town, chill on the beach or take a dive in the sea. At night we will have a local meal at the home of our guide and his family. At Pangani/Ushongo we enjoy the bright white beach, the fishermen villages, the peace, and nice meditations before we travel on to Dar Es Salaam via the historic town of Bagamoyo. Here we will take a flight back home.
Day 1
After your arrival at Kilimanjaro Airport, you may first greet the typical African scent, before we will drive you to Secret Garden, a charming, local hotel in Moshi, with a view on Mount Kilimanjaro. The hotel has beautiful wooden details and the people who work here are very friendly; a great place to rest after a long journey.
Day 2
After breakfast, we will get to know each other and will make a start with the mindfulness program. Before lunch, we will leave for Lushoto in the Usambara Mountains. It is fun to stroll through town, sniffing up the atmosphere of streetlife and have a look at the colorful market. There is a lovely coffee corner, artistically decorated. Later on, we will go to Irente Viewpoint and hopefully witness another Usambara sunset. You will spend the night in the nice Lawns Hotel.
Day 3
Our local guide Dennis Munga will pick you up after breakfast for your first walking day (15 km). Through a little village, you will arrive at Magamba rainforest, the homeland of the black and white Colobus monkey. We will eat the lovely self-made Usambara guacamole with chapati for lunch and continue our walk through farmland and forest, arriving at Papaa Moze Lodge to spend the evening and night. Our guide Dennis Munga grew up in the Usambara Mountains, you can't get a better guide! Special attention please for the beautiful frees alongside the roads and a special little creature in the Usambara Mountains, you are going to see a lot. But you have to learn to get an eye for it. Its survival strategy is basic but genius and is being used by many humans as well. It's a name? The chameleon!
Day 4
Your second walking day will bring you to forest and farmland, meet with the local Shambaa tribe, learn about medicinal plants, play with chameleons and deepen your experience of mountains and views with the help of mindfulness instructions during the walk. At the end of the afternoon, we will arrive at Mambo Viewpoint. The view over Tsavo in West Kenia, Kilimanjaro, Mkomazi National Park, and the mountains is world-class and very likely we will witness an unforgettable sunset. This night you will sleep in Magumba Hill Lodge.
Day 5
The third walking day is a highlight of this trip if you like playful clambering. We will take a hike in the jungle-like Tarzan and Jane, arriving at a waterfall. From there we will go deeper into the bush and make a bush camp to stay the night.
Day 6
Later in the morning, we will leave the Usambara Mountains. We will drive to Tanga (2-3 hours). Tanga is a lovely, lively but also a bit sleepy town in the Indian Ocean. Wandering through the streets you will fall in love with the authentic character of streets and buildings, the markets, the sometimes cheerful processions of singing people, men playing outdoor a popular game and all the nice food that you can find displayed along the streets.
Day 7
In the meantime, you will be up for a day on the beach. And that is what we are going to do today. We leave for Pangani/Ushongo, also at the seaside. A short but fun ride with the characteristic landscapes of Tanzania's East Coast. Here you can enjoy the bright white beaches, the fisherman villages, and the peaceful local atmosphere. You can take a swim and sunbathe. Despite the perfect beaches, there is not a lot of tourism here. Most people go to Zanzibar. We don't mind at all and love peace. There is the possibility to make a historic tour of one hour with a local guide. At the end of the day, when the sun sets we offer a dance meditation on the almost deserted beach, a joy for your heart. You will spend the night in Drifters Lodge or Mikes Beach Cottages.
Day 8
Today we stay at Drifters Lodge to go snorkeling with Kasa Divers. We leave by boat to Marine, to enjoy the amazing underwater scenery at the coral reefs.
Day 9
From Ushongo Bay we will move on to a forgotten little pearl, north of Dar Es Salaam. Bagamoyo is located at the sea and has a very rich historic background. that can be found in the architecture of the town. Here we will make a historic tour with a local guide. When you walk through the narrow unpaved streets, you feel back in the middle of the 19th century. Bagamoyo was one of the most important settlements along the East African coast. Slaves, ivory, salt, and copra were unloaded here before being shipped to Zanzibar Island and elsewhere. Yes, Bagamoyo is full of stories. You will spend the night in Firefly Lodge.
Day 10 and 11
The next morning we will leave to the south. On day 11 we will go into nature for a beautiful trekking day in the Uluguru Mountains. During the walk, you will be lured into the rain forests. You will be surrounded by birds and their soothing sounds. Peak after the peak is waving to you, with their swaying green tops. The forest opens intself for beautiful views on hills and mountains. After the heat on the coast, hiking in these mountains is refreshing and the power will come back in you legs. You will sleap for two nights at Mama Pierina.
Day 12
From the Uluguru Mountains, we travel to the largest wild park of Tanzania; Selous. If we arrive in time we can still do an evening game drive.
At night you will sleep at River Camp Rufiji or in the Wilderness Camp where the sounds of wild nature hopefully will keep you awake every now and then. It is a fascinating experience to listen to these nightly sounds!
Day 13
The boat safari on the Rufiji river is an absolute highlight of this safari. You will be able to spot many wild animals. Go and experience it! I will reveal just one more thing, the sunsets from the boat are sung about. In the evening you will sleep again in River Camp Rufiji or in the Wilderness Camp.
Day 14
It's time for a longer trip to Kipepeo Beach at the coast. Here we will end the safari together, getting used to the idea of going back home again, and enjoy one more time the see, swimming, the social atmosphere in Tanzania, music and more.
Day 15
Today you will fly home. In case you fly at night, it is possible to do a city tour in the old center of Dar Es Salaam. We believe you have made an unforgettable trip with the team of Mindful Adventure through the authentic mountain and coastal areas of Tanzania. We hope you have found a new perspective on happiness, and that you have had many African laughs.
Safari njema na karibu tene – have a good trip, you will always be welcome.
It is possible to extend your trip with a visit to Zanzibar. Please contact us if you would like to do this!
Safaris that make you feel more alive
What's Included
14 nights accommodation
All entree fees for parks
All excursions
All meals, water and tea
All transport with Toyota landcruisers
Boat safari Selous Game Reserve
Mindfulness program
Snorkeling at the coast of Zanzibar
Three day trekking Usambara Mountains
Yoga and meditation classes
What's Not Included
Airfare
Drinks like juices, soda's and alcoholic drinks
Tips for guides and drivers (between 10 and 20 USD per day, per guide, with your group)
Visa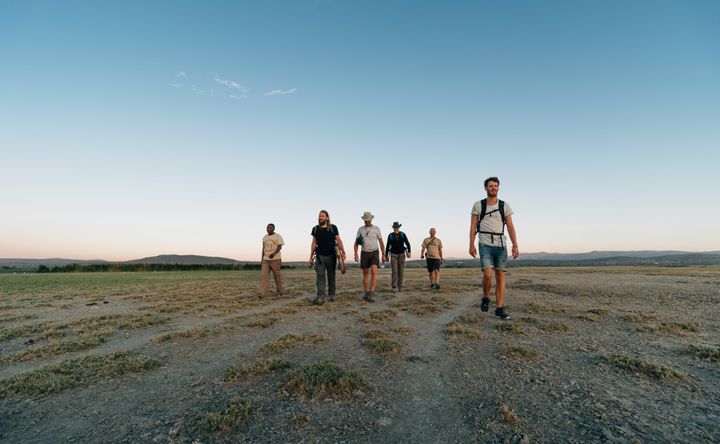 Venue Highlights
Mindful Adventure offers three retreats in Tanzania:
- Hear the voice of silence. 14 days. With a breathtaking 4 day hike in Ngorongoro Crater Highland. After that we go to Serengeti!
- The heart touches the sky. 9 or 15 days. A mindfulness mountain and beach experience in the eastern part of Tanzania. You can extend with Zanzibar!
- Walk the rhythm of the earth. A Spiritual Quest for men. 14 days. Back to nature in Ngorongoro Highland - with a 6 or 7 day trekking and mini vision quest. We start with a gamedrive in Tarangire National Park
Accommodations
All accommodations:
Moshi, Secret Garden Hotel
Lushoto, Lawns Hotel
Lukozi, Malindi; Papaa Moze
Magumba Hill Lodge
Bushcamp
Tanga Hotel
Ushongo Beach, Drifters Lodge (2 nights)
Bagamoyo, Firefly Lodge
Morogoro, Mama Pierina (2 nights)
Selous, River Camp Rufiji (2 nights)
Dar es Salaam, Kipepeo Beach
Menu Types
Vegan
Vegetarian
Meat
Dairy Free
Menu/Cuisine
On all our mindfulness safaris, our own cook Proches is cooking for us! In the morning he gets up early for delicious breakfasts with fresh fruits, toast, pancakes and eggs. For the afternoon we often get a lunch box. It is amazing what Proches can cook while being on safari for dinner!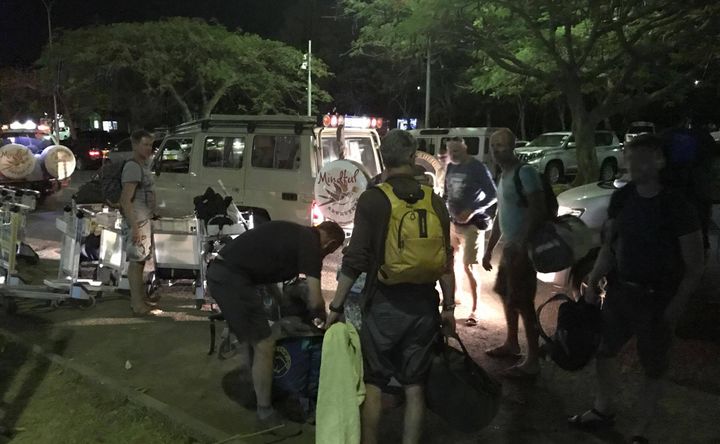 Directions
We will pick you up from Kilimanjaro Airport and drop you of at the airport of Dar Es Salaam
Reviews To review this event, visit the page for the venue or retreat leaders (above).
Similar Retreats You Might Like
Thank you!
We're glad you've joined our retreat community. See you around :)
Return to my event
×