Personal Transformation Retreat / Holistic Breathwork Practitioner Certification Course Level 2 in Yelapa, Mexico
Sacred Springs Retreat

Apr 29 - May 5, 2019 (7 days)

7 Day / 7 night Level 2 Holistic Breathwork™ Practitioner Training - $1,950.00
About us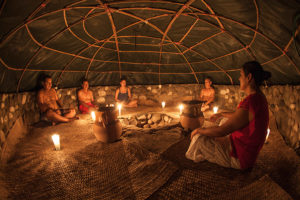 Part Two:
Daily partner breath work sessions
Dyads and group process for moving from ego mind to heart awareness
Identifying and processing birth imprints, pre-natal and peri-natal patterns, circumcision trauma and separation anxiety
Identifying and transforming unconscious mental patterns, victim mentality
Recognizing unconscious body language
Discovering personal blocks to healthy lifestyle
Identifying personal addictive behaviors
Dissecting and embracing fear and panic attacks
Learning tools for trauma release
Learning basics of Cognitive Behavioral Therapy, Somatic Experiencing and mindfulness practices
Ethics, sexual boundaries and healthy client relationships
Differentiating between healing client relationships and personal relationships
Developing an ability for deeper listening and holding healing space
Shadow work – Revealing underbelly of the unconscious mind
How to present yourself as a practitioner
Building your business
*Finding your inner leader and author

*Building your true Self Esteem through Self- realization


*How to present yourself as a practitioner

*Practice Breathwork sessions


*Building your business

*Respecting your body as a temple

Exploring spiritual and human dimensions of Spirit
Learning to live as fully integrated human being
This retreat also includes:
Accommodations: Modern Mexican Palapa style casas with all comforts: hot water showers, mosquito nets, safety storage boxes, LED reading lighting, hammocks, organic comfortable beds, etc.  
Healthy, mostly organic, vegeterian food, shakes and juices 
Daily Yoga, Conscious dance, Chi-Gong or other form of Mindful practices
Trip to waterfalls
Time for swimming, snorkeling, sea kayaking, paddle boarding, etc.
Spiritual Embodiment – in life and professional practice
 360 additional hours to become certified, which includes home study, adding electives, assisting retreats, receiving 10 Holistic Breathwork™ sessions with female and male practitioners – 5 of each, and giving /receiving individual practice sessions
What is Holistic Breathwork™?
The word holistic comes from Greek word holos – whole.It means that healing needs to embrace the whole, and not just separate parts. It also means that nothing can be discarded or ignored, it rather needs a full integration of all parts.Each human being displays multiple aspects of Spirit and they all need to be addressed.In the holistic approach we don't just acknowledge a complete person, physically, mentally and psychologically. We move beyond the person, into transpersonal, as the "whole" doesn't exist just as a separate person.We explore spiritual and human dimensions of Being. Or in other words: vertical and horizontal, being nothing and everything at the same time.
There are two basic breathing techniques being practiced during the Holistic Breathwork™ session, which help to facilitate both: human vulnerability in the personal, and human spirituality, beyond the personal.
The session integrates sharing, spiritual counseling, conscious feedback, inquiry, transformation of negative core patterns and beliefs, life coaching and conscious, connected, deep breathing.
Thank you!
We're glad you've joined our retreat community. See you around :)
Return to my event
×