A Woman's Way of Being
Mountain Waters Retreats
Sep 16 - 21, 2017

(6 days)

Private room - CAD $1,200.00 Private with ensuite - CAD $1,350.00 Shared Cabins - CAD $1,100.00 Camping - CAD $450.00
About us
Most of us are striving for lives filled with meaning, thriving relationships and rewarding careers. Yet more and more women find themselves running on empty.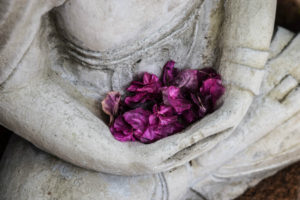 Many of us feel caught in an ever-tightening tangle of commitments and living in a digital age when work and distractions can come in at all hours, makes it hard to find the space for rest and renewal.
We've developed mindsets and habits of busyness in the pursuit of what we have come to believe is success. Like super woman this means stronger, faster and more powerful. Only life is not like that.
When the sum total of demands exceeds our regenerative capacity we end up stressed out, run down and facing a wall of chronic fatigue. Adrenal burnout and a host of other ways are our bodies saying, "Enough!"
This is not limited to busy moms. A woman can be retired, and still find herself pushing through the weight of habit and her own expectations to do more or be better.
Now more than ever, we're living in a time that is calling us forth to live from the wisdom of our deep feminine knowing. A new place of internal balance. Where the wisdom of your body is accessed and honoured, your truth-sense and intuition is more available

This five day retreat is a powerful step in creating and reclaiming your authentic woman's way of being. Through a sacred honouring of women as sisters and our shared experience, you are invited to unwind the habits and beliefs that can hold you in a pattern of busyness and prevent you from taking better care of yourself.
We invite you to explore what it means to tap your unique feminine way of "being" in a way that it informs your way of "doing". This is about creating a new congruence within yourself.  One that allows you to say no to what is unnecessary or can wait till later, and say yes your health and deeper soul needs.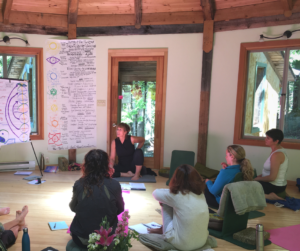 In this retreat you will:
Uncover  the habits and beliefs that lock you in a constant cycle of fatigue
Learn to feel into your own body's wisdom and soften your nervous system response to stress
Develop self care practices to reclaim your health and spirit
Connect with a community of other women on the path to greater well being
Return home with you own plan to integrate habits that nurture you.
Immerse in nature
During your time with us you can expect to be held in a safe space that welcomes you back into the deeper ground of your being.
Receive guidance and instruction in: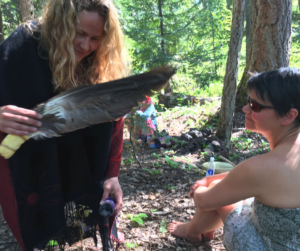 Restorative yoga
Breathing practices
Deep listening
Mindfulness & meditation
Practices of inner exploration
Experiential exercises that explore the kosha map and the psychology of the chakras – ancient maps of wisdom for expansion and integration.
Join us for what will be a unique journey. Let go of struggle, awaken to the ground of love within you, and open to the expansive field of your feminine essence and knowing.
What people say about their experience at A Woman's Way of Being
"I felt completely nourished. I have been so touched by the whole experience: the tremendous willingness of both Yogita and Sharon to be open and vulnerable, share ancient teachings in a pertinent informative way, allow things to unfold in harmony with the group, and create a safe space for the group to share authentically. The experience was enriching deeply moving and transformative." – Azmina
"The retreat was a perfect balance between yoga, meditation, silence, conversation, inside/outside time, theory and practice. The facilitation was so genuine and heart centred. I felt safe to share with the other women and be open and learn and grow in ways not planned or expected." – Sarah
"This retreat revived my soul; it's like my heart has been hugged and sang to for 5 days. My body awakened and I reconnected with a spiritual side of myself I'd had neglected for some time. I so appreciated the teaching from both Yogita and Sharon – so genuine and authentic. The retreat was awesome and I will join you again." – Pauly
"This retreat gave me the opportunity to drop out of my head and into my heart. To change how I can show up  for myself and for others. The experience was deep with ancient wisdom and practices backed with practical actions and ideas I've incorporated into my daily life." – Julia
Reviews
Write a review - tell others about your experience.
Thank you!
We're glad you've joined our retreat community. See you around :)
Return to my event
×