Ayurveda Course & Yoga Retreat in Goa, India – Discover the Science of Ayurveda
Akasha Wellness Retreat
Jan 21, 2018 - Jan 27, 2018

(7 days)

Goa - Private Double Room - €2,088.00 Goa - Triple Room Sharing - €1,194.00 Goa - Twin Room Sharing - €1,398.00
About us
An Akasha curated experience in Goa, India
To inspire, balance & serve the flow of life.
Discover Ayurveda, the  ancient Indian Science of Life and Healthcare.
21  Jan – 27  Jan – A practical approach to introducing Ayurveda in daily life – Ayurveda Course & Yoga Retreat in Goa, India
Ayurveda can be defined as a system that uses the inherent principles of nature to help maintain health in a person by keeping the individual's body, mind and spirit in perfect equilibrium with nature. Widely regarded as the oldest form of healthcare in the world, Ayurveda is an intricate medical system that originated in India thousands of years ago. The fundamentals of Ayurveda can be found in Hindu scriptures called the Vedas–the ancient Indian books of wisdom. The Rig Veda, which was written over 6,000 years ago, contains a series of prescriptions that can help humans overcome various ailments. This forms the basis of Ayurveda practice, passed down to the present day.
The aim of Ayurveda is to prevent illness, heal the sick and preserve life. This can be summed up as follows:
To protect health and prolong life ("Swasthyas swasthya rakshanam")
To eliminate diseases and dysfunctions of the body ("Aturasya vikar prashamanamcha")
The program is designed to provide opportunities to deepen your awareness of the healing traditions of Ayurveda that have been practiced for thousands of years and to understand how these ancient teachings are relevant today in your personal life. A foundation of knowledge presented with clarity and depth. An excellent and accessible place to start your journey into Ayurveda.
The course is led by Acharya Ajay Sharma, with over 20 years experience in studying and applying Vedic knowledge. The course is divided into 4 parts, a comprehensive approach that outlines Ayurvedic constitution for body and mind, nutrition, herbs, yoga spiritual methods and much more.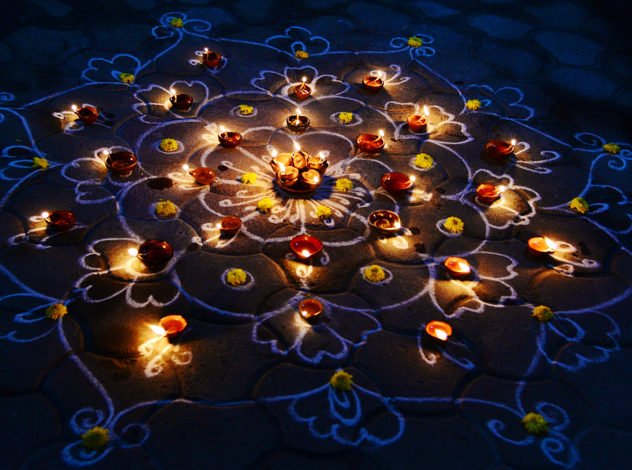 Principles of Ayurveda Course Outline
 Introducing Ayurveda: 
Historical and Spiritual Background, Vedic and Yogic Science, The connection to the Five Elements, Vedic Philosophy, Karma, Goals of Life, Basic Principles of Ayurvedic Thought, Five subtypes of Vata, Pitta and Kapha (subdoshas) 
Ayurveda Body & Mind Constitution part 1 
The Twenty Attributes – humors, elements, gunas and usage, Prana, Tejas and Ojas, the Three Vital Essences, Seven Tissues (Dhatus), actions, interrelationship, excess and deficiency states, sara condition, Mental Nature according to Three Gunas and Three Doshas
Ayurveda Body & Mind Constitution part 2 
Ayurvedic View of the Organs and their relationship to the Doshas, Constitutional Analysis (Mind-body types) – examining all factors of bodily structure, metabolism, disease tendency and psychology, The Disease Process, The Six Stages of Disease in Ayurveda, classification and prognosis of disease, Agni (digestive fire) and its four states

Ayurveda through food
The Science of the Six Tastes, Rasa-Virya-Vipak-Prabhava, Dietary principles, outline of Ayurvedic Diet, Food Lists per Constitution
The course includes:
Over 8hrs of practical lectures into the principles of Ayurveda,
A private Ayurveda constitution consultation
One Ayurvedic marma point massage 1.5hrs
2 x Yoga practices with Ajay, blending Asana (postures) with Vedic wisdom with profound therapeutic effects on physical and mental health.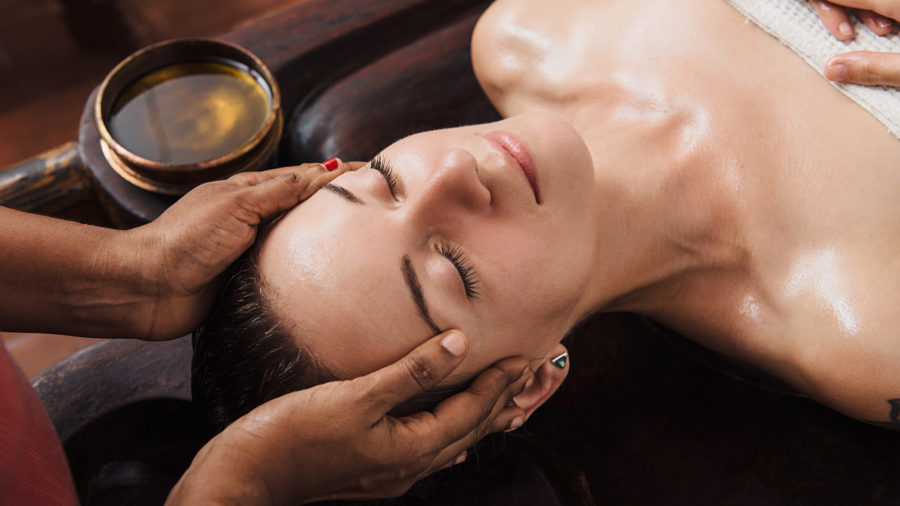 WHERE
South Goa, India
Our beautiful location for this retreat is an oasis of tropical tranquility located in South Goa, in a remote fishing village situated in the lush, verdant foothills of the Western Ghats and minutes away from Goa's most scenic and pristine beaches, Galgibag, Talpona & Patnem all within easy reach. This is a home away from home, Goa style.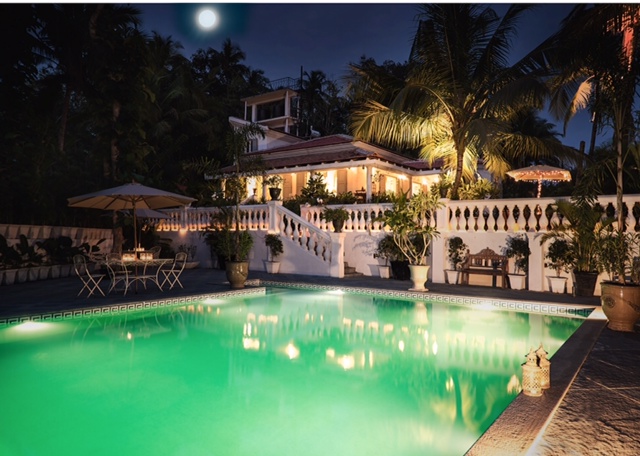 Room Options
Triple Rooms to be shared between 3 guests each with single bed. You'll find comfortable beds, marble floors, air conditioning & a beautiful view.  From €955.20 for 6 nights all inclusive
Twin Rooms to be shared between 2 guests each with single bed. A generous and beautifully decorated bedroom to sleep like a princess or prince even. All rooms have air conditioning and an en-suite bathrooms and some have their own private balconies. From €1118.40 for 6 nights all inclusive
Double Rooms for 1 person or for 2. Make it a private room for yourself or a room for 2, you and a loved one. These bedrooms have king size beds, wonderful antique furniture, marble floors and en suite bathrooms. Wake up with the sound of tropical birds and sunshine as these rooms are wonderfully light and some even have private balconies. From €1670.40 for 1 person
To Book we only need a 25% deposit and remaining balance by Nov 1st 2017.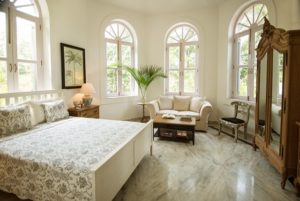 What's included
Limited places, small group of people ( 10 – 14 guests max) and 3 facilitators to support & guide your progress during the retreat
Daily Yoga Flows & Meditation classes featuring Ashtanga and Yin postures blended in creative thematic flows & suitable for beginners & advanced. Some Yoga sessions will be in the shala, some by the pool & some on the beach at sunset.  2 x Yoga practices with Ajay, blending Asana (postures) with Vedic wisdom with profound therapeutic effects on physical and mental health.
Boutique luxury accommodation in a private home, not a hotel, not a retreat centre, an intimate home, just like Akasha. Our Goa home has air conditioning throughout, a gorgeous pool, lovely shaded terraces, lush gardens & spaces to relax outdoors surrounded by coconut trees & frangipani flowers.
Healthy Vegetarian meals with the Akasha touch, inclusive of daily superfood smoothies, fresh exotic fruit, delicious salads & a variety of Indian delicacies as well as BBQs with fresh fish & seafood for non vegetarians from the local fishing village. The food will be fresh & varied, home cooked with love & soul. All filtered water, detox & Ayurvedic teas, coffees, fresh juices and a glass of vino together at night will all be there.
Over 8hrs of practical lectures into the principles of Ayurveda,
A private Ayurveda constitution consultation
One Ayurvedic marma point massage 1.5hrs
Morning Trips to local Hindu temples, Sunset Yoga on the beach, Picnic Dinner on Galgibag (Turtle) beach, lovely evenings by the ocean.
Dolphin spotting trip on Stand Up Paddle Boarding or Kayaks
Transportation to and from the airport ( Goa Dabolim Airport)
& above all lots and lots of fun, new friendships waiting to be formed & sunshine!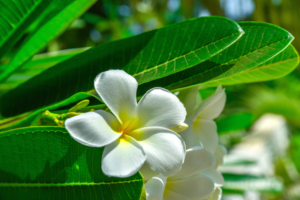 STAY FOR 1 WEEK, FOR 2 OR FOR A MONTH
10% REDUCED RATE FOR BOOKING 2 RETREATS TOGETHER
25% FOR BOOKING THE FULL MONTH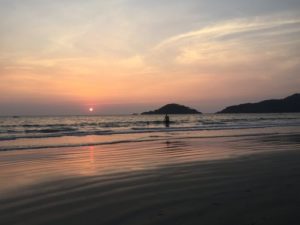 ---
Yes, you do. However this is not an overly complicated process, a 30 day eVisa can be obtained easily online for most nationalities, the approval is instant. If you need a longer visa you will need to go to an Indian embassy near you and simply apply in person.
WHICH AIRPORT & AIRLINES ?
The nearest airport to us is Goa Dabolim International (GOI) airport which is about 1.5hrs away. We will organise a free transport for you from the airport to the retreat.
Purely from personal experience, we have used Thomson Airways, JetAirways & Qatar Airways previously to fly into India.
Thompson Airways has chartered flights direct to Goa Airport from London, which is pretty cool and we just checked about 499GBP return.
Jet Airways have daily flights from London and major European hubs to Mumbai, from there another short domestic flight to Goa, which can also be with JetAirways.
Qatar Airways on the other hand flies from most European cities to Dubai and then a connecting flight direct to Goa.
Depending on which route you prefer. Let us know if you need help.
WHAT ABOUT HEALTH & SAFETY ?
From our experience we have never had any health issues whilst in Goa, however as with most travelling abroad common sense keeps you safe. Though there are no chances of serious illness or epidemics in Goa and therefore no need for injections, jabs or travel pills simple things like: drinking plenty of filtered water to keep hydrated, wearing appropriate factor sunscreen & having adequate travel insurance are pretty obvious ones which we will insist on.
Goa is a pretty Westernised place with many that have moved there permanently, especially South Goa therefore security is strong. The house itself is in a village surrounded by other homes and also has manned security.
We're sure you have others and if you do please let us know!
Reviews
Write a review - tell others about your experience.
Thank you!
We're glad you've joined our retreat community. See you around :)
Return to my event
×