Inspiring the Teacher by Kranti Yoga School
Akasha Wellness Retreat
Jul 23 - 29, 2017

(7 days)

€800 / for twin share inclusive of *return transfers from Bucharest Airport, 3 healthy organic meals a day and smoothies, morning and evening practice + workshops.
About us
From Patnem, Goa to Pestera, Transylvania the Kranti Yoga School & team are all coming to Europe this year for a residential yoga retreat.
Join the Kranti Yoga Team featuring Amelia, Grace and Morwenna for a residential yoga retreat in the heart of the Transylvanian mountains for a unique opportunity to delve deeper into the roots of your inspiration as a teacher.
A mixture of interactive physical and theoretical practice sessions including Ayurveda, adjustments, the art of transitioning and storytelling. Each day offers a specific theme and focus providing you with the tools to implement both into your personal and professional practices with plenty of time to immerse yourself in the tranquil surroundings between classes.
The course is designed for yoga practioners that are teaching flow or hatha based classes that feel they'd like an extra boost of influences to give their classes layers and flavours. It is also for those that are craving a boost. The outpouring of energy that comes with teaching needs to be topped up sometimes, not just with rest but also with new ideas, vibrancy and movement. Some classes are subject to change per the requirements and the needs of the group.
The underlying schedule of each day will remain the same but the content will differ as each day is themed to give a purpose and focus.
Retreat Schedule
7AM-9AM Vinyasa Flow Class
9 – 10 AM Breakfast
11AM-1.30PM Theory Class/Exploration on the theme
2.00PM – 3PM Lunch
4.30PM-6PM Practical Class based on theme of the day
7.00PM – 8.00PM Dinner
Itinerary
Sunday 23rd July
4.30PM What inspires you? And who are you?! An introduction to the ideas behind your continued development as teachers, inspiration on and off the mat, the use of music, myths, mudras and more as well as adapting to your audience and providing modifications.
Monday 24th July  – Inspiration and Adaptation
7.00AM-9.00AM: A deliciously invigorating vinyasa flow with a focus on what moves you. We will be setting personal intentions and sankalpahs for the week ahead, look back to go forwards and feel present.
Day Time Activity: Easing into the week, an opportunity for some self reflection or trip to nearby Dracula's Castle! Gathering inspiration from our new environment.
4.30PM-6PM: A chakra balancing restorative class. With the use of music and word this class is designed to give you some space to listen. We will start from a place of stillness so we can plug into our intuitive abilities and allow the rest to fall away.
Tuesday 25th July – Ayurveda
7.00-9.00AM: This physical class will focus on the elements and doshas. Starting with space and air elements, inviting in movement, lightness and grace then transitioning through to fire, heating and purifying the body and ending with water and earth, melting back down eventually through to Savasana.
11.00AM-1.30PM: Introduction or refreshment in Ayurvedic Principles, 5 elements, 3 doshas, 3 essences and the physical, mental and spiritual implications these have.
4.30PM-6PM: How can we relate our Ayurvedic knowledge to our teaching style and our approach towards students? This class aims to answer these questions and build a very useful skill set that we can employ both as yoga teachers and practioners.
Wednesday 26th July – Hands On
7.00AM-9.00AM: A weighty hip opening flow concentrating on full breath and release. Assistants will invite you to go further in your posture through adjustment, alignment and breath.
11.00AM -1.30PM: Adjustment techniques and guidance. This class will cover how to give good adjustments and when is it appropriate to give them. Rather than just learning adjustments how can we use our intuition and sense of touch to inform us from the inside out?
4.30PM-6.00PM: Partner Relaxation. A guided relaxation that will build on your sense of connection and touch that will also inform your skills as an adjuster.
Thursday 27th July – The Art of Mandala
7.00AM-9.00AM: Exploring the full narrative and expression of vinyasa flow, weaving themes, gestures and creative repetition to move through a Mandala of postures with a physical focus and spiritual intention.
11.00AM-1.30PM: This class will go behind the scenes of a creative, flowing Vinyasa practice, inspired by the Art of the Mandala we will demonstrate the use of patterns, repetition, gradual build of sequenced postures and varied transitions for accessible construction of accessible classes.
4.30PM-6PM: A fusion of Yoga and Thai Chi movements to whip up sweat and spirit in equal measure, The Dragon Dance is a full power, energizing yet meditative practice.
Friday 28th July – Myths and Storytelling
7.00AM-9.00AM: The class's intention will be drawn from classic Vedic mythology. The physical peak of the posture along with spiritual intention will effortlessly combine together to form a coherent and creative class.
11.00AM-1.30PM: This class will give you a brief background on the colorful stories of Hindu culture and their relationship with yoga practice. But also not just how these stories give classes depth and cultural context but also how stories make possibly abstract philosophical concepts come to life.
Afternoon Activity: An expedition to the sphinx, a natural rock formation in the Bucegi Natural Park. The legends about the rocks on this mountain plateau transformed this rock into a very visited touristic attraction. Legends of ancient aliens, mystical energies and long lost gods!
Saturday 29th July Inversions and closing
7.00AM – 9.00AM: Upside Down, Vinyasa! A vinyasa class that is geared towards the preparation and performance of balancing on the hands. Setting an intention of fearlessness in flight.
11.00AM -1.30PM: Closing Ceremony and Sharing.
What you get:
Daily Classes & Workshops with your favourite Kranti teachers.
Return Transfers from Bucharest Airport
3 Daily healthy organic vegan meals + smoothies,
6 nights accommodation at Akasha Wellness Retreat in Transylvania. Twin sharing rooms with en-suite bathrooms and glorious mountain views
Discover Transylvania, enjoy hiking, nature & forest walks
Unlimited Jacuzzi Hot Tub & Sauna
Optional Spa & Massages + more
The cost is 800 euros please email us at ashtangagoa@gmail.com to register your interest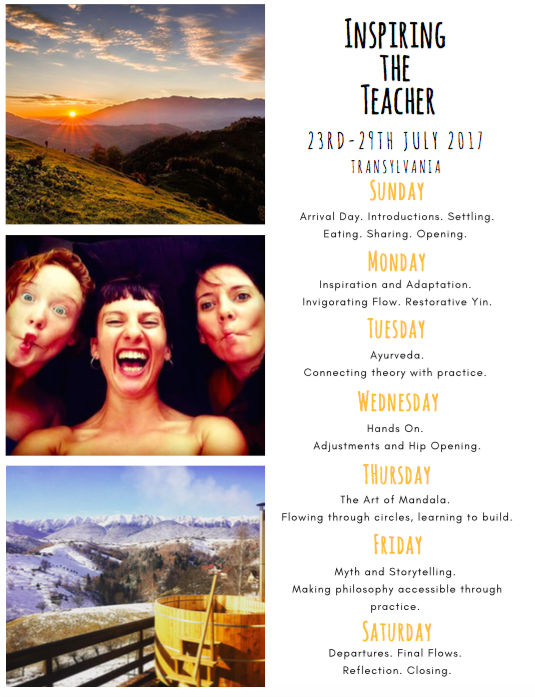 Reviews
Write a review - tell others about your experience.
Thank you!
We're glad you've joined our retreat community. See you around :)
Return to my event
×