Discover-U Break
Lunablu Retreat Center in Puglia - Italy

May 20 - 26, 2018 (7 days)

Lunablu | Masseria | Room 1 - €2,241.60 Lunablu | Private Villa | Room 1 - €1,668.00 Lunablu | Private Villa | Room 2 - €1,668.00 Lunablu | Private Villa | Room 3 - €1,668.00 Lunablu | Private Villa | Room 4 -…
About us
The discover-u break is an opportunity for self-discovery whilst taking a mini break.  It is a balance between an active holiday and a retreat and includes time for learning, doing and being. You learn skills (cooking, painting or photography), do activities (yoga and walking), and have time to simply be (rest, reflect, meditate). The aim of this intensive, yet at the same time restful, week is to find what you are passionate about and give you tools and memories that support you to integrate this information in your day to day life. The program is designed to introduce you to various activities, which are all related to finding out what it is that you really love to do. Sharon has invited a private chef to make pasta with you, a master gelato maker to experience the art of making gelato in Italy, an art class and of course you will be guided through the Passion Test. All in all a fantastic program to allow you to discover YOU.
THIS RETREAT IS NOT OPEN FOR BOOKING ONLINE. PLEASE CONTACT SHARON SMITH PERSONALLY: sharon@breakswithpurpose.com
About Sharon: Sharon is passionate about inspiring professionals to not postpone happiness for someday but to take breaks with purpose, whether 10 minutes a day, a mini break or career break to get clarity about what is important and to live their best life. Sharon speaks regularly on "A Passionate Life" and "Breaks with purpose: the first step to getting clarity". A certified coach and Passion Test consultation, Sharon is author of the #1 International bestseller on Amazon, "Eat Gelato: Find happiness and inspiration within for life's journey" and the forthcoming book "Breaks with Purpose".
Your Accommodation:
A short drive by car to the pristine beaches of Salento and you arrive in our Masseria, a fabulously charming farmhouse that offers visitors an authentic Italian experience. Surrounded by 30 hectares of cultivated land, the Masseria is surrounded by green nature where the silence of the countryside is only interrupted by the song of the cicadas, the noise of the wind and the caresses of the sun. The Masseria, with its outdoor pool, is located close to Lecce and Otranto, it offers accommodation in comfortable rooms facing the garden or located in the old farmhouse. All rooms have been recently renovated and provide our guests with all the amenities and tranquility during our retreats. The restaurant offers a combination of traditional and modern dishes, the products used are grown at the organic farm: olive oil, honey, fruits and garden vegetables, all cured with love and passion and guided by the indepth knowledge of the agronomist, who ensures that the land is cultivated according to the principles of organic farming.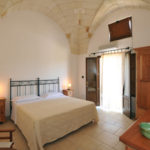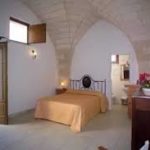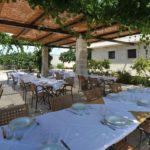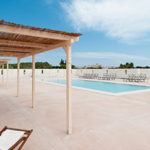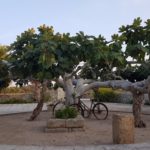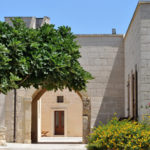 Reviews
Write a review - tell others about your experience.
Thank you!
We're glad you've joined our retreat community. See you around :)
Return to my event
×