7 Days Divine Body, Healing Food, and Yoga Retreat in Bali, Indonesia
About us
Dream like vacation on the most spiritual island. Set free. Get Inspired. Look inward. There is something undeniably therapeutically about going for a retreat vacation. Bliss Body Retreats create a whole new way of a holiday, offering unique combination of healing nutrition and yoga experience. Spend a week in a lush of island jungles, meditate and surrender, nourish your body with organic food and juices, explore one of a kind Bali culture. This retreat is designed to give you tools and inspire to live one's life consciously and in love.
HIGHLIGHTS
Delicious gourmet raw food & juices
6 nights lux private bedroom with bath
2 Yoga practices daily
2 Balinese Purification Ceremonies
Reiki Energy Healing Sessions
Nutritional Education: Eating clean as a way of life
Lush surrounding of Bali Jungles
Private attitude to every guest. Only 5 participants per event.
ABOUT US
Bliss Body Retreat is not just the name, it is the state of being, it is the feeling of the soul. It is it the ability to reflect the spirit of our soul the most.
Who we are?
Bliss Body Retreat is a team of professionals who will take you to an amazing journey back to yourself. We focus on helping you find a way to live the rest of your life with grace and easiness as well as enjoying youth & vitality of your body mind state. We deeply believe that private attitude during retreat process is very helpful to dig into each particular case and solve it. Our aim is to provide guidance, give keys and tools on how to become a complete happy being who knows how to live with joy.
PROGRAM
Everyone needs some time to stay with yourself and give a break to a busy life, daily routine, hard work, eating disorder, lack of movement, and bad habits. If you want to re-boost and have a clear body, feeling lighter, healthier, and balanced, this is retreat is a perfect choice for you. Our team have carefully created this unique program especially for those who are looking for something new, who want to change their life for the better, be well educated, and live a long, happy life.
With systematic yoga practices, raw-food and natural surroundings, the life-energy naturally awakens to a higher level of evolution. Your inner and outer life become transformed. Just as the life-energy flows through nature bestowing its abundance, the awakened life-energy flows through our bodies allowing us to experience the pure light of our soul.
With help of creative raw food meals and day of organic green juice fasting, be sure to see yourself losing weight, having glowing skin, tight tissues, and simple shine from the inside out. Our team will do best to make your visit to Bali an unforgettable event.
This Retreat assists in
*Cleaner blood, liver, and kidneys
*Deep nervous system regeneration
*Feeling of calmness and pure euphoria
*Flatter belly and reduction of the stomach size
*Radiant skin
*Rapid and lasting weight loss
*Restored energy and once vibrations
*Super digestion

Yoga and Meditation
Take time to deepen the relationship with your inner self during yoga practice and meditations. A truly peaceful moment in the morning starts with saluting the first rays of the sun, slowly breathing in cooling fresh air and gently guided stretching to revive the energy and good vibes. Proceeding with a more active practice to build some heat and open up those tight spots such as the hips, hamstrings and shoulders. As you step on the mat, you start to naturally flow with the rhythm of surrounding vibrations, learning to listen to your beautiful body and feeling it smiling.
With the setting sun casting a warm glow on you, sunset yoga promises to be a magical mind and body experience. Wonderfully relaxing dim lights and beautiful incense smells will cultivate restorative and meditative mode while a nourishing evening practice. Enjoy the peaceful Tibetan Singing Bowls meditation or evening Pranayama (Yogic breath) providing us the space for peaceful contemplation.
Explore chakra-cleansing meditation vibration technique to learn about subtle bodies and 7 main energetic centres, known as chakras. This technique will increase your awareness of your inner world and bring healing and balance to your chakras and soul.
During this retreat, you will learn basic principles of various meditation techniques, as well as Asanas (postures). How they work on your body, how they influence the mind. You will leave Bali with the confidence and a good body memory and continue the practice back home.
Exploring culture:
You won't find any other place in the world like Bali Island. Also known as the Land of the Gods, Bali appeals through its sheer natural beauty of looming volcanoes and lush terraced rice fields that exude peace and serenity. As you will spend 7 days on this unique land you can't help but be impressed by the great cultural heritage of Bali, dramatic dances, colorful ceremonies, art and craft.
While Purification Ceremonies and spiritual journeys to a Sacred holy water temple, we will immerse in the authentic Balinese culture: learning how to do offerings and prayers, getting blessings from the local Priests and discovering hidden spiritual symbolism in everyday life.
We simply want you to feel the magic of this unique and wonderful land! And open your heart to this island as we Do.
Sum up
This retreat may be your life-changing event. Please expect to feel like home and get the very private attitude. Our aim is so when you get back from this program you may know how to stick to your well being for life. Retreat is awesome, but what makes you really happy and healthy is a new lifestyle on a daily basis.
Sample Retreat Schedule
7:00 - Morning yoga practice
9:00 Juice & Rest
10:00 Breakfast
11:30 Massage/ Reiki Healing
14:30 Lunch
15:30 Seminar
18:00 - Evening Yoga
20:30 –Tea & Talk
21:30 – Rest & Sleep
Spiritual Journeys :
Hindu Purification Ceremony at Holy Waterfall:
Armed with beautiful and natural scenery, hidden secret spot in the jungles, this hidden temple remains ancient and the most magical and sacred place on the whole island. The powerful energy what was cultivating here for centuries, makes this place very special and unique. While winding descent down the staircase, you feel it's supreme tranquil and peaceful atmosphere. Passing through the upper temple, it is hard to miss incredible stone carvings covered with a green moss and sprinkled by the drops of water. This memorable and profound ceremony starts with a praying's and offerings at the middle shrines, like a gentle reminder that we have to be thankful for this beautiful world we live in and for this place to giving us a chance of a lifetime experience that will stay with you forever. Approaching closer to the main area of a temple, body starts to shimmer a little bit as the energy of the source is so powerful that you feel it in a distance. Wearing traditional sarongs, we enter the crystal clear water pond to stand under the waterfall and purify our soul, our mind and clear our negative energies and thoughts. The water is rushing on the shoulders and the head, at the same time you start to feel extremely light and absolutely pure. You are just standing there embracing every moment.
After the holy shower, we enter the main temple for the offerings and blessings from the priest for a good fortune and prosperity. Complete relaxation and still mind, reminds within your body and soul long time after the ceremony.
The Holy Springs: Bali's Sacred Pool for Purification
For over a thousand years, Balinese Hindu worshipers have been drawn to Holy Water Temple. In early morning, when the first prayers are done by the local priests, we will marvel the beauty and enchanting magical atmosphere of Tirta Empul Temple. Approaching closely to the entrance temple, first offerings are performed to ask the place for permission and giving us the blessings to continue with a purification ceremony. Holding small hand-made flower offerings, we are praying for today's gracefulness and allowing this space to purify our body and soul.
Moving slowly to the main courtyard, you can notice aged Banyan-trees, like real guardians who are keeping this place so quiet and holy. Passing through smoothly carved statues of Gods and Goddesses, we enter a main bathing area, with 30 holy springs separated into two sacred pools. Few more minutes, to devote for prying and blessings and now we are standing and waiting to dip our heads under the water spouts. As the Holy Water is pouring down on the head, ask to release a negative energy, fears and hurts or anything else what are blocking from moving forward. Behind the purification pools is the place for our final step. Last praying at Hindu shrines for today and blessed and purified we are ready to come back home.
LOCATION
You can not find a better location to treat your body & mind like the heart of Bali. Deep in the mountainous centre of Bali, among jungles and lush rice paddies, there is a small town considered to be the Indonesian island's spiritual and cultural capital. With a name that comes from the Balinese word Ubad, which means medicine, Ubud has long been known as a mystical place, rich in healing powers and great inspiration.
Ubud is the place that attracts most of yogis, spiritual guides and other healers from all over the world. During our retreat you will visit sacred holy waters, make offerings and prayers at the Main Temples to clear the energy body, purify aura and feel connected.
ACCOMMODATION
A tranquil escape from your hustle life right into the very heart of the Bali Jungles. Elevated to capture the spiritually of the island, our sophisticated private villa reflects the genuine architecture and interior design of Bali. Located in a quiet area with a serene atmosphere and offering a picturesque view, is a perfect spot for your gateway. The architectural style reflects the elements of nature to create a sense of well-being, balance and stunning aesthetics for the enhancement of any mood. It also captures the essence and joy of indoor and outdoor living in a tropical climate, bringing nature to your door. All rooms are overlooking jungle terrace, volcanoes and the garden filled with flowering trees. Authentic bedrooms embellished with traditional Balinese furniture, are ready to welcome you for a good sleep or simple relaxation. Large bathroom with spacious bathtub offers you to relax and soak in flowers & natural salts. Enjoy the large living area for lazing around, reading a book or having a swim in a jungle infinity pool.
FOOD
We believe, that raw food has the greatest potential for healing once body and gives perfect results in weight management as well as balancing nervous system. Eating raw & organic during our retreat will raise your energy, your skin will glow, you will feel much more flexible and conscious of your body. We are passionate about eating tasty & healthy food, that's why our special gourmet menu will open new doors for you to the world of Healing Nutrition. Our mouthwatering dishes will make anyone's taste buds go to dance.
The breakfast menu includes chocolate chia pudding, superfood smoothie bowls, papaya boats and cold pressed green juice. Some of the highlights of the main course selection are the raw mushroom-spinach quiche, raw lasagna and raw sushi. Among our dessert lovers are comforting raw carrot cake with a cashew frosting and strawberry-banana ice-cream.
THINGS TO DO
With our vast experience living and exploring Bali, we can share our best gems, the places what we love and honor. Below you can find the list of additional activities during your stay with Bliss Body Retreat:
Agni Hotra Ancient Ceremony
Agni Hotra is an ancient fire ceremony originating from the sacred Vedic Hindu texts. Agni refers to fire and Hotra means, healing. This healing fire ceremony is considered one of the highest Vedic rituals. Special priests make offerings of ghee and grains into the fire while reciting Sanskrit mantras to invoke blessings of health and abundance.
Gunung Kawi Temple and Secret Waterfall
Feel the atmosphere of ancient legends and long lost tales of forgotten Balinese kings. Gunung Kawi Temple is beautifully situated in a river valley surrounded by rice fields and jungle, offering eye-catching views.
Walking in the Tegalalang Rice Terrace
Witness the beauty of the verdant terraced rice field scenery while trekking. Take a stroll and browse through the paddies, enjoying the spectacular view and fresh air, accompanied by sounds of water trickling along the irrigation channels. The dramatic landscape will simply leave you breathless.
Sound-healing session
Lie down and bask in the tuneful beauty of 'pure' sound of natural acoustic instruments & tools (Tibetan bowls, silk scarves, etheric essences, chimes, strings, drum, voice & more). An ancient method to simultaneously relax, energize, release emotional blocks, clear the mind & nourish well-being.
Shirodhara massage therapy
Shirodhara is a treatment used by Indian yogis to enhance self-awareness. Warm oil poured gently on the forehead to balance the mind and nervous system. The oil streams down the "crown chakra" which magnifies the senses. Reducing stress and enhancing immunity as well as to improve health and vitality.
Balinese traditional massage
Balinese massage is a full-body, deep-tissue, holistic treatment. A Balinese massage uses a combination of gentle stretches, acupressure, reflexology, and aromatherapy to stimulate the flow of blood, oxygen and "qi" (energy) around your body, and bring a sense of well-being, calm and deep relaxation.
Water Purification Ceremony with Higher Priestess of Bali
Experience an intense flow of energy from the High Priestess. Ida Resi Alit is the youngest Priestess of Bali, a pure enlightened human being, who has an uncanny ability to connect with strangers on a deep, emotional level. During this powerful Hindu Purification Ritual, you literally may expect shifting and transformation, clearing negative energies and purification of your mind and body.
Half-day in Spa & Sauna in Tjampuhan Spa
Positioned at the base of the valley mere metres away from the natural splendour of the river flow, Tjampuhan Spa is dedicated to the therapeutic properties of water. Accumulate some endorphins and get rid of toxic chemicals by the help of heating of your tissues in one of the most beautiful Spa in Ubud.
Additional session of Reiki Healing
Reiki is a combination of the two Japanese words "rei" and "ki" meaning universal life energy. Reiki's ki-energies flow out of the practitioner's body through the palms of the hands in order to rebalance and clear blockages in the energy centres, to support relaxation and healing
During the Reiki session, you may feel warmth, coolness, travelling of energy throughout the body, or simply feel total relaxation, you may experience colours or visuals, or even take a nap. When the energy flow in your body it addresses physical, emotional, mental and spiritual imbalances, after the session you are more likely to feel relaxed and your body's natural healing abilities are utilized.
SPA
As the ultimate vacation island, Bali will definitely pamper you with everything that will indulge your every sense. Especially the most rejuvenating is to indulge your body in a soothing massage treatment using exotic herbs accompanied by distinct Balinese touches. Featuring great luxury in a sophisticated setting, with so many options to choose from, you can truly experience a perfect Balinese getaway. For a distinct Balinese spa experience, you can try Boreh, a traditional healing treatment, to gently scrub your body and soak in a flower bath.
90 minute Deep Tissue Balinese massage is included in the package
WHATS INCLUDED
ALL INCLUSIVE. You won't spend anymore during this week.
full 7 days of detox & yoga program
6 nights luxury private accommodation
opening blessing ceremony with a local priest
2 Balinese Purification Holy Water Rituals in sacred Temples
Gourmet raw breakfasts, lunches and desserts
High-quality cold-pressed green juices
1 juice fasting day
Detox shakes, lime shots, turmeric jamu herbal drink
Drinking water, herbal tea, and young coconuts
1 Raw food making workshop
1 Reiki energy healing session
Nutrition Education "Detox as the way of life"
Daily guided yoga practice (90 min. class)
Daily meditations and breathing techniques
Daily 1-on-1 interview with the guide of the retreat
Inspirational and spiritual trips and talks
Optional coffee enemas therapy (all necessary equipment and information will be provided)
Pre-detox information pack
Pre-retreat Skype consultation with the guide
Post-retreat guidance in closed Facebook group
Transfers (from/to airport or from/to Ubud centre)
---
Event Highlights
Sunrise yoga classes
Reiki Energy Healing Session
Soul purification ceremony at Holy Spring Waters
Sunset meditation sessions for peace and harmony
Private attitude to every guest with 5 participants per group
Healthy gourmet raw meals & Organic green juice therapy
Personal coaching, inspirational talks, and seminars
Lush surrounding of Bali Jungles
6 nights accommodation
---
Venue Highlights
The lovely and ultra-private villa is nestled in the Balinese foothills beneath the very small, traditional village. It is set at the jungle's edge, atop a vast amphitheater of rice paddies cascading down into the deep gorge of the holy river. The villa complex commands a panoramic view of a distant ridge of nine ancient volcanoes.
Matching this iconic essence-of-Bali view, the villa itself is equally enchanting. It was created as a stylish, spacious and comfortable family home and is clearly cherished; bursting with character and personal touches.
Accommodation is designed with lovely panoramic views of rice paddies, jungle, and mountains. The master suites have a king size bed with a wrap-around terrace and glass windows that allow you to enjoy the most of the outside beauty. The en-suite bathroom has a custom-made bathtub, hand carved from a giant tree and overlooking the rice paddies.
The living and entertainment areas are separated via the infinity pool that runs between through the house. A small wooden bridge is used to cross over. The living area has comfortable seating space to relax and enjoy the rustic surroundings.
Beyond the villa, sure-footed guests may make their way gingerly down to the river or stroll through the rice fields where colorful penjors flap in the wind to discourage birds, and daily offerings are left at shrines to Dewi Sri, the goddess of prosperity and rice.
---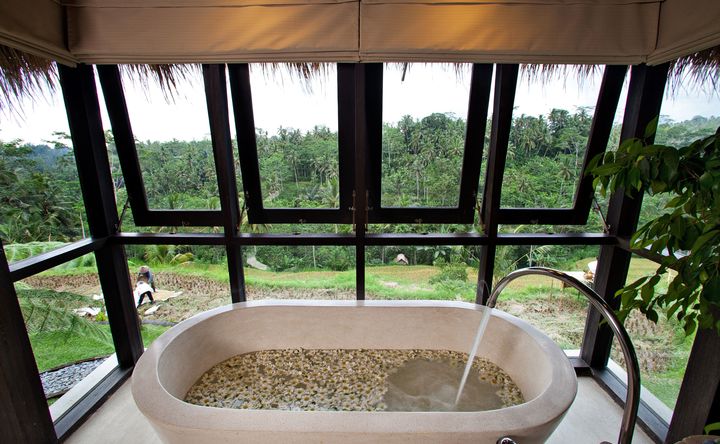 Amenities
Air Conditioning in Rooms
Free Wifi
Spa
Pool
Towels
Kitchen
Hot Tub
Coffee/Tea
Bicycles For Rent
---
Schedule
06:30 Morning yoga
08:00 Tea
09:00 Juice and rest
10:00 Breakfast
11:30 Massage or Reiki healing session
14:30 Lunch
15:30 Seminar part one
18:30 Evening yoga
20:30 Tea and talk
21:30 Rest and sleep
---
Menu Types
Vegan
Vegetarian
Organic
Gluten Free
Dairy Free
Nut Free
---
Menu/Cuisine
We believe, that raw food has the greatest potential for healing once the body and gives perfect results in weight management as well as balancing the nervous system. Eating raw & organic during our retreat will raise your energy, your skin will glow, you will feel much more flexible and conscious of your body. We are passionate about eating tasty & healthy food, that's why our special gourmet menu will open new doors for you to the world of Healing Nutrition. Our mouthwatering dishes will make anyone's taste buds go dancing.
The breakfast menu includes chocolate chia pudding, superfood smoothie bowls, papaya boats, and cold-pressed green juice. Some of the highlights of the main course selection are the raw mushroom-spinach quiche, raw lasagna, and raw sushi. Among our dessert lovers are comforting raw carrot cake with a cashew frosting and strawberry-banana ice-cream.
---
Accommodations
Amenities include
Elegant bath tubes with flowers and natural salts
Organic shower gel, massage oils, shampoo & conditioner, face mask, body scrub
Comfortable queen bed
In-room safe boxes
Chill out and Seminar area
Yoga place with breathtaking views
Free Wi-Fi access
Fusion of modern and traditional Balinese design
Loads of elegant living space
Peaceful & serene atmosphere
Two infinity swimming pools
Stunning master air-conditioned bedrooms
Yoga mats, blocks, straps
Sensational setting and volcano views
---
Directions
We offer transfer both ways on and off the retreat venue and it is already included in th eprice.
Thank you!
We're glad you've joined our retreat community. See you around :)
Return to my event
×