15 Days Yoga Detox Retreat in Rishikesh, India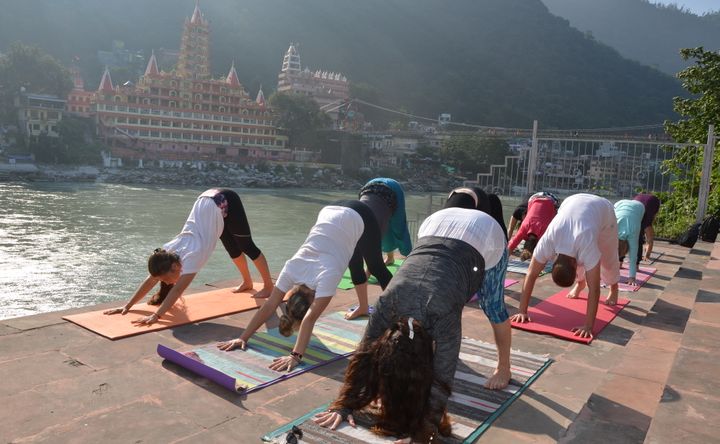 Event Highlights
-authentic traditional yoga & meditation classes
-individual ayurvedic herbal, abhayngam and swedhana therapy
-3 times detox meal and beverages
-excursions in Himalaya and outdoor activity
Schedule
Time Table:
06:00 – 06:30 Wake up and cleansing.
06:30 – 07:00 Shatkriya and herbal tea (yogic cleansing with Jala neti (special techniques of nose cleansing), pooja (mantra recitation & fire ceremony purification).
07:00 – 08:30 Asanas practical class Hatha/Ashtanga style (depending on the week schedule): learning the asana postures under the guiding of experienced Yoga teacher.
08:30 – 09:30 Pranayama: breathing exercises.
09:30 – 10:30 Breakfast: special yogic menu.
10:30 – 11:30 Yoga philosophy/ayurveda.
11:30 – 12:30 Free time/therapy time.
13:00 – 14:00 Lunch.
14:00 – 16:00 Free time/therapy time.
16:00 – 17:30 Ashtanga Vinyasa/Hatha Yoga (theory & practice): number of physical postures according to study program.
17:30 – 18:30 Yoga Nidra/ guided Meditation: guided relaxation practice, meditation and concentration.
18:30 – 19:30 Dinner.
19:30 – 22:00 Free time.
22:00 – 06:00 Sleep.
Note:- Time table can be changed during to teaching process.
About This Event
We are happy to invite to Yoga, Detox and rejuvenation retreat.
Included :
1 brief aura check up
1 excursion
1 T-shirt with the school symbol
3 daily vegetarian meals
14 nights accommodation
Individual detox program
Cleansing kit
Daily detox tea
Daily practical & theoretical yoga classes
Mala string of beads energized by Yogachariya Dr. S.K.Pandey-Ji
Study materials
some herbs suggestions for well-being
accomponing and supporting during time of staying in the Institute, help provided 24 Hours
1 ayurvedic ayurvedic massage
wi-fi
Optional for extra payment:
private accomodation
pick up and drop
other ayurvedic procedures
ayurvedic doctor conculatation
extra excursions more than mentioned above
detailled Aura check-up with providing of written report about Aura statement, desturbances in Aura if they are present, supporting methods and treatment advices of naturopathic specialist (individual plan of asana postures, pranayama, herbs, meditative practice)
full astrological consultation with detailled explanation of planet position, desturbances, methods of correction, suggestions in career, family life, marriage, prevention of deseases
Eligibility Criteria
Your interest to learn Vedic science
Succesfull pre-payment or other form of confirmation of participation
In their own interest individuals with disabilities or ailments are advised to refrain from applying.
Minimum age at the time of admission is 18 years. Applicants aged over 60 years could applied after our e-mail/phone/skype/facebook consultation .Contact us(make like direct link).
Pregnant women need a medical authorization permitting them to practice yoga from their own coutry with translation in English
Any candidate found unfit after commencement of the course will not be permitted to continue the training and a refund of fees and other charges will not be admissible
Retreat Program:
Yoga-Philosophical Aspects:
Human Life: Meaning & Aim of Life.Yoga – Introduction / it's origin & development.Introduction of Patanjali's Yoga-Sutra.Panch-Klesha (Five Causes Of Pain & Miseries) / causes of succsess and failure in Yoga.Yama, Niyama (social and personal rules and regulations) Asana (physical posture), Pranayama (breathing techniques), Pratyahara (withdrawal of the mind from the senses), Dharna (concentration), Dhayan (meditation), Samadhi (self-realization)/9 Disturbances of Mind, cause of pain, possibilities of control the mind.Yoga and purification techniques.Concept of yogic, ayurvedic and vegetarian nutrition.Concept of 3 Dosha (vata, pitta, kapha), how to balance dosha and reduce the weight.Explanation of taste, how to correct your nutrition plan according to season and daily regime.Digestive fire and their role in correct nutrition.Purvakarma and their role in detox therapy. Panchakarma (how, for whom, when?).
Yoga-physiological Aspects:
Digestive system, physiology and problems.
Yoga-Practical Aspects:
Asana (advanced level):
Natural Relaxation Asana.Natural standing Asana with External Rotations.Forward bending Asana.Backward Extensions.Spinal Twisting Asana.Inverted Asana.Balancing Asana.Surya-Namaskara.Meditation Asana.Thunder-Bolt (vajrasana) Group Asana.Lotus (Padmasana) Group Asana.
Pranayama & Mudras:
Pranayama and their detox effect .Special Pranayama Techniques for purification.Mudras and bandhas.Parana in daily life, how to reach new level of body & mind balanceGuided meditative pranayama Mantra and pranayama for detoxYogic Kriyas (Body Cleansing Methods).
Meditation:
Standard Meditation Practice,
meditative practice (Yoga Nidra, 5 element meditation, OM, AUM, breath awareness menditation, .chakra meditation)
Mantra:
Type Mantras, Hindu Gods, mantras related with them, mantra for pooja.
Yoga therapy/Ayurveda:
Using of number of yogic/ayurvedic methods in supporting in daily life
I had an amazing time with the Vedansha team. I came here for my 300h YTTC and I really believe that I found the perfect place where I could've done my course. What I received here was more than a training on how to improve my knowledge and teaching skills. It was a real training for how to have the best life and a profound experience of connecting with myself. I can say that one more time I learned how to live and how to enjoy the life that I have. It was an experience that empowered me and taught me more about how to accomplish great things in my life and to in the same time to maintain the balance in all ares of my life. I felt that every class brought more value and light in my understanding. I overcome my limits, I improved my knowledge, I gained more wisdom, I reached new meditative states, I am more aware of myself and I have wider vision about my potential. The staff is composed of amazing and beautiful people. I learned something new from every teacher and every staff member. I appreciated the professionalism, the fact that they took in consideration differences between students and their needs and that they were open to hear every voice. All the activities we had made our experience complete. I really enjoyed the food. It was delicious! One thing that really made a huge difference for me was the feeling of being part of the family. Overall, I can truly say it was a luxuriant experience for my soul. I can't wait to come back. I really recommend this school! Valentin Placinta (tripadvisor)
Venue Highlights
Yoga workshop & excursion Detox Yoga & Ayurveda program 4 Ayurvedic massages and 4 steam therapy sessions Asanas, pranayama, mantra & meditation sessions Individual herbs suggestion for a well-being Detox beverages & juices 14 nights' accommodation 3 daily vegetarian meals
Accommodations
%During this retreat, you will stay in a shared, private or double room at the Kriya Ashram or at the Vedansha Retreat Center. The rooms offer hot water, a clean toilet, warm conditions during cold seasons, and security in the area. Rooms have a fan and good ventilation. For the summer season, you may opt for an air-conditioned room, offered upon availability. %If you would like to stay in a single or double hotel room, Vedansha Institute of Vedic Science and Alternative Medicine offers you a private accommodation, with air-conditioning, either in a deluxe room or an apartment, for an additional cost. Please send an inquiry and the institute will be pleased to offer you a quotation, for the hotel accommodation option. %Please note that sometimes the power goes off in the whole Rishikesh. During these moments, you will have light in your rooms, but the internet may stop working for a while. In such cases, you should not worry, as it usually comes back in a few minutes. Otherwise, please ask Vedansha Institute's manager to assist you and provide the internet stick.
Amenities
A/C in Rooms
Free Wifi
Spa
Towels
Free Parking
Tour Assistance
Coffee/Tea
Restaurant
Yoga Studio
House Keeping
Menu Types
Vegan
Vegetarian
Ayurvedic
Organic
Gluten Free
Menu/Cuisine
During this training, you will enjoy a daily vegetarian breakfast, lunch, and dinner plus drinks. Every meal will consist of a special nutritious Ayurvedic and yogic menu developed according to the season. For the morning, you will enjoy a detox hot tea with special Himalayan herbs to make you stronger and improve your digestion. Other drinks will include herbal tea, black tea, masala tea, water, milk, and juice. %Please be aware that the meal & beverages that are included during the course program and package are special yogic & ayurvedic. If you wish to try other meals from the Indian or Italian Menu in our Vedansha restaurant, extra costs will be charged.
Directions
This training will take place at the Moksha Ashram, Vedansha Retreat Center and the Kriya Ashram in Rishikesh, India. -Nearby places *Dehradun Airport (DED), 15 kilometers *Indira Gandhi International Airport (DEL) - 6 hours
Reviews To review this event, visit the page for the venue or retreat leaders (above).
Similar Retreats You Might Like

Thank you!
We're glad you've joined our retreat community. See you around :)
Return to my event
×