7 Days Awakening Christmas Yoga and Healing Food Retreat in Bali, Indonesia
About us
When the mystical Balinese sun sets on the passing year, you will embark on a journey to map out and vision into 2019 with a healthy, connected, and soulful attitude. Use the time of the holiday reflecting on the past year, setting intentions for 2019, and making resolutions. Open your heart and your mind, release limits, with holistic private coaching. Learn how to nourish yourself and your needs for a healthy, happy year full of sustainable energy, embrace happiness as key to wellness and success!
---
Highlights
Guided yoga classes
Reiki energy healing sessions
2 Balinese purification ceremonies
Setting intentions and goals meditation
Delicious gourmet healing food and juices
6 nights luxury accommodation
The celebration lunch
---
The true secret to a beautiful life lies within your own heart. The festive time of Christmas and New year is an auspicious time to pause, reflect, and find wholeness and renewed enthusiasm. Release all past stories and get clear on what you want to welcome into your life in 2019.
---
On the beautiful island of Bali, there are numerous retreats to pick from. Yet, if you are willing to choose a life of love and light if you are ready for a major shift and you want it. This exclusive retreat is what you are looking for.
Dive into the sacred practices of yoga, meditation, sounding, mindful eating, communion with nature, and more during this special New Year retreat. Develop your ability to listen and engage with the intelligence of life all around you. Discover practical ways to follow your heart in daily life and experience beauty of the present.
Bali is a very special and powerful place. This land is a gateway to personal spiritual activation, transformation, and to communion with the Earth. Especially during such a special time as the new year. Together you will immerse into the power of the mountains, ocean, and jungle, discover ancient mysterious water purification ceremonies, and activate light within your body with daily yoga classes and meditation sessions!
As a circle of connected souls, you will open yourselves to receive transmissions of light, gifts of nature, and realize your potential, wisdom, and knowledge. The New Year Harmonizing and Intention Setting Yoga Retreat will allow you to unwind from the pressures of everyday life, to search within, and come out feeling bliss and alive.
Bliss Body Retreats' are transformative and intimate and they take great care to ensure they will help to nourish all aspects of your well-being, providing you with the opportunity to revive, refresh, and renew your mind, body, and spirit. Find your true self and reconnect with what matters and what you really love. Take this time for yourself.
Who is Bliss Body Retreats?
The Bliss Body Retreats team number one values are to inspire and empower people for a healthy and purposeful living. With great love, integrity, and respect, they guide to an inner transformation from darkness to light, with the help of yoga, meditations, and healing nutrition.
They long for a shift to create a better world, where all human beings can flourish and live a glorious life. Bliss Body Retreats events are designed to preserve intimacy and a private attitude, with attention to every detail, giving a chance to each participant receive personal healing and support.
The Bliss Body team takes their work with passion as what they do is the purpose of life. Run by enthusiastic specialists, Bliss Body Retreats is looking forward to welcoming new souls, offering exceptional hospitality and friendship.
Yoga and meditation
Take time to deepen your relationship with your inner self during yoga practice and meditations. A truly peaceful moment in the morning starts with saluting the first rays of sun, slowly breathing in cooling fresh air and gently guided stretching to revive the energy and good vibes. Proceeding with a more active practice to build some heat and open up those tight spots such as the hips, hamstrings, and shoulders.
As you step on the mat, you start to naturally flow with the rhythm of surrounding vibrations, learning to listen to your beautiful body and feeling it smiling. With the setting sun casting a warm glow on you, sunset yoga promises to be a magical mind and body experience. Wonderfully relaxing dim lights and beautiful incense smells will cultivate restorative and meditative mode while a nourishing evening practice.
Enjoy the peaceful Tibetan singing bowls meditation or evening pranayama (yogic breath) providing you the space for peaceful contemplation. Explore chakra-cleansing meditation vibration techniques to learn about subtle bodies and the seven main energetic centers, known as chakras. This technique will increase your awareness of your inner world and bring healing and balancing to your chakras and soul.
During this retreat, you will learn the basic principles of various meditation techniques, as well as asanas (postures). How they work on your body, how they influence the mind. You will leave Bali with the confidence and a good body memory to continue the practice back home.
---
Exploring culture
You will not find any other place in the world like Bali island. Also known as the Land of the Gods, Bali appeals through its sheer natural beauty of looming volcanoes and lush terraced rice fields that exude peace and serenity. As you will spend seven days on this unique island, you cannot help but be impressed in the great cultural heritage of Bali, dramatic dances, colorful ceremonies, art, and craft.
With purification ceremonies and spiritual journeys to a sacred holy water temple, you will be immersed in the authentic Balinese culture: learning how to do offerings and prayers, getting blessings from the local priests, and discovering hidden spiritual symbolism in everyday life. Bliss Body Retreats simply wants you to feel the magic of this unique and wonderful land and open your heart to this island as they do.
What's included

1 Balinese traditional massage session
6 nights accommodation
60-minute Reiki energy healing session
Sunrise and sunset yoga practices
Daily meditations and breathing techniques
Detox shakes, lime shots, turmeric jamu herbal drink
Drinking water, herbal tea, and young coconuts
Full seven days of a retreat
Gourmet healthy & mouthwatering breakfasts, lunches, and desserts
Half-day in spa and sauna
High-quality cold-pressed green juices
Inspirational and spiritual trips and talks
Christmas Celebration dinner
Opening blessing ceremony with a local priest
Post-retreat guidance in closed Facebook group
Pre-detox information pack
Pre-retreat Skype consultation with the guide
Sound healing session & Chakra meditation
Transfers (from/to airport or from/to Ubud center)
---
Event Highlights
- Celebrate extraordinary Christmas Day in Bali
- Peaceful start to the New Year, enhanced by daily yoga practice, meditations and setting intentions practices
- Explore new live way of healing nutrition with all-inclusive gourmet meals
- The personalized approach and private group with only 5 maximum participants
- Water Purification at a Sacred Holy Springs Temple
- Reiki Energy Healing and Chakra balancing,
- Sound healing medicine session
- Pampering half day in SPA with full body massage, scrub, and facials
- Live raw food cooking class & wellbeing seminar
---
Venue Highlights
The lovely and ultra-private villa is nestled in the Balinese foothills beneath the very small, traditional village. It is set at the jungle's edge, atop a vast amphitheater of rice paddies cascading down into the deep gorge of the holy river. The villa complex commands a panoramic view of a distant ridge of nine ancient volcanoes.
Matching this iconic essence-of-Bali view, the villa itself is equally enchanting. It was created as a stylish, spacious and comfortable family home and is clearly cherished; bursting with character and personal touches.
Accommodation is designed with lovely panoramic views of rice paddies, jungle, and mountains. The master suites have a king size bed with a wrap-around terrace and glass windows that allow you to enjoy the most of the outside beauty. The en-suite bathroom has a custom-made bathtub, hand carved from a giant tree and overlooking the rice paddies.
The living and entertainment areas are separated via the infinity pool that runs between through the house. A small wooden bridge is used to cross over. The living area has comfortable seating space to relax and enjoy the rustic surroundings.
Beyond the villa, sure-footed guests may make their way gingerly down to the river or stroll through the rice fields where colorful penjors flap in the wind to discourage birds, and daily offerings are left at shrines to Dewi Sri, the goddess of prosperity and rice.
---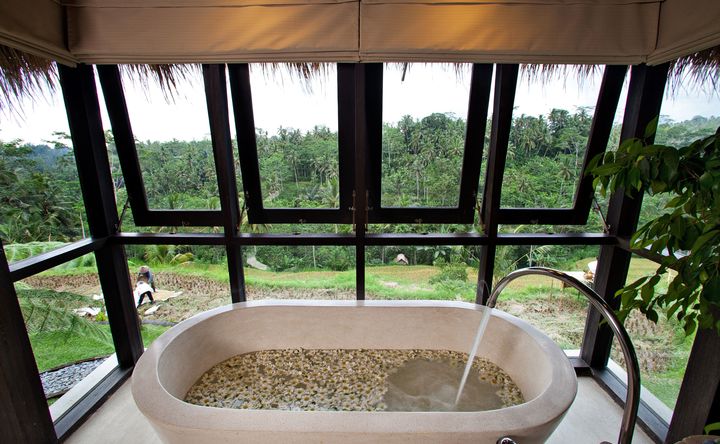 Amenities
Air Conditioning in Rooms
Free Wifi
Spa
Pool
Towels
Kitchen
Hot Tub
Coffee/Tea
Bicycles For Rent
---
Schedule
*06:30 Sunrise yoga
*08:00 Tea
*09:00 Juice and rest
*10:00 Breakfast
*11:30 Massage or Reiki healing session
*14:30 Lunch
*15:30 Seminar
*18:30 Sunset yoga practice
*20:30 Tea and talk *
21:30 Rest and sleep
---
Menu Types
Vegan
Vegetarian
Organic
Gluten Free
Dairy Free
Nut Free
---
Menu/Cuisine
We believe, that living food has the greatest potential for healing once the body and gives perfect results in weight management as well as balancing the nervous system. Eating raw & organic during our retreat will raise your energy, your skin will glow, you will feel much more flexible and conscious of your body. We are passionate about eating tasty & healthy food, that's why our special gourmet menu will open new doors for you to the world of Healing Nutrition. Our mouthwatering dishes will make anyone's taste buds go dancing.
The breakfast menu includes chocolate chia pudding, superfood smoothie bowls, papaya boats, and cold-pressed green juice. Some of the highlights of the main course selection are the raw mushroom-spinach quiche, raw lasagna, and raw sushi. Among our dessert lovers are comforting raw carrot cake with a cashew frosting and strawberry-banana ice-cream.
---
Accommodations
Amenities include
Elegant bath tubes with flowers and natural salts
Organic shower gel, massage oils, shampoo & conditioner, face mask, body scrub
Comfortable queen bed
In-room safe boxes
Chill out and Seminar area
Yoga place with breathtaking views
Free Wi-Fi access
Fusion of modern and traditional Balinese design
Loads of elegant living space
Peaceful & serene atmosphere
Two infinity swimming pools
Stunning master air-conditioned bedrooms
Yoga mats, blocks, straps
Sensational setting and volcano views
---
Directions
We offer transfer both ways on and off the retreat venue and it is already included in th eprice.
Thank you!
We're glad you've joined our retreat community. See you around :)
Return to my event
×