Dharma in the Body-Bali to Borobudur
Inner Adventure Travel
Abian Ayu Villas, Telaga Tawang, Sidemen, Karangasem Regency, Bali 80864, Indonesia and Manohara Resort, Borobudur, Magelang, Central Java, Indonesia

Aug 28 - Sep 5, 2018 (9 days)

$1440 to $1790
About us
Hatha Yoga and Mudra Dance Meditation in Bali and Java
This yoga retreat in Bali and Borobudur is unique, and amazing. The venues are lovely and the yoga practices are deeply refreshing for mind, body and soul! We start on the slope of the sacred mountain Gunung Agung in Bali, and finish at the ancient Buddhist Stupa of Borobudur in Java.
Trishna is particularly excited and inspired to offer the opportunity to practice both Hatha Yoga and the Nepalese dance meditation form called Charya Nritya in Bali and at the ancient Buddhist Stupa Borobudur in Central Java.
Yoga, Charya Nritya, and the Balinese religious culture which is linked historically to Central Java and Borobodur all share the same Tantric roots.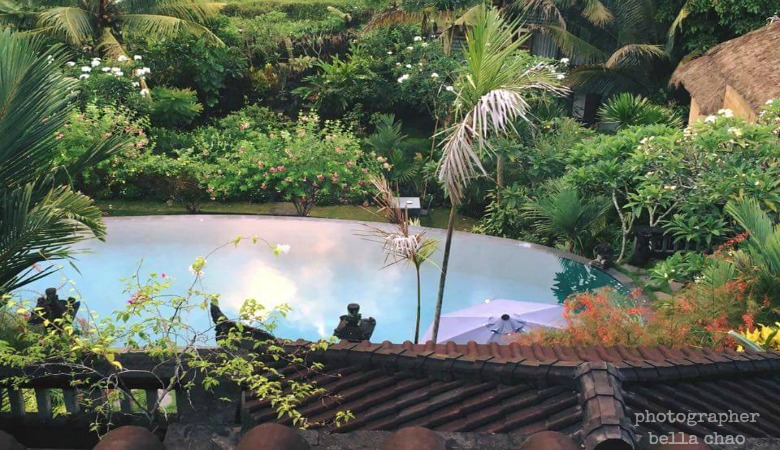 PRACTICE
Daily Yoga
Our Hatha Flow Yoga, for two+ hours each day, is dynamic and intelligent. Through well-rounded classes which include pranayama (practices with energy via breath technique), Vinyasa (a vitalizing sun salutation practice), Asana (meditations in held poses) and other subtle works we will dedicate to sustaining energy and awareness in our lives.
Trishna has been evolving and teaching 'Being Yoga' for 18 years and enjoys nothing more than sharing and supporting the discovery of the self as yoga. She will invite us to view our practice through the lens of tantra, awake to the internal dance of elemental qualities, cognizant of everything that arises as the teaching.

We will also explore the idea of 'Dharma in the Body' by studying and practicing Charya Nritya, a Buddhist dance meditation, each day. This will be a very 'site-relevant' yoga, especially when we are at Borobudur!
This practice includes a meditation sadhana that purifies and awakens the chakras, senses, and channels in the body. We will also work with Mudra (gesture), Mantra (songs, in Sanskrit), and movement. Our Charya Practice will involve warm ups and mudra dances which are subtle and powerful, but not strenuous.
Free Time
Our itinerary during our time in Bali gives some space for rest, personal reflection, journaling, poolside lounging, rice field walking and connecting with each other between the morning and the late afternoon sessions.
In Java we are a bit more scheduled, and still there will be some free time to explore Borobudur on your own, browse the library at Manohara, or simply rest.
ACCOMMODATION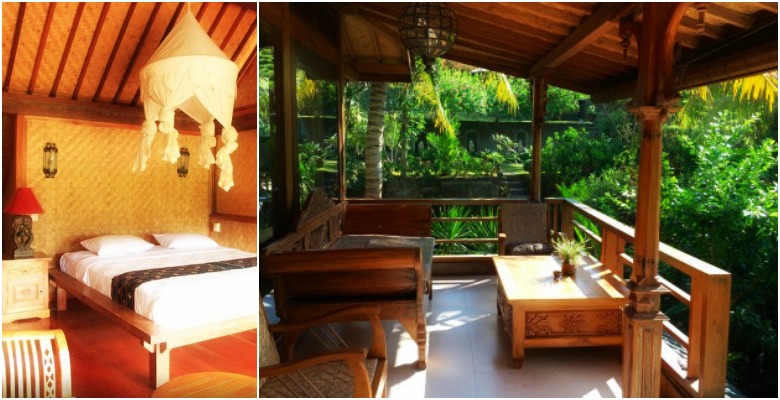 abian ayu
In Bali
At Sideman village, in the lush and fertile rice growing region of eastern Bali, we will stay at the lovely Abian Ayu Villas. There is a beautiful pool and garden, massage practitioners on site, a cafe, and views to the sacred mountain Gunung Agung.
Accommodation is available for single or double occupancy. There is also one family bungalow which can sleep three or four people. Generous breakfasts and family style dinners are provided for us, and other meals and snacks are available at the cafe. The largest bungalow is converted into a yoga shala for our group.
Besakih, the Mother Temple in the Balinese Religion, is close by. Our group will visit there. (Trishna will inquire as to whether there are any temple celebrations scheduled before determining which day. If we can arrange to be there on a celebration day, we will!)
Sideman is known for it's natural beauty, textile arts, and views to Gunung Agung, the great volcano which in Balinese cosmology is said to be the center of the universe.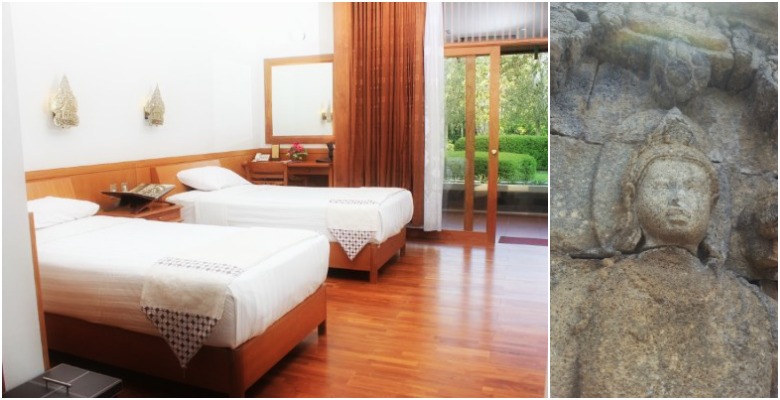 manohara
In Java
Manohara Resort is the only accommodation right on the grounds of the great stupa which makes it a perfect place for our group. As guests at Manohara, access to the great stupa is available to us during all of its open hours.
Rooms at Manohara are single or double, all with air conditioning. The breakfast buffet and family style dinners at the restaurant at Manohara are fantastic. There is a dedicated meditation room on the grounds of the resort which is available to our group for Yoga and Charya classes.
We will visit Borobudur together, both to offer the Charya practice in circumambulation for those who would like to, and to enjoy a pre-dawn walk there so as to be at the top of the shrine at sunrise. We will also take a day to visit other ancient sacred sites in the area which were thought to be part of the pilgrim's path to Borobudur in ancient times.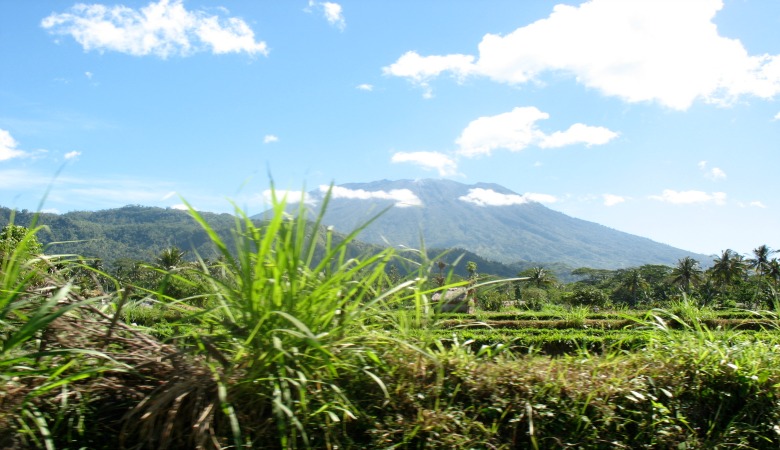 gunung agung, bali
MORE ON BOROBUDUR
Borobudur was founded around 800 CE. at the peak of the reign of the Sailendra dynasty in Java. At that time Buddhism was thriving there. Hindu and Buddhist cultures are thought to have co-existed harmoniously. The exact timing and reason for it remains a mystery, but sometime between the 10th and 15th century Borobudur was abandoned. For hundreds of years it lay forgotten under volcanic ash and jungle growth. In 1814 it was rediscovered and over the next two hundred years, excavated and renovated. It is the largest and thought to be one of the greatest Buddhist monuments ever built. One of the eight wonders of the world.
Relief panels on the stupa depict the Mahayana/Vajrayana iconography of the Five Buddha Families. For those interested in the potency of ancient symbolic art, and the jewels abounding in Buddhic Dharma, this is a phenomenal pilgrimage site.

The flight from Denpasar on Bali, to Jogjakarta on Java is not included in the cost of the retreat but Trishna's help on purchasing that and getting us all on the same plane is included! *(The cost is generally $40. one way and we hope to all get on the same flight. We cannot be sure of that price though, and some may sign on later and have to catch a different flight, so we cannot include that travel in the cost.
Trishna is happy to help with travel arrangements.
Transportation from the airport in Yogyakarta to Manohara Resort will be arranged for you.
A full list of what to bring as well as a file with articles and graphs pertaining to this adventure and practices will be sent upon registration.
Please confirm with Trishna before purchasing your ticket to Indonesia!
Included in the cost of this adventure: All accommodation, all breakfasts, all dinners, all instruction and guidance with Trishna. Ground transportation relevant to group outings and activities. Entry fees at all sites visited.
Not included in the cost: Air travel, travel insurance, transportation to Sideman on August 28, or leaving Manohara on September 5, (although shared rides can be arranged depending on people's schedules), meals other than breakfasts and dinners, tips, other personal and incidental expenses.
Note about the cost: Trishna offers support in Charya study and practice without request for payment. The cost of this retreat has to do with the actual expenses involved, and Trishna's livelihood as a Hatha Yoga teacher.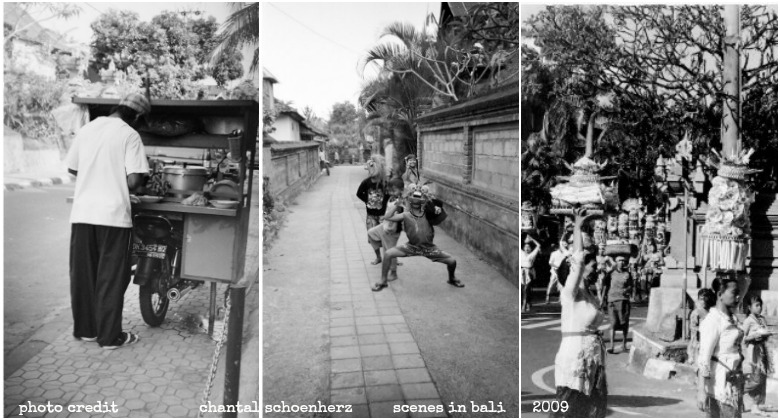 "I have attended retreats in the Healing arts, Yoga, and Taijiwuqiguan around the world with master teachers. Trishna is a very unique teacher. Her passion for the science of yoga and her dedication to knowing her Self grant her an outstanding opportunity to lead students to the inner yoga. She has always invited me to witness my own process and to neither go further nor fall short of where I am in the very moment. I have attended two of her retreats and left a far stronger woman than when I arrived… I cannot say enough about her ability to work with people of varying levels of practice and meet each fully. I feel she has a living practice that she is able to impart as well as other master teachers I have worked with and she offers it with a grace and humility that is very refreshing. I look forward to my next retreat with her. ~ Amelia N.
---
Event Highlights
Five days of deep yoga and immersive study in the lush beauty of the Balinese countryside.
A day spent at Besakih, the Mother temple for the Balinese Religion.
Studying on the grounds of Borobudur and practicing upon the Stupa itself.
A pre-dawn walk to the Stupa to be there as the sun rises.
Visiting other historical sacred sites in Bali and Central Java.
---
Venue Highlights
We are at two venues for this retreat/pilgrimage.
Our first five nights are in Bali, in an area that is lush and green, a short distance from the Mother Temple Besakih, and with a view of the sacred mountain Gunung Agung. This venue is elegant in a classically Balinese way. There is a pool on the grounds.
In Java we stay at the only accommodation located on the grounds of the Great Stupa Borobudur. As guests there we have access to the stupa during all of it's open hours, via a side entrance. There is a beautiful practice space with a hard wood floor available to our group, a restaurant, and a library. From this location we can easily access the other smaller shrines and temples which were built in coordination with Borobudur along the pilgrims path of ancient times.
---
Schedule
Our daily itinerary varies quite a bit. There is one practice period on days where we have outings, and two practice periods on days when we do not. Breakfast and dinner are provided daily. In general pracitces will occur before breakfast and before dinner.
---
Accommodations
In Bali, at Abian Ayu Villas all rooms are single or double, with the possibility of a triple in one of the rooms. The rooms which are meant to be doubles are a bit bigger. All rooms have their own full bathroom (shower only). Fresh towels and room cleaning are provided daily. Rooms have small refrigerators. These rooms are built in a way that provides good natural air circulation.
In Java, at Manohara Center for Buddhist Studies, the rooms are modern, all with private bath, fresh towels and cleaning upon request, air conditioning, and room service.
---
Directions
I am happy to help coordinate your travel, from wherever you may be coming from!
Reviews
Write a review - tell others about your experience.
Thank you!
We're glad you've joined our retreat community. See you around :)
Return to my event
×