Personal Transformation/ Holistic Healing with Yin Yoga, Chi-Gong, and optional customized Juice Detox in Yelapa, Mexico – 20% DISCOUNTED!
Sacred Springs Retreat

Dec 2 - 8, 2018 (7 days)

7 Days / 6 Nights Holistic Healing w/ Juice Fast or Food - $1,990.00 7 Day / 6 Night Personal Transformation - $2,490.00
About us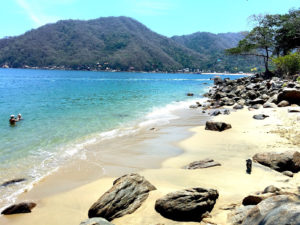 7 days experience formulated to support your aliveness. It is based on the secrets of the Emperors of ancient China for perfect health and well being!
 It is a complete program of detox and rejuvenation.
When we choose to take responsibility for our health and place it at the top of our pyramid, the first step is to cleanse the toxins that have accumulated throughout the years.
In this unique one of a kind retreat we will cleanse our bodies on all levels, physically, emotionally and mentally as cleansing and renewal is the base of good health and requires deep work.
We will cleanse the body's toxins through juice fasting, which will include fruits and vegetable juices, shakes, soups and "superfoods", customized to your personal needs.
The healing properties of fasting have been known to the masters for thousands of years, and today have been scientifically proven to have a significant effect on our health, there is no medicine today that can clean our internal organs such as our liver and colon, as the natural way of fasting! (90% of the population in the USA suffer from clogged colon!
Through deep 5 Elements breath work, we will cleanse and release our innermost suppressed feelings such as fear, anger and sorrow… which are sitting as energetic poison in our bodies and are the root of all internal Dis-Ease.
We will clear the incessant chatter in our minds through meditation and build new positive beliefs through calmness and balance.
We will support your physical and emotional cleanse process with acupuncture and group care.
We will de-stress through, chi gong, restorative yoga, dancing, self Twina, and enjoying nature.
We will learn how to strengthen our vitality by transforming our sexual energy- TANTRA – in to creative power and longevity!
Juice cleansing alone will not cleanse the liver if we do not cleanse the underlying emotions.
Breathwork, chi gong, dancing, yoga and massages, that we will experience daily, will not fully bring you back, if we do not provide you with the necessary tools for you to continue and allow them to become a part of your new journey in your every day modern life.
Chinese medicine exists in all aspects of our lives, this is why it is known as holistic medicine. For example, Feng Shui wisdom teaches us how to balance our health by balancing our environment. You will get the techniques how to balance your elements throughout your home as well as how to balance them through your food.
You will learn which foods are best for you. For example, ginger can be good for one person, but harmful for another.
We will learn to read the language of the body -the symptoms we are experiencing, so you could understand where you are, which elements you need to balance and how to prevent future illness.
We will indeed go deep in this retreat, but it is also designed to be simple, fun and flowing!
Just as the Tao.
The basic idea is to feel good in our body!
Having the foundation to Reawaken our spiritual energy flow.
Yelapa is a small fishing village located by a bay within Puerto Vallarta Bay and accessible only by boat. Nestled between a tropical jungle and a sandy beach, with no cars and roads, it is a perfect place for a healing retreat.
Yelapa is a very unique, safe and peaceful place with no crime, so do not get discouraged by stories and news about Mexico.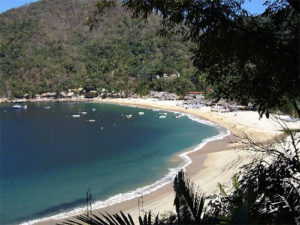 www.puravidaecoretreat.com
This Retreat offers:
Accommodations, delicious vegetarian food or juice.
Safe, mountain spring drinking water

Two group guided and silent meditations daily; spiritual inquiry, group breath work, morning yoga / Chi-Gong / Kundalini / walking meditation / conscious dance movement,  Chinese Medicine classes and consultations, Feng Shui classes.

Individual sessions are included in Holistic Healing program or Personal Transformation program.

Additional Breathwork / counseling sessions and bodywork / energy work/ acupuncture/ Chinese Medicine sessions are optional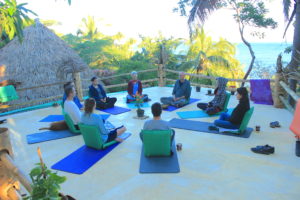 Boat trip to the Marietas Islands: snorkeling in crystal clear waters, wildlife watching and the best opportunity to see dolphins and whales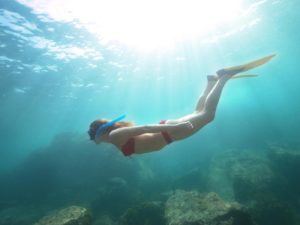 Trip to Botanical Gardens: enjoying amazing variety of orchids and other tropical plants

Hikes to waterfalls, snorkeling, kayaking, swimming in the warm ocean – right in front of your room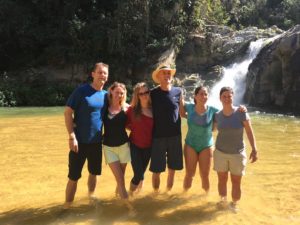 Thalassotherapy – immersing yourself in the warm ocean water helps to absorb trace elements of magnesium, potassium, calcium, sodium, and iodide found in seawater. It's energizing and rejuvenating

Meditate to the sound of gentle waves. Snorkel daily – just a few minutes away from your cottage.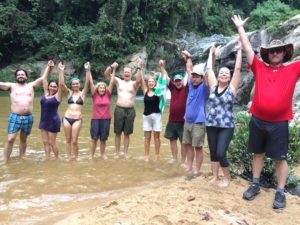 In case of emergency cancellation, your payments could be applied to any Sacred Springs retreat until December 31st, 2018
Facilitated by Anjay Skwira – trained in Taoist Ci-Gong by Master Mantak Chia

Regular rate: $1999
Rates after 15% discount:
$1400 – shared accommodations (most with ocean views)
$1700 – private room with ocean view
Reviews
Write a review - tell others about your experience.
Thank you!
We're glad you've joined our retreat community. See you around :)
Return to my event
×