Twelve Days of Christmas
The Center at Ananda Laurelwood

Ongoing

A) Economy Twin (Shared) - $70.00 B) Economy Twin (Private) - $95.00 C) Standard Twin (Shared) - $100.00 D) Standard Twin (Private) - $130.00 Deluxe Room - Queen bed w/ private bath (no shower) - $150.00 E) Premium Queen -…
About us
Create your own holiday sanctuary with a retreat at Ananda Laurelwood.
It's a wonderful way to relax into personal quiet time, revitalize your body with yoga, nourishing food and healing arts and renew your spiritual life through meditation. Receive our gift of 15% discount on your lodging during this holiday season. You're free to follow your own schedule as well as to dip into a wealth of offerings.
Come join us for our Twelve Days of Christmas program, from Dec. 8-19. It's a special time where you can relax away from the rush and chaos of the holidays, and be renewed and recharged. Come for one day, two days, or all twelve. Each day we will offer gentle yoga, guided meditations, journaling, satsangs on a variety of topics, including the yogic meaning of Christmas and much more. An individual retreat during these twelve days is offered at a 15% discount. Apply using the discount code PEACEONEARTH. Have a blessed holiday season!
With a peaceful, uplifting environment, Ananda Laurelwood makes it easy to rediscover your own center.
Enjoy the following during your stay:
Complementary yoga classes.
Group meditations.
Three delicious vegetarian meals prepared for you each day
Walks on our 225 acres of beautiful campus, forest and meadowlands.
Shopping for gifts, spiritual books and CDs, and yoga and meditation supplies in our boutique.
Personal services, including: spiritual counseling, private yoga or meditation instruction sessions, yoga therapy, massage and other healing arts.  Additional fees may apply for some services.
The joyful flow of life in an intentional spiritual community.
Our guest rooms are simple yet comfortable.  Many rooms have their own sink, and there are shared bathrooms just down the hall.
Check-in / Check-Out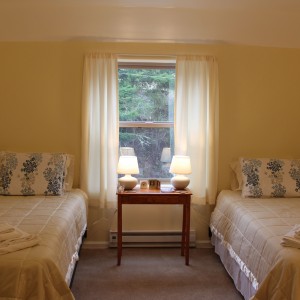 Check-in time is between 3:30 – 6:00 pm.
Check in early and enjoy afternoon yoga (4:30 – 6:00 pm M/W/F/Sat) and dinner (6:00 – 7:00 pm) served in the Green Hill Cafe.
Check-out time is 11:00 am, at which time you should have your belongings out of your room.  But guests are invited to stay on campus through lunch on check-out day (until 1:30 pm).
From the parking lot behind Harmony Hall, enter through the Green Hill Cafe and head upstairs to Guest Registration for Check-In.
If you will not be not arriving during the normally scheduled check-in time, please call 503-746-6229 to make an appointment for your check-in. Our front desk is not staffed 24/7, and without prior notice, there may not be anyone present to greet you and show you to your room.
If you have any special needs, please let us know so that we can provide you with the best possible personal retreat experience.
Regular Weekly Schedule: Yoga, Meditation, Meals
Yoga Classes
Our yoga schedule includes classes Mon/Wed/Fri/Sat afternoons from 4:45-6:00 pm. During weekend group retreats and programs, we offer  additional classes Saturday and Sunday morning from 6:30 – 8:00 am.
Group Meditations
We offer daily group meditations on Monday-Saturday mornings (6:30 – 8:00 am) and at mid-day (12:15 – 12:45 pm).
Meals
Three delicious vegetarian meals are served each day in the Green Hill Cafe. Vegan and gluten-free option are available at all meals.
Breakfast: 8:00 – 9:00 am  (8:00 – 8:30 in silence)
Lunch: 12:45 – 1:30 pm
Dinner: 6:00 -7:00 pm
Personal Services Contact Info
Pete Jordan – Yoga Therapy
503-267-2442
Shannon Hallberg – Massage
Joy Andreakis – Spiritual Counseling
812-276-9449
---
Amenities
Free Wifi
Towels
Free Parking
Kitchen
Coffee/Tea
Cafe
Yoga Studio
---
Menu Types
Vegan
Vegetarian
Organic
Gluten Free
Dairy Free
Nut Free
Thank you!
We're glad you've joined our retreat community. See you around :)
Return to my event
×