[en:]Yoga Teachers Training Course November 2017[vi:]KHÓA HUẤN LUYỆN GIÁO VIÊN YOGA QUỐC TẾ (TTC) THÁNG 11/2017[:]
About This Event
[en:]
About TTC
The benefits of Sivananda yoga are fully experienced through immersion in the yogic lifestyle and a combination of repeated, guided group practice and inspirational theoretical lessons.
This is offered in a positive and uplifting environment. The many benefits that students report are greater self-awareness, a sense of connection, a newfound sense of self–discipline, enhanced self–esteem, improved power of concentration and increased strength and flexibility.
Curriculum
Yoga Asanas
• Effects of asanas on the physical and astral body

• Proper postural alignment and deep relaxation

Pranayama

• The basic practices: kapalabhati, anuloma viloma

Kriyas

• The six classical exercises for purifying the body
Hatha Yoga Theory
• The astral body, nadis and chakras
How to Teach
• Teaching the sun salutation and the 12 basic postures

• How to teach beginners and intermediate students

• How to adapt teaching to special groups
Anatomy and Physiology
• The effects of yoga practices on major body systems
Yoga Philosophy and Psychology
• The four paths of yoga: karma, bhakti, raja and jnana

• Psychology of the spiritual aspirant

• The law of karma
Yogic Diet and Nutrition
• Physical, ethical & spiritual reasons for vegetarianism

Meditation

• Twelve-step guideline to meditation

• Mantras, mantra initiation (if requested)

Kirtan (chanting classical Sanskrit chants)

• Positive effects of chanting on emotions

• Correct pronunciation and mental attitude
Bhagavad Gita
• Study and commentary of the classical scripture
Daily Schedule
5:30 a.m. Wake-up Bell

6:00 a.m. Satsang (meditation, chanting, lecture)

8:00 a.m. Asana & Pranayama Class

10:00 a.m. Vegetarian Brunch

11:00 a.m. Karma Yoga (helping in the ashram)

12:00 p.m. Chanting or Bhagavad Gita Class

2:00 p.m. Main Lecture

4:00 p.m. Asana & Pranayama (teaching techniques)

6:00 p.m. Vegetarian Dinner

8:00 p.m. Satsang (meditation, chanting, lecture)
This schedule is followed 6 days of the week, with one day off for resting, studying, etc.
Certification
Upon successful completion, students receive a certificate of the International Sivananda Yoga Vedanta Centers, and are entitled Yoga Siromani(teacher of yoga). This training is registered by and fulfills the requirements of the Yoga Alliance 200-hour certification.
Location
The course is offered at K'Lan resort in the temperate climate of Da Lat. Da Lat is a very popular destination for its cool and stable weather, which hovers between a pleasant 15°C (average daily minimum) to 24°C (average daily maximum) and attractive landscape of colonial villas, gardens, lakes and rolling hills. Located around 1,400 meters above the sea level, it is indeed an ideal place for Yoga retreat, summer escape and on-top-of-the-list rest and relaxation site in the Central Highlands of Vietnam. Da Lat market has always been a must-see site for visitors with its locally-made specialties such as artichoke tea, candied fruits, coffee and the finest cool climate vegetables and flowers in Vietnam.
Questions and Answers
The address and an access to the K'LAN resort from Dalat airport. K Lan resort, Tuyen Lam Lake, Dalat. Or we can provide pick up airport service。400.000vnd/one way.
Do they provide towels to the guests? Yes
How is the internet situation there? free internet in everyroom
Do they offer laundry service? 25.000 vnd/set
Accommodations and Cost
All rooms with bathroom.
Single $3853
Shared (2 people) $3400
Shared (3 people) $2700
Shared (4 people) $2400
To ease the registration process, students should make their payments in full before arriving at the ashram and fill out the necessary paperwork beforehand.
Arrival and Departure
Arrival – November 11, 2017 – 11am Registration (If arriving on July 10 then 1 extra night payment will apply)
Departure – December 9, 2017 (It's will be finnish late in the Evening, If staying on Dec 9 then 1 extra night will be free)
By Air – If you are flying from a far away country to Vietnam, we recommend to book a flight to Dalat with Vietnam Airlines. Take any major airline to fly to Tan Son Nhat (SGN) airport located in Ho Chi Minh City. Then take a local flight on Vietnam Airlines to Lien Khuong Airport in Da Lat. We recommend to take the am flight.
By Bus – If you want to travel by bus it is 8 hours to Dalat from HCM. The address is – Thanh Buoi Bus station: 202-204 Lê Hồng Phong, District 5 , Hochiminh. When you arrive in Dalat there is a shuttle from the bus station to downtown Dalat. They offer you shuttle bus to the Ashram with 5 USD/trip.
What to Bring
• Two sets of uniforms are provided, but you will need to bring modest, comfortable clothes for asana practice plus casual clothes.

• The weather is temperate, so bring a sweater, raincoat, and good walking shoes for hiking.

• Bring your own yoga mat, meditation cushion, meditation shawls, blankets, toiletries, books, notebooks, pens, flashlights, alarm clocks, Personal Item ( toothpaste, brush,…). Postage stamps will be available in the boutique.

• Banking: It is preferable that you change money at the airport and bring enough for your purchases in the boutique, transportation fees for weekend outings, field trips and extras like massage, etc.
Admission / Guidelines
Admission – Though a basic knowledge of yoga postures and philosophy is helpful, beginners are welcome. The course is intense and demands discipline. You must be sincere in your desire to learn and follow the rules. Please note that in keeping with the ancient Yoga tradition, spiritual practices such as meditation, mantra chanting, ceremonies, selfless service and study of philosophy constitute a large part of this program. Please do not attend this course if you just want to practice postures, breathing and relaxation. To preserve the spiritual atmosphere of the ashram, no meat, fish, eggs, alcohol, tobacco or narcotics are allowed. Participation in all classes and punctuality are mandatory.
Guidelines
• Participation in all classes and punctuality are mandatory.

• Wearing of uniforms is expected for all satsangs and lectures.

• The basic guidelines are: No drugs, alcohol, smoking, non-vegetarian food items, nudity and promiscuity, weapons, loud music, backbiting and profanity.

• You need to have health insurance or sign a medical health release.
[vi:]
TÌM HIỂU VỀ TTC 
Lợi ích của Sivananda yoga được cảm nghiệm trọn vẹn khi bạn đắm mình trong lối sống yoga và kết hợp việc thực hành, hướng dẫn đều đặn theo nhóm với những bài giảng triết lý đầy cảm hứng.
Khóa học đem đến cho bạn một môi trường tích cực và phát triển bản thân. Nhiều học viên trước đã báo rằng họ cảm thấy tỉnh sáng, nhận được sự liên kết của mình và vũ trụ, học được cách tự kỷ luật cá nhân. Hơn nữa, họ cảm thấy tự tin hơn, tăng cường tập trung tư tưởng, và trở thành mạnh mẽ hơn và đồng thời dẻo dai về tinh thần, cột sống và thể chất hơn.
CHƯƠNG TRÌNH GIẢNG DẠY
Các bài tập tư thế Asana
Những tác động của các tư thế Yoga lên thể chất và thể vía.
Trình tự đúng của các tư thế, hít thở và thư giãn sâu.
Hai bài tập thở cơ bản Kapalabhati và Alunoma Viloma
6 Bài tập cổ điển giúp thanh lọc cơ thể
Lý thuyết về Hatha Yoga
Thể vía, năng luợng và các luân xa.
Cách đứng lớp
Cách dạy chuỗi động tác bài "Chào mặt trời" và 12 tư thế Yoga cơ bản.
Phương pháp dạy cho nguời mới học và nâng cao.
Sự linh động khi dạy các nhóm đặc biệt.
Cơ thể học và sinh học
Những tác động của các bài tập Yoga lên các hệ cơ quan chính trong cơ thể.
Triết lý và tâm lý học trong Yoga
Bốn con đuờng Yoga: Raja Yoga , Bhakti Yoga,  Karma Yoga, Jnana Yoga.
Tâm lý học dành cho nguời thực hành tâm linh
Luật nhân quả – Nghiệp báo.
Chế độ dinh duỡng và cách ăn uống hợp lý
Lý do ăn chay theo những lý do về thể chất, đạo đức và tâm linh.
Thiền định
12 buớc huớng dẫn thiền. Lợi ích của thiền.
Các câu niệm. Khai mở tiếng niệm riêng (nếu yêu cầu)
Kirtan (các bài ca niệm bằng tiếng Phạn)
Tác động của các bài ca niệm lên cảm xúc.
Cách phát âm đúng tiếng Phạn và thái độ đúng
Bhagavad Gita
Học kinh Bhagavad Gita qua các văn bản cổ
Trở về đầu trang
THỜI KHÓA BIỂU
5h30  Chuông thức dậy

6h Satsang (Thiền, niệm ca, thuyết giảng)

8h  Các bài tập Asanas, hít thở

10h Cơm chay trưa

11h Giờ phục vụ ( Karma yoga – giúp việc trong Ashram)

12h Lớp kinh văn Bhagavad Gita hoặc lớp Niệm ca

14h  Bài giảng chính về triết lý Yoga

16h  Các bài tập Asanas, hít thở pranayama (kỹ thuật dạy)

18h  Cơm chay tối

20h  Satsang (Thiền, niệm ca, thuyết giảng)
Thời khóa biểu này được áp dụng 6 ngày trong tuần, một ngày nghỉ để nghỉ ngơi, nghiên cứu,…
Trở về đầu trang
VĂN BẰNG
Nếu bạn tốt học, bạn sẽ nhận được một tấm bằng có giá trị thế giới cung cấp bởi Trung Tâm " International Sivananda Yoga Vedanta Centers" với cơ sở chính ở Canada, Bạn sẽ dược gọi tên là "Yoga Siromani" (Thầy giáo Yoga), Mảnh bằng này được chấp nhận bởi Tổ chức Yoga Alliance ở Hoa Kỳ, trình độ số 1, bao gồm 200 giờ học.
Trở về đầu trang
ĐỊA ĐIỂM
Khóa học được diễn ra tại khu nghỉ dưỡng K'Lan trong môi trường ôn hòa của Đà Lạt. Đà Lạt là một điểm đến rất nổi tiếng bởi khí hậu mát mẻ và ổn định, nơi mà nhiệt độ rất dễ chịu dao động từ 15°C tới 24°C và cảnh quan hấp dẫn với những ngôi biệt thự thuộc địa, vườn hoa, hồ nước, và những ngọn đồi nối tiếp nhau. Cách 1400 mét trên mặt nước biển, đây là một nơi hoàn toàn lý tưởng cho Yoga nghỉ dưỡng, nghỉ hè, thư giãn tái tạo năng lượng tại miền cao nguyên Việt Nam. Đà Lạt trở thành một điểm nên đến cho khách tham quan bởi những vườn Atiso, trái cây sấy, cà phê và rau quả ôn đới và các loại hoa của địa phương này.
Các câu hỏi và trả lời:
Địa chỉ và đường đi tới K'Lan resort từ sân bay Đà Lạt? K'Lan resort, hồ Tuyền Lâm, thành phố Đà Lạt. Chúng tôi có thể cung cấp dịch vụ đón bạn tại sân bay, phí 400.000 đồng/chiều.
Các bạn có cung cấp khăn tắm cho khách không? có
Internet ở đây như thế nào? Internet miễn phí tất cả các phòng.
Các bạn có dịch vụ giặt ủi không?  25.000 đồng/bộ.
Trở về đầu trang
HỌC PHÍ
Học viên Việt Nam chỉ được ưu đãi theo học phí này nếu như là người công dân Việt, có quốc tịch và sống làm việc tại Việt Nam. Học phí cho một tháng của chương trình TTC bao gồm cả tiền ăn, ở như sau:
Phòng 1 người……………………(contact info blocked) đồng/người
Phòng 2 người……………………(contact info blocked) đồng/người
Phòng 3 người………………………………….(contact info blocked) đồng/người
Phòng 4 người………………………………….(contact info blocked) đồng/người
Tất cả các phòng đều có phòng tắm.
Để quá trình đăng ký được nhanh chóng và dễ dàng, học viên nên hoàn tất học phí trước khi đến trung tâm, đồng thời hoàn thành và gửi các giấy tờ đăng ký trước cho ban tổ chức.
Nếu bạn có các thắc mắc khác xin vui lòng email: (contact info blocked)
Trở về đầu trang
NGÀY GIỜ TẬP TRUNG VÀ KẾT THÚC
Ngày tập trung: 11/11/2017  – làm thủ tục đăng ký lúc 11 giờ sáng (Nếu học viên đến trước 1 ngày vào 10/11/2017, sẽ tính thêm phí thu 1 ngày)
Ngày kết thúc: 09/12/2017. Thời gian đi: sau khoá học kết thúc là sau 9h30 tối ngày 9/12 hoặc sáng ngày tiếp theo trước 12 giờ trưa.
Đi máy bay: Đi Vietnamairlines hoặc Vietjet air tới Sân bay Liên Khương Đà Lạt sau đó bắt taxi tại sân bay hoặc đăng ký chúng tôi đón bạn.
Đi xe bus: Nếu bạn muốn đi bằng xe bus thì mất 8 tiếng đi từ HCM tới Đà Lạt. Địa chỉ trạm bus Thành Bưởi tại HCM: 202-204 Lê Hồng Phong, Quận 5. Khi bạn tới Đà Lạt, sẽ có xe bus trung chuyển đưa bạn tới trung tâm thành phố.
Trở về đầu trang
CẦN MANG THEO
Hai bộ đồng phục sẽ đuợc phát khi vào khóa học, tuy nhiên bạn cung cần mang theo áo quần thoải mái nhưng kín đáo dùng mặc cho lớp tập Yoga và dùng mặc hằng ngày.
Khí hậu ôn hòa, mang theo áo dài tay, áo gió đi mưa và giày để đi bộ đường dài.
Mang theo thảm tập Yoga, khăn choàng và gối để ngồi thiền, mền, kem đánh răng, bàn chải, các vật dụng tắm rửa, sách, sổ ghi chú, bút, đèn pin, đồng hồ báo thức. Học viên có thể mua những thứ này tại boutique của trung tâm.
Ngân hàng: bạn có thể đổi tiền tại sân bay và nên mang đủ tiền cho mua sắm tại boutique, phí di chuyển ra ngoài cuối tuần, tham quan và các chi phí khác như massage…
Trở về đầu trang
ĐIỀU KIỆN THAM GIA/YÊU CẦU
Điều kiện: Mặc dù kiến thức cơ bản của các tư thế và triết lý yoga là hữu ích, người mới bắt đầu được cũng được chào đón. Khóa học có cường độ cao và yêu cầu tính kỷ luật. Bạn phải chân thành khao khát học hỏi và tuân theo các điều lệ. Xin lưu ý rằng trong việc giữ gìn truyền thống Yoga xưa, việc thực hành tâm linh như thiền định, hát hiệm mantra, các nghi lễ, phục vụ bất vụ lợi và học hỏi triết lý là một phần lớn của chương trình này. Xin vui lòng không tham dự khóa học này nếu bạn chỉ muốn thực hành các tư thế, hơi thở và thư giãn.
Để duy trì bầu không khí tâm linh của đạo trường, không cho phép có thịt, cá, trứng, rượu, thuốc lá hoặc ma túy. Việc tham gia vào tất cả các lớp học và đúng giờ là bắt buộc.
Yêu cầu:
Bạn phải tham gia tất cả các buổi học và đến lớp đúng giờ.
Bạn phải mặc đồng phục được phát (quần trắng áo vàng) khi theo lớp giảng thuyết lý và khi thiền định.
Điều kỷ luật chính là: không rượu, ma túy, thuốc lá, ăn thịt, cá, không quan hệ nam nữ riêng tư, không nhạc ồn ào và không đem vũ khí, không nói xấu sau lưng và xúc phạm người khác.
Bạn phải đảm bảo sức khỏe của mình tốt để theo hết khóa học này.
[:]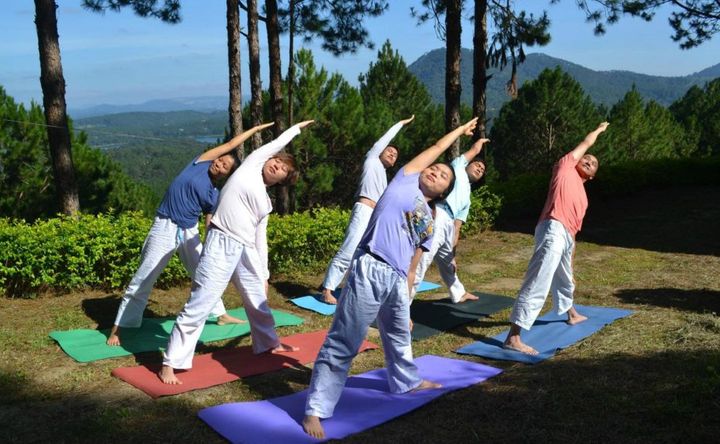 Venue Highlights
Open to guests year round, the Yoga Resort and Training Center welcomes people from around the world, and provides a peaceful setting in which to find a way back to a holistic lifestyle in harmony with nature. Our guests often testify to the effect of a sense of stress relief and the experience of improved physical, emotional, and spiritual health. You can join for a minimum of 3 days, for a week, or longer.
Designed by Yoga Master Swami Sivananda, the daily routine at the Yoga Resort is the core of a practice to restore good health on all levels:
6:00am Satsang – Meditation, Kirtan chanting, Lecture, or Silent Walk
8:00am Asanas and Pranayama
10:00am Vegetarian Brunch
11:00am Karma Yoga
2:00pm Yoga Vacation Workshop
4:00pm Asanas and Pranayama
6:00pm Vegetarian Dinner
7:30pm Satsang – Meditation, Kirtan chanting and Lecture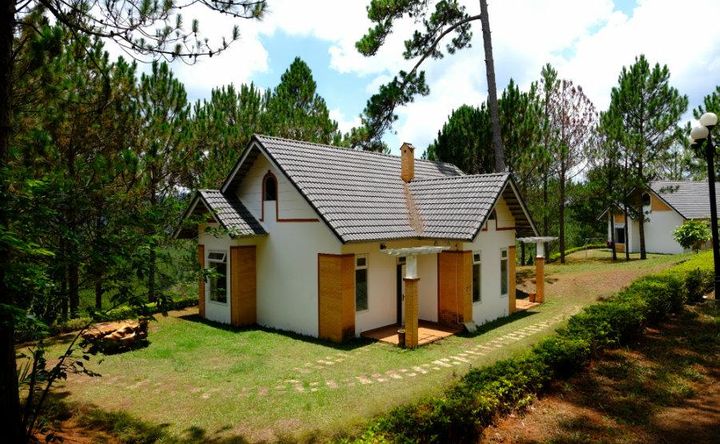 Accommodations
The Sivananda Yoga Resort and Training Center is located amidst the secluded pine forests surrounding Tuyen Lam Lake, close to the hill-station town of Dalat, Vietnam, famed for its moderate climate and scenic beauty. The fresh air and silence of the forest location have moved many to remark on the healing atmosphere.
The location offers opportunities for walking, with several vantage points from which the local countryside can be admired. Regular walks up on the mountainside in the early morning, in time to watch the sunrise, or in the evening enjoy the light of the full moon or for star-gazing, are popular events in our program. On warmer evenings we often enjoy meditation outdoors in the light and warmth of a campfire. Close to our main Yoga hall a classical walking labyrinth provides a place for contemplative walks.
Guests are housed in villa-style buildings, each with 3-5 separate rooms, that are spread over the property. Accommodation is simple, providing basic comforts. Bedding and towels are provided. Please note that housekeeping services are not provided during your stay.
Guest accommodation is provided in villa-style buildings, each with several rooms, that are situated in the forest area. All rooms have attached bathrooms. Single occupancy is available, we also have some double rooms, other rooms have 3-4 beds.
Facilities are simple, providing basic comfort. There is no air conditioner or heater provided. Please note that we do not provide housekeeping services for your room during your stay.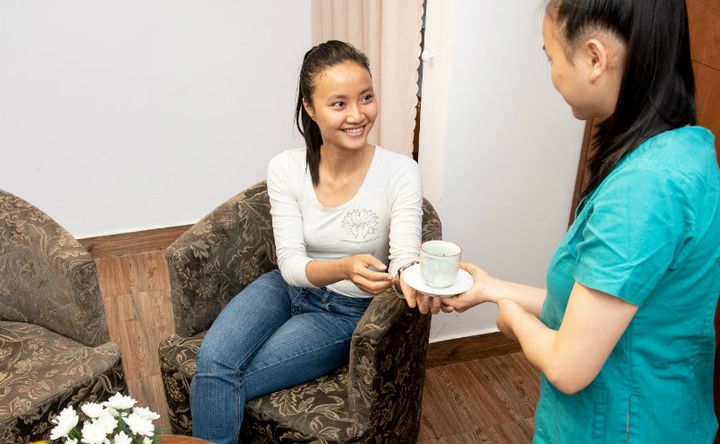 Amenities
Free Wifi
Towels
Yoga Studio
Menu Types
Vegan
Vegetarian
Ayurvedic
Organic
Gluten Free
Dairy Free
Nut Free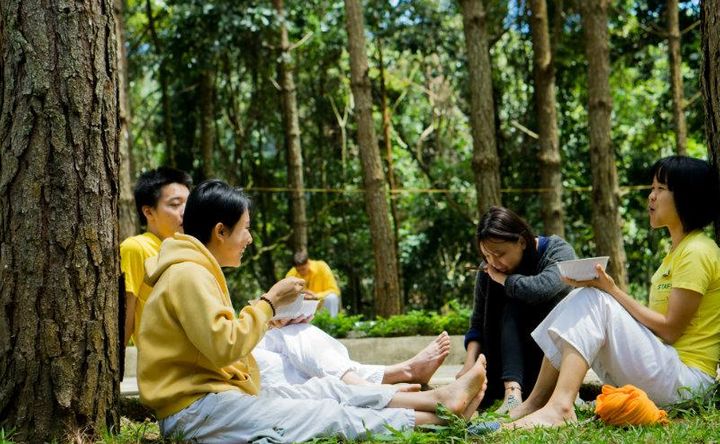 Menu/Cuisine
The Yoga Resort uses mostly organic, locally produced vegetables. Meals at the ashram are freshly prepared with love and care by dedicated karma yogis. Following Yoga tradition, meals are vegetarian, including a limited amount of dairy items. Eating a plant-based diet has been conclusively shown to be good for health and well-being, it is detoxifying and nutritive at the same time.
Meals are offered at 10:00 am and 6:00 pm, with a small fruit snack served in the afternoon. Additional snacks are available in the boutique if needed.
In the case that you have special dietary restrictions please mention on your application form and we will do our best to accommodate you.
Please note that meat, fish, alcohol, tobacco, coffee, black tea, and eggs are not served in the Yoga Resort. We ask guests not to bring these items onto the Yoga Resort property.
Directions
By air
Dalat Lien Khuong airport, 45 minutes drive
from the Yoga Resort, is served by daily flights
from major cities in Vietnam. International
travelers are advised to fly to Ho Chi Minh
City, from where there are many connecting
flights to Dalat. Pick up from Dalat Lien
Khuong airport by a local taxi company can
be arranged.
By road
Dalat is 300 km from Ho Chi Minh, 660km
from Da Nang, 135km (3 hour drive) from Nha Trang/Cam Ranh, the closest beach town.
---
Cancellation Policy
100% deposit refund for cancellation 30+ days before event.
50% deposit refund for cancellation 15-29 days before event.
0% deposit refund for cancellation 0-14 days before event.
The remaining balance (total price minus deposit) is due upon arrival.
Get full details...
Reviews To review this event, visit the page for the venue or retreat leaders (above).
Similar Retreats You Might Like

Thank you!
We're glad you've joined our retreat community. See you around :)
Return to my event
×