Yoga Teachers Training Course November 2019
About This Event
About TTC
The benefits of Sivananda yoga are fully experienced through immersion in the yogic lifestyle and a combination of repeated, guided group practice and inspirational theoretical lessons.
This is offered in a positive and uplifting environment. The many benefits that students report are greater self-awareness, a sense of connection, a newfound sense of self–discipline, enhanced self–esteem, improved power of concentration and increased strength and flexibility.
Curriculum
Yoga Asanas
• Effects of asanas on the physical and astral body
• Proper postural alignment and deep relaxation
Pranayama
• The basic practices: kapalabhati, anuloma viloma
Kriyas
• The six classical exercises for purifying the body
Hatha Yoga Theory
• The astral body, nadis and chakras
How to Teach
• Teaching the sun salutation and the 12 basic postures
• How to teach beginners and intermediate students
• How to adapt teaching to special groups
Anatomy and Physiology
• The effects of yoga practices on major body systems
Yoga Philosophy and Psychology
• The four paths of yoga: karma, bhakti, raja and jnana
• Psychology of the spiritual aspirant
• The law of karma
Yogic Diet and Nutrition
• Physical, ethical & spiritual reasons for vegetarianism
Meditation
• Twelve-step guideline to meditation
• Mantras, mantra initiation (if requested)
Kirtan (chanting classical Sanskrit chants)
• Positive effects of chanting on emotions
• Correct pronunciation and mental attitude
Bhagavad Gita
• Study and commentary of the classical scripture
Daily Schedule
5:30 a.m. Wake-up Bell
6:00 a.m. Satsang (meditation, chanting, lecture)
8:00 a.m. Asana & Pranayama Class
10:00 a.m. Vegetarian Brunch
11:00 a.m. Karma Yoga (helping in the ashram)
12:00 p.m. Chanting or Bhagavad Gita Class
2:00 p.m. Main Lecture
4:00 p.m. Asana & Pranayama (teaching techniques)
6:00 p.m. Vegetarian Dinner
7:30 p.m. Satsang (meditation, chanting, lecture)
This schedule is followed 6 days of the week, with one day off for resting, studying, etc.
Certification
Upon successful completion, students receive a certificate of the International Sivananda Yoga Vedanta Centers, and are entitled Yoga Siromani(teacher of yoga). This training is registered by and fulfills the requirements of the Yoga Alliance 200-hour certification.
Location
The course is offered at Sivananda Yoga Resort and Training center in the temperate climate of Da Lat. Da Lat is a very popular destination for its cool and stable weather, which hovers between a pleasant 15°C (average daily minimum) to 24°C (average daily maximum) and attractive landscape of colonial villas, gardens, lakes and rolling hills. Located around 1,400 meters above the sea level, it is indeed an ideal place for Yoga retreat, summer escape and on-top-of-the-list rest and relaxation site in the Central Highlands of Vietnam. Da Lat market has always been a must-see site for visitors with its locally-made specialties such as artichoke tea, candied fruits, coffee and the finest cool climate vegetables and flowers in Vietnam.
Questions and Answers
The address and an access to the K'LAN resort from Dalat airport. K Lan resort, Hoa Hong Street, ward 4, Tuyen Lam Lake, Dalat. Or we can provide pick up airport service。400.000vnd/one way. Please book with us by email ahead of time.
Do they provide towels to the guests? Yes
How is the internet situation there? wifi service normally available
Do they offer laundry service? 25.000 vnd/set (1 pant, 1 T-shirt)
Accommodations and Cost
All rooms with bathroom.
Single $3852
Shared (2 people) $3400
Shared (4 people) $2400
To ease the registration process, students should make their payments in full 10 days before arriving at the ashram and fill out the necessary paperwork beforehand.
Arrival and Departure
Arrival - 11am November 2, 2019 or November 1 without extra fee
Departure - 21:30 December 1, 2019 or 12pm December 2 without extra fee
By Air - If you are flying from a far away country to Vietnam, we recommend to book a flight to Dalat with Vietnam Airlines. Take any major airline to fly to Tan Son Nhat (SGN) airport located in Ho Chi Minh City or Noi Bai (HAN) airport in Ha Noi. Then take a local flight on Vietnam Airlines to Lien Khuong Airport in Da Lat. We recommend to take the am flight.
By Bus - If you want to travel by bus it is 8 hours to Dalat from HCM. The address is - Thanh Buoi Bus station: 202-204 Le Hong Phong, District 5 , Hochiminh. When you arrive in Dalat there is a shuttle from the bus station to downtown Dalat. They offer you shuttle bus to the Ashram with 2 USD/trip.
What to Bring
• Two sets of uniforms are provided, but you will need to bring modest, comfortable clothes for asana practice plus casual clothes.
• The weather is temperate, so bring a sweater, raincoat, umbrella and good walking shoes for hiking.
• Bring your own yoga mat, meditation shawls, toiletries, books, notebooks, pens, flashlights, alarm clocks, Personal Item ( toothpaste, brush,...).
• Banking: It is preferable that you change money at the airport and bring enough for your purchases in the boutique, transportation fees for weekend outings, field trips and extras like massage, etc.
Admission / Guidelines
Admission - Though a basic knowledge of yoga postures and philosophy is helpful, beginners are welcome. The course is intense and demands discipline. You must be sincere in your desire to learn and follow the rules. Please note that in keeping with the ancient Yoga tradition, spiritual practices such as meditation, mantra chanting, ceremonies, selfless service and study of philosophy constitute a large part of this program. Please do not attend this course if you just want to practice postures, breathing and relaxation. To preserve the spiritual atmosphere of the ashram, no meat, fish, eggs, alcohol, tobacco or narcotics are allowed. Participation in all classes and punctuality are mandatory.
Guidelines
• Participation in all classes and punctuality are mandatory.
• Wearing of uniforms is expected for all satsangs and lectures.
• The basic guidelines are: No drugs, alcohol, smoking, non-vegetarian food items, nudity and promiscuity, weapons, loud music, backbiting and profanity.
• You need to have health insurance or sign a medical health release.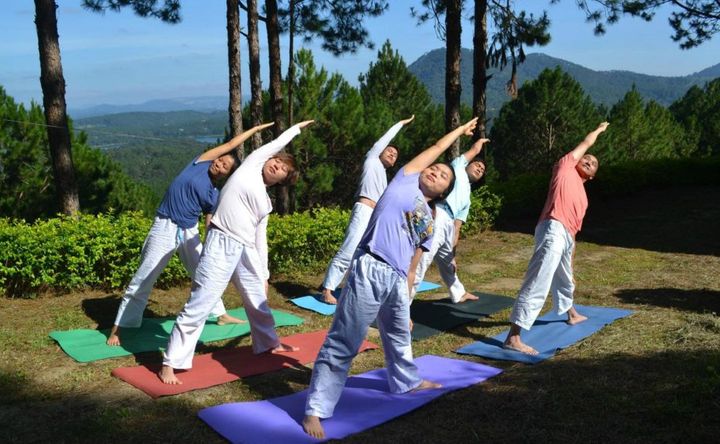 Venue Highlights
Open to guests year round, the Yoga Resort and Training Center welcomes people from around the world, and provides a peaceful setting in which to find a way back to a holistic lifestyle in harmony with nature. Our guests often testify to the effect of a sense of stress relief and the experience of improved physical, emotional, and spiritual health. You can join for a minimum of 3 days, for a week, or longer.
Designed by Yoga Master Swami Sivananda, the daily routine at the Yoga Resort is the core of a practice to restore good health on all levels:
6:00am Satsang – Meditation, Kirtan chanting, Lecture, or Silent Walk
8:00am Asanas and Pranayama
10:00am Vegetarian Brunch
11:00am Karma Yoga
2:00pm Yoga Vacation Workshop
4:00pm Asanas and Pranayama
6:00pm Vegetarian Dinner
7:30pm Satsang – Meditation, Kirtan chanting and Lecture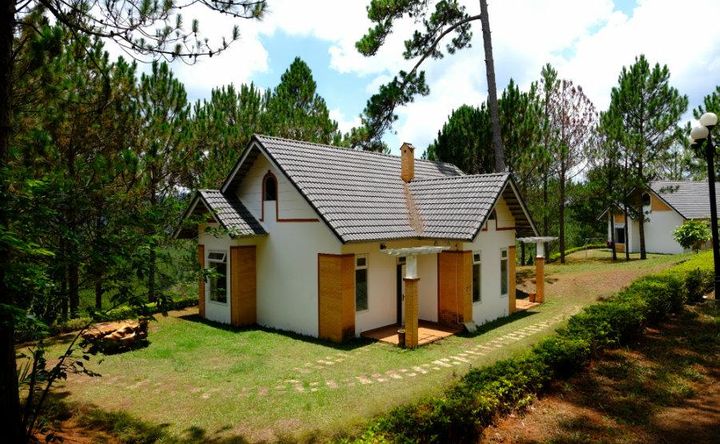 Accommodations
The Sivananda Yoga Resort and Training Center is located amidst the secluded pine forests surrounding Tuyen Lam Lake, close to the hill-station town of Dalat, Vietnam, famed for its moderate climate and scenic beauty. The fresh air and silence of the forest location have moved many to remark on the healing atmosphere.
The location offers opportunities for walking, with several vantage points from which the local countryside can be admired. Regular walks up on the mountainside in the early morning, in time to watch the sunrise, or in the evening enjoy the light of the full moon or for star-gazing, are popular events in our program. On warmer evenings we often enjoy meditation outdoors in the light and warmth of a campfire. Close to our main Yoga hall a classical walking labyrinth provides a place for contemplative walks.
Guests are housed in villa-style buildings, each with 3-5 separate rooms, that are spread over the property. Accommodation is simple, providing basic comforts. Bedding and towels are provided. Please note that housekeeping services are not provided during your stay.
Guest accommodation is provided in villa-style buildings, each with several rooms, that are situated in the forest area. All rooms have attached bathrooms. Single occupancy is available, we also have some double rooms, other rooms have 3-4 beds.
Facilities are simple, providing basic comfort. There is no air conditioner or heater provided. Please note that we do not provide housekeeping services for your room during your stay.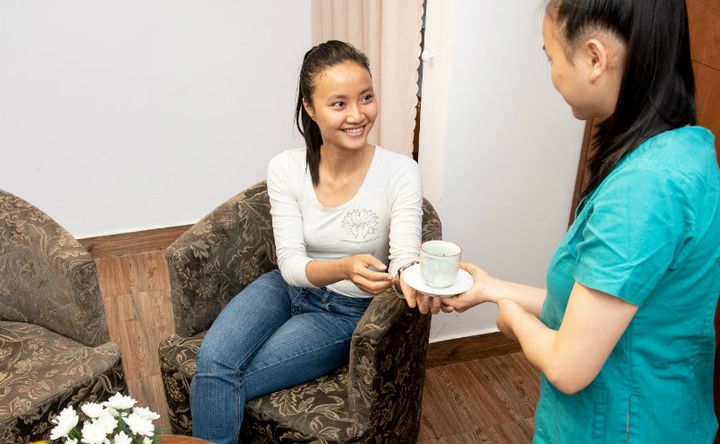 Amenities
Free Wifi
Towels
Yoga Studio
Menu Types
Vegan
Vegetarian
Ayurvedic
Organic
Gluten Free
Dairy Free
Nut Free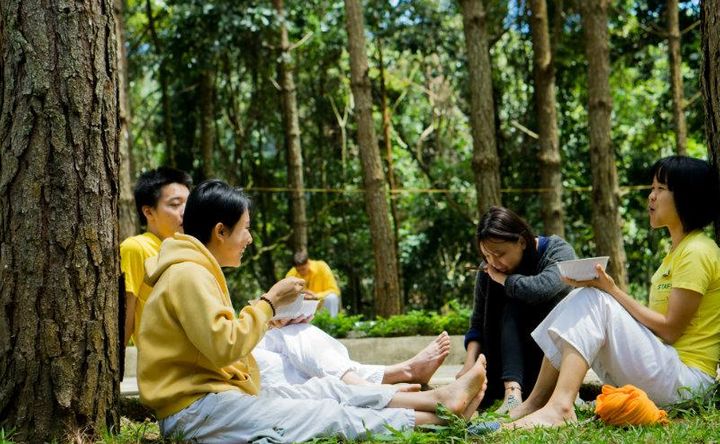 Menu/Cuisine
The Yoga Resort uses mostly organic, locally produced vegetables. Meals at the ashram are freshly prepared with love and care by dedicated karma yogis. Following Yoga tradition, meals are vegetarian, including a limited amount of dairy items. Eating a plant-based diet has been conclusively shown to be good for health and well-being, it is detoxifying and nutritive at the same time.
Meals are offered at 10:00 am and 6:00 pm, with a small fruit snack served in the afternoon. Additional snacks are available in the boutique if needed.
In the case that you have special dietary restrictions please mention on your application form and we will do our best to accommodate you.
Please note that meat, fish, alcohol, tobacco, coffee, black tea, and eggs are not served in the Yoga Resort. We ask guests not to bring these items onto the Yoga Resort property.
Directions
By air
Dalat Lien Khuong airport, 45 minutes drive
from the Yoga Resort, is served by daily flights
from major cities in Vietnam. International
travelers are advised to fly to Ho Chi Minh
City, from where there are many connecting
flights to Dalat. Pick up from Dalat Lien
Khuong airport by a local taxi company can
be arranged.
By road
Dalat is 300 km from Ho Chi Minh, 660km
from Da Nang, 135km (3 hour drive) from Nha Trang/Cam Ranh, the closest beach town.
---
Cancellation Policy
100% deposit refund for cancellation 30+ days before event.
50% deposit refund for cancellation 15-29 days before event.
0% deposit refund for cancellation 0-14 days before event.
The remaining balance (total price minus deposit) is due upon arrival.
Get full details...
Reviews To review this event, visit the page for the venue or retreat leaders (above).
Similar Retreats You Might Like

Thank you!
We're glad you've joined our retreat community. See you around :)
Return to my event
×