Yoga & Fitness Plus+ (flexible dates, any length stay!)
Tuscan Fitness
Ongoing
Queen Size bed with En-Suite Bathroom - €240.00 Shared room-twin beds - €190.00 Triple Room with En Suite Bathroom - €570.00 Twin Beds with En-Suite Bathroom - €240.00
About us
A custom length retreat, hosted in the heart of the Tuscan countryside and ideal for a getaway that combines relaxation with rejuvenating exercise and delicious, healthy food. Being a flexible enrollment, you pick when to start and how long to stay.  We have guests that join us for a single night and others that stay for 4 weeks and even more.  We can plan breaks in your program and book excursions to make your stay a one of a kind, made for you, a retreat of exercise, healthy eating and self-awareness.
Highlights:
○ Daily yoga sessions

○ Strength training, HIIT & hiking adventures in beautiful surroundings

○ Experienced personal trainer and yoga instructor

○ Complementary olive oil & wine tasting

○ a meditation / spring evening ceremony

○ 3 delicious daily meals (with vegetarian & vegan options)

○ Transfer from the Montevarchi train station to and from the hotel

○ 6 nights accommodation

○ Day trip to a local town
---
"Rejuvenating exercise and relaxation in the Tuscan countryside"
~Jeanine Garning, 2017
---
Activity Area: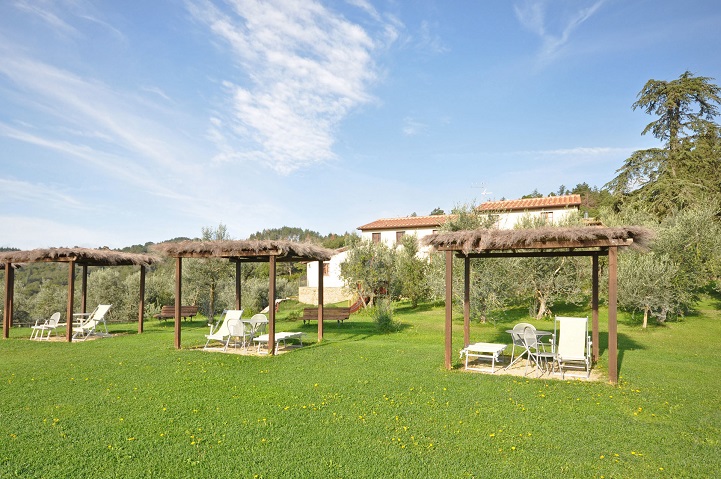 This package is designed for those people who love to be active and want to exercise more and become fitter. It is set up so that you can participate in 2 to 3 sessions per day, choosing from Yoga, Fitness (HIIT or Barre) and hiking, and all activities are optional. We combine this exercise with a number of cultural activities such as a Wine tasting which takes place 2 times per week, an extra virgin olive oil tasting once a week and a trip to a local town once a week. Please ask for details on which days these will happen prior to arrival.
---

---
"I was looking for a health holiday to both help me feel more fit but also refreshed and this vacation was exactly what I needed "
~ Jim Barrett, Melbourne
---
Skill Level:
✔ Beginner
✔ Intermediate
✘  Advanced
Daily Schedule:
○ 08:00 Morning yoga session
○ 09:00 Breakfast buffet at the hotel restaurant
○ 10:00 Free time for personal excursions (exploring the area, swimming, reading, etc.)
○ 11:00 Barre Intensity class or Circuit Training session
○ 13:00 Lunch at the hotel restaurant
○ 14:00-16:00 Free time (massage treatments, lounging, nutritional assessments)
○ 16:00 Second yoga class or option for Hiking
○ 17:30 Optional wine tasting or trip to local town
○ 19:00 Dinner at the hotel restaurant
○ 20:30 Optional evening activity (Guided meditation, movie night, sound therapy)
Menu: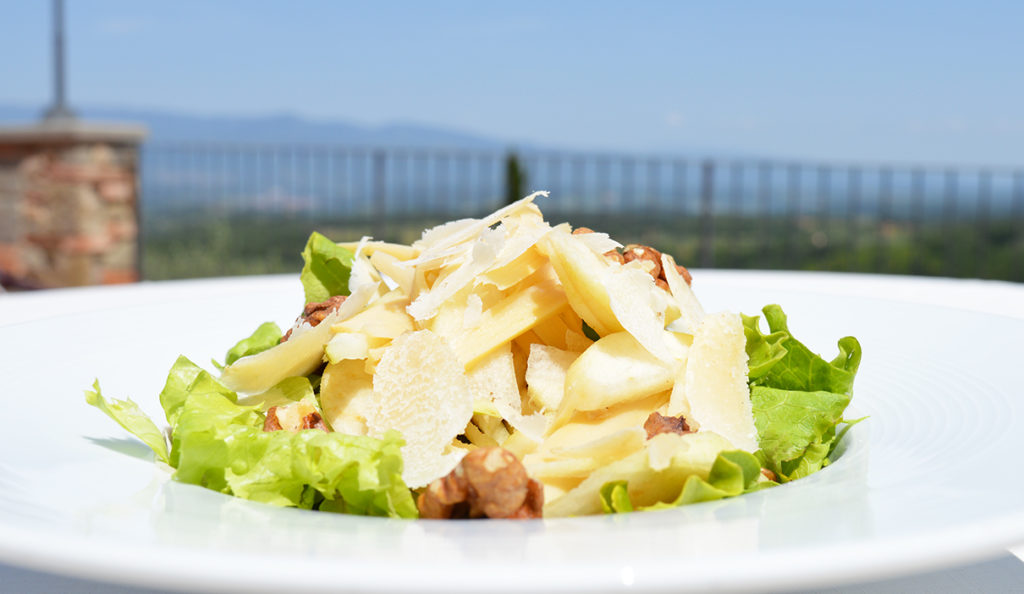 The breakfast buffet features a wide variety of fresh fruit, seeds, nuts, dried fruit,

yoghurts, cereals and mueslis (gluten free also) as well as healthy, homemade

peanut butter and almond butter. There are also eggs, freshly baked bread as well

as almond, soy, oat, rice and coconut milk options.
At lunch and dinner, the options usually include a light vegetarian starter for everyone such as

a seasonal salad, soup or vegetable tart. This is followed by an option of a vegetarian

or non-vegetarian main course, or for those guests feeling the need for a classic Italian style

lunch, there is also a fresh pasta option.
Tasty but healthy afternoon snacks prove to be popular, as a good source of

energy for the day's activities and because dark chocolate is resoundingly delicious.
Our cuisine caters to:
✔ Meat Eaters    ✔ Dairy-free
✔ Vegetarians     ✔ Vegans
✔ Nut Free          ✔ Gluten Free
*If you have any special dietary requirements please email us directly to let us know so we can prepare for your arrival!
---
"The team at Tuscan Fitness made me feel so welcome and at home throughout my stay. The balance of activities and relaxation was just what I was looking for as a getaway vacation"
~Gitte Johanssen, Copenhagen
---
Accommodation: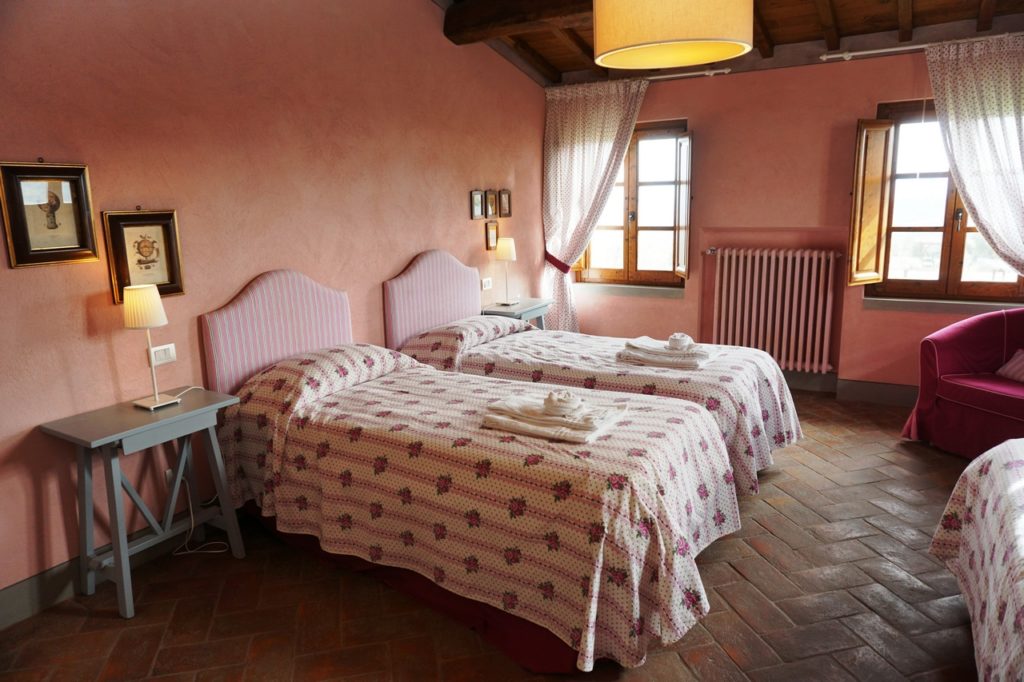 The hotel offers a blend of rustic charm and modern comfort for our guests. The hotel features various rooms, with one, two or three bedrooms, each with a bathroom.

Each of the hotel rooms are equipped with TV and lovely views and they are all situated within walking distance of the pool and the hotel restaurant.

The hotel has a reading room, a traditional Tuscan restaurant, a number of lovely terraces with amazing views as well as many places to simply read a book and enjoy the tranquility.

Within walking distance of the rooms, you will be able to enjoy the large swimming pool complete with quiet spots to read, nap or simply soak up the peaceful atmosphere and magnificent views across the rolling green hills of nearby Chianti.
 
Spaces Available:
How many people can attend this retreat?

We cap the group sizes at 20 people max at any one time. Usually throughout the season, group

sizes average about 10 to 15 though this is largely dependent on the time of year.
Directions:
The closest, most convenient airports for getting to the resort are Florence, Pisa, Bologna or Rome.
By Train from the airport:
If you opt for the train you can get a direct train from Florence which will take about 35 minutes to Montevarchi-Terranuova and we will arrange a pick up for you.
–From Rome the train takes between 1 hour and 30 minutes to 3 hours, depending on the train you decide to take.
–From Pisa or Bologna the time varies but is generally between 1 and 2 hours.
If you would prefer there is always the option of a shuttle that can be organized for you on request.

In order to see the options for train travel please go to this website www.trenitalia.com.

We are at your disposal for any further information so please do not hesitate to ask even the most minor of questions.

Cancellation Policy:
What is your cancellation policy? 30 days prior you will receive a full refund

Does the reservation require a deposit? If so, how much? We require a 30% deposit at time of booking and final payment 30 days prior

Is it refundable? It is refundable if requested 30 days in advance

When is the rest of the payment due? 30 days prior
Thank you!
We're glad you've joined our retreat community. See you around :)
Return to my event
×