Sun & Soul: 7-Day Bluestone Ayahuasca Retreat in Riviera Maya, Mexico - August 2018
About us
"We are a family, a tribe of the soul, and we hail from all over the Americas. We believe that change in the world begins with change in us and that Ayahuasca is one of the most powerful tools for evoking that change. The Ayahuasca given in our retreats is prepared by the Shipibo in the Peruvian Amazon, the culture that has been working with Ayahuasca for over three millennia; it is then hand-carried to Mexico. Those of us who give the medicine, the ayahuasqueros, have the compassion and wisdom that come from years of working with Ayahuasca. They trained with the Shipibo and continue to do so. They are savvy, committed and prepared. The rest of us all take Ayahuasca for personal work and know what it means to go through a process. We are there for you as you need us. We are good companions for this journey, so whether you come as a novice or an experienced taker of medicina, you're in good hands." ~ Sharon Van Bramer, Retreat Coordinator




























Highlights:
Three Ayahuasca ceremonies

Live music at all ceremonies (2-4 musicians, 4-7 instruments)

Yoga or other body movement sessions

Sessions of integration with the ayahuasqueros and facilitators

Unlimited use of the on-site pool, private beach and all villa facilities

Nutritional homemade meals based on organic ingredients (special needs met}

Refreshing fruit and vegetable juices

Unlimited purified bottled water

Accommodation in a luxurious privately-owned villa in Akumal (double occupancy)*

Airport pick up and drop off
*Early booking discounts available now.
*Private rooms may be available, ask for details.
*Retreats limited to 15 persons; if you have a group, contact us for options.
*A list of healers and massage therapists will be made available to you in advance. Should you wish a session, we book for you and you pay the healer/therapist directly.
---
"Vines and trees will teach you that which you will never learn from masters."
Bernard of Clairvaux, from Honey and Salt: Selected Spiritual Writings
---


Is this Retreat for You?
If you have a sincere desire to change and the courage to look within, this retreat is for you. No prior experience is required. Ayahuasca drops the barriers between your conscious self and your subconscious giving you a unique glimpse at what you really feel and why, allowing you to broaden your perception and heal the distortions holding you back. All of us take the medicine; we embark on this journey and return from it, together.
The Retreat Site. Villa Bellamar, set on the shore of Tortuga Bay, is one of the most stunning, privately-owned properties in Akumal. It provides maximum comfort in a setting of unsurpassed natural beauty.
How We Operate:
Day one of the retreat is dedicated to arriving and getting settled. There's time to explore the villa, the beach, meet your fellow participants and get acquainted with us. We share a welcome dinner, discuss the week ahead and answer your questions. We'll be observing the group dynamic as it evolves and the energies that are moving, and make small changes in the order of activities as required. The ceremonies are usually conducted at night, although given the gorgeous setting, we may offer a daytime ceremony if all participants are agreed.
Skill Level:
✔ Beginner
✔ Intermediate
✔ Advanced
Daily Schedule:
(for Ceremony Days: Subject to change)
Additional activities integrated into the non-ceremony days.
7am: Tea and juices available
9am: Yoga or body movement session
10am: Breakfast
1pm: Lunch
Free time; sunning and resting before ceremony
7pm-4am, approximately: Ayahuasca ceremony
Menu
The optimum diet for working with Ayahuasca is vegan which we modify slightly for the welcome and closing dinners. Our chef at the villa works wonders with regional fruit, vegetables, and herbs. You'll enjoy vegan tacos, gazpachos, vegetable soups, pastas, seaweed wraps and more. Some light fasting on ceremony days is required.
If you have special dietary needs, write us and we'll gladly work with you.
Accommodation: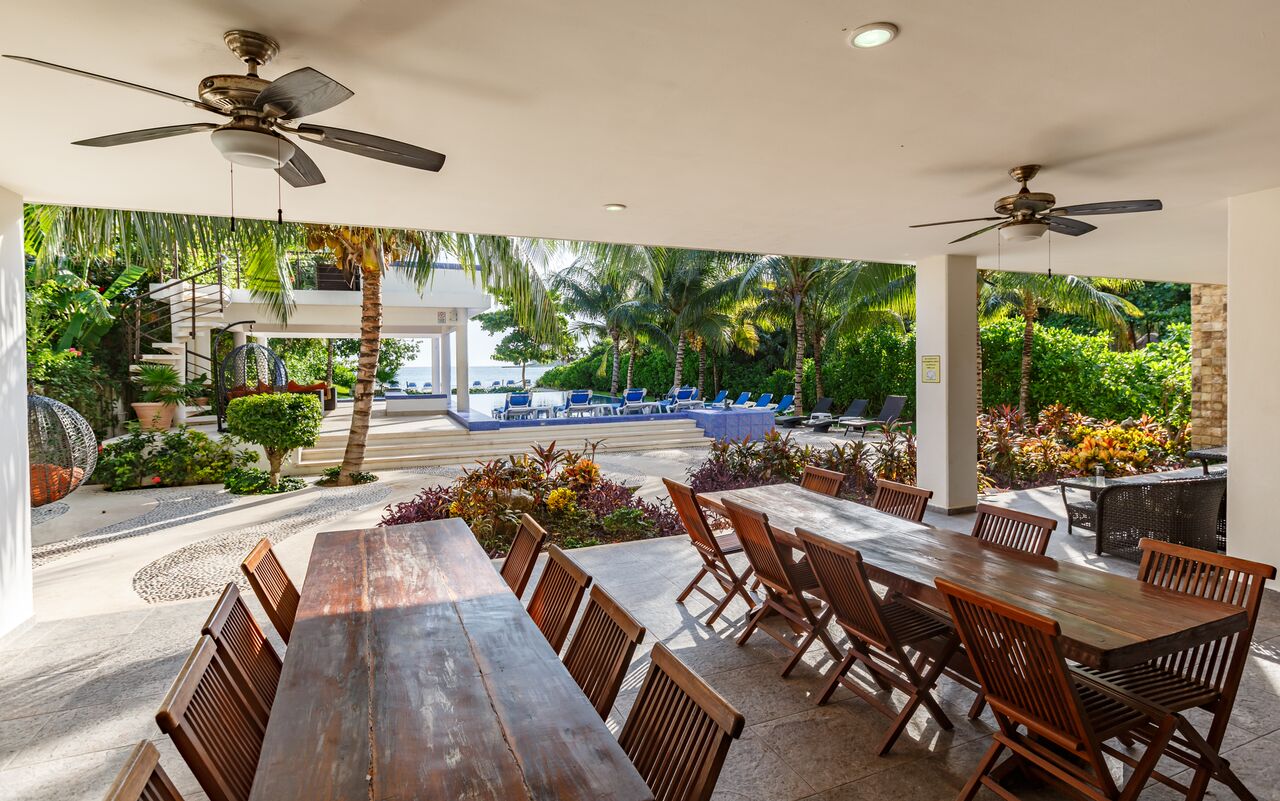 Every bedroom offers a choice of either a king-size bed or two double beds and comes equipped with air-conditioning, personal safes and a full bathroom with tub and shower. All rooms on the upper floors give out to wide terraces facing the Caribbean. A roof with sun beds affords a 360-degree view of the village, Tortuga Bay, the Yalku Lagoon and the jungle beyond.
Directions:
Fly into the Cancun International Airport. The ride from the airport to the villa is a little over an hour and we meet your plane. Google Maps: Villa Bellamar, Akumal, Quintana Roo, Mexico.
Testimonials:
"Attending a Bluestone retreat was the most powerful gift I have ever given myself and the miracle I needed to heal my soul. I was welcomed into a family that embraced me and held me through my process with such freedom and no judgment. I left with clarity, and the tools to make the changes I was seeking in order to be the better version of myself that I had lost through depression and anxiety. Ayahuasca is a gift that I feel blessed to have found; I feel strongly that this is a path everyone should experience.....it has been my miracle and I can't wait to return to my extended family which I plan to do this coming January." ~ Rabia Buratovic-Nottage
"I went to a Bluestone retreat in search of a deeper connection with myself, and that week with the medicine gave me the chance to recognize things I'd never been able to see before. The team supported me in the moments I most needed it. I was able to reach the deepest part of myself yet never feel alone. My experience with medicine and with this group is something I feel good about recommending." ~ Catalina San Juan
"I met Sharon years ago in Mexico and then we went our different ways. We reconnected about 12 years ago and she was already working with medicine. Seeing the changes in her got me interested and I've since attended several retreats she's organized. The work I've done with Ayahuasca has changed my perspective completely and lead me in directions I never imagined and I couldn't be happier. I am grateful to Madre Ayahuasca and to the whole team at Bluestone and Xochipilli. They are a group of people who understand this work. Thank you." ~ Alicia
"Sharon has been on the medicine path for a long time, gathering experience with Ayahuasca but also with Huachuma, Yopo and Wilka. I have shared many ceremonies and retreats with her, one to Peru which was amazing. She is a sensitive, detail-conscious organizer who deeply cares about the work. I trust her and I'm glad I found her. I continue to work with medicine and with her whenever I have the chance." ~Edith Granada, mother of four
"I came to Ayahuasca searching for a solution to a serious problem. I'd been working with the medicine on an irregular, sporatic basis before attending a retreat with Bluestone at Xochipilli. They suggested a week of concentrated work might give me the boost I needed for I felt stuck. They were right. I came out of that week with a way to move forward. I am grateful; and I'm excited about what comes next—something I haven't felt in a long time." ~ Oliver
"A while back I attended an Ayahuasca retreat in Cancun guided by a great guy who inspired total trust, aided by a team of facilitators who know what they're doing. I entered not having a clue as to what to expect from the medicine or from the retreat but as the days went by and I took the medicine and worked with the group, I realized something irrevocable had changed or was changing in me; I could see it in my emotions, thoughts and behavior but it went beyond even that. The medicine, the temazcals (I was new to that too), the healthy food and the sharing, on all levels, with people going through changes themselves was gratifying and gave me the push I needed to do the work I'd come to do. I am grateful to Arturo [the ayahuasqero and guide] and all the people at the center. Thank you!" ~ David Salik
Thank you!
We're glad you've joined our retreat community. See you around :)
Return to my event
×