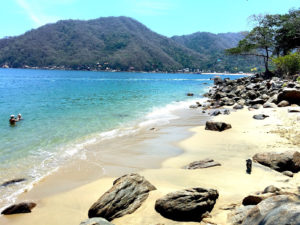 Yelapa is a small fishing village located by a bay within Puerto Vallarta Bay and accessible only by boat. Nestled between a tropical jungle and a sandy beach, with no cars and roads, it is a perfect place for a healing retreat.
Yelapa is a very unique, safe and peaceful place with no crime, so do not get discouraged by stories and news about Mexico.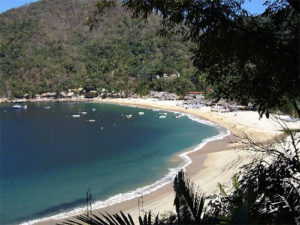 www.puravidaecoretreat.com
This Retreat includes:
Accommodations
Diet Option 1: Organic Rejuvenating Gourmet Diet: your choice of 100% raw, living foods or a mix of raw and cooked foods. Vegan, gluten free, dairy free, sugar free.
Diet Option 2: Juice Cleanse – 100% organic liquid diet including juices, soups, super food smoothies; we use locally grown produce whenever possible
Diet Option 3: Combination of Juice and Food Cleanse – 1 meal daily and the liquid diet for the rest of the day or  half juice / half food (for example 3 days juice / 3 days food)
Fresh mountain spring water,
Two group guided and silent meditations daily.
Spiritual inquiry.
Group breath work.
Morning Sessions alternate between yoga (Vinyasa & Yin) / Chi-Gong / Kundalini / walking meditation / conscious dance movement.
(6) Individual sessions included (in Holistic Healing program): (3) Holistic Breathwork™/Spiritual Life Coaching sessions, (3) bodywork/energy work sessions (massage/Reiki/deep tissue, / acupuncture/Ozone Therapy.
(12) Individual sessions included (in Personal Transformation Retreat): (6) Holistic Breathwork™/Spiritual Life Coaching sessions, (6) bodywork/energy work sessions (massage/Reiki/Deep Tissue, / acupuncture/cupping/Ozone Therapy/ Chinese medicine health evaluation
Additional Breathwork / counseling sessions and bodywork / energy work/ sessions are available at additional cost.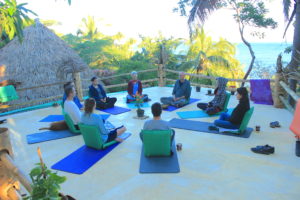 Boat trip to the Marietas Islands: snorkeling in crystal clear waters, wildlife watching and the best opportunity to see dolphins and whales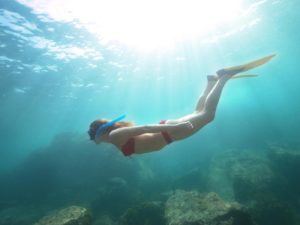 Trip to Botanical Gardens: enjoying amazing variety of orchids and other tropical plants

Hikes to waterfalls, snorkeling, kayaking, swimming in the warm ocean – right in front of your room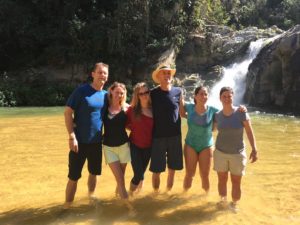 Thalassotherapy – immersing yourself in the warm ocean water helps to absorb trace elements of magnesium, potassium, calcium, sodium, and iodide found in seawater. It's energizing and rejuvenating

Meditate to the sound of gentle waves. Snorkel daily – just a few minutes away from your cottage.
Holistic Healing Retreats
7-28 day personal retreats – you can choose one or a combination of programs below:
Juice Fast, Cleanse and Detox Retreat—Includes daily , 3 green vegetable juices, option of protein shake/citrus juice, cleansing spice and herbal teas, daily liquid multivitamins & minerals, optional hot or raw soup and chia seeds pudding, option of fresh fruits, juice cleanse preparation class. Breathwork (70% toxins gets released through breath), Body/energy work sessions, colon hydrotherapy (optional).
Healing Health and Wellness Retreat– Rejuvenate and revitalize. Alternative, integrated healing and support to improve the state of your health through raw foods, juice cleanse, nutritional consultation, food preparation classes. Emotional support to reverse effects of negative, subconscious patterns in creating the state of dis-ease. Alternative prevention and healing of cancer, diabetes, hormonal imbalance and others.
Healing Grief and Loss Retreat —emotional counseling to grieve and to heal core sense of separation
Couples and Relationship Healing Retreat — Learn and practice


compassionate communication skills, transform negative reaction patterns,


heal passive/aggressive behaviors, process and heal emotional issues,


learn basic Tantric and Taoist practices.

Meditation Retreat – individual and group meditation sessions for all levels – beginners to advanced; silent and guided meditations,


Self-inquiry, scheduled silent times (half a day or longer), group and


personal sessions, conscious movement meditations and mindfulness


practices like Yoga, Chi-Gong, meditative walks.

Spiritual Growth/Awakening Retreat—sitting and walking meditation (silent and guided), self-inquiry, mindfulness practices, Vipassana, satsang, integrative awakening, Breathwork/Spiritual Life Coaching sessions.
Personal Transformation Retreats
7- 28 day programs offer alternative healing of Depression, Stress, Anxiety, Trauma, PTSD, in a safe and supportive retreat environment.
Healing and transforming negative patterns and self-defeating behaviors resulting from birth/childhood trauma, abuse, accidents, surgeries and other traumatic life events. We offer emotional healing addressing the roots of unconscious patterns. Body oriented (somatic) practices, interoception and spiritual inquiry support the transformation of the emotional and mental imprints.
The program integrates Mindfulness Based Cognitive Therapy with many mindfulness practices. In addition to everything that Holistic Healing Program offers, you will also receive more personal attention and care with daily (every day except the day of the departure) sessions of Breathwork/Spiritual Life Coaching and bodywork sessions
Breathwork/Spiritual Life Coaching/Compassionate Communication sessions every day and 6 weekly body/energy work sessions. You will learn breathing and relaxation techniques to expel built up toxins and negativity; meditation, mindfulness and inquiry practices to rediscover your true self, and release the illusion of separation to live in joy and peace in the present moment. You will also get support to learn and create intentions and plans to continue your individual practices after the retreat on your own at home.
.Healing Health Crisis Retreat 7-day program, which was created to support people in healing various ailments, including alternative cancer therapy, Chinese Medicine , acupuncture, cupping, massage  Ozone Therapy, Thalassotherapy, Raw Foods (optional) included. Optional Juice Cleanse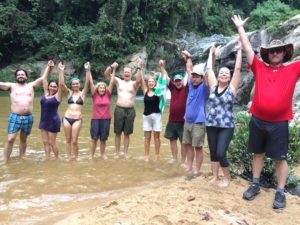 In case of emergency cancellation, your payments could be applied to any Sacred Springs retreat until December 31st, 2018
Facilitated by Anjay Skwira,  Jacob Woods, Dr.Cara Clark