Intuitive Balinese Massage Course June/July 2018
Krishna Village Eco Yoga Community

Jun 29 - Jul 1, 2018 (3 days)

Single room - AUD $610.00 Twin Share room (bunk bed) - AUD $570.00 Double room (1 shared bed, couples only) - AUD $570.00 Camping (own van) - AUD $490.00 Camping (own tent) - AUD $490.00 Course only (no accommodation) - AUD…
About us
Are you dreaming of becoming a certified massage practitioner?
Work in the wellness industry and make an income by connecting to your clients in a deep and meaningful way
Intuitive Balinese Massage combines a variety of classic whole body massage techniques with the practitioner's ability to tap into their intuition and create a meditative state of relaxation and healing for their client. Whether you are giving or receiving this treatment, you are entering a space of unconditional love and care, and will leave with a lasting sense of connectedness and peace. We will teach you all the required deep tissue massage techniques as well as help you access your innate ability to intuitively give your client what they need on an energetic level. To find out more, have a look at the
course schedule
.
Please note: This course is not suitable during pregnancy.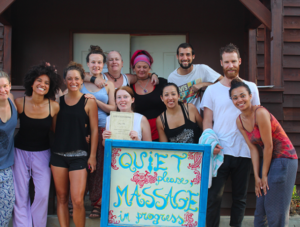 To see if this experience is for you, read our FAQ for retreat guests and have a look at our Code of Conduct. If you are dealing with any physical or mental health issues, please also check our Are you ready page to make sure this is a suitable course for you.
What's included
22 hours hands-on massage instruction and experience
International Institute for Complementary Therapists (IICT) accreditation
Classic whole body massage techniques
3 delicious vegetarian meals per day
2 nights accommodation
Course materials: techniques used and client confidentiality forms
2 Yoga classes
Immediate approval for public liability and indemnity insurance through IICT
Therapist and client self-care information, and massage oil guide
Optional additions
Private single/double room (available at additional cost)
Specific dietary requirements (self catering from our organic gardens)
Meet your facilitators
Caren and Dee have been facilitating Intuitive Balinese massage courses together since 2011. Developed by Dee, this combination of classic Balinese massage and Reiki has become a highly sought after treatment option with practitioners from all over the world training and becoming accredited.
Caren holds a Bachelor of Applied Social Science degree and has worked in the counseling industry for 6 years. She is a qualified massage therapist and member of IICT. Apart from the hands on massage teaching, she helps to prepare the new practitioners for the professional aspect of entering the health and wellbeing industry. She covers topics from accreditation and insurance to spiritual and emotional self-care.
Dee has worked in the natural health industry both as a business owner and massage therapist for approximately 15 years. She holds a diploma in remedial massage and a variety of qualifications in different whole body massage techniques, including the modalities of Balinese massage, yoga floor massage and Kahuna massage. She is also a Reiki master and Spirit Surgery facilitator. Her IICT accreditation qualifies her to provide training and issue internationally recognized certificates in Intuitive Balinese massage and Reiki.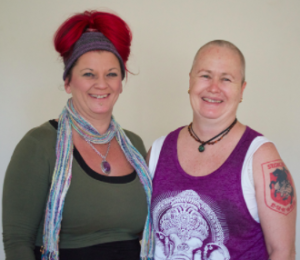 Accommodation
The Krishna Village offers single, double and twin share rooms as well as camping spots for up to about 75 people. All rooms have shared amenities. The amenities block includes showers, toilets and a coin operated laundry (byo laundry powder). All rates include 3 meals/day and all yoga and other classes.
Common areas include the kitchen & campfire area (the heart of the Krishna Village), the reading room (with Internet hotspot) and the yoga hall where we gather for classes.

Single, twin share & double rooms
The Krishna Village has 2 double rooms (one big bed), 4 twin shares (bunk bed) and 11 single rooms. They are all set in former shipping containers that have been renovated and turned into simple but comfortable accommodation. Bedding is being provided, but you need to bring your own towels and toiletries.

Camp ground

Set among beautiful mango and lychee trees in our eastern garden, our camp ground can host up to 20 tents and 5 camper vans. The area for the vans is equipped with electricity. The amenities block is only 50m away.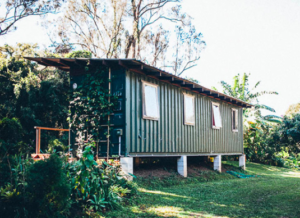 Delicious Vegetarian Food
The Krishna Farm has been producing organic veggies since the 1980s and has therefore fantastic conditions to grow excellent produce. We grow as much of our own food as we can, and otherwise buy locally wherever possible.
We provide 3 delicious vegetarian meals every day, with lunches taking place at the Krishna Village community kitchen, and breakfast and dinners – mostly Indian style – served at the prasadam hall, next to the temple.
All our food is prasadam – sacred food prepared in a consciousness of loving service. Like in other cultures, we offer our food before we eat to say Grace and thank the Divine for the sun, the rain, and all the visible and invisible blessings necessary to co-create a delicious meal. Feel free to sing along with us, or just listen and enjoy…
The Krishna Farm
Nestled in the foothills of Mount Warning, in the heart of the Northern Rivers of New South Wales, the Hare Krishna Farm "New Govardhana" is a 1000 acre certified organic property with orchards, veggie gardens, cows, horses, streams and swimming holes in abundance.
New Govardhana serves as an ashram to a community of yogis who aspire to live according to their deepest vows and commitments on their path of service, spiritual contentment and happiness (Bhakti Yoga). Their service and dedication make this location a beautiful place of growth, healing and spiritual awakening. If you are interested, please come along and visit our beautiful Radha Govardhandhari temple. our Radha Govardhandari temple
More things to do
Enjoy the yoga classes
Treat yourself to a massage, life coaching or reiki session
Visit the cows and help milking
Swim in the river
Meditate near the lotus lake
Cleanse your body with delicious Jeeva Juice
Pick fruits and vegetables in our gardens
Head to the beach (30-minute drive to Cabarita)
Hike up Mount Warning (15-minute drive)
Visit Springbrook National Park (30-minute drive)
Reviews
Write a review - tell others about your experience.
Thank you!
We're glad you've joined our retreat community. See you around :)
Return to my event
×