3-Day Ayahuasca Healing Retreats
Event Highlights
Ayahuasca retreat
Healing Retreat
Schedule
Day 1
10:00 Meeting at Etnikas water place from there shuttle bus to the retreat center
10:30 Departure to the retreat center
11:30 Meeting with the staff and orientation of the center
12:30 Group meeting – introduction to the shaman and medical staff, discussion about amazonian vine and ceremonies intentions.
12:40 Coca leaves ceremony and prayer for the unification of energies
13:45 Individual consultation with psychology
13:45 Individual consultation with doctor
18:30 Cleansing and floral ceremony therapy of forgiveness
19:00 First amazonian vine ceremony
Day 2
08:00 Breakfast
09:00 Group meeting – a chance to share the teachings you learn from the amazonian vine ceremony.
10:30 Individual consultation with shaman and psychology
10:30 Individual consultation with doctor
11:30 Time for relaxation and introspection
15:30 Relaxation Yoga
18:30 Preparation for ceremony, quiet /personal meditation time in the main Hall.
19:00 Second amazonian vine ceremony
Day 3
08:00 Breakfast
09:00 Group meeting – a chance to share the teachings you learn from the amazonian vine ceremony.
11:00 Offering of gratitude to Pachamama or Mother Earth
11:40 Talking about social work and fill the service report. Explanation of dietary restriction post-retreat
12:30 Opportunity to buy cultural hand craft from the shipibo and Andean shamans – Photos with Shamans and farewell
12:30 Transport-return to Cusco Plaza San Francisco.
About This Event
Our 3 day amazonian vine retreats have been developed with both Andes Qero and Amazonian Shipibo Shaman. They come from families with traditions of shamanism, using centuries-old traditions and techniques. The retreat is run in a traditional manner extending from the way the plant medicine is prepared to the ancient knowledge and customs of the Shipibo and Qero cultures.The traditional base of the retreat is tempered with modern medical practices to ensure our guest safety and allow them to assimilate the experience in the best way possible. The retreat include two amazonian vine ceremonies.
Etnikas has a multi-disciplinary health team consisting of a Cardiologist, Psychiatrist, Psychologist, General Practitioner, Emergency nurse who complement the highly experienced native Andean and Amazonian shaman.
A Doctor is on site 24 hours a day during retreats with access to a full range of state of the art emergency medical equipment.
We have been operating for over 30 years (much longer than other retreat centers) and safety has always been our top priority.
We have a vast amount with over 7200 satisfied guests coming to our center.
Trip advisor have granted us the 'certificate of excellence' for the last 4 years consecutively (2013, 2014, 2015, 2016) with over 200 five star reviews.
Located in the Sacred Valley, two hours drive from Machupicchu
MANDATORY: Please you must send by email (scan) and bring to Cusco a letter/note from your doctor outlining your good health or general health status. This document is mandatory for you to be able to participate in the retreat. If you cannot bring the note, you will have to make a check up in Cusco with a doctor specialist on the day of the water. This check up will be for an extra cost of $55 US.
PRE RETREAT RESTRICTIONS
Dietary: Do not consume illicit drugs, alcohol, coffee or chocolate for two weeks prior to your Ayahuasca ceremony. Avoid canned food, red meat and pork, cold cuts, spicy food and excessive salt and sugar. Do not take any medical prescription (natural or otherwise), drugs, antibiotics, injections, pills, supplement, vitamins or others. No food or beverages that have artificial colors flavors or preservatives.
During your stay with Etnika's we remind you that it is not permitted to smoke, drink alcohol or to take any type of prescription or non-prescription drugs without consulting us.
Food: Eat well. Good organic food is recommended. If you're not vegetarian you can consume chicken or fish. To strengthen the brain we recommend eating ceviche (Peruvian food) and ask for tiger's milk/leche de tigre (both without spicy_ sin aji) this is a concentrate juice of the ceviche.
Other: It is recommended that you refrain from have sex or masturbating a day before the retreat as can reduce physical energy levels making it harder to cope with the effects of ayahuasca.
It is suggested that the women who are menstruating or pregnant abstain from participating. Period pain and discomfort may result in a negative experience while journeying with Ayahuasca. However, if you do not experience sever pain or discomfort then it is ok for you partake. We recommend waiting till the second or third day of a period to allow you to gauge the intensity of the pain.
Altitude sickness
Cusco is 3500m above sea level and people sometimes get sick from spending time at this altitude. There are several forms of medication that can be taking to alleviate the effects of altitude sickness but the interaction of some of this medication can have negative effects with Ayahuasca. For this reason, we recommend you look to relieve symptoms of altitude sickness by drinking coca leaf tea which is commonly available in guest houses and hotels. We suggest you that you drink coca leaf tea at the airport or on your flight to Cusco as this will help to mitigate the effects of altitude sickness, you can also buy shot of oxygen at the airport. If symptoms become sever please let us know.
Find yourself, nature and the rest of the human being. - Angel Herrera
What's Included
- 2 to 4 shamans Andean Qeros and Amazonian Shipibo.
- A doctor available on site 24 hours a day for the duration of the retreat.
- Small groups of up to 10 people allow us to maximize the safety, comfort, and personalized attention of the retreats for our guests.
- A nurse experienced in emergency medical care will be present during the amazonian vine ceremony.
- A physical check conducted by a nurse to ensure guests are calm and stable after returning from their journeys before going to bed.
- A nurse monitors guests throughout the night to ensure their comfort and wellbeing.
- A psychologist helps guests to interpret their experiences on an individual basis together with the shaman.
- Consultations are available before and after the amazonian vine ceremonies.
- The psychologist will make a follow up call to guest's one/two weeks POST retreat.
- Physical and psychological health questionnaireto evaluate risk factors. A doctor, psychologist and a nurse are in charge of verifying the medical records and detecting any medical contraindications a person may have with amazonian vine before the booking stage.
- Purgative medicinal volcanic water (Physical and psychological preparation before taking amazonian vine)
- Coca leaves ceremony (unification of group energy)
- Cleansing and floral ceremony (Therapy of forgiveness)
- Two amazonian vine Ceremonies
- Offering of gratitude to Pachamama or Mother Earth
- Experienced assistant / translator to guide guests thought the retreat with processing and integrating the healing experiences.
-Individual consultations with the shaman and psychology to discuss your experiences and healing process
- Group meetings to share your experience
- Basic medical check to ensure physical suitability a day before the start of the retreat
- Five different healings (Inca shamanic healing technique)
- One Yoga class for relaxation
- All food and drinks is a delicious simple vegetarian diet suitable for working with medicinal plants/ amazonian vine
- Translation from Quechua/Spanish to English
- All transport to and from the retreat center
- Accommodation – within our facilities you may find the basic life necessities such as shared bedrooms with a capacity of three people as well as shared bathrooms.
- All retreat facilitated in English and Spanish
- It is good for you to know that different parties of people may overlap at the retreat, but they will never be more than 10 participants for any giving amazonian vine ceremony.
What's Not Included
- Pick-up and drop-off from the Airport.
- Pick-up and drop-off from the hotel.
- Breakfast the 1st Day
- Lunch and Dinner the 3rd Day
- Medical check before the staring retreat date.
Venue Highlights
Etnikas Retreat center
Travel and Healing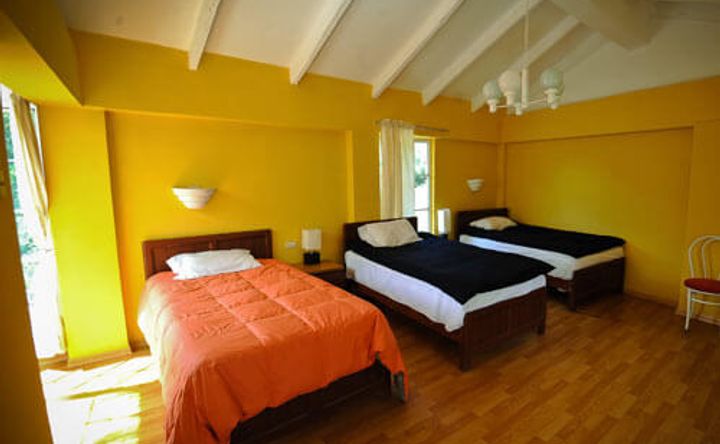 Accommodations
Retretat centar has doble rooms, triple rooms.
Within our facilities you may find the basic life necessities such as shared bedrooms with a capacity of three people as well as shared bathrooms.
Amenities
Tour Assistance
Coffee/Tea
Yoga Studio
Ceremony Space
Menu/Cuisine
Every meals are light acoording to the diet for the retreat
Directions
Urb. El trebol A-6, San Sebastian, Cusco
Reviews To review this event, visit the page for the venue or retreat leaders (above).
Similar Retreats You Might Like

Thank you!
We're glad you've joined our retreat community. See you around :)
Return to my event
×